Fantasy Football: LeSean McCoy Leads 'Early Guide to Week 8 Success'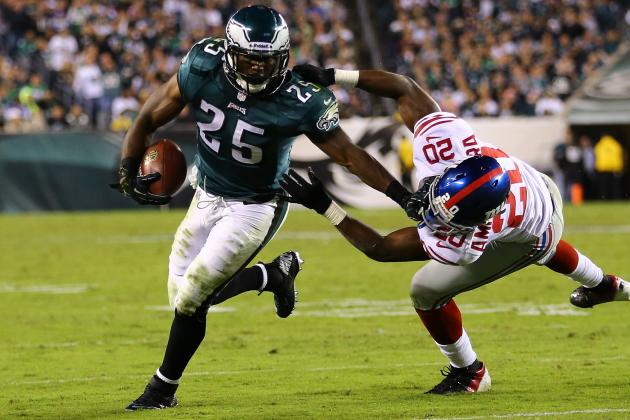 Al Bello/Getty Images
Eagles tailback LeSean McCoy (571 total yards, 3 TD) has accrued 100 total yards or one touchdown in five of six games this season.
The following countdown serves as a roundabout primer for NFL Week 8, a time when fantasy leagues are starting to show real separation between title-contending clubs and the also-rans.

This tone-setting piece should be yet another supplement to the countless positional rankings and strategy-oriented posts that run daily on The Fantasy Blog.

Enjoy the show!
Begin Slideshow

»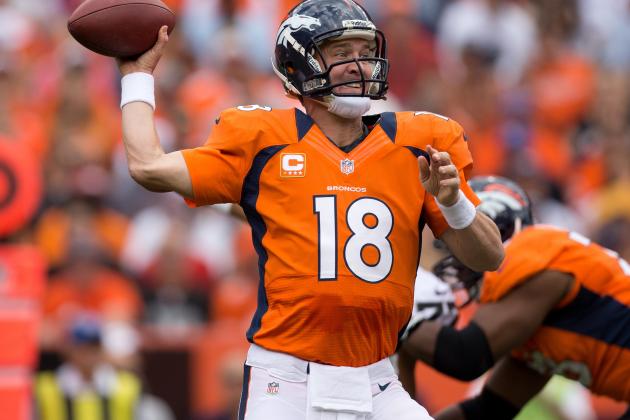 Justin Edmonds/Getty Images

1. QB Peyton Manning, Broncos

Skinny: Minus any bye-week advantages, the matchup of Peyton Manning against the NFL's worst defense (yards allowed) was already a bad one for the Saints.

But Manning has had two weeks to prepare for this nationally televised home clash. He's had plenty of time to figure out how/why New Orleans (30th against the pass, 31st against the run) has surrendered 460 total yards and 30.5 points per game.

Throw in the fact that Manning (1,816 yards passing, 14 TD), Demaryius Thomas (32 catches, 550 yards, three TD) and Eric Decker (34 catches, 441 yards, three TD) have already developed a solid rapport, and it's easy to believe Manning's fantasy numbers shall equal or surpass that of his Sunday counterpart, Drew Brees.
2. RB LeSean McCoy, Eagles

Skinny: The Falcons might be sitting pretty as the NFL's only undefeated club, but there are some noticeable holes to fix on the defensive end, especially against the run.

In Atlanta's six games, the defense has allowed 100-plus rushing yards from the opposition six times. And it would be a shock if Philly's backfield contingent—most notably QB Michael Vick and LeSean McCoy (571 total yards, three TD)—didn't make it seven outings.

After all, McCoy has notched 100 total yards and/or one touchdown in five of six games this season. And he's still the same stud who tallied 1,600 total yards and 20 TDs last year.
3. WR Mike Wallace, Steelers

Skinny: I'm taking the positive from Mike Wallace's 15 targets against the Bengals.

While others may lament a handful of dropped passes against Cincinnati or the 52 pedestrian yards, I was thrilled to see Wallace tie or establish new seasonal highs in catches (eight) and targets.

It effectively set the stage for a major breakout in Week 8, as Wallace (29 catches, 397 yards, four TD) takes on the NFL's worst pass defense. Remarkably, the Redskins have surrendered a range of 293 to 385 passing yards in all seven games this season.

Assuming QB Ben Roethlisberger is healthy and ready for bear, I fully expect Wallace to post monster numbers against Washington—in the neighborhood of 115 yards and one score.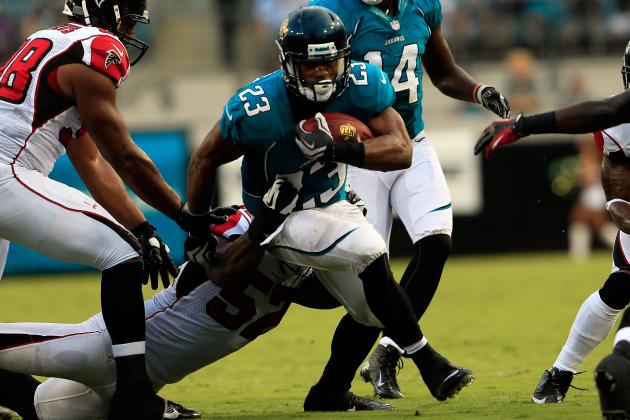 Sam Greenwood/Getty Images

1. RB Rashad Jennings, Jaguars

Skinny: For three of the last four seasons (missed 2011 to injury), Rashad Jennings has had the appearance of a high-end backup to Maurice Jones-Drew.

But there was one tiny flaw in that rationale: MJD was such a versatile rusher, pass-catcher and blocker—basically an elite talent for all downs—that Jennings rarely collected anything more than a handful of touches per game. Cursory attention, really.

Well, due to an unfortunate Jones-Drew foot injury that has some NFL pundits whispering the dreaded "L" word ("Lisfranc"), Jennings could soon be the new anchor of a Jaguars offense that's desperate for balance and consistency (the good kind).

Granted, it's a limited sample size, but in Jennings' two career outings of 20-plus touches (including the Week 7 tussle with Oakland), he's 2-for-2 in earning 100-plus total yards and one touchdown.

As a result, I've chosen to put the majority of my free-agent eggs in Jennings' basket, just ahead of the two assets below.
2. RB LaRod Stephens-Howling, Cardinals

Skinny: This endorsement comes with a significant caveat:

I sincerely doubt that either Stephens-Howling or William Powell will stick as the Cardinals' redoubtable No. 1 rusher beyond three straight weeks all season. That's the downside of relying on talented but erratic backs for substantial repetitions.

Yes, Stephens-Howling (149 total yards, one TD vs. Minnesota) outclassed Powell (18 total yards) last weekend, but the reverse held true in Arizona's home loss to Buffalo for Week 6.

To me, this is a classic platoon situation, masked around the notion that one of the backs could be a breakout star.

You want consistency in a tailback? Go trade for Arian Foster, Ray Rice or Frank Gore.

You want Stephens-Howling or Powell for a manageable free-agent price? That'll work just fine...IF your fellow owners have vanquished nearly all of their blind-bidding budgets.
3. WR Jeremy Kerley, Jets

Skinny: From an upside standpoint, I'd prefer rookie Stephen Hill over any other Jets playmaker. He has the size, speed and overall physical tools to be a potentially dynamic fantasy force someday.

But in the meantime, especially with RB Shonn Greene and TE Dustin Keller commanding attention in the middle third of the field, it suddenly feels right to endorse Kerley as a vital waiver-wire asset.

Against the Patriots, Kerley posted career highs in targets (11), receiving yards (120) and touchdowns (six). And by all accounts, the presence of Keller and Greene contributed heavily to Kerley's red-letter day as a pro.

On the flip side...

In two seasons, Kerley has yet to catch five balls in back-to-back weeks. He's never racked up 70-plus yards on consecutive Sundays, either.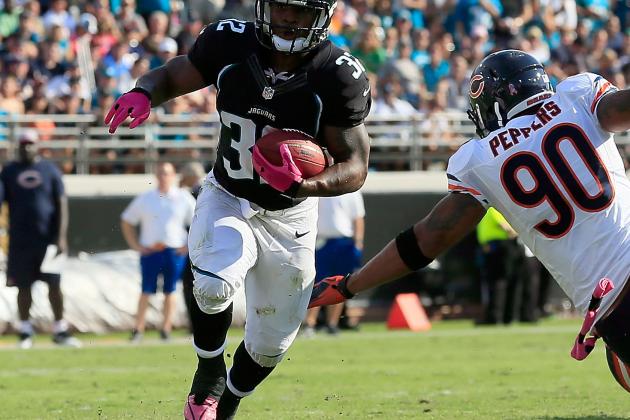 Sam Greenwood/Getty Images

1. RB Maurice Jones-Drew, Jaguars

Skinny: Officially, the Jaguars have already declared Maurice Jones-Drew (foot) out for Sunday's clash with the high-scoring Packers.

Unofficially, there have been whispers of MJD incurring a Lisfranc foot injury against the Raiders and possibly missing the remainder of the season.

Either way, MJD's owners will have to scramble to fill one of the most indispensable assets on their roster.
2. RB Trent Richardson, Browns

Skinny: Richardson didn't garner any playing time after the second quarter on Sunday, the result of a painful rib injury.

And it's anyone's guess if Richardson will start and log 20-plus touches against the Chargers and Ravens over the next two weeks, leading up to the Browns' Week 10 bye.

That's where things get tricky for owners: Can Richardson be a top-20 asset with limited carries? Or would they benefit in the long term (four weeks from now) if the rookie sat a game or two to heal for the stretch run?
3. TE Jimmy Graham, Saints

Skinny: If Graham (ankle) was this close to playing against the Bucs last Sunday, it stands to reason he'll be a no-brainer starter for Week 8 against the Broncos—barring any setbacks, of course.

But from there, fantasy owners might wonder if Graham will garner 100 percent of the reps against Denver or if he'll be subjected to limited snaps until the ankle soreness subsides.

After all, backup David Thomas fared well in Graham's stead, catching two balls for 27 yards and one touchdown against Tampa Bay.

Perhaps the Saints can afford to let Graham take it easy for another week.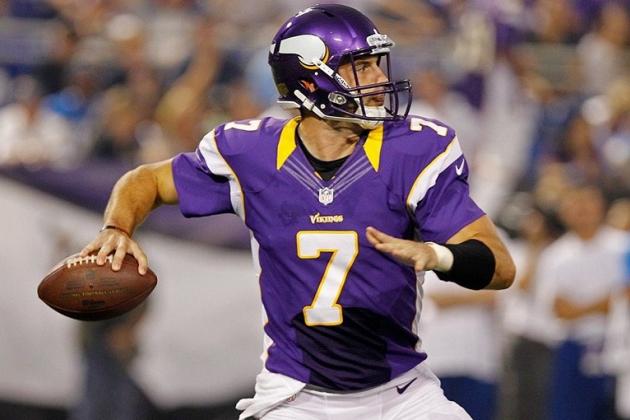 1. QB Christian Ponder, Vikings

Skinny: Coming off his worst start of the season, the fantasy gods couldn't wait until Sunday for Christian Ponder (58 yards passing, one TD vs. Arizona) to find redemption.

His Vikings draw the Buccaneers, the NFL's second-worst pass defense, at home on Thursday night.

Last week's clunker aside, Ponder has been been a rock-solid performer in fantasy circles. Through seven games, he has reached the threshold of 260 total yards or two touchdowns five times.
2. RB Vick Ballard, Colts

Skinny: Ballard's two-week balance sheet includes one underwhelming outing against the Jets in Week 6 (42 total yards) and one better-than-expected performance against the Browns in Week 7 (103 total yards).

So, where does that leave Ballard for Sunday against the Titans?

Conventional wisdom dictates that Ballard has an ideal matchup this weekend, even if it's away from the friendly confines of Indy's Lucas Oil Stadium.

There's also the hope that Ballard would get caught up in the excitement of competing against Tennessee tailback Chris Johnson (195 rushing yards, two TD vs. Buffalo in Week 7)—easily the most recognizable boom-or-bust back in fantasy.
3. WR Sidney Rice, Seahawks

Skinny: My boundless preseason optimism for Sidney Rice was built on the premise of Matt Flynn—and not rookie Russell Wilson—serving as the Seahawks' starting quarterback in 2012.

That aside, it's still hard to fathom how far Rice has fallen in fantasy circles over the last few years. Especially now that he's reasonably healthy.

Is Rice (22 catches, 312 yards, two TD) really consigned to middling outings of four catches, 58 yards and one touchdown every three or four weeks? Is he really not above the fantasy caliber of Golden Tate (13 catches, 191 yards, three TD)?

The upside to my frustration: As long as Rice can avoid the injury list, he possesses the physical talent and receiving know-how to dramatically alter his fantasy course. But to get the ball rolling, he'll need a shaky opponent to forge the breakout.

Enter the Lions, a club that has been decimated by secondary injuries and subsequent depth issues all season.

Detroit has also done a poor job of stifling the opposing team's No. 1 receiving option. Brandon Marshall, Jeremy Maclin, Nate Washington and Vernon Davis (two) have all scored touchdowns against the Lions.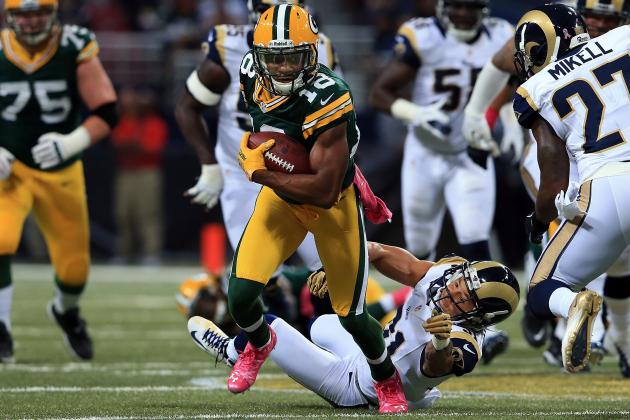 Doug Pensinger/Getty Images

1. WR Randall Cobb, Packers

Skinny: This might be the last time anyone refers to Randall Cobb as a "fringe" starter. That's the price of burgeoning fame one must pay after racking up 66-plus yards in four straight games, along with three touchdowns in that span.

It also helps that Cobb (37 catches, 435 yards) plays in one of the NFL's most progressive offenses and has the hottest fantasy quarterback (Aaron Rodgers—16 passing TDs since Week 4) on his side.

One more thing: Since Week 4, Cobb has caught 26 of 30 targeted balls, meaning his fantasy owners likely won't be crestfallen over any dropped passes come Monday.
2. WR Brandon Gibson, Rams

Skinny: While it's true that Brandon Gibson hasn't found the end zone since Week 2, there are still viable reasons for starting him this week in London.

**Gibson has collected 12 catches, 16 targets and 151 yards in his last two games.

**The Patriots currently rank 29th against the pass, allowing 291 yards per game. Going further, New England has yielded 297 yards or more four times since Week 3.

**The Rams have been scrambling to fill the void of receiver Danny Amendola (shoulder injury), and Gibson appears to be Sam Bradford's most consistent replacement.
3. WR Brian Hartline, Dolphins

Skinny: I'm not blind to the possibility of Brian Hartline being a fantasy bust after his 253-yard, one-TD rampage against the Cardinals in Week 4.

It's a grim reality that haunts unproven receivers with four total catches for 59 yards in the following two games—including a zero-reception outing against the Rams in Week 6.

But I remain optimistic about Hartline's PPR prospects for the foreseeable future, primarily because the Dolphins aren't necessarily flush with better receiving options.

Bottom line: If any Miami wideout has a chance for five more games of double-digit targets and eight-plus catches, it's Hartline.

Barring a midseason trade for Kansas City wideout Dwayne Bowe, Hartline should be a weekly threat for seven catches, 85 yards and one score against underwhelming defenses.

Starting with the Jets on Sunday.