Fantasy Football: Top Week 8 Waiver Adds for Each Position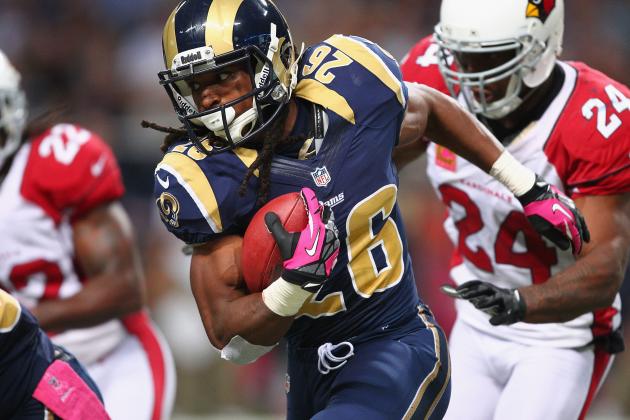 Dilip Vishwanat/Getty Images

I spent the last 24 hours trying to find an accurate comparison to how it felt being a fantasy football fan in Week 7. And then I sat down at the poker table…
I won't bore anyone with details, but the experiences were eerily similar. Bad beats, longshot draws and underperformers haunted me. "The Underachievers" (my aptly-named fantasy squad) bombed, dead and lifeless at the hands of inconsistency and injury.
Needless to say, I shed no tears for NFL Week 7. It's in the past, and Week 8 is a new beginning.
Just like in poker, all we can do is put our chips in the middle with the best hand. In fantasy football, you build the best team you can with informed decisions—trades, waiver adds and matchup plays—then hit the button and let the cards play out.
With multiple teams on byes at this point in the season, special emphasis is placed on waiver adds and matchup management.
The following slideshow highlights some of the best waiver adds for Week 8.
Note: Players listed are available in 50 percent or more of most fantasy leagues.
Begin Slideshow

»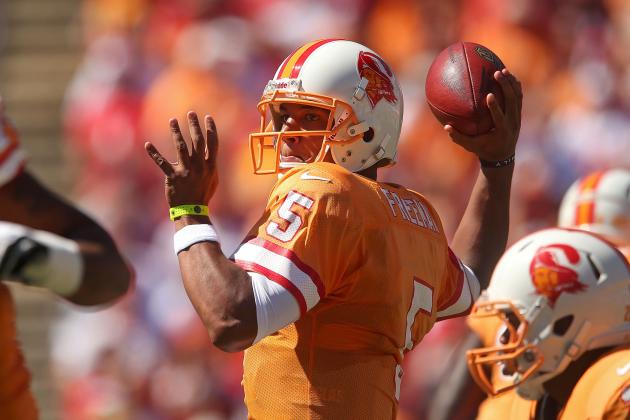 Mike Ehrmann/Getty Images

Josh Freeman, Tampa Bay Buccaneers
Freeman was one of my top waiver add suggestions each of the last two weeks, and he performed admirably both weeks. Last week against the New Orleans Saints, Freeman threw for 420 yards and three touchdowns and nearly orchestrated a game-tying touchdown drive in the final seconds.
Freeman has a decent matchup in Week 8 against the Minnesota Vikings, but it certainly is not as friendly a matchup as he faced in Week 7. Still, Freeman has been on a roll as of late.
Vincent Jackson and Mike Williams look like one of the best wide receiver tandems in the league right now, and if your team is in need of a quarterback, Freeman is one of your best options.
Production prediction: 20-for-32, 287 yards, two touchdowns
Russell Wilson, Seattle Seahawks
The Detroit Lions have had one of the better passing defenses in the league this season, but statistics can be deceiving. The Lions were allowing 228 passing yards per game heading into Week 7, but had afforded opposing passers 7.2 yards per attempt and an average 94.8 passer rating on the season.
The matchup could be better for Wilson, but it could also be a lot worse. Last week against the San Francisco 49ers, Wilson had one of his most uninspiring performances of the season, throwing for just 122 yards and an interception.
Wilson has beaten Cam Newton, Tom Brady and Aaron Rodgers this season, though, and he's put together some solid fantasy performances. He could be in line for another quality game this week against Matt Stafford and the Lions.
Production prediction: 18-for-28, 261 yards, two touchdowns
Christian Ponder, Minnesota Vikings
I can't put my finger on how Ponder has been so effective this year, but I stopped thinking too much about it after his dreadful Week 7 performance against the Arizona Cardinals. Ponder completed just eight passes for 58 yards, a touchdown and two interceptions in the win.
Arizona has a very good defense, though, while Minnesota's Week 8 opponent does not. Tampa Bay got torched by Drew Brees and the Saints last week, allowing more than 300 yards and four touchdowns in just the first half of that game.
Ponder won't be airing it out nearly as much as Brees this week, but with a solid running game and a lot of balance on offense, Ponder should redeem himself with a quality fantasy performance.
Production prediction: 23-for-32, 240 yards, two touchdowns
Brandon Weeden, Cleveland Browns
One has to wonder what Weeden could do with better wide receivers and decent play-calling.
In Week 7 against the Indianapolis Colts, Weeden completed 25 passes for 264 yards and two touchdowns. He also avoided turning the ball over and put his team in a position to win. If not for some untimely drops and poor coaching, Weeden may have led the Browns to their second win in as many weeks.
The Browns host the San Diego Chargers in Week 8, and the game should provide another favorable matchup for Weeden and his wideouts, as San Diego is allowing 268 passing yards per game this season.
With Weeden coming off two of his best games of the year, now may be the time to pick him up if you are battling injuries or bye-week fill-in issues.
Production prediction: 23-for-34, 277 yards, one touchdown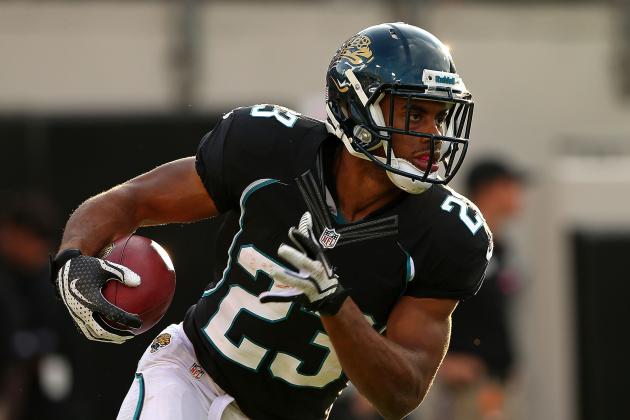 Mike Ehrmann/Getty Images

Rashad Jennings, Jacksonville Jaguars
For Maurice Jones-Drew owners, the only silver lining to his foot injury in Week 7 is having Jennings on your bench. If Jennings isn't on your bench, go get him, even if you don't own MoJo.
Jennings had 102 yards and a touchdown on 28 touches Sunday against the Oakland Raiders. Though he's had injury issues of his own in the past, Jennings is a fully-capable backup with a good mix of power and quickness.
Monitor the injury updates on MJD, but don't hesitate to put in a waiver claim for Jennings. You probably won't be the only owner in your league doing so.
Production prediction: 25 touches, 117 total yards, one touchdown
Jamie Harper, Tennessee Titans
OK, so the Buffalo Bills run defense is pretty bad. The Bills allowed four rushing touchdowns last week in their 35-34 win over the Titans—a game in which both Harper and Chris Johnson scored two touchdowns apiece.
Harper is hardly a big part of Tennessee's offense, but he does seem to be their new short-yardage back. He has three touchdowns over the last two weeks on just nine carries, but also is averaging just one yard per carry in that span.
Harper isn't a strong play in smaller leagues, but he has some value in deep leagues in which touchdowns are hard to come by. At the very least, pick up Harper as a handcuff if you own Chris Johnson.
Production prediction: Six touches, 17 total yards, one touchdown
Vick Ballard, Indianapolis Colts
I doubt Andrew Luck owns Ballard in his fantasy league.
Luck found the end zone twice with his legs in Week 7 against the Browns, effectively crushing the hopes of Ballard owners everywhere—never mind Browns fans, who experienced the agony of defeat by way of a coaching meltdown.
Still, Ballard proved to be a capable replacement for Donald Brown, who is sidelined with a knee injury. Ballard gained 84 yards on 20 carries despite losing some touches to Delone Carter.
With the state of Indianapolis' defense, Ballard is unlikely to see 20 touches per game, but could provide some relief for fantasy owners truly in need of a running back at this point in the season.
Production prediction: 18 touches, 101 total yards, one touchdown
Daryl Richardson, St. Louis Rams
Richardson is working his way into a healthy share of the workload in St. Louis, though he has failed to find the end zone this season.
Richardson had 79 yards on 11 touches against the Green Bay Packers in Week 7. While Steven Jackson was the only back to find the end zone for the Rams, Richardson's activity is encouraging.
St. Louis hosts the New England Patriots in Week 8, and although the Patriots have been stout against the run this season, Richardson could be a nice flex play in deeper leagues. The Pats have been atrocious against the pass, and Richardson can do some damage catching balls out of the backfield.
Production prediction: 14 touches, 93 total yards
Andre Brown, New York Giants
Many fantasy owners dropped Brown after his concussion a couple weeks ago (myself included), which paved the way for David Wilson to assume the backup role in New York. No such luck.
Brown vultured a goal-line score from Ahmad Bradshaw against the Washington Redskins in Week 7, while Wilson went without a touch in the game.
Tom Coughlin has tinkered with his running back situation in a manner that would make Mike Shanahan proud, and his willingness to do so has driven fantasy owners crazy. It seems Brown may have once again assumed the backup role in New York, and owners should consider him a Ben Tate-esque acquisition.
Brown will continue to get touches, and in the event of a Bradshaw injury, will likely re-take the starting role.
Production prediction: Eight touches, 53 total yards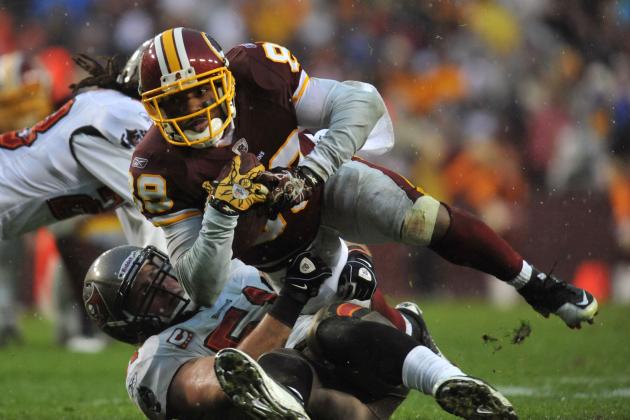 Larry French/Getty Images

Santana Moss, Washington Redskins
The aging Moss isn't the No. 1 receiver he used to be, but the arrival of Robert Griffin III has breathed new life into his career. With Pierre Garcon on the shelf, Moss has stepped up. In the last three weeks, Moss hauled in nine catches for 193 yards and three touchdowns.
Moss isn't available in all fantasy leagues, but he may still be available in yours. With Fred Davis' season over and Garcon possibly out another week (or more), Moss becomes an even more valuable asset.
If your team is thin at receiver, Moss could be a good acquisition for the Redskins' Week 8 game against the Pittsburgh Steelers.
Production prediction: Three catches, 72 yards
Jeremy Kerley, New York Jets
Santonio Holmes is out for the season, and Stephen Hill is rebounding from a hamstring injury that sidelined him for a couple games. The Jets need to establish a No. 1 receiver, and Kerley stated his case in Week 7, catching seven passes for 120 yards in the Jets' overtime loss to New England.
Mark Sanchez's inconsistency is worrisome for owners of Jets receivers, but he has to throw the ball to someone. Hill is probably the more widely owned receiver, but Kerley could be the more consistent option moving forward.
Production prediction: Four catches, 86 yards
Brandon LaFell, Carolina Panthers
Steve Smith is still No. 1 in Carolina, but LaFell could be Smith's heir apparent when it comes time to hang up the spikes. LaFell is an excellent complement to Smith, and his size and leaping ability make LaFell a terrific red zone target for Cam Newton.
LaFell had four catches for 53 yards and a score in the Panthers' 19-14 loss to the Dallas Cowboys last week. Carolina is a mess offensively, so use LaFell at your own risk. He is a boom or bust option at this point, but if your options are limited, LaFell is worth a flyer.
Production prediction: Three catches, 58 yards
Chris Givens, St. Louis Rams
Givens had his fourth straight game with a catch of 51 yards or longer last week and has established himself as Sam Bradford's top deep threat. The rookie's targets have increased over the last couple of weeks as well, as he has notched three catches in each of the Rams' last two games.
Givens is averaging 27 yards per catch this season. Although his limited looks in the short passing game may worry some owners, Givens is still worth a waiver claim. The Rams face an underwhelming New England secondary in Week 8, so Givens could be looking at another good game.
With a catch average higher than any in the league, he is bound to find the end zone more often moving forward.
Production prediction: Four catches, 90 yards, one touchdown
Devery Henderson, New Orleans Saints
Drew Brees is simply torching opposing defenses, and Henderson is finally beginning to benefit from his quarterback's success. Henderson is coming off his two best games of the season in which he caught a combined 11 passes for 198 yards and a touchdown.
Jimmy Graham should be returning from his nagging ankle injury soon, so use Henderson while the window is still open. He will be a more limited option with Graham healthy and stealing targets in the passing game.
Production prediction: Four catches, 79 yards, one touchdown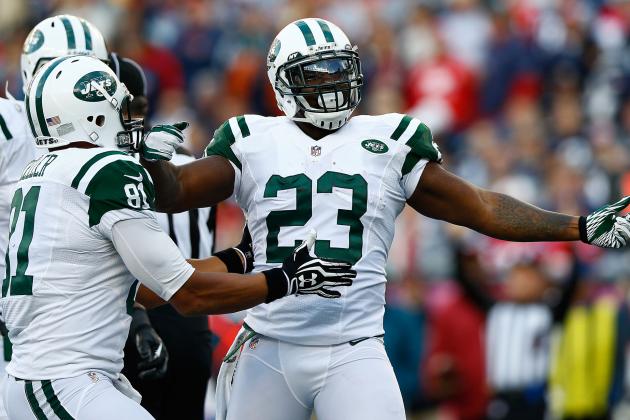 Jared Wickerham/Getty Images

Dustin Keller, New York Jets
Keller put together a terrific performance in Week 7 against the Patriots with seven catches for 93 yards and a touchdown, quelling fantasy owners' collective worry about his recovery from a nagging hamstring injury.
Despite rallying back to force overtime with the Pats, the Jets offense is still one of the most inconsistent in the league. Mark Sanchez is without Santonio Holmes for the rest of the year, so Keller and Stephen Hill must step up moving forward.
Keller led the charge last week and should be a top target for owners in need of a tight end this week.
Production prediction: Six catches, 82 yards, one touchdown
Dallas Clark, Tampa Bay Buccaneers
Clark fell from grace rather unceremoniously in Indianapolis due in large part to injury issues. The situation culminated with Peyton Manning's departure and Clark signing with Tampa Bay in the offseason.
While he is on the downside of his career, Clark is still catching nearly everything thrown his way. Save for the Bucs' game against the Cowboys, Clark has caught 13 of 16 balls intended for him. With Josh Freeman's resurgence, Clark may be in line for more targets moving forward.
He probably isn't a great play in smaller leagues, but don't be afraid to start Clark this week against the Vikings if your starter is on a bye in a deep league.
Production prediction: Three catches, 37 yards, one touchdown
Chris Cooley, Washington Redskins
Fred Davis suffered a torn Achilles last week, effectively ending his season. Fortunately for the Redskins, they have a backup plan in Cooley.
The veteran had some productive seasons with the Redskins early in his career and could experience a revival with RG3 at the helm. It wouldn't be wise to expect too much from Cooley out of the gate, but he should be a suitable replacement for Davis on your fantasy team.
With the tight end talent pool looking relatively shallow at this point, Cooley is worth a flyer in deeper leagues.
Production prediction: Three catches, 42 yards
Brandon Myers, Oakland Raiders
Myers hasn't done anything special this season, but he has offered some consistency for a Raiders offense lacking any semblance of consistency otherwise. Myers is averaging 58 yards per game in 2012 and was targeted 10 times in Week 7 against the Jaguars.
Oakland faces the Kansas City Chiefs in Week 8—one of the candidates for potential worst game of the week. The Chiefs defense has been horrid, having allowed a league-worst 14.6 yards per catch to opposing receivers this season.
Myers should see plenty of targets in Week 8 and could eclipse 100 yards for the first time in his career against the Chiefs.
Production prediction: Eight catches, 91 yards
Joel Dreessen, Denver Broncos
Dreessen isn't widely owned, but he offers as much upside as any tight end still on the waiver wire. Dreessen found the end zone in three straight contests prior to the Broncos' Week 7 victory over the Chargers, and with Peyton Manning at the helm in Denver, Dreessen will likely hit pay dirt several more times before the season is over.
Once again, New Orleans should be exploited as much as possible in your fantasy league this week. The Saints defense has been—at the risk of sounding like a broken record—ba-ba-bad this season. Horrifically bad.
Manning should have a field day in Week 8, and Dreessen could be one of his favorite red-zone targets.
Production prediction: Four catches, 43 yards, one touchdown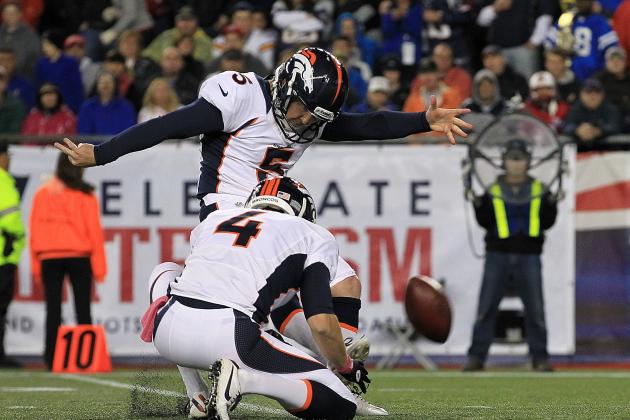 Jim Rogash/Getty Images

Matt Prater, Denver Broncos
There's no better environment for kickers than Denver. Prater will have plenty of opportunities this week to take advantage of the altitude—and New Orleans' defense.
The Broncos should be able to move the ball effectively against the Saints, and Prater will be one of the beneficiaries.
Production prediction: Two FGs, three PATs
Garrett Hartley, New Orleans Saints
The Saints will have a kicker in Mile High Stadium, too, and he should also be considered a very good play this week. Hartley didn't have a field-goal attempt against the Bucs last week, but Drew Brees was taking advantage of a poor Tampa defense to the tune of 377 yards and four touchdowns.
If your kicker's team is on a bye this week, consider putting a claim in for Hartley.
Production prediction: One FG, four PATs
Rob Bironas, Tennessee Titans
Bironas was also without a field goal attempt last week, but only because the Titans didn't play like the Titans. Tennessee scored at will in Week 7, giving Bironas limited opportunities to earn fantasy points for his owners.
The Titans face the Colts in Week 8, though, and Bironas should have some opportunities to tack on points from 20-40 yards.
Production prediction: Three FGs, two PATs
Shaun Suisham, Pittsburgh Steelers
Suisham doesn't have the biggest leg, but he's having his best season as a pro this year with the Steelers. The Bowling Green product (Ay Ziggy Zoomba!) has connected on 14 of his 15 field-goal attempts, his only miss coming on what would have been a career-long 54-yard attempt in Week 6.
Suisham should have plenty of opportunities this week against a Washington team ranked nearly last in total defense.
Production prediction: Three FGs, three PATs
Phil Dawson, Cleveland Browns
Had Reggie Hodges not botched a PAT hold early in the Browns' Week 7 loss, Cleveland may have been playing for a field goal in the fourth quarter instead of taking shots at the end zone. With the Browns down four late in the game, Dawson remained on the sidelines and did not have a field-goal attempt.
Dawson has been one of the best kickers in the league this season, and if he's still on the waiver wire, you should consider picking him up for Week 8. Dawson has connected on all 12 of his field-goal attempts this season, including four of 50 yards or more.
Production prediction: Three FGs, two PATs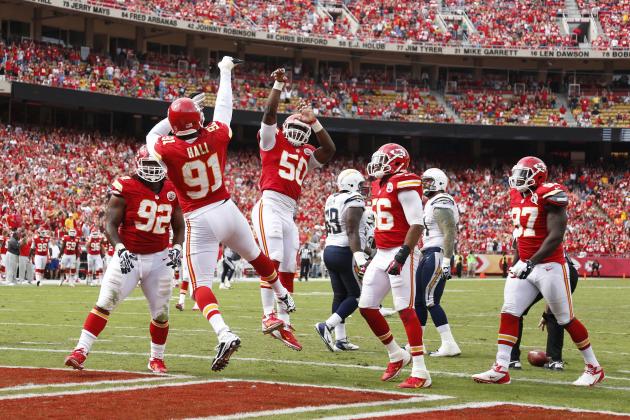 Joe Robbins/Getty Images

Kansas City Chiefs
Kansas City ranks 11th in the league in total defense this season, while Oakland ranks 23rd in total offense. In what could be the ugliest game of the week, the Chiefs will need to play stout defense and force some turnovers, especially with Brady Quinn manning the offense.
Jacksonville's 25th-ranked run defense shut down Darren McFadden last week, so you should have confidence in Kansas City to do the same in Week 8.
Production prediction: 17 points allowed, two interceptions, two sacks
New York Jets
The Miami Dolphins have one of the worst offensive units in the league this season. Although the Jets are without Darrelle Revis for the remainder of the season, there's nothing about this matchup to suggest the Jets will suffer without him.
Ryan Tannehill has a quarterback rating of 76.5 and has thrown six interceptions this season.
Production prediction: 13 points allowed, one interception, one fumble recovery, three sacks
Tennessee Titans
It's hard to fathom starting a defense ranked second-to-last in the league, but this may be the week to do so. Tennessee hosts Indianapolis in Week 8—a team that nearly lost to the Browns in Week 7.
The Colts are ranked 22nd in the league in total offense with rookie Andrew Luck at the helm. Luck has thrown seven interceptions in six games this year.
Production prediction: 20 points allowed, one interception, three sacks
San Diego Chargers
A word of advice: Start defenses playing the Browns. Cleveland fields one of the worst offensive units in the league.
Trent Richardson is battling a rib injury, and although Brandon Weeden is putting together a decent rookie season, he has a tendency to make some poor decisions. Mix in Pat Shurmur's atrocious play calling, and you have a recipe for a good week for the Chargers.
Production prediction: 23 points allowed, two interceptions, three sacks
Miami Dolphins
Start New York against Miami. Start Miami against New York. This should prove to be an extra-sloppy game.
Miami's defense isn't nearly as bad as its offense. The Dolphins are holding opponents to just 78.2 rushing yards per game, and if they can shut down New York's running game, the Dolphins should have a field day against Mark Sanchez.
Production prediction: 17 points allowed, two interceptions, one fumble recovery, two sacks