The Most Disappointing Rookie on Every NFL Team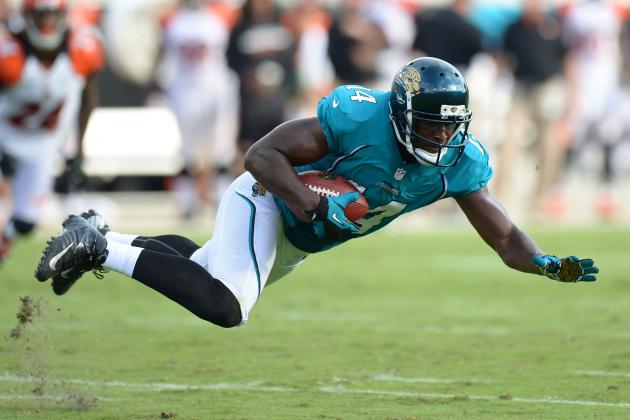 Jake Roth-US PRESSWIRE

While Robert Griffin III and Russell Wilson dominate the headlines, plenty of members of the 2012 NFL draft class continue to disappoint. Jacksonville Jaguars wide receiver Justin Blackmon is one of nine first-round picks to make this list of shame.
Not every rookie can turn out like their teams hope, but some first-year flops hurt more than others. While NFL news is often filled with the daring exploits of those rookies who instantly take to the pro game, not as much is heard about those who struggle to adapt.
Here is a list of the most disappointing rookie on every NFL team thus far through the 2012 season.
Begin Slideshow

»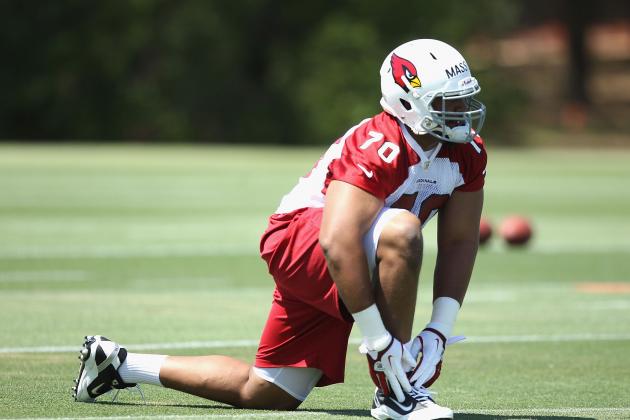 Christian Petersen/Getty Images

The Arizona Cardinals offensive line is fast becoming a league-wide joke. That is, unless you play quarterback for the Arizona Cardinals.
One of the chief culprits for the group's struggles has been rookie tackle Bobby Massie. The ex-Ole Miss standout is routinely beaten on the edge in every game.
To give an example of how bad things have been, Massie has twice yielded four-and-a-half sacks in a single game. Miami Dolphins rush end Cameron Wake was the lucky recipient in Week 4.
Massie also inspired struggling defensive end Mario Williams to his best game for the Buffalo Bills, a two-sack performance in Week 6.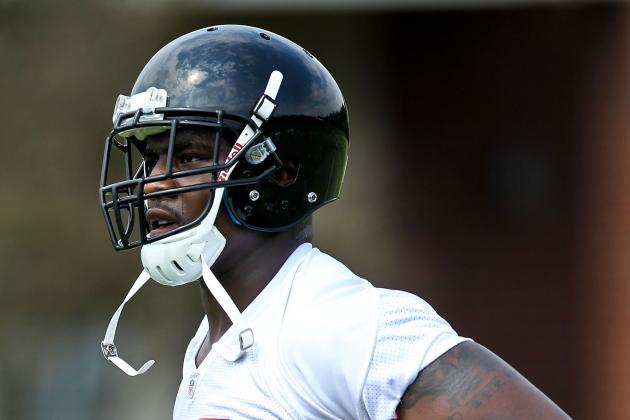 Daniel Shirey/Getty Images

When the Atlanta Falcons drafted hybrid rush end Jonathan Massaquoi in the fifth round, they must've hoped he could be groomed as the eventual replacement for stellar veteran John Abraham.
Instead, the former Troy star and fifth-round pick has yet to register a single stat. That means the aging Abraham is still counted on as the chief source of big plays for the Falcons defense.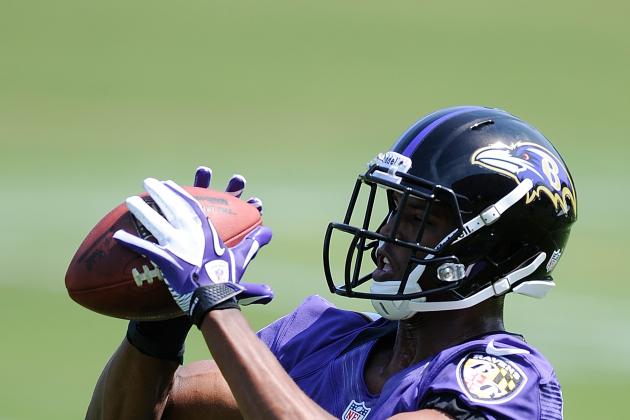 Patrick McDermott/Getty Images

The Baltimore Ravens didn't really lose much when they decided to place Tommy Streeter on injured reserve at the end of August, as the young wideout failed to make an impact during preseason.
As a raw prospect he can be developed, but it would be nice if Joe Flacco could count on another weapon in the outside passing game to complement young burner Torrey Smith. In that context, treating Streeter as a development project makes him seem a little like a wasted pick, even at Round 6.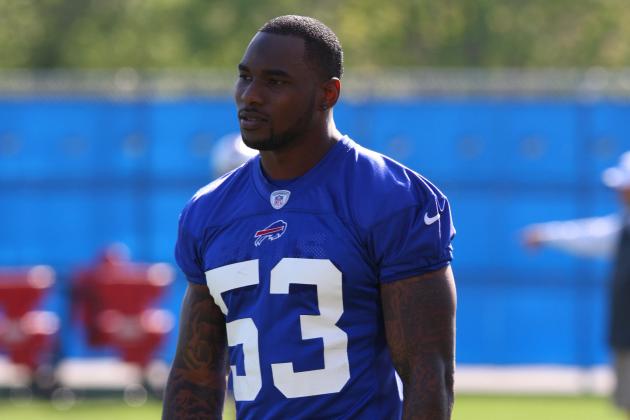 Timothy T. Ludwig-US PRESSWIRE

Outside linebacker Nigel Bradham has only made a minimal impact on the Buffalo Bills' new-look 4-3 defense. Bradham has a mere 14 tackles so far.
Fellow rookies Cordy Glenn and T.J. Graham have made contributions on offense, but Bradham has yet to establish himself as a key member of Dave Wannstedt's defense. Wannstedt was counting on Bradham's speed and aggression to infuse some tenacity and athleticism into the Bills linebacking corps.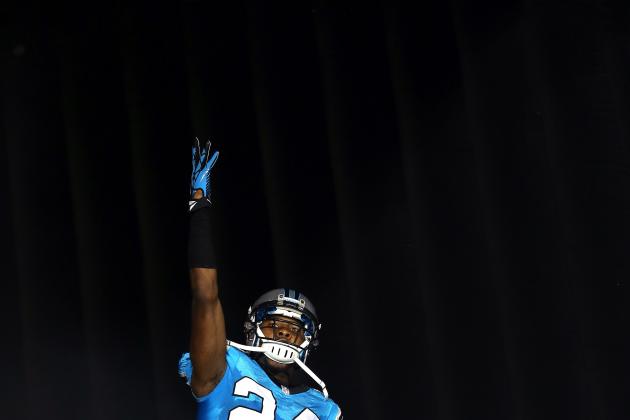 Streeter Lecka/Getty Images

Cornerback Josh Norman has had some tough assignments since emerging as a surprise starter for the Carolina Panthers.
The fifth-round pick has often struggled to keep up with receivers like Roddy White, Julio Jones and Victor Cruz. Norman continues to battle hard, but it's difficult to escape the feeling the Panthers have thrown the youngster into the deep end a little too early.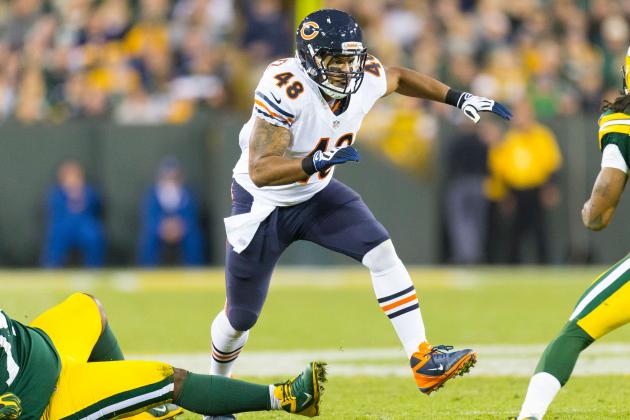 Jeff Hanisch-US PRESSWIRE

Being converted to fullback has denied Evan Rodriguez (a tight end in college) the chance to contribute in the passing game. That rates as a disappointment, because the Bears need more production from the tight end position.
It doesn't say much that Rodriguez obviously failed to display enough promise as a pass-catcher to supplant limited incumbent Matt Spaeth. As a lead blocker, Rodriguez began the season well, but has since faltered, appearing in only three games with just a solitary start.
It is equally surprising that he has yet to even showcase a knack for making yards as receiver out of the backfield, given his production at Temple.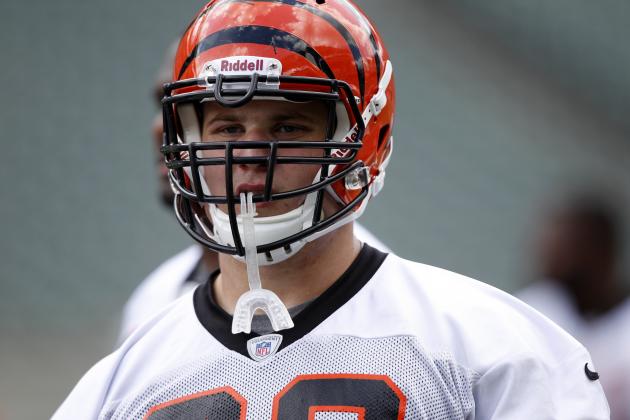 Frank Victores-US PRESSWIRE

The Cincinnati Bengals looked to have landed a steal when they selected powerful guard Kevin Zeitler with one of their two first-round picks. So far, however, things have failed to work out for the ex-Badgers star.
Despite starting all six games for the Bengals, Zeitler has struggled to hold up at the point of attack. He has frequently been overwhelmed along the interior and has failed to make the impact on the running game many anticipated.
In an AFC North loaded with defensive tackle talent, Zeitler certainly faces a steep learning curve in what is proving to be a difficult debut season.
Andrew Weber-US PRESSWIRE

As the lone wideout taken by the Cleveland Browns in April, Travis Benjamin was expected to boost a receiving corps that certainly needed an infusion of big-play talent.
However, Benjamin has struggled to answer the call. He he been slowed by hamstring injuries and has registered a mere five receptions for 82 yards, along with just a single touchdown.
Those are paltry numbers at a position that is just waiting for someone to establish himself as a premier target. Instead, Benjamin has been left behind by supplemental draft pick Josh Gordon.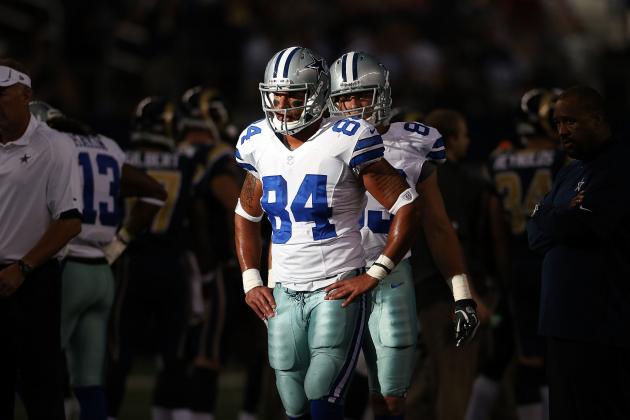 Ronald Martinez/Getty Images

Tight end James Hanna could have taken advantage of seasoned veteran Jason Witten's early-season struggles. Instead, he has notched just one reception for 10 yards.
Hanna came out of the draft with the kind of athleticism and size to perhaps emerge as the natural heir apparent to Witten. Yet so far, Hanna is somehow managing to make the Cowboys miss Martellus Bennett's production.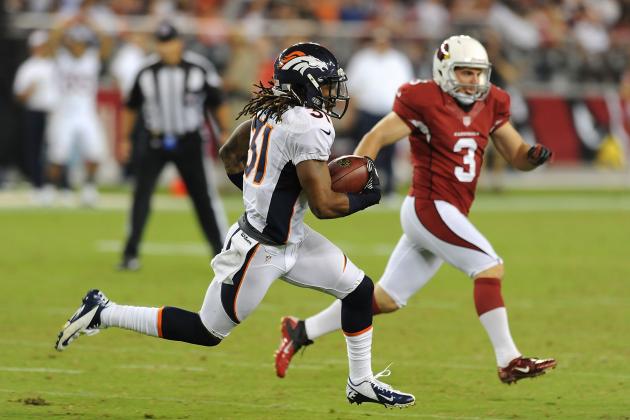 Norm Hall/Getty Images

Cornerback Omar Bolden is not often used in a Denver Broncos defense that rarely uses multiple-CB packages. However, it's telling that during Monday night's stunning comeback win over the San Diego Chargers, the Broncos chose to rely on Tony Carter, a player with only one start in a four-year career.
The rookie only has five tackles so far this season. In fairness, Bolden has offered decent production as a kick returner, but even that attribute was marred by a costly first-half fumble against the Chargers.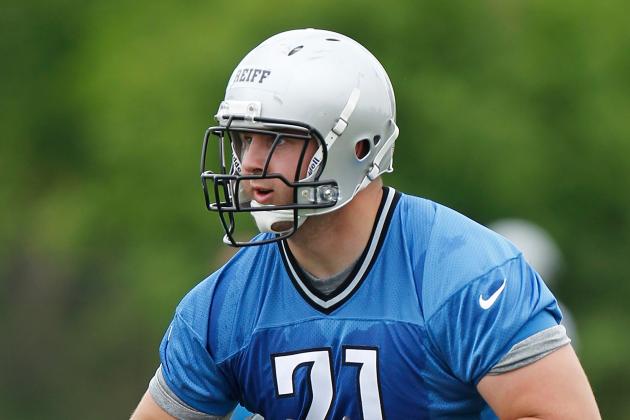 Gregory Shamus/Getty Images

The Detroit Lions didn't use their first-round pick to improve an even more woeful secondary, adding tackle Riley Reiff to bolster a shaky offensive line instead.
That plan is already looking like a major miscalculation by the Lions front office. Reiff has started just one game this season, and has lately been reduced to acting as an extra tight end in sub-packages to help block for an ailing running game.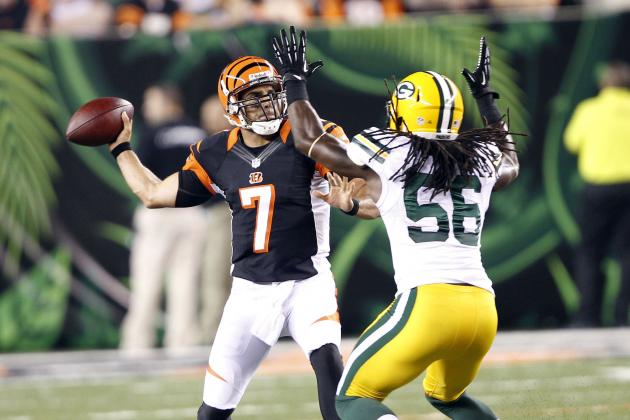 Frank Victores-US PRESSWIRE

Linebacker Terrell Manning is about the only defensive rookie not performing well for the Green Bay Packers. Despite a decent showing in preseason, Manning has failed to make an impact in the games that count.
Nick Perry, Jerel Worthy, Casey Hayward, Mike Daniels and Jerron McMillian have all helped improve Dom Capers' defensive unit. Manning, however, has spent his time languishing in obscurity, appearing in only one game and failing to register a stat.
The Packers have plenty of injuries at linebacker, so it's not as if opportunities have been the issue.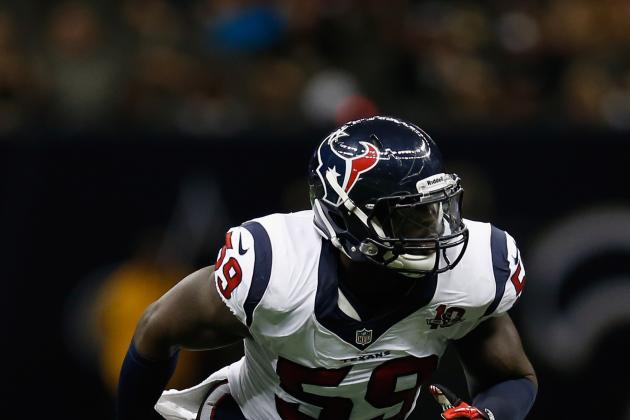 Chris Graythen/Getty Images

When the Houston Texans snared rush end Whitney Mercilus No. 26 overall, it looked like one of the best picks of the 2012 NFL draft. Pairing college football's most prolific pass-rusher with defensive coordinator Wade Phillips' aggressive blitz schemes just looked like a dream match.
That dream is quickly turning into a nightmare for the Texans. The player who accumulated 16 sacks with Illinois last season has yet to register a quarterback takedown in the pros.
Competition in front of Mercilus is fierce, with Connor Barwin and Brooks Reed already established as a productive duo off the edges. However, that doesn't mean that Phillips should be any less concerned that Mercilus is already beginning to look like a bust, with just six tackles on the season.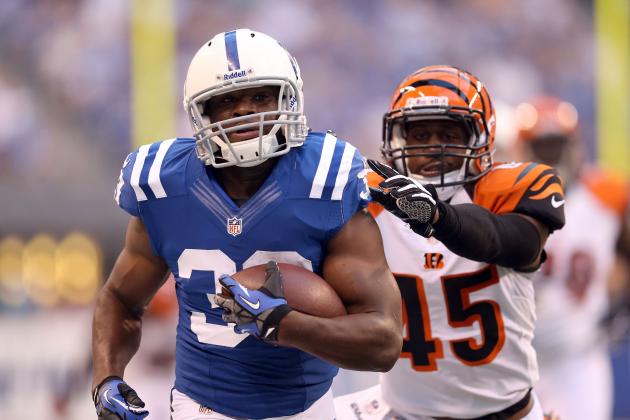 Andy Lyons/Getty Images

The Indianapolis Colts have gotten decent production from most of their rookie class, particularly on offense. However, one player who has struggled to make the grade is running back Vick Ballard.
The lion's share of the carries in the Colts backfield are up for grabs considering how inconsistent 2009 first-rounder Donald Brown has been. Yet Ballard has failed to sufficiently push Brown and stake a claim for increased playing time.
He has managed just a single start and a paltry 29 carries. Those carries have earned the Colts offense a lowly 67 yards, at a measly 2.3 average.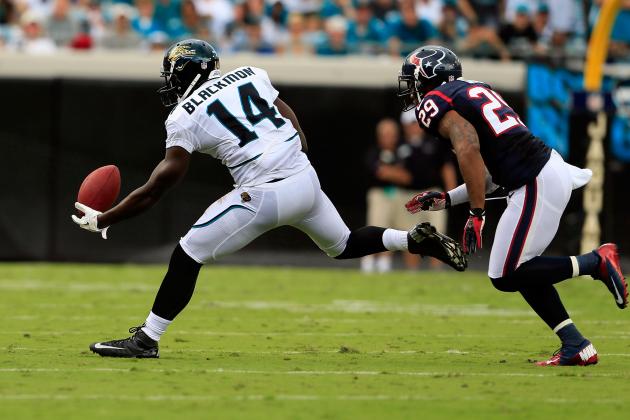 Sam Greenwood/Getty Images

When a team spends a top-five pick on someone to be their primary receiver, they are entitled to expect more than 13 receptions for 119 yards and zero touchdowns.
The top wide receiver taken in the draft, Blackmon has been blighted by injuries, legal troubles and poor practice habits.
Instead of making struggling second-year quarterback Blaine Gabbert look better, Blackmon is just one more reason the Jaguars are mired in turmoil.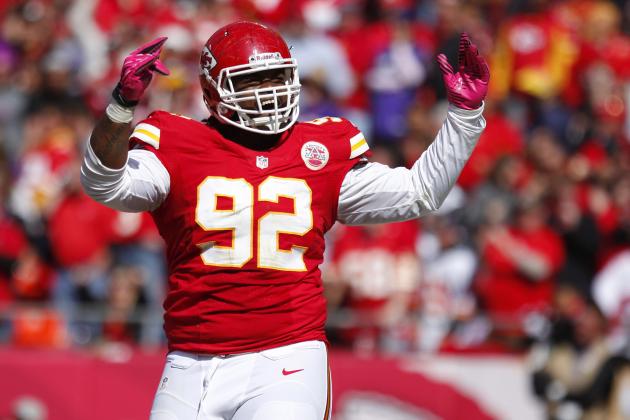 Kyle Rivas/Getty Images

In fairness to Dontari Poe, nine total tackles and one pass defensed aren't horrible stats for a 3-4 nose tackle. However, the young behemoth has failed to sufficiently solidify the heart of KC's defensive front.
With a skilled 350-pound nose tackle plugging the middle, the Chiefs shouldn't be ranked 22nd against the run. The problem is, Poe currently lacks the necessary technical refinement to effectively anchor a traditional 2-gap, 3-4 scheme.
He is struggling to generate consistent push on the pocket and shed blockers. Without an active focal point at nose tackle, the Chiefs' defensive scheme simply doesn't work.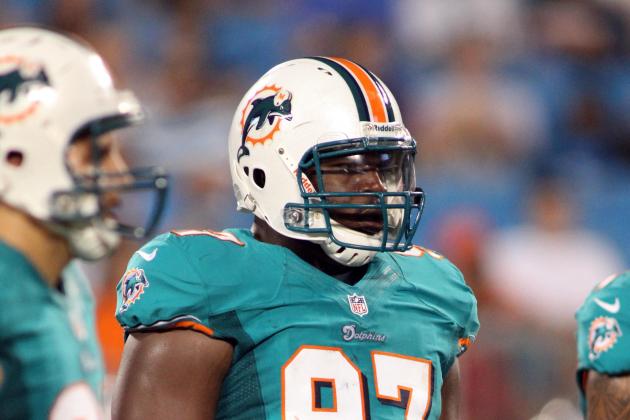 Jeremy Brevard-US PRESSWIRE

Defensive tackle Kheeston Randall initially looked like a late-round steal for the Miami Dolphins. However, the ex-Longhorns star has struggled for playing time with the AFC East outfit.
The Dolphins' decision to switch to a 4-3 defense has created more opportunities for linemen to compete and contribute as part of an active rotation. Yet that hasn't helped Randall get on the field; the seventh-rounder has yet to make his first start and only has five tackles to his credit.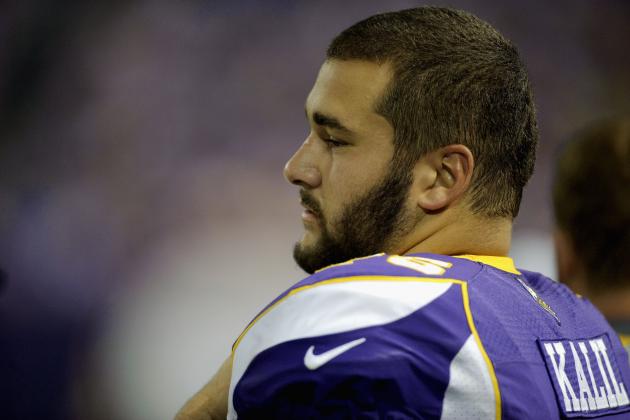 Hannah Foslien/Getty Images

Matt Kalil was commonly regarded as the best offensive lineman in this year's draft class. However, the hulking left tackle has struggled to live up to the hype with the Minnesota Vikings.
The No. 4 overall pick in the draft has endured some tough times as Christian Ponder's blindside protector. Kalil was made to look foolish by Washington Redskins reserve outside linebacker Lorenzo Alexander in Week 6.
OTs often find adjusting to the speed of the pro game especially tough, and Kalil needs to shape up soon if he is going to become the cornerstone of the Vikings offensive line.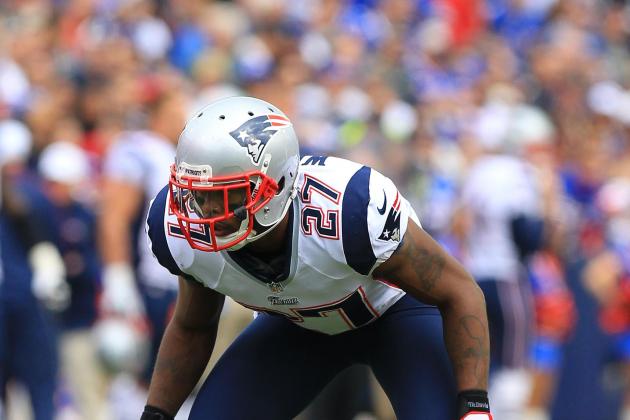 Kevin Hoffman-US PRESSWIRE

Bill Belichick certainly displayed a lot of confidence in his own judgement when he gambled big on Illinois safety Tavon Wilson in the second round.
Two interceptions in the first six weeks might dampen all those who derided Belichick for what was considered a major reach pick. However, although Wilson has managed to get his hands on a couple of passes, those thefts can't mask his struggles in coverage.
Wilson has found things particularly tough in deep zones (as has pretty much every safety on the Patriots roster). Being opportunistic is a standard trait in New England's secondary. Combining that opportunism with all-round quality is a challenge Wilson has yet to master.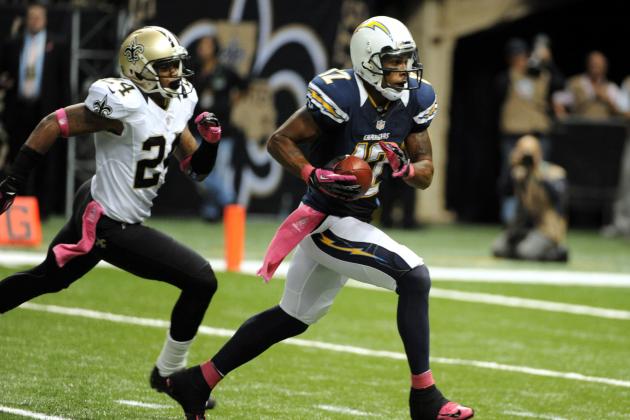 Chuck Cook -US PRESSWIRE

The sight of rookie defensive back Corey White helplessly trailing receivers into the end zone has become familiar to New Orleans Saints fans.
White's struggles have contributed to a pass defense that ranks 26th in the league and is just one of the many weaknesses on a very disappointing defense. White has found it hard to maintain zone discipline in new coordinator Steve Spagnuolo's complex schemes.
He may struggle to keep his place in the starting lineup after being beaten more than once by former Saint Robert Meachum in Week 5.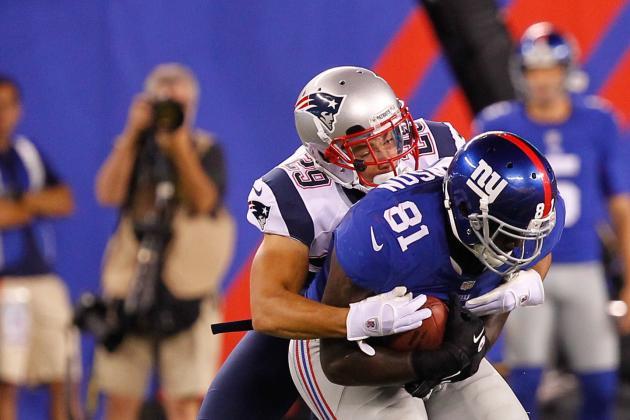 Jim O'Connor-US PRESSWIRE

When the New York Giants selected raw but athletically gifted tight end Adrien Robinson, general manager Jerry Reese was quick to wax poetic about the pick.
Reese compared Robinson's athletic qualities to those of defensive end Jason Pierre-Paul, another raw but physically capable prospect whom the Giants turned into a star. Well, at the moment Robinson doesn't look like he will join that elite company anytime soon.
In fact, he looks more like a wasted pick. Despite losing Jake Ballard's production at the tight end position, the Giants haven't had any need for Robinson. That's because new arrival Martellus Bennett and glorified fullback Bear Pascoe are keeping him off the field.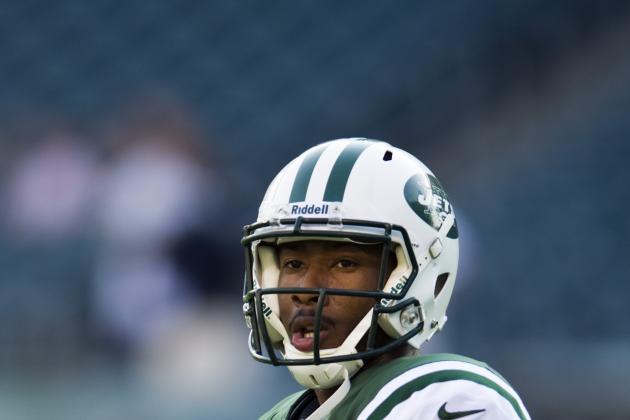 Howard Smith-US PRESSWIRE

Many of the New York Jets' rookies are taking time to contribute, and that's certainly been the case for safety Antonio Allen. The ex-South Carolina star has only one tackle and one sack as a pro, and they both came during Gang Green's emphatic triumph over the Indianapolis Colts in Week 6.
Allen has plenty of veteran competition in front of him in the form of experienced duo LaRon Landry and Yeremiah Bell. However, given Bell's age and Landry's lengthy injury history, the Jets will certainly be expecting more from Allen as the season progresses.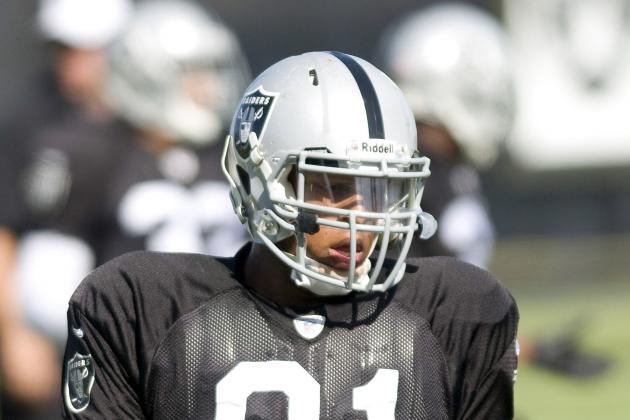 Ed Szczepanski-US PRESSWIRE

Jack Crawford was hyped as a potential starter during preseason. However, the defensive end has struggled to make the grade with the Oakland Raiders since the real action began.
Crawford has only registered two tackles as a rookie and has not offered any help in the pass rush department. That's an especially poor indictment of his performance, considering the Raiders defense only has four sacks to its credit this season.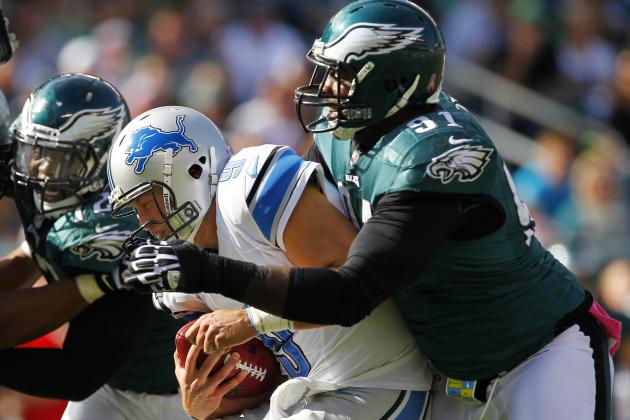 Rich Schultz/Getty Images

Fletcher Cox was easily the most hyped defensive tackle in a deep draft class. The team that landed him was widely thought to be getting an instant blue-chip performer.
Try telling that to the Philadelphia Eagles, who have yet to see Cox make the impact that was expected of him. His sub-par performances are even harder to take considering the Eagles defense has relied on its line to generate all the pressure and favours wide alignments that suit a natural 3-technique like Cox.
He was thrown out of the game during the Eagles' collapse against the Detroit Lions in Week 6. Sadly, the incident just serves as a symbol of the disappointing form of the draft's No.12 overall pick.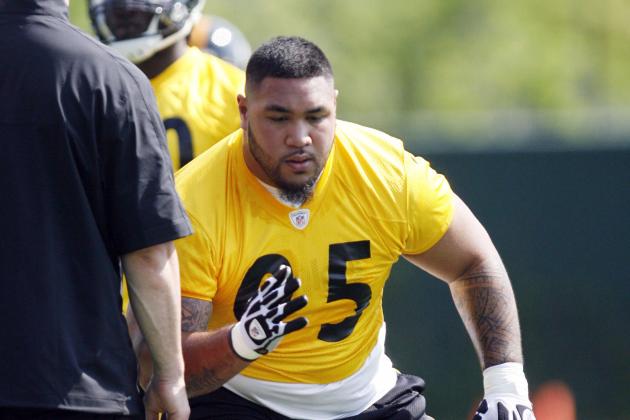 Charles LeClaire-US PRESSWIRE

Selecting Alameda Ta'amu was supposed to give the Pittsburgh Steelers some insurance at nose tackle and a youngster capable of succeeding brilliant veteran Casey Hampton.
Things have not gone according to plan, either for the Steelers or Ta'amu. He is yet to see the field during the regular season and compounded his problems with a recent arrest.
That prompted the Steelers to suspend their fourth-round draft choice, who is in danger of ruining his pro career before it has even begun.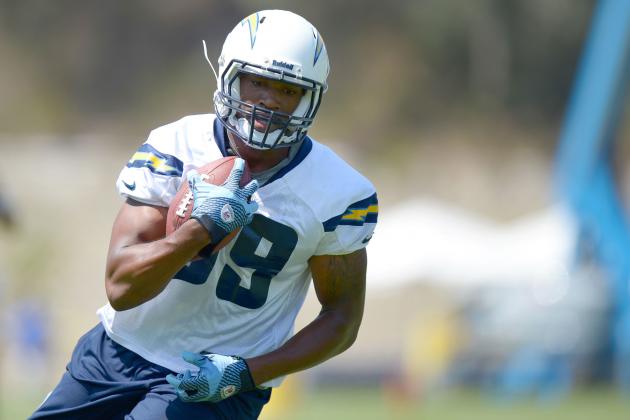 Jake Roth-US PRESSWIRE

Former Louisiana-Lafayette ace Ladarius Green appeared to have all the tools to emerge as the heir apparent to Antonio Gates. However, the San Diego Chargers' fourth-round pick has so far managed only a single catch during his rookie campaign.
Green has instead seen his potential playing time maximized by Dante Rosario and natural blocker Randy McMichael. Green simply hasn't done enough to prove he deserves to take plays away from a distinguished veteran like Gates.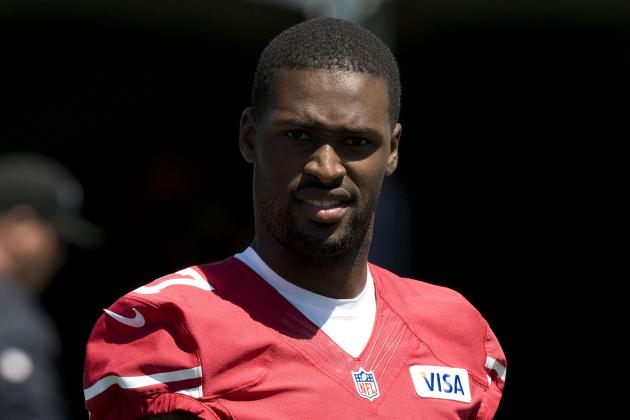 Ed Szczepanski-US PRESSWIRE

The writing was probably already on the wall for A.J. Jenkins' rookie season the moment San Francisco 49ers head coach Jim Harbaugh complained about the physical condition of his first-round draft pick.
Although Harbaugh was quick to chastise those who derided Jenkins for a series of below-par preseason showings, it's telling that the rookie has yet to appear in regular-season action. The ex-Illinois flanker is being left out in the cold in San Francisco.
That doesn't say much given that the 49ers pass offense always looks in need of one more weapon despite the presences of Vernon Davis, Mario Manningham and Randy Moss. This is already looking like a first-round pick the 49ers wish they could have back.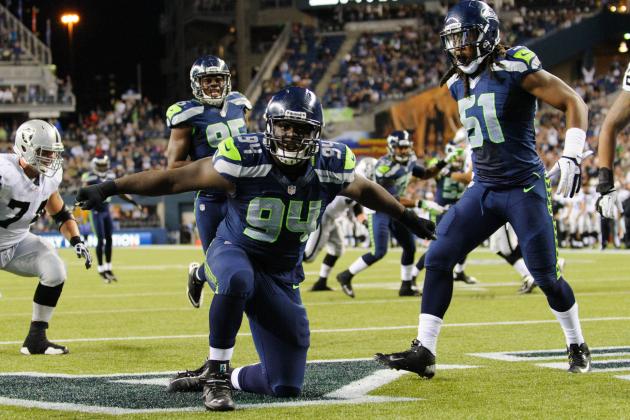 Steven Bisig-US PRESSWIRE

The Seattle Seahawks' rookie class have been very productive, with Russell Wilson and Bobby Wagner the obvious standouts. However, one player who has failed to make the grade is defensive tackle Jay Howard.
The fourth-round pick hasn't managed to contribute in a crowded defensive line rotation. The Seahawks do possess plenty of talent up front, but head coach Pete Carroll is never shy about using multiple bodies to fill the various roles in his hybrid schemes.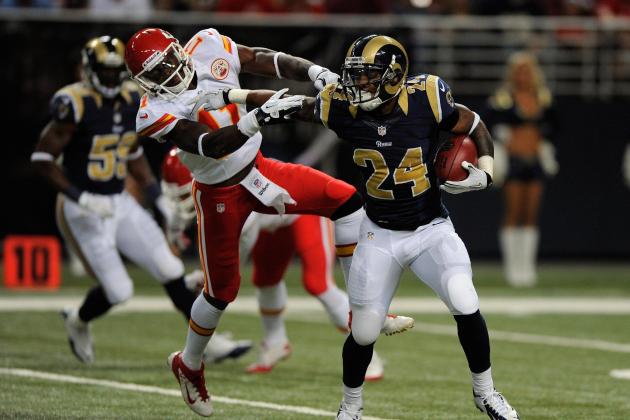 Jeff Curry-US PRESSWIRE

Isaiah Pead was supposed to be the change-of-pace back the St. Louis Rams needed to complement the bruising style of Steven Jackson. Instead, Pead has found himself quickly supplanted in that key role by unheralded seventh-rounder Daryl Richardson.
Pead has appeared in only one game this season. He has posted just two receptions for seven yards and has yet to accept a handoff as a running back.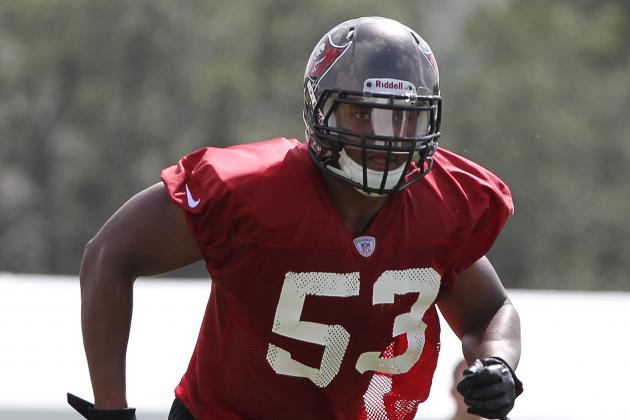 Kim Klement-US PRESSWIRE

Najee Goode hasn't made anywhere near the level of impact that fellow rookie linebacker Lavonte David has delivered for the Tampa Bay Buccaneers.
David has started every game, racking up 41 tackles. Fifth-rounder Goode has yet to take the field for head coach Greg Schiano's rebuilding team.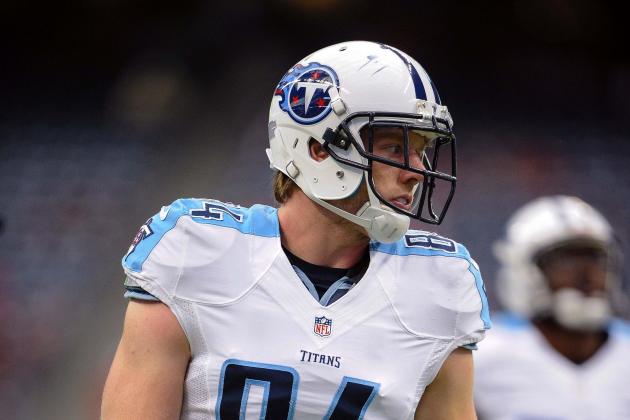 Jerome Miron-US PRESSWIRE

Taylor Thompson hasn't been able to establish himself as a credible member of the Tennessee Titans' tight end rotation. He has just two catches for 12 yards so far this season.
The Titans don't emphasize the tight ends in their offense, but there are certainly opportunities alongside the underused Jared Cook. Thompson has yet to take advantage and push for an expanded role.
The Titans took a risk when they gambled on a former defensive end's ability to convert to tight end. However, Thompson is already risking becoming a failed project.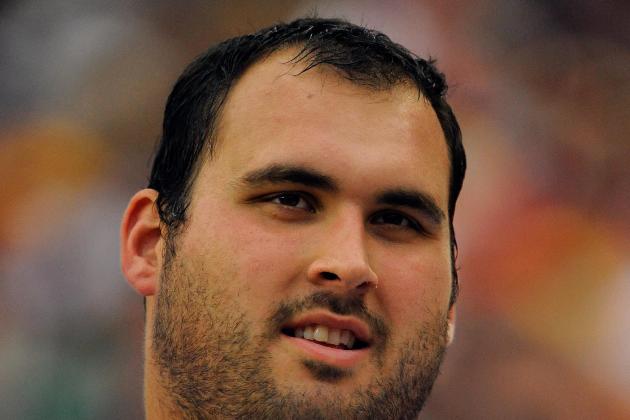 Brad Mills-US PRESSWIRE

Not much has gone wrong with the Washington Redskins' 2012 draft class thanks to Robert Griffin III and Alfred Morris. However, it's a little disappointing that third-round choice Josh LeRibeus hasn't even seen the field during the regular season.
As Washington's highest selection after Griffin, many would have expected LeRibeus to have an immediate impact on a normally shaky offensive line. A nimble-footed lineman, LeRibeus seemed like a natural fit for Mike Shanahan's mobile, zone-based blocking schemes. Yet the scrappy interior blocker has failed to supplant any of 2011's uninspiring starters.