2013 NFL Mock Draft: Predicting All 32 First Round Picks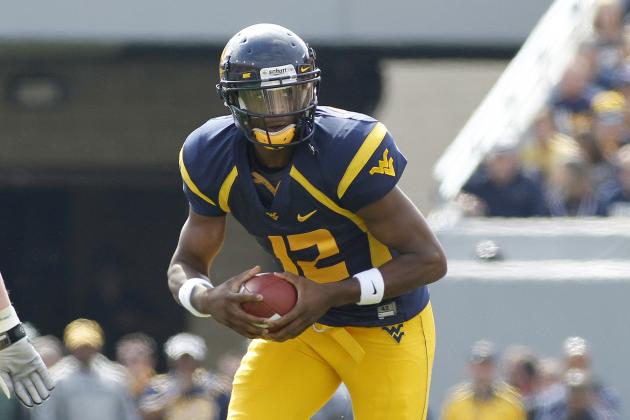 Justin K. Aller/Getty Images

West Virginia quarterback Geno Smith is the undisputed No. 1 pick in the 2013 NFL draft, but there is still plenty of mystery left in the first round.
Some players—like USC's Matt Barkley—are struggling to maintain their status as a Top 10 draft pick, while others—like Texas' Kenny Vaccaro—are shooting up the board.
Halfway through the college season, draft boards are starting to take shape. But as we know, things that make perfect sense now will likely change before next April, as the scouting process becomes more intense and players are subject to countless hours of scrutiny.
Based on what we know now, here are my latest predictions for all 32 picks in the 2013 NFL draft.
Begin Slideshow

»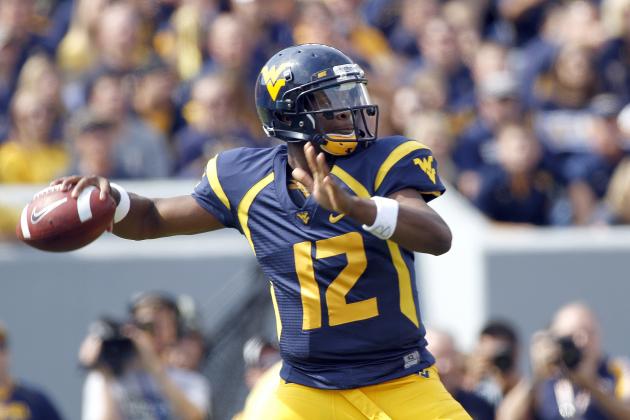 Justin K. Aller/Getty Images

Geno Smith, Quarterback, West Virginia
Matt Cassel, Brady Quinn and Ricky Stanzi are all second-string quarterbacks at best.
The Kansas City Chiefs have a cupboard full of offensive weapons, but they're in need a skilled marksman to be utilized correctly.
Smith is easily this year's top quarterback. Blessed with good size (6'3" and 220 pounds), terrific mobility and elite arm strength, Smith will be an instant starter and massive upgrade for the Chiefs at the quarterback position in 2013.
One thing to consider before anointing Smith as the next Robert Griffin III is that he isn't as polished or pro-ready as RG3. Smith has a tendency to throw with bad mechanics at times, and he operates almost exclusively from shotgun at West Virginia.
Still, he's going to be a big-time playmaker in the NFL, and he'll learn to adjust to the pro game given the proper coaching.
Ed Zurga/Getty Images

Jarvis Jones, Outside Linebacker, Georgia
The Jacksonville Jaguars have needs at many positions, but Jones looks to be this year's version of Von Miller. We've seen what kind of impact Miller has had for the Denver Broncos as a weak-side linebacker, and similarly Jones will be a huge shot in the arm for the Jaguars front seven.
Jones is almost as quick as Miller as a pass-rusher, but he's miles ahead of him in terms of coverage in the open field. He's also a willing and able tackler in the running game, though he does have trouble shedding blocks at times.
Simply put, Jones has the skills do anything his coaches ask of him—an invaluable trait for any player, but especially valuable for linebackers. He's a three-down player who will make the entire defense better.
Jamie Sabau/Getty Images

Johnathan Hankins, Defensive Tackle, Ohio State
I've been blasted by Cleveland Browns fans in the past for predicting the team will take another defensive tackle, but I stand by my pick.
First of all, the Browns aren't as solid up front as fans want to believe. Not only is this team ranked No. 25 against the run, but it isn't getting enough pressure on opposing quarterbacks either, and as a result the secondary has been getting shredded.
The leading sack man for the Browns at this point in the season is linebacker D'Qwell Jackson, which only further proves my point.
Hankins is a massive man who demands a double team. He's strong enough to get penetration into the backfield in both the passing game and in the running game even when teams do put two blocker on him.
His presence on the defensive line will open up more opportunities for his teammates to disrupt the pocket, making the entire defense better in the process.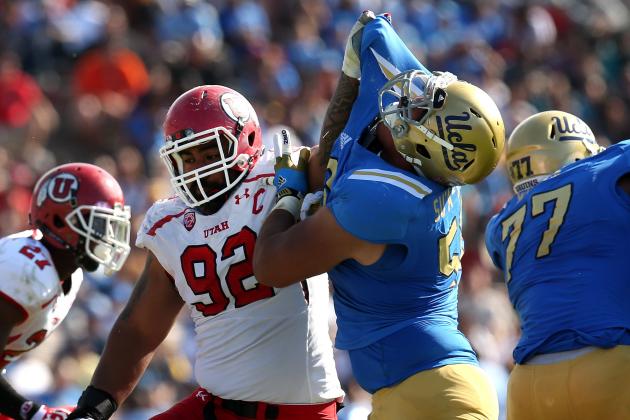 Stephen Dunn/Getty Images

Star Lotulelei, Defensive Tackle, Utah
The Tennessee Titans are one of the teams that could pick almost any top player in the draft and fill a need. That said, this team desperately needs an imposing presence on its defensive line, and Lotulelei will instantly improve their front four.
Lotulelei is incredibly powerful and surprisingly agile for his size. At 6'3" and 320 pounds, he has the quickness and explosion off the ball to split gaps and penetrate into opposing backfields in a flash. He has enough power and strength to hold off double teams at the point of attack.
Opposing offenses will have to treat Lotulelei with a tremendous amount of respect, and his teammates on the defensive line will benefit.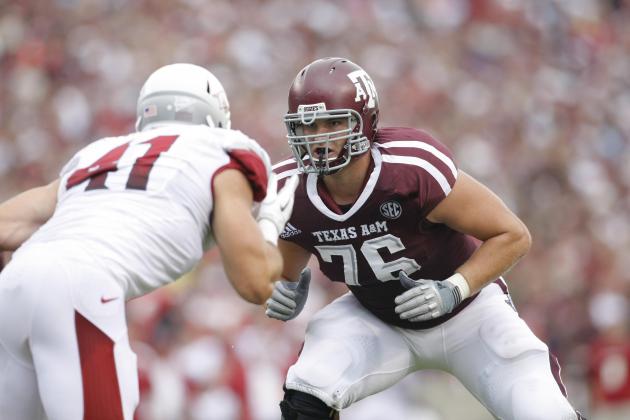 Brett Davis-US PRESSWIRE

Luke Joeckel, Offensive Tackle, Texas A&M
The Tampa Bay Buccaneers are currently operating on offense with Donald Penn at left tackle, and though he hasn't been a disaster, he'd be better off on the right side.
The Bucs want to pound the rock with Doug Martin, and though Joeckel is better in pass-protection, he's no slouch in the running game. He has excellent size at 6'6" and 310 pounds and has the length to keep defensive ends from getting outside him on the edge.
Joeckel has excellent lateral mobility and does a good job of keeping his pad level down. Adding him to a lineup with Davin Joseph, Carl Nicks and Penn will make the Bucs one of the most diverse and powerful offensive lines in the NFL.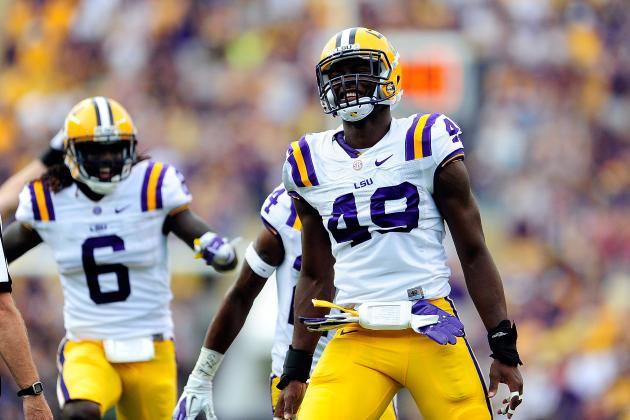 Stacy Revere/Getty Images

Barkevious Mingo, Outside Linebacker, LSU
Dwight Freeney's best days are behind him, and Robert Mathis isn't far behind. Jerry Hughes shows excellent promise as a 3-4 outside linebacker, but in the NFL you need more than one pass-rusher to succeed.
Mingo is a no-brainer pick here at No. 6. He's the most explosive pass-rusher in the 2013 draft, and though he's been playing with his hand in the dirt at LSU, he has the physical traits we look for in a 3-4 outside linebacker—long arms, quick first step, excellent spin move, power off the edge and excellent lateral agility.
To envision Mingo's role for the Colts, think about what Aldon Smith has done for the San Francisco 49ers and Bruce Irvin has done for the Seattle Seahawks. Even if he's not ready to be an every-down linebacker, Mingo will give the Colts an immediate boost as a pure pass-rusher until he's ready to make the transition.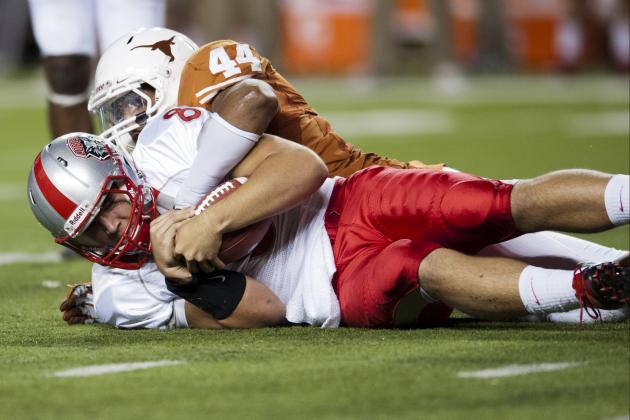 Cooper Neill/Getty Images

Jackson Jeffcoat, Defensive End, Texas
Jeffcoat is the son of former NFL defensive lineman Jim Jeffcoat, who played for the Dallas Cowboys and Buffalo Bills.
At 6'5" and 245 pounds, Jeffcoat has an ideal frame for a speed rusher, and given a few years in an NFL weight room, I'd expect to see him in the 260-270 pound range.
The Oakland Raiders need youth and talent on the defensive line, and Jeffcoat fits the bill nicely. His speed and quick first step will mesh well with the power the Raiders currently have on the inside of their defensive line.
Given this team's lack of depth on the outside, he'll contribute in a big way from Week 1.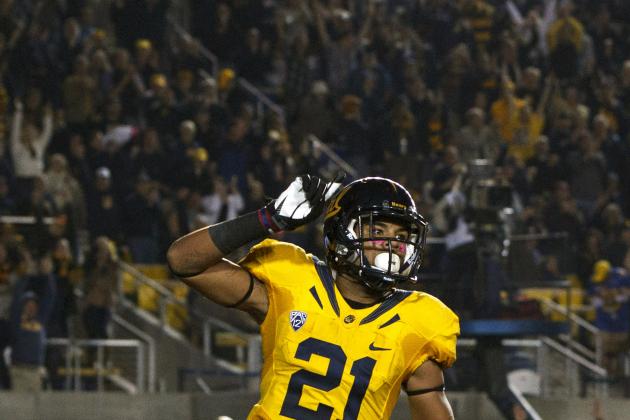 Jason O. Watson/Getty Images

Keenan Allen, Wide Receiver, California
Rookie quarterback Ryan Tannehill has been more than impressive in 2012, and he's making due without a legitimate No. 1 wide receiver. Imagine how much better he and his offense will be with a guy like Allen on the outside.
Allen has good size (6'3" and 205 pounds), good speed (around 4.5 second 40-yard dash) and excellent hands. His best attribute, however, is that he has game-breaking after-the-catch abilities that will serve the Dolphins well in the years to come.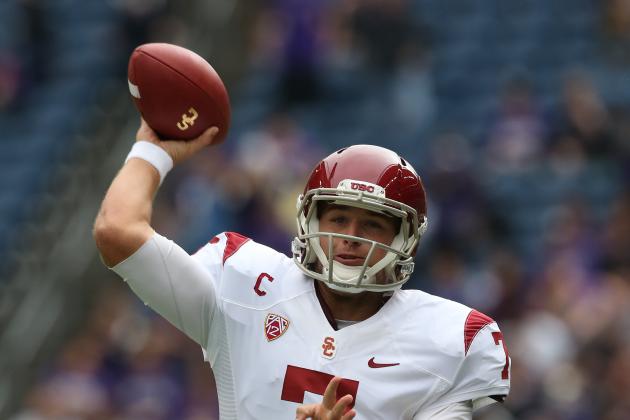 Otto Greule Jr/Getty Images

Matt Barkley, Quarterback, USC
The Buffalo Bills must face facts: Ryan Fitzpatrick isn't the guy they thought they were getting when they signed him to the monster seven-year, $65 million contract in the middle of last season.
It's time to move on, and Barkley is the right man to take over.
Although Barkley doesn't possess a rocket arm or athleticism that matches up to Geno Smith, he is an extremely accurate quarterback on short, timing patterns and is a battle-tested, pro-ready quarterback who can step in and start from Day 1.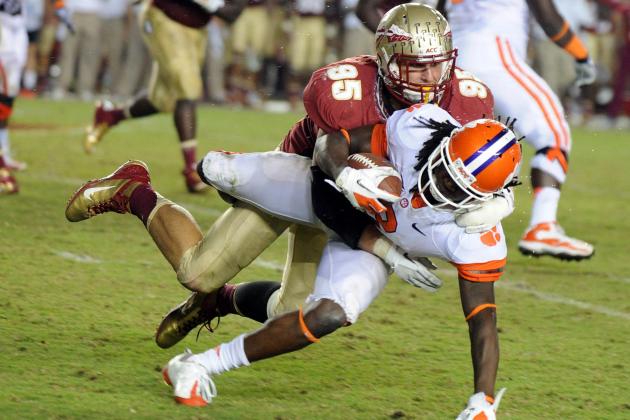 Melina Vastola-US PRESSWIRE

Bjoern Werner, Defensive End, Florida State
Defensive coordinator Steve Spagnuolo's entire defensive philosophy is keyed on having a dominant pass rush—something the New Orleans Saints don't currently have.
Werner is an excellent speed-rusher with tons of untapped potential. He is explosive off the ball, has surprising power for a man his size and is extremely savvy about reading plays.
The best thing about Werner, though, is the mental toughness and unrelenting drive he brings to every single snap. He's going to be a top-flight NFL pass-rusher sooner rather than later, and the Saints would be getting a steal if he falls this far.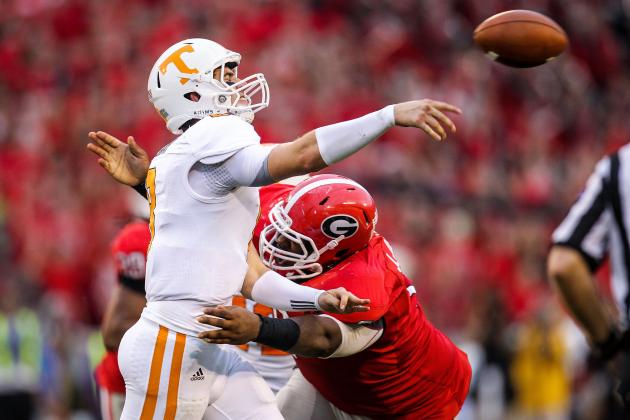 Daniel Shirey-US PRESSWIRE

John Jenkins, Defensive Tackle, Georgia
The New York Jets can't stop the run and don't get adequate pressure on opposing quarterbacks—a recipe for disaster on defense.
Jenkins is a mammoth defender who at 6'3" and 360 pounds will step in and become the team's starting nose guard over Sione Pouha, who has been a major disappointment since signing his contract this past offseason.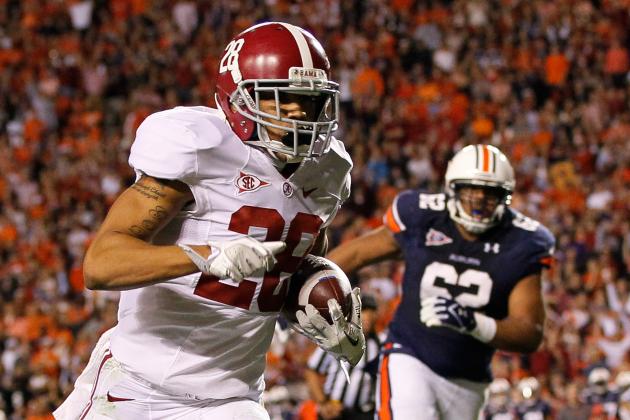 Kevin C. Cox/Getty Images

Dee Milliner, Cornerback, Alabama
The Detroit Lions are seriously weak at the cornerback position—a terrible predicament when competing against the NFC North twice a year.
Milliner is a big, strong, tough and instinctive defender who is pro-ready, having played for Nick Saban for three years. He isn't picked on often, as Milliner has a tendency to get his hands on plenty of footballs when opposing quarterbacks are foolish enough to throw his way.
So far this season, Milliner has already intercepted two passes and defended 14 more. He's just what the doctor ordered for the porous secondary of the Lions.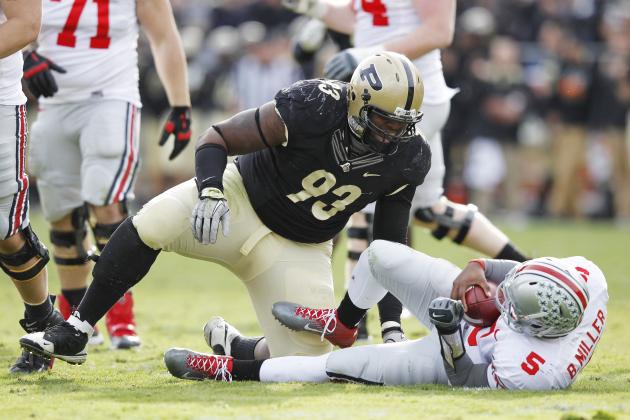 Joe Robbins/Getty Images

Kawann Short, Defensive Tackle, Purdue
Carolina Panthers fans won't agree with me here on this pick, but this team desperately needs to upgrade its defensive line.
Short is a disruptive force of nature that will make life exponentially easier on rookie linebacker Luke Kuechly, who's had his fair share of struggles this year.
Adding him will also greatly impact guys like Charles Johnson on the edge, as Short's tendency to shoot the gaps will force teams to double team him on the inside.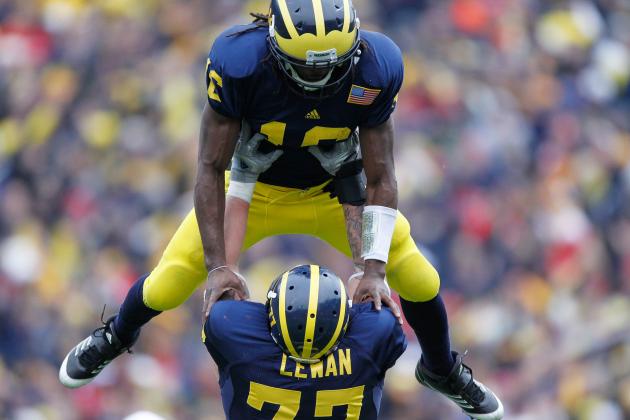 Gregory Shamus/Getty Images

Taylor Lewan, Offensive Tackle, Michigan
I've heard rumors the St. Louis Rams may need help on the offensive line...
Sam Bradford needs protection up front and he needs a couple of play-making wide receivers. The best thing the Rams can do for him at this point in the draft is to take the best tackle off the board.
Lewan could well already be gone at this point in the draft. At 6'7" and 310 pounds, this young man has the potential to become the best offensive tackle in this year's draft class.
Not only is Lewan a skyscraper of a man, but he's extremely athletic and will only get stronger and better as he improves his technique and hits the weight room.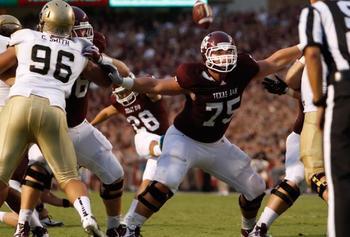 Photo Credit: Thomas Campbell/thomasgcampbell.com
Jake Matthews, Offensive Tackle, Texas A&M
The Arizona Cardinals shocked us all by starting out the season 4-0, but the past two games have been more along the lines of what most experts saw for this team heading into the season.
The biggest issue facing the Cardinals is that this team has absolutely no talent at offensive tackle.
Matthews is the "other" Texas A&M tackle, but he's just as pro-ready as Luke Joeckel. Furthermore, Matthews is a better run-blocker than Joeckel, and the Cardinals desperately need to bring in a few maulers to improve their atrocious running game.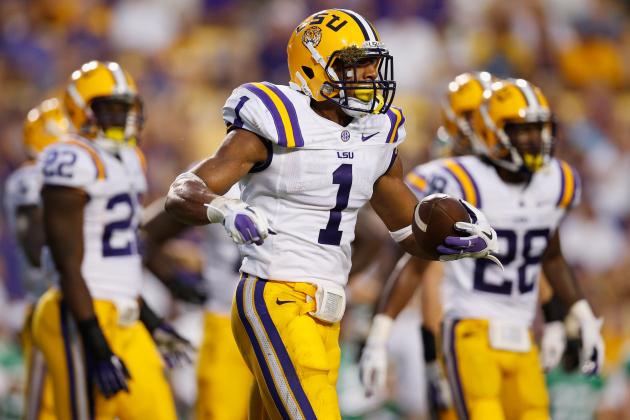 Chris Graythen/Getty Images

Eric Reid, Free Safety, LSU
The St. Louis Rams have two of the best cornerbacks in the NFL with Janoris Jenkins and Cortland Finnegan, but this team still needs a stud safety to tie the secondary together.
Given the intense pressure the front seven already applies to opposing quarterbacks, adding another play-making defensive back would make this defense one of the most feared in the NFL.
Reid has been flying under the radar a bit this year, but by the time the NFL scouting combine is completed next spring, he's going to be one of the hottest commodities in this year's draft.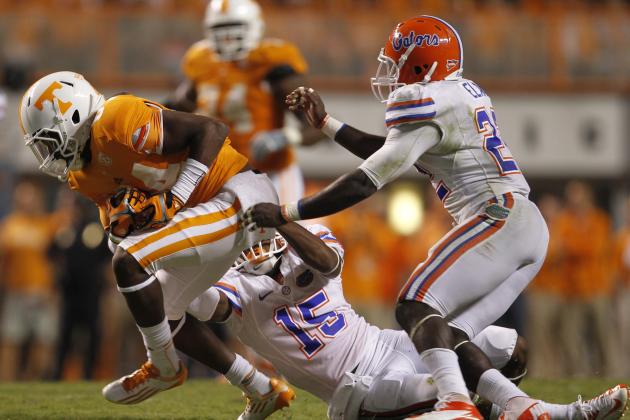 John Sommers II/Getty Images

Cordarrelle Patterson, Wide Receiver, Tennessee
Andy Dalton has gotten excellent production out of Armon Binns and Andrew Hawkins, but neither of them are true No. 2 receivers.
Patterson is a guy that made the jump from JUCO into the SEC and made it look easy. At 6'3" and 205 pounds, he has the frame, speed, hands and athleticism to make life extremely difficult for opposing secondaries.
Paired with A.J. Green, Patterson will turn the Bengals offense into a true juggernaut.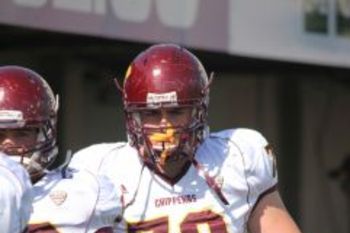 Draftnasty.com
Eric Fisher, Offensive Tackle, Central Michigan
Philip Rivers won't last much longer for the San Diego Chargers if A.J. Smith continues failing to provide him a solid offensive line. A top-flight tackle is needed for starters, and Fisher is the perfect man to step up to the plate.
Like Joe Staley before him, Fisher is a big, strong athletic guy who can move well. He's agile enough to contain many of today's top pass-rushers, and given some solid work in the weight room, he will add strength to his excellent technique in the running game.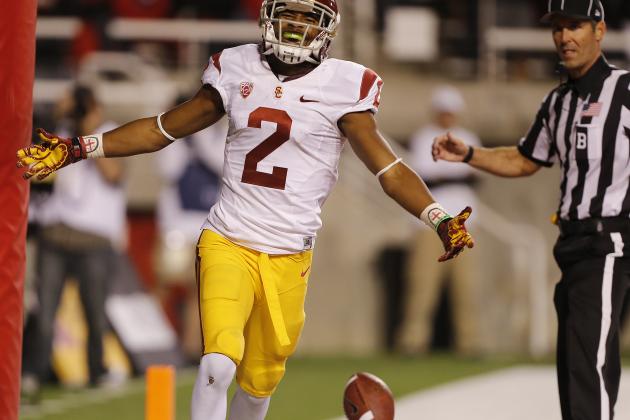 George Frey/Getty Images

Robert Woods, Wide Receiver, USC
Russell Wilson looks to be the real deal at quarterback, and Marshawn Lynch still has plenty of miles left on his legs. The Seattle Seahawks could use an offensive lineman here, but given the fact that Woods is just sitting here in the bottom half of the draft, this team won't hesitate to pull the trigger to land the talented young receiver.
Woods has the potential to become an elite wide receiver in the NFL. He has good size (6'1" and 190 pounds), excellent run-after-the-catch abilities and is a phenomenal route runner. Woods' greatest challenge going forward is that he struggles with dropped passes.
If Woods can clean up his mistakes, he could well become the best receiver in this year's draft class.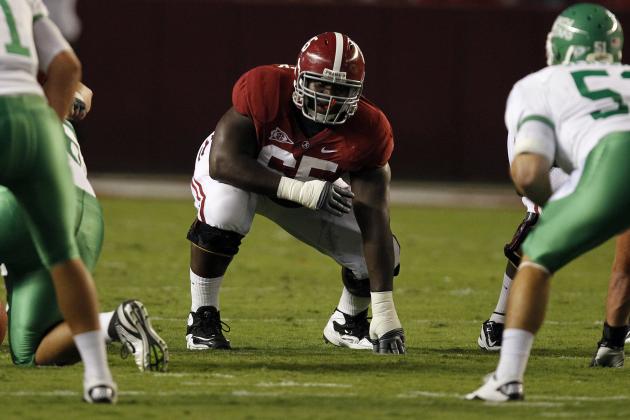 Butch Dill/Getty Images

Chance Warmack, Offensive Guard, Alabama
Given the amount of time Michael Vick has spent on the ground this year, the Philadelphia Eagles are clearly in need of talented offensive linemen.
Warmack is an able pass protector, but where he really shines is as a road-grading run blocker. LeSean McCoy is still one of the best running backs in the NFL (though it seems like Andy Reid forgets he exists sometimes) and having the benefit of an athletic, powerful guard on the line will make his life easier in the years to come.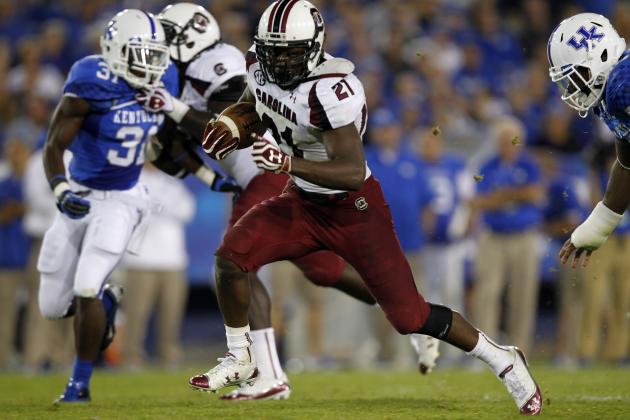 John Sommers II/Getty Images

Marcus Lattimore, Running Back, South Carolina
Lattimore is known for being a power back, but he's just as talented as a pass-catcher out of the backfield. Given the fact the Green Bay Packers have struggled to find a running back capable of fitting their offensive strategy since Ahman Green, it makes sense to invest in this young man.
Lattimore has a nose for the end zone, with 40 career touchdowns in 27 games. His blend of power, speed and vision will be a perfect complement to Aaron Rodgers and the Packers explosive passing attack.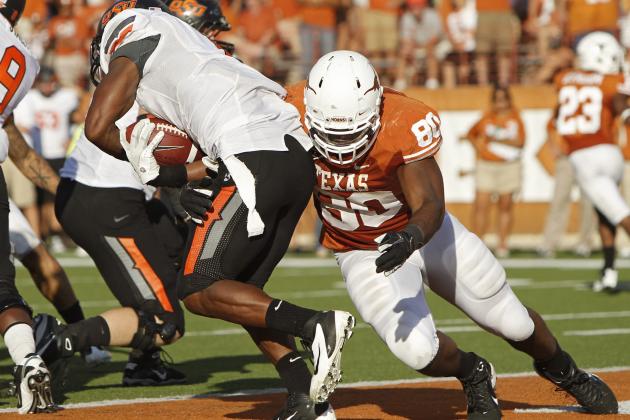 Erich Schlegel/Getty Images

Alex Okafor, Outside Linebacker, Texas
Okafor has been a defensive end and defensive tackle for Texas during his career, but he has an unorthodox array of talents that make him an intriguing prospect as a 3-4 outside linebacker.
At 6'5" and 265 pounds, Okafor brings plenty of raw power to the table. He breaks the typical mold of a Pittsburgh Steelers linebacker, as most of their success has come with undersized players. Still, his ability to hold the edge on running plays and get to the passer on passing plays makes him a player worth considering here.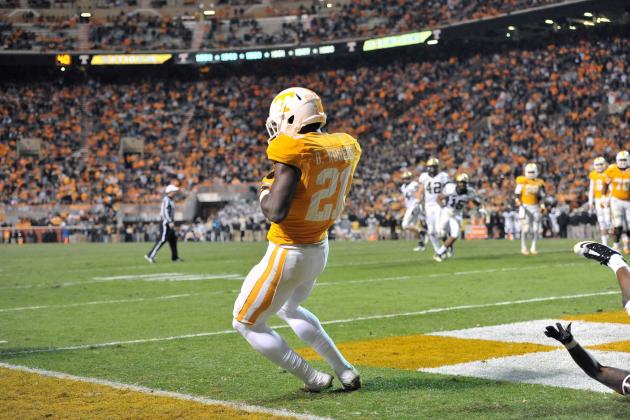 Jim Brown-US PRESSWIRE

Da'Rick Rogers, Wide Receiver, Tennessee Tech
The Minnesota Vikings have the makings of a dominant offense with Christian Ponder behind center.
Percy Harvin is undoubtedly one of the premier playmakers in the NFL, tight end Kyle Rudolph has six touchdowns through six games and will only get better and Adrian Peterson is the best running back in the NFL.
Still, there's one ingredient that's missing—this team still needs a legitimate No. 1 wide receiver.
Rogers is the man who can turn this offense into an unstoppable force. He comes with some baggage, as he was dismissed from Tennessee due to failed drug tests (h/t Yahoo! Sports), but there's no doubting his physical gifts and desire to play the game.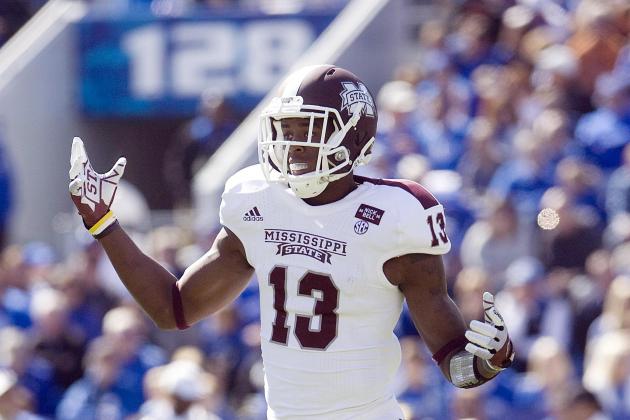 Mark Zerof-US PRESSWIRE

Johnthan Banks, Cornerback, Mississippi State
As good as Champ Bailey is, he's going to be hanging up his cleats in the not-so-distant future. The time to bring in his replacement is now, while the future Hall of Famer is still in attendance to teach the young man a few of his tricks.
Banks is a true ball hawk who has tallied 15 career interceptions. He has the fluid hips scouts look for in a cornerback, and that means he can hang with receivers as they move in and out of their cuts. Cover corners are a rare breed, and the Broncos would be foolish to pass this one up in the draft.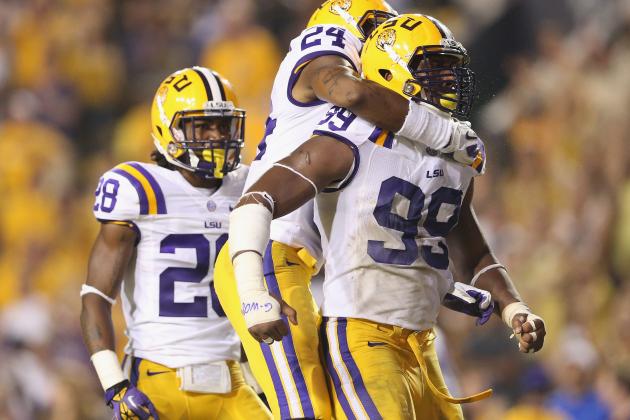 Ronald Martinez/Getty Images

Sam Montgomery, Outside Linebacker, LSU
The one thing Rob Ryan needs to make his defense into a dominant force is a complementary pass-rusher to play opposite DeMarcus Ware.
Montgomery, at 6'4" and 245 pounds, possesses the long arms and explosive first step scouts look for in 3-4 outside linebackers. He's also extremely athletic, and his ability to bend his hips to get around the corner will cause opposing offensive tackles many a nightmare.
With two fierce pass-rushers, the burgeoning secondary of the Cowboys will see plenty of opportunities to wreak havoc and create turnovers.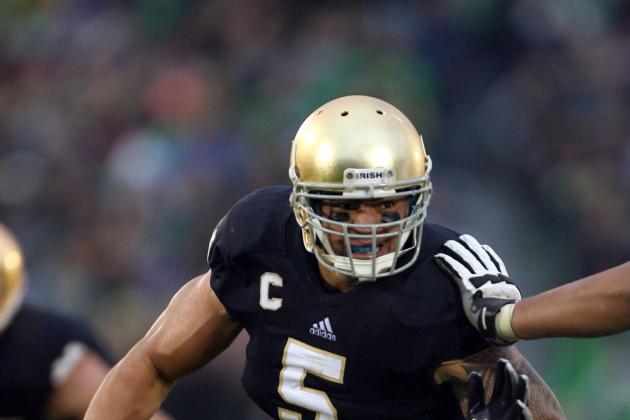 Brian Spurlock-US PRESSWIRE

Manti Te'o, Middle Linebacker, Notre Dame
Brian Urlacher's best days are long gone, and he's a shadow of his former self when he's healthy enough to play.
Watching Te'o play for the Irish is like watching Urlacher in his prime. The best thing about Te'o, though, is he has a massive head start to finding success in the NFL compared to Urlacher, who was a safety in college.
This pick is a no-brainer for the Bears.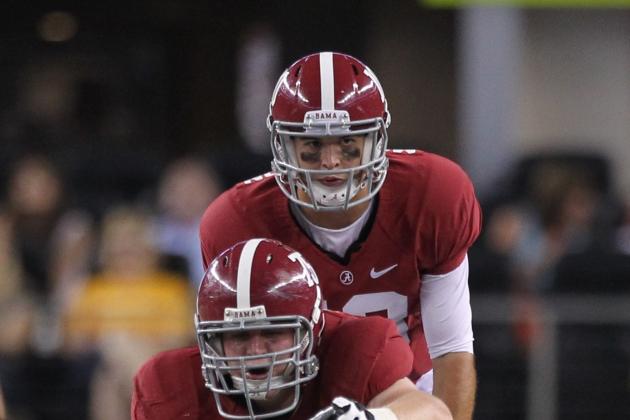 Matthew Emmons-US PRESSWIRE

Barrett Jones, Offensive Guard, Alabama
As shown in the picture, Jones has the skills to play other positions on the line. In fact, there isn't a position Jones can't play with skill, and his versatility is a trait Bill Belichick values highly.
The New England Patriots offensive line is a work in progress, and adding a technically-sound and diverse lineman like Jones will cause the improvements to be made in haste.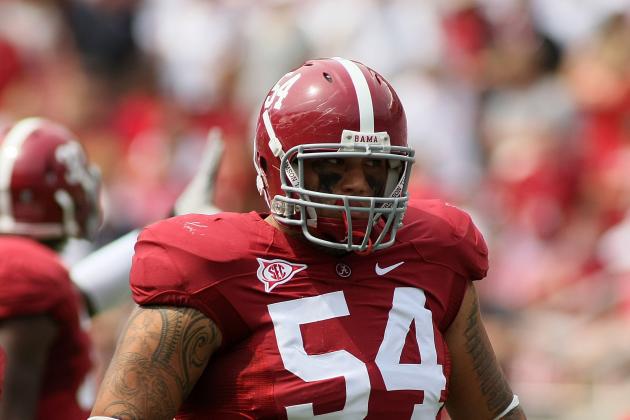 Greg McWilliams/Getty Images

Jesse Williams, Defensive Tackle, Alabama
In the NFL, games are won and lost in the trenches. Nobody knows this more than Ozzie Newsome, who never hesitates to bolster his defensive line.
Terence Cody hasn't been the player the Baltimore Ravens hoped he'd become, as evidenced by the team's inability to stop the run this year (No. 26 in the NFL in 2012).
Williams, at 6'3" and 320 pounds, brings an intensity to the defensive tackle position that's been lacking with Cody, and his physical attributes are rock solid. He's a high-motor player with phenomenal strength, and his presence in the middle of the Ravens lineup will once again turn this defense into a feared unit against the run.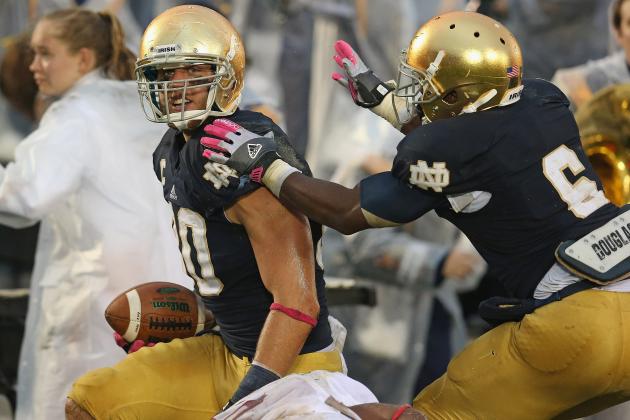 Jonathan Daniel/Getty Images

Tyler Eifert, Tight End, Notre Dame
Delanie Walker's contract is up at the end of the 2012 season, and the San Francisco 49ers could double down on their tight end production by adding Eifert—the nation's top tight end prospect.
Whether it's Alex Smith or Colin Kaepernick behind center in 2013, adding Eifert to the lineup to play with Vernon Davis would give the New England Patriots' duo of Aaron Hernandez and Rob Gronkowski a run for their money as the best in the NFL.
In addition to possessing excellent hands, size and speed, Eifert is a willing and capable run blocker, which only adds value to him as far as the 49ers are concerned.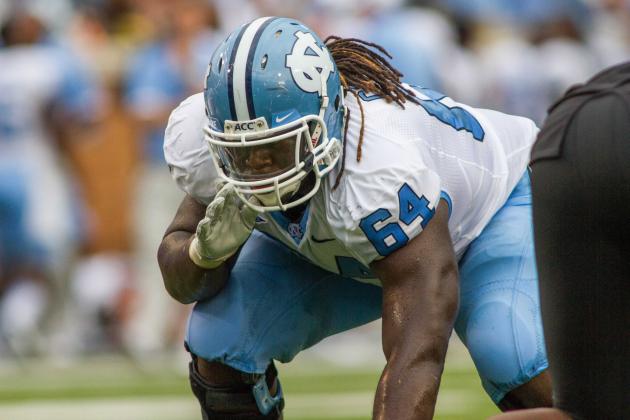 Jeremy Brevard-US PRESSWIRE

Jonathan Cooper, Offensive Guard, North Carolina
The Atlanta Falcons are getting decent play out of their offensive guards, and this team needs a tackle, but adding a guy like Cooper to the interior would dramatically increase productivity in the running game.
Furthermore, Cooper, at 6'3" and 310 pounds, is an agile big man who can pass-block with excellent technique and leverage—something the Falcons desperately need if Matt Ryan wants to stay healthy and productive in the long term.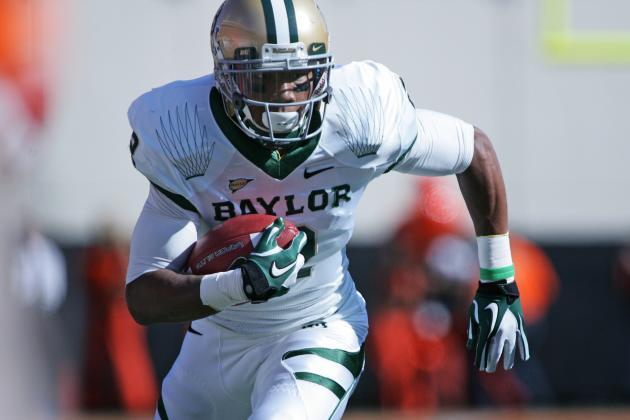 Brett Deering/Getty Images

Terrance Williams, Wide Receiver, Baylor
Andre Johnson's skills are declining, and the best way to help him achieve longevity in this league as a dangerous pass-catcher is to give him a running mate on the other side of the field.
Williams is a bit raw in terms of route running and general knowledge, but his athletic abilities and pure speed will force teams to pay attention to him, thus drawing a bit of pressure off of Johnson.
Adding a true No. 2 wide receiver needs to be one of the first orders of business for the Texans in 2013, and Williams would be a perfect remedy.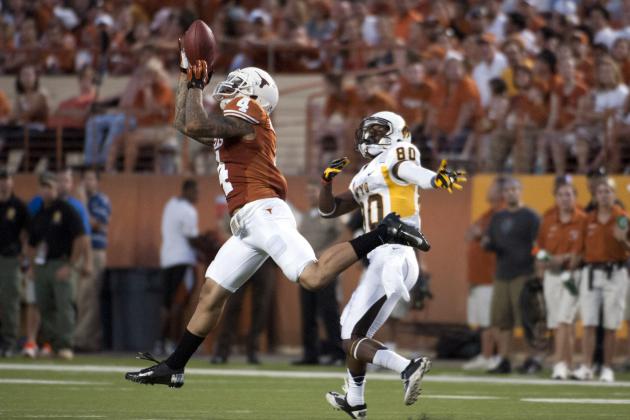 Brendan Maloney-US PRESSWIRE

Kenny Vaccaro, Strong Safety, Texas
The New York Giants find their success through Eli Manning's arm and through fielding a dominant defense.
The team's biggest weakness right now is its secondary, and adding a ball-hawking safety like Vaccaro would greatly improve the team's overall defense.
Vaccaro has the skill set to cover receivers one-on-one if need be, which is rare, since he's also a big-hitting safety who loves to attack the running game.
Follow me on Twitter @JesseReed78 and check out my weekly NFL picks at Pickfactor.com