3 Reasons Jason Garrett Shouldn't Be Fired This Season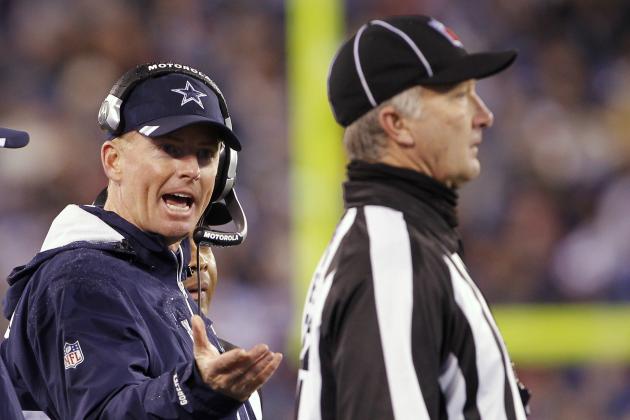 Rich Schultz/Getty Images
That's about as much emotion as you'll ever see from Jason Garrett.
It seems that if you're the head coach of the Dallas Cowboys, you're perpetually on the hot seat. This season is no different, and even though the team has started 2-2, pundits are already suggesting that Jason Garrett might not last the season.
Garrett took over the position midseason in 2010 after Wade Phillips had lost control of his locker room, and the team started the season at 1-7. Garrett ultimately led the team to a 6-10 record, winning five of eight matches as the interim head coach, including a dominant performance at the Meadowlands.
In 2008 and 2009, the world was Garrett's oyster. Every team that is on the up and up now wanted to get the offensive coordinator's name on the dotted line. He received offers from Atlanta and Baltimore, and he was interviewed by Denver and St. Louis—even Detroit had some interest.
He decided to stay in Dallas and was at the time the highest-paid assistant coach in the league.
So, here we are at 2-2 and Garrett's record at 15-13 since he took over in November 2010 nearly two years ago.
There are still 12 games left to be played, and it is entirely too early to be calling for Garrett's head. Let's try to examine why.
Begin Slideshow

»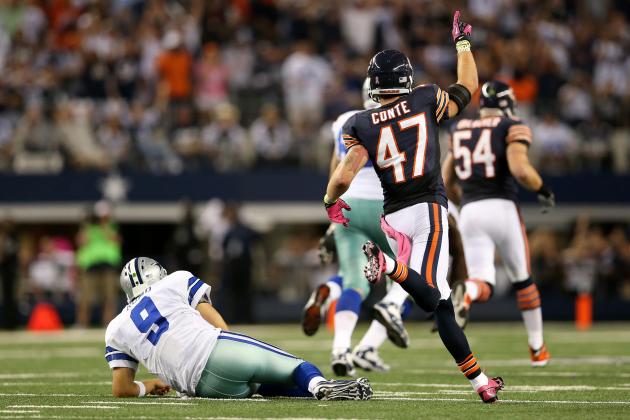 Ronald Martinez/Getty Images
If Garrett can get this offense back on track, the number in the win column should start rising.
Everybody relax.
The Boys are 2-2. Yes, the sky is almost always falling in Dallas, but at 2-2 with a divisional road win in the bag, this is not the worst thing that could've happened.
Yes, they got drubbed by the Seahawks in Seattle, but who hasn't? The entire league and its fanbase got slapped silly in Seattle on a fateful Monday night, as did Discount Double Check and co. The Seattle defense is the real deal and it'll continue to impose its will on opponents throughout the season.
Yes, they were stifled by the defensive juggernaut that is Da Bears. Chicago will still be at the dance come January the way they're playing right now. If Dallas wants retribution, it will no doubt have to up its game to get there.
At 2-2, Dallas' defense is playing better than it has in years. The offense has never played this poorly with a healthy Tony Romo. As Garrett is the offensive arm of the operation, the deficiencies on offense do fall on him.
The offense can't get much worse from here, and history is on Garrett's side for getting an offense on track. He had Dallas playing as the No. 2 offense in the nation when he was the offensive coordinator under Wade Phillips. There's no reason to believe he can't turn this around.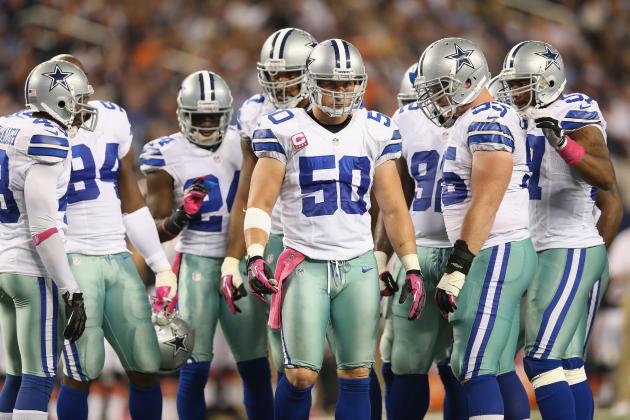 Ronald Martinez/Getty Images
If the Cowboys offense doesn't start to pick things up, this defense won't be able to carry Jason Garrett into the offseason.
Plain and simple, it's just too early to be calling for Garrett's head. The Cowboys are not at 1-3 like they were two years ago, and it's hard to place them at 3-7 like they were when they won their third game that season.
The defense is dominant, and the offense simply needs to focus. Were it not for dropped passes alone, you could make the case that they could be 4-0 right now.
You can't blame Garrett alone for players not focusing on the field, and you certainly can't suggest that Miles Austin, Dez Bryant, Jason Witten and Kevin Ogletree all forgot how to catch the football in one offseason.
Dropped passes were not the only problems on offense either. Garrett deserves the benefit of the doubt that he will get his receivers in the right mindset and get his offensive line working better.
It's simply too early to tell right now, but the next four weeks will be a real indication of where the team is going. If at the midpoint of the season the Cowboys are 2-6, then have at it.
The Cowboys will go to Baltimore this weekend, Carolina the following weekend, host the Giants after that and then it's onto the Georgia Dome to face the Falcons.
None of those will be easy contests, but a good showing at Baltimore—win or lose—will bode well for the team and Garrett.
Carolina is the perfect trap game and is a must-win on the schedule for Garrett. After having dispatched the Giants at MetLife Stadium, you have to assume the Cowboys can win at home.
Atlanta will be the toughest test of them all, as the Georgia Dome is not an easy place to play in recent years—and oh yeah, the Falcons might be the best team in football.
All of these matches will be a much better barometer for where this team and Garrett are headed, but as it stands at 2-2, it's just too early.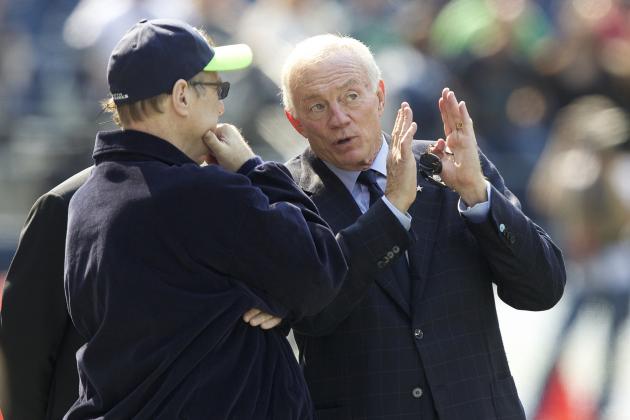 Stephen Brashear/Getty Images
In Jerry's World, you do things Jerry's Way.
If Jerry Jones were to drop Jason Garrett, can you honestly believe that Rob Ryan could step in and be a head coach for any amount of time whatsoever?
The man is a tremendous defensive coordinator, but a head coach he is not. Granted, Garrett is at the opposite extreme of the emotional spectrum than Ryan, but Ryan's end is not head-coaching material.
He is a veritable clown and is best left to coaching his defense. Ryan is much too animated in interviews and press conferences to be a head coach. He takes what his brother Rex does to an entirely new level.
Who could Jones replace Garrett with who would bend to his will? It's a sad fact in Dallas that if you don't do things Uncle Jerry's way, you won't last for long.
Garrett is Jones' guy and he does things the way Jones wants him to. There's no one else qualified to lead the team on the field based on that metric, and there probably aren't too many outsiders that could come in and do things Jerry's way mid season.
Jason Garrett will finish out the season for that reason alone, and if you give him the chance, he might surprise you.
The division is still very much in reach, and the way this team was rebuilt in the offseason was meant to combat teams in the division.
The playoffs won't be reached via the wild-card spot. Every team in the division is still alive for one of those spots, and you really can't pick anyone out this early like you could have in seasons past.