Fantasy Football Waiver Wire: Who Are the Hottest Adds for NFL Week 5?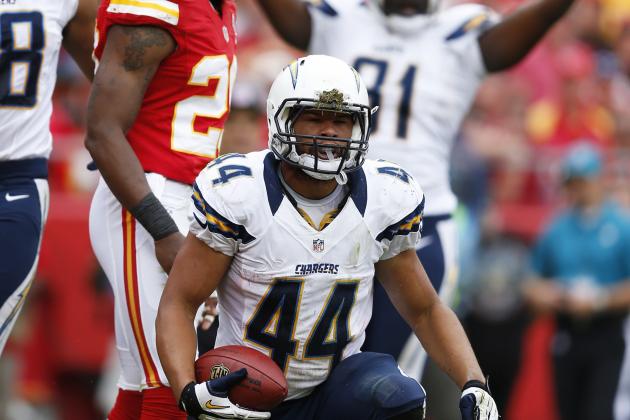 Joe Robbins/Getty Images

Utilizing the waiver wire in fantasy football can be a tricky proposition. There is a fine line between picking up a one-week wonder and starting him in lieu of someone that has a more impressive body of work but has struggled for the past couple weeks.
Those expecting Kevin Ogletree to all of a sudden be a viable WR2 option following his breakout performance were aghast when he struggled over the course of the last three games. Well, most could have told you that was going to happen.
Today's article is going to focus on 15 of the hottest waiver-wire pickups heading into the fifth week of the NFL season.
Proceed with caution, though; some of these individuals may end up tanking the minute you pick them up, while others will excel beyond any previously set expectations...looking at you, Brian Hartline.
Begin Slideshow

»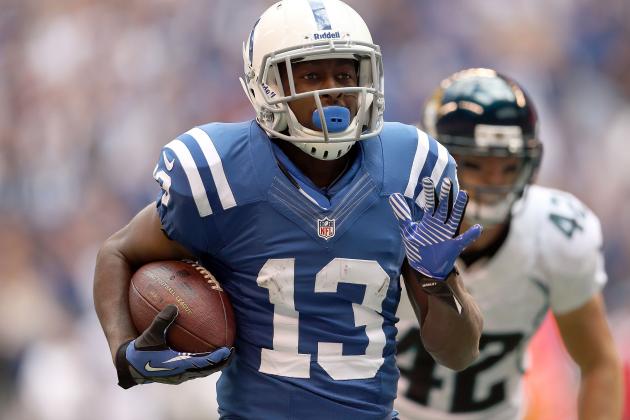 Andy Lyons/Getty Images

T.Y. Hilton, who had an impressive preseason for the Indianapolis Colts, was one of my biggest sleepers entering the 2012 NFL draft. After recording a single target in the Colts first two games of the season, Hilton broke out big time two weeks ago against the Jacksonville Jaguars.
He recorded four receptions for 113 yards and a score. Those numbers represent a growing relationship between the young receiver and Andrew Luck.
Indianapolis is now going up against a Green Bay Packers defense that struggled a great deal against the New Orleans Saints last week after performing darn well in their previous two games.
It remains to be seen whether Green Bay's pass defense will revert back to 2011 form for the long haul, but I love the Colts passing game in this matchup.
It also doesn't hurt that this game is expected to be high-scoring, which should mean Hilton is targeted more in the passing game.
Considering that Hilton is owned in only one percent of ESPN fantasy leagues, this could easily be a low-risk, high-reward proposition.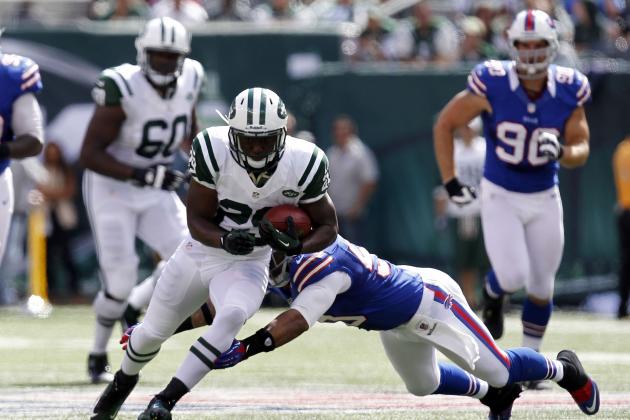 Jeff Zelevansky/Getty Images

As quick as you might want to sit/drop every single New York Jets offensive player from your fantasy roster, think a bit about who you might actually pick up from their offense to replace those who are struggling.
Shonn Greene continues to become an irrelevant fantasy running back. He has recorded a total of 97 rushing yards on 41 rushes over the course of the last three games. Heck, Greene may no longer be a viable starting running back in the NFL any more.
Enter into the equation Bilal Powell, who has been much more impressive than Greene for New York. The second-year running back from Louisville has become a bit more of an integral part of the Jets offense in his sophomore season.
While no one had success against the San Francisco 49ers last week, Powell was coming off of a two-game stretch in which he carried the ball a total of 19 times for 78 yards.
New York has to switch it up on the offensive side of the ball. Anything short of replacing Mark Sanchez with Tim Tebow is probably on the table this week against the Houston Texans. Look for them to feature Powell more than Greene against that stifling defense.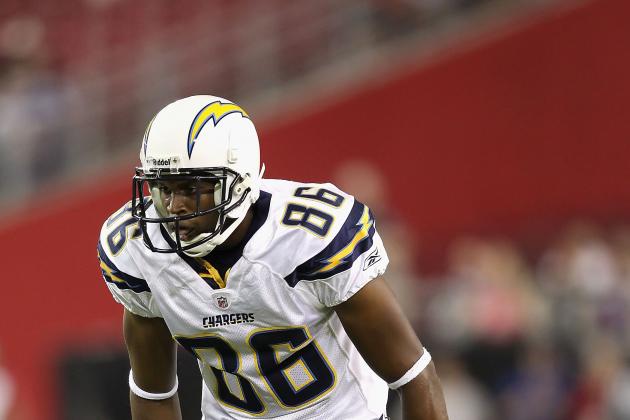 Christian Petersen/Getty Images

While Vincent Brown isn't necessarily an "add" for this week, you can definitely expect others to scoop him up relatively quickly over the course of the next couple weeks. Why not jump the gun if you are a part of a deeper fantasy league?
After all, there were many that expected Brown to be a WR2 type of performer heading into the season. He was, for all intents and purposes, set to be the San Diego Chargers' second wide receiver behind Malcom Floyd.
Since being placed on Injured Reserve, the amount of fantasy leagues that he is owned in has dropped considerably, at about 0.4 percent right now. Pick him up before others do, sit him on your bench and be prepared to run him out there when he returns.
Reports indicate that Brown, who is eligible to come off IR in Week 7, is "right on schedule."
It doesn't hurt that San Diego's opponents following their Week 7 bye include such mediocre pass defenses as the Cleveland Browns, Kansas City Chiefs and Tampa Bay Buccaneers.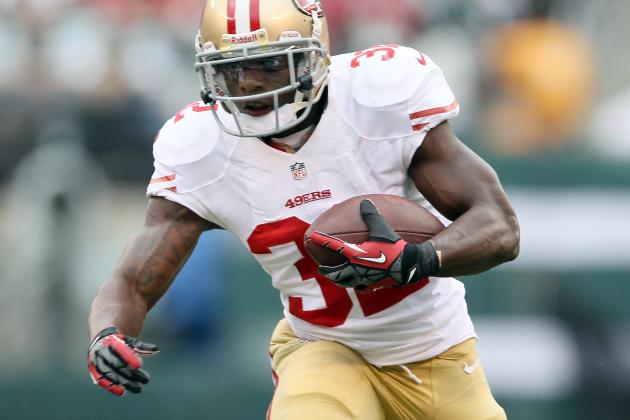 Elsa/Getty Images

I am still astonished that Kendall Hunter is only owned in a little over 10 percent of ESPN fantasy leagues. He was coming off a strong rookie season as the primary backup to Frank Gore and has retained that role, even with the additions of both LaMichael James and Brandon Jacobs.
James, a rookie second-round pick from Oregon, has been a healthy inactive for all four of San Francisco's games this season. Meanwhile, Jacobs is set to return this week after missing the first four games due to injury.
While Jacobs might take over short-yardage duties, you can definitely expect Hunter to be their primary backup for the remainder of the season.
He put up 56 yards and 11 fantasy points against the New York Jets last week and is averaging 4.6 yards a pop this season.
More importantly, San Francisco goes up against a Buffalo Bills defense that yielded 247 yards against a pedestrian New England Patriots run game last week.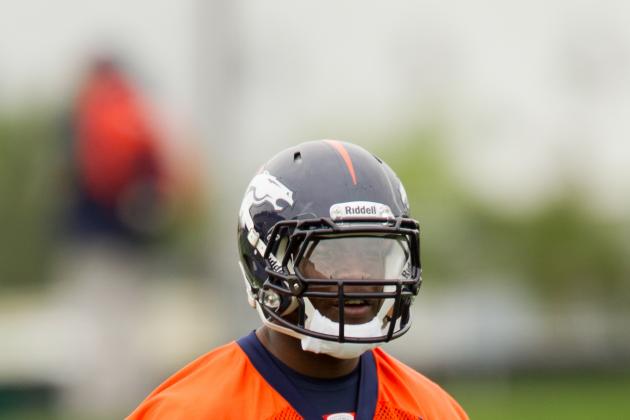 Justin Edmonds/Getty Images

By pure volume of carries, 12 through four weeks, Ronnie Hillman belongs nowhere on this list. He is sitting behind Willis McGahee, who has been one of the most productive running backs through the first four weeks of the season.
So, why did I add the rookie to this list? Well, it is pretty simple.
Hillman racked up 71 yards on 13 touches, including three receptions on three targets, last week against the Oakland Raiders. It seems that the Denver Broncos are attempting to get this talented running back more involved in their offense moving forward.
It also doesn't hurt that Hillman seems to fit their offensive scheme to a T. He is able to catch the ball out of the backfield.
One of the primary reasons that I included Hillman on this list is the fact that he should be supplanting Lance Ball as the Broncos' No. 2 running back. If that happens, which could occur this week, look for the San Diego State product to have a solid game against the New England Patriots.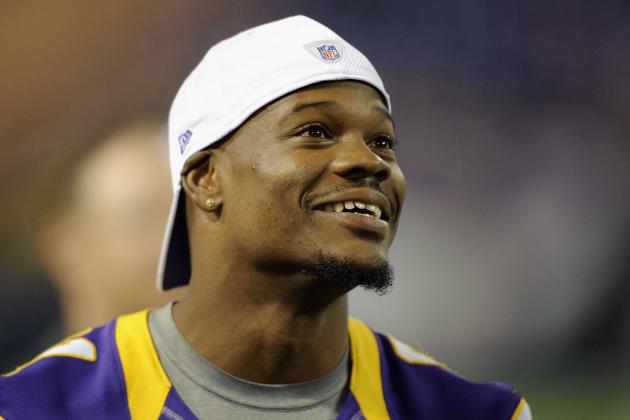 Hannah Foslien/Getty Images

Jerome Simpson was suspended the first three games of the season for violating the NFL's Substance Abuse Policy. The Minnesota Vikings knew full well that this was likely when they signed him during the spring.
What they wanted from the former Cincinnati Bengals receiver was production when he was able to actually get on the field. And that's what Simpson gave them last week against the Detroit Lions.
He recorded four receptions for 50 yards on just five targets. With the improved play of Christian Ponder and a higher level of consistency from Percy Harvin, you can definitely expect Simpson to get a lot of targets moving forward.
Teams are going to game-plan against the Ponder-to-Harvin connection, leaving Simpson against opposing No. 2 or No. 3 corners in single coverage.
Minnesota also goes up against two weak pass defenses in the next couple weeks in the form of the Tennessee Titans and Washington Redskins.
Keep in mind that Simpson is one year removed from a 700-yard performance for Cincinnati and is currently only owned in 8.9 percent of ESPN fantasy leagues.
Definitely a bargain if you ask me.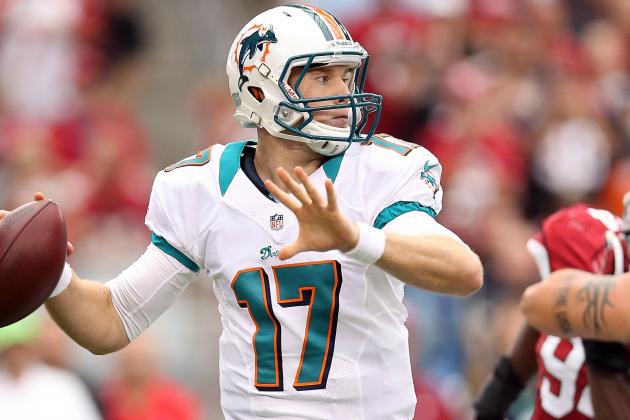 Christian Petersen/Getty Images

A starting rookie quarterback making this list might take you aback considering that we already knew both Robert Griffin III and Andrew Luck were going to be viable fantasy options.
However, Ryan Tannehill had an amazing performance against a really good Arizona Cardinals defense last week and seems to be progressing each time he takes the field.
The 2012 first-round pick might only have two touchdown passes compared to six interceptions through the first four games, but his improvement is obvious if you watch game tape.
In fantasy football, as in real football, it doesn't matter where you get production from as long as you outscore your opponent. Tannehill has put up just five fewer fantasy points than Aaron Rodgers over the last three weeks. Imagine that!
The Miami Dolphins are also going up against a Cincinnati Bengals secondary that has yielded an average of 264 yards and 18.5 fantasy points to opposing quarterbacks this season.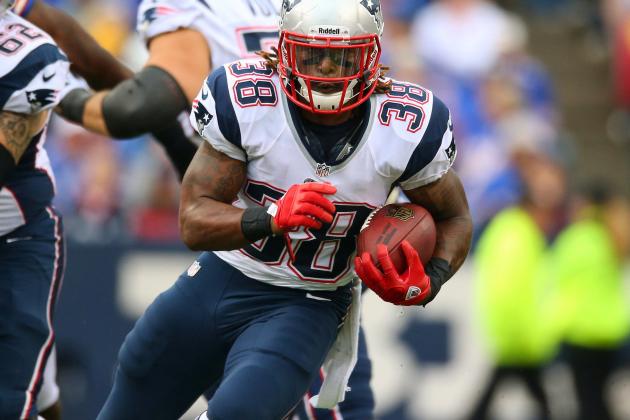 Tom Szczerbowski/Getty Images

Brandon Bolden is the backup running back in a New England Patriots offense that usually tends to favor Tom Brady and the passing game. Why the hell would I have him on a list like this?
Well, the rookie from Mississippi put up 148 yards on 17 touches against the Buffalo Bills last week. This may leave some with the false sense that he is going to be an integral part of New England's offense moving forward...He won't.
The reason why Bolden is on this list is pretty simple. New England needs a backup running back behind Stevan Ridley and Bolden is their best choice right now with Shane Vereen still dealing with injury issues.
Consider this. Maybe pick up Bolden, who is owned in 17.5 percent of ESPN fantasy leagues, leave him on the bench for a week or two and then see where you are at. After all, you don't get the production we saw from Bolden last week on a consistent basis from even RB1 options.
It is called picking the litter and seeing if there is any crap attached. If so, waive him a couple weeks from now. It isn't like your options that far down on your roster are putting up great numbers; otherwise, you wouldn't even be reading this article.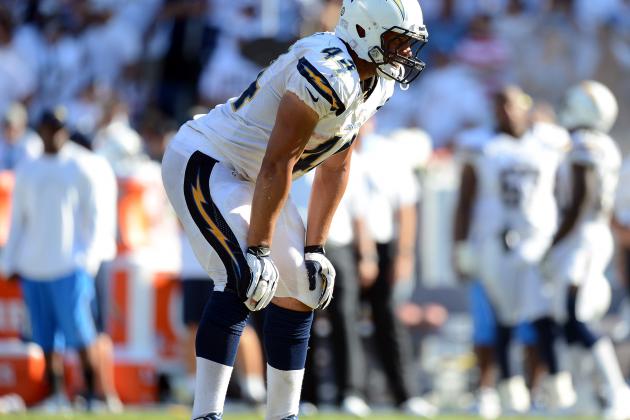 Harry How/Getty Images

Okay, so the San Diego Chargers aren't sold on Ryan Mathews either. Instead of gloating, I am going to state the obvious. Add Jackie Battle as quickly as physically possible. He is now listed as San Diego's starting running back ahead of the aforementioned Mathews.
There is a simple reason for this. Battle put up 81 yards on 19 touches and scored two touchdowns against the Kansas City Chiefs last week. In the process, he proved to be a more viable option for San Diego moving forward.
Battle has now put up 18 fantasy points or more in two of the last three games despite touching the ball a grand total of 33 times. For comparison's sake, Mathews only accumulated that amount of fantasy points three times last season.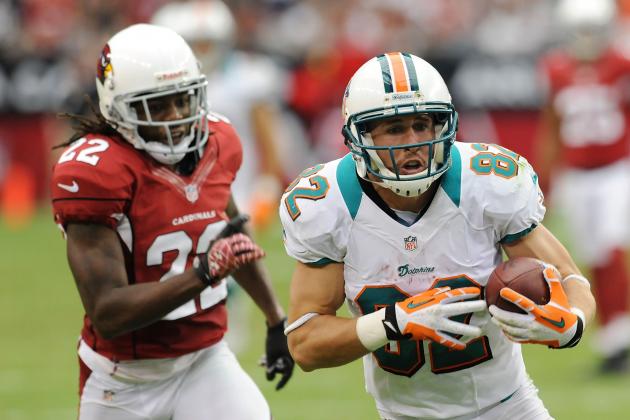 Norm Hall/Getty Images

Last Friday, I got a hunch and picked up Brian Hartline, inserting him in as my WR1 option prior to the Miami Dolphins game against the Arizona Cardinals. Okay, that didn't happen. But, I am damn sure that time-travel mechanism collecting dust in my basement would come in handy at this point.
Hartline recorded a dumbfounding 31 fantasy points in a 253-yard performance against Arizona last week. For comparisons sake, Wes Welker has compiled just three more fantasy points through four games.
Who the heck saw this coming?
Hartline has become Ryan Tannehill's favorite target in Miami. He has racked up 47 targets, about 15 fewer than he did during the entire 2011 season. We all know that when a rookie quarterback gets comfortable with a wide receiver, he goes in that direction more than he should.
Don't expect it to be any different with Tannehill moving forward, as Hartline will see a tremendous amount of targets in the coming weeks.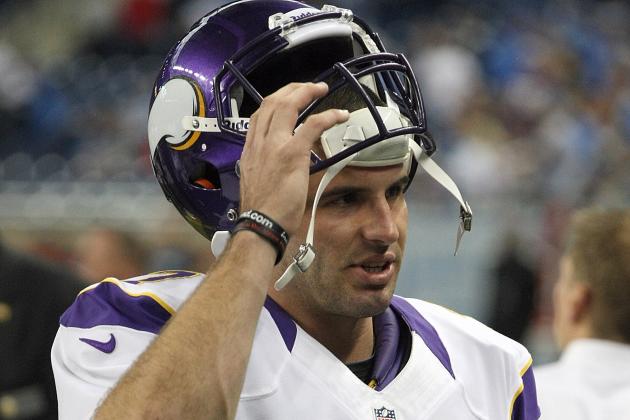 Leon Halip/Getty Images

To take a term from Alex Smith skeptics, "Christian Ponder has been one of the best game managers" in the NFL this season.
The second-year quarterback from Florida State has yet to throw an interception in 123 pass attempts this season, but he is only averaging 206 passing yards per game and has thrown a total of four touchdowns.
As insignificant as Ponder's stats might be around the world of fantasy football, there are indicators that he is about to break loose.
One of those indicators is the fact that the Minnesota Vikings will be going up against a Tennessee Titans defense that has yielded 293 passing yards per game and the second most fantasy points to opposing quarterbacks.
Adding fuel to the fire is the return of the aforementioned Jerome Simpson from suspension. Ponder now has a couple of reliable targets on the outside.
Despite being owned in less than one-quarter of ESPN fantasy leagues, Ponder is a solid QB1 option this week against Tennessee. Of course, this only matters if you don't like the current matchup for your starting quarterback or if his team is on a bye this week.
Moreover, if you are not happy with your QB2 option, it might make sense to look in Ponder's direction.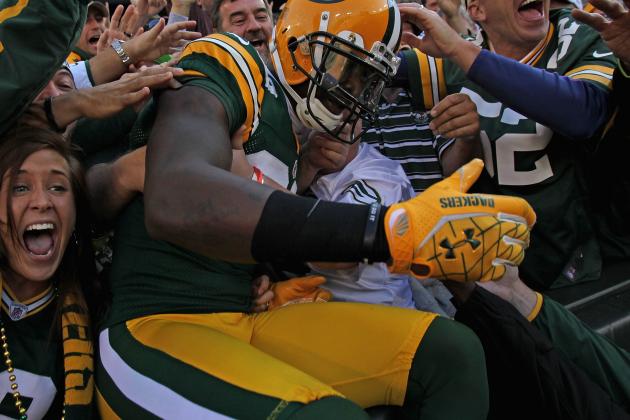 Jonathan Daniel/Getty Images

James Jones has been an enigma of sorts around the fantasy football circles. He will put up one great game and then fail to show up the next week. We have seen this story repeated over and over again.
That being said, Greg Jennings is going to miss this week's matchup against the Indianapolis Colts, which should give you confidence in Jones' ability to succeed against a lackluster pass defense.
The veteran wide receiver has caught nearly 70 percent of the passes Aaron Rodgers has thrown in his direction and has recorded just two fewer fantasy points than a fellow Jones, that is Julio with the Atlanta Falcons.
This Jones is owned in a little over 54 percent of ESPN leagues and would be a nice FLEX option this week against Indianapolis.
Andy Lyons/Getty Images

Imagine that, two Indianapolis Colts wide receivers as waiver-wire options. It is called the "Andrew Luck effect."
Donnie Avery had his best performance in nearly four years a couple weeks ago when he tallied nine receptions for 111 yards against an improved Minnesota Vikings defense.
Luck has also looked in Avery's direction a whopping 27 times, which ranks him second to only Reggie Wayne on the Colts in targets.
There are a couple other factors that go into proclaiming the veteran as a solid waiver-wire pickup.
Indianapolis is set for a high-scoring affair against the Green Bay Packers in Lucas Oil Stadium on Sunday. Naturally, you are going to see Luck's pass attempts increase dramatically.
More importantly, Green Bay seemed to regress against the pass last week against the New Orleans Saints after looking relatively solid in that category the previous two weeks.
Avery is owned in less than 10 percent of ESPN fantasy leagues.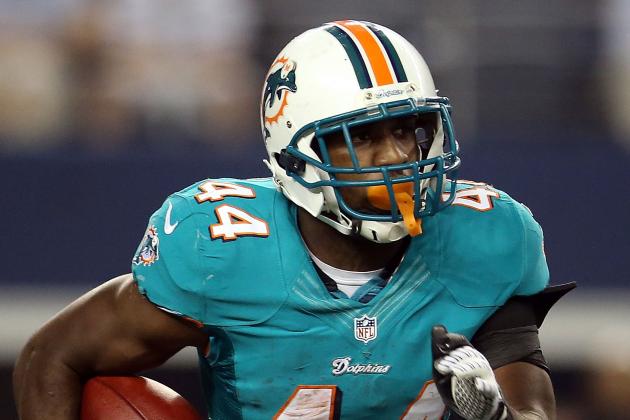 Ronald Martinez/Getty Images

Lamar Miller is an intriguing option in deeper leagues. He is, by all accounts, going to remain the Miami Dolphins' No. 2 running back behind Reggie Bush.
Despite a breakout performance against the Arizona Cardinals last week, Ryan Tannehill isn't going to consistently put the ball up 40-plus times. Instead, you can expect Joe Philbin and Co. to go back to the ground game moving forward.
Miller has racked up an average of nearly six fantasy points per game over the course of the last three weeks. However, his rush total has dropped each game during that span.
I envision the rookie running back seeing a larger role against a Cincinnati Bengals defense that is yielding 133 yards per game on the ground this season.
Look for Miller to get 12 to 15 touches and be a viable flex option, especially as a threat to score a touchdown.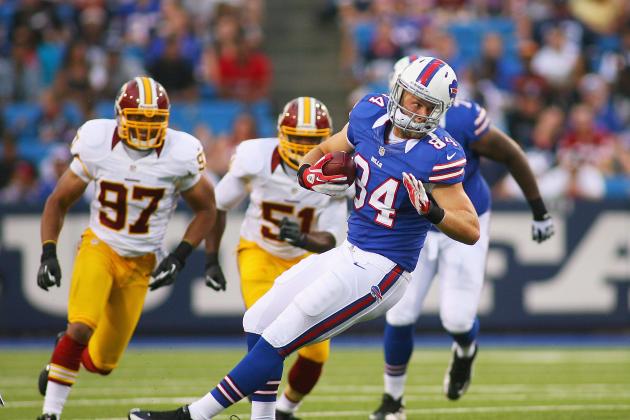 Rick Stewart/Getty Images

The San Francisco 49ers are giving up the second-most fantasy points to tight ends this season. While a lot of that had to do with Kyle Rudolph's two-touchdown performance a couple weeks ago, this could definitely be something to watch this week.
Scott Chandler put up four receptions for 62 yards and two touchdowns last week against the New England Patriots, but he is only owned by 37.6 percent of ESPN fantasy leagues.
Considering that San Francisco will most likely force the Bills to pass the ball more than they want, Chandler will definitely see his target numbers increase.
Chandler, who has 12 receptions on 23 targets through four weeks, was a full participant in Bills practice on Thursday despite a head injury against New England last week.
He has proven to be a solid red-zone target for Ryan Fitzpatrick, scoring touchdowns on one-third of his receptions.
All stats and numbers provided by ESPN.
Check out my daily fantasy articles on eDraft.