3 Things San Francisco 49ers' Coach Jim Harbaugh Will Learn from Early Loss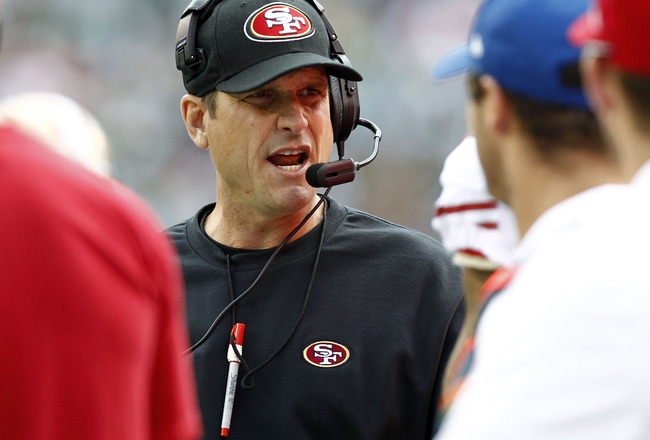 What can Jim Harbaugh learn from his squad's loss to the Minnesota Vikings?
Jeff Zelevansky/Getty Images
Let's be honest, it already looks like Jim Harbaugh and the San Francisco 49ers have learned from their early-season loss against the Minnesota Vikings.
San Francisco quelled a lot of doubts about their true ability when they demolished the New York Jets in a 34-0 blowout that was even worse than the score appeared.
It was easily the most complete performance the 49ers have put together this year, and it served as a reminder of what the team is capable of when they're playing their best ball.
But every team can make improvements, and though the 49ers looked great against New York, there's still some things that Harbaugh and the team can learn from their loss.
Here's a few of them.
Not to Get Away from the Running Game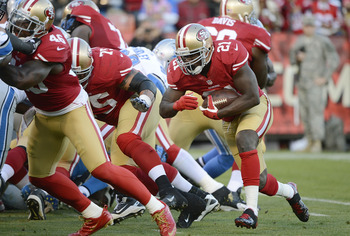 The 49ers can't afford to stop pounding the ball on the ground.
Thearon W. Henderson/Getty Images
Here's something that no one has ever said: "The San Francisco 49ers are at their best when Alex Smith throws 35 times a game."
And yet, against Minnesota, the 49ers went completely away from what's helped them to a 16-4 record over their past 20 regular season games. They ignored the running game.
The 49ers play their best football when Frank Gore and Kendall Hunter shoulder most of the team's offensive load. Unless the ground game really isn't working, Alex Smith should only be throwing the ball 20 or 25 times a game.
But San Francisco employed a pass-heavy strategy against the Vikings, and it failed spectacularly. Despite averaging 4.5 yards per carry, the 49ers ran the ball just 20 times and let Smith throw 35 passes.
The scoreboard speaks for itself.

Unless they get down big, there's just no reason for the 49ers to start slinging passes, especially if the running game is working as well as it did against Minnesota.
The entire game plan was perplexing. It's something that Harbaugh (and offensive coordinator Greg Roman) needed to learn from, and it certainly looked like they did when they played the Jets.
San Francisco ran the ball 44 times against New York, racking up 244 yards against the Jets' helpless defense. Rich Cimini of ESPN New York wrote about New York head coach Rex Ryan, saying:
On Monday, Ryan counted 17 missed tackles by his defense, saying that for the first time in his career he actually wanted the opponent to pass the ball against his defense.
That's how opponents should always feel against the 49ers. The 49ers should pound the running game to the extent that opposing coaches are actually begging San Francisco to throw it.
A ground-and-pound offense sparked the 49ers' NFC Championship run last year, and there's no reason that they should abandon it now.

The Defense Needs to Improve Against Mobile Quarterbacks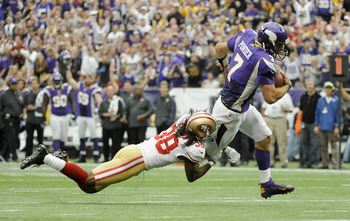 Christian Ponder's mobility gave the 49ers defense fits.
Hannah Foslien/Getty Images
This is a big one. The 49ers won't see too many mobile quarterbacks for the rest of the regular season, but you never know who they could run into in the playoffs.
The 49ers didn't record a single sack against Vikings quarterback Christian Ponder, but it's not because they couldn't pressure him. They just didn't seem to know what to do once they got to him.
Ponder made great decisions all game long, constantly managing to duck away from defenders, get outside of the pocket and make plays with his arm or his legs.
After the game, linebacker NaVorro Bowman said (per Examiner.com's Christian Gin):
Ponder showed another aspect for other teams to get used to in that he can run with the ball. We practiced it but have not experienced seeing a mobile quarterback.
Well, they have now. And Harbaugh and defensive coordinator Vic Fangio have learned that they need to teach their defense how to handle one.
Maybe this game was just an aberration, but Harbaugh should still make some adjustments to corral some of the league's quicker signal-callers.

The last thing that the 49ers want is to face a team with a mobile quarterback in the playoffs and be completely unprepared for how to deal with him. Luckily for the 49ers, they'll face a good test in just a few weeks against the Seattle Seahawks and rookie quarterback Russell Wilson.

Wilson is similar to Ponder in the sense that he can avoid the pass rush and make plays with his feet. That game could go a long way in determining just how much the team has learned from the loss against the Vikings.
The Offense Needs to Get Better in Scoring Situations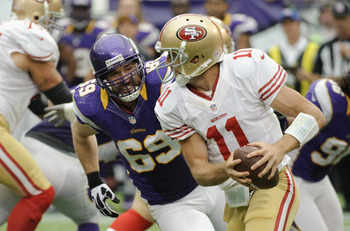 Alex Smith and the 49ers offense need to to a better job cashing in on scoring opportunities.
Hannah Foslien/Getty Images
The 49ers have been fairly inconsistent in and around the red zone this year, but it never came back to bite them until the loss against Minnesota.
Against the Vikings, San Francisco scored just one touchdown in their three trips into the red zone.

Their biggest failure came at the beginning of the second half, when Kyle Williams returned a kick 94 yards to the Minnesota 14-yard line. The 49ers were able to muster up just three yards of offense before settling for a David Akers field goal.
They even had a field goal blocked in the second quarter. The block led to a field goal drive for the Vikings. That's a six-point swing and an even bigger swing in momentum.
Even the best teams can't score touchdowns on every drive, but it's never good to leave points on the field against playoff caliber teams, especially when doing so decides the game.
Alex Smith explained the team's offensive struggles after the loss, saying (per Examiner.com's Christian Gin):
I wasn't able to connect with my receivers. There was a lack of execution especially on the offensive side of the ball. We didn't get into a rhythm at all. We continuously put ourselves in 3rd down situations, making it a long day.

We need to get better. We didn't execute in the red zone and it changed the game. We were kicking too many field goals, I'd love to get more touchdowns.
Those red zone woes come down to both play-calling and players not executing properly. The good news is that both improved against the Jets.
San Francisco turned three of their five red zone trips into touchdowns against New York. That's a great way to rebound from a poor performance. It looks like the team is already learning plenty from their early-season loss.

Keep Reading

San Francisco 49ers: Like this team?