Who Are the Favorites for Every Major NFL Award After Week 4?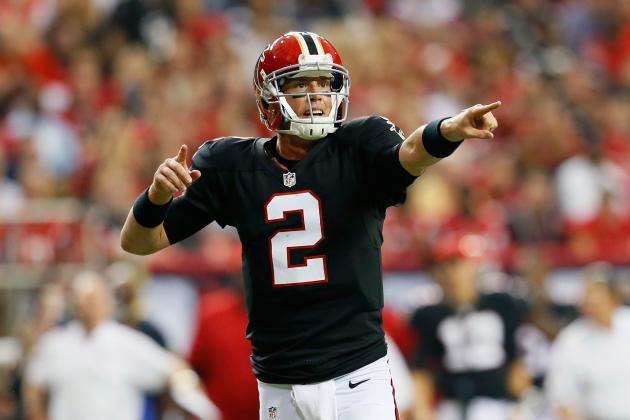 Kevin C. Cox/Getty Images

The 2012 NFL season has now moved into October games, which means that we now have four weeks of action to analyze.
Some players are starting to step up as the favorites for the NFL's major awards at the end of the year. Can they keep up the pace?
Each week there will be some players that come out of nowhere to have a huge game, (Brian Hartline and Ryan Tannehill of the Miami Dolphins and Brandon Bolden of the New England Patriots would be prime examples), but we are looking for players that have been consistently playing at a high level every week.
While Tannehill and Drew Brees each threw for more than 400 yards, both were achieved in a losing effort.
*Please note that this presentation is being submitted for publishing prior to the Monday Night Football matchup
Begin Slideshow

»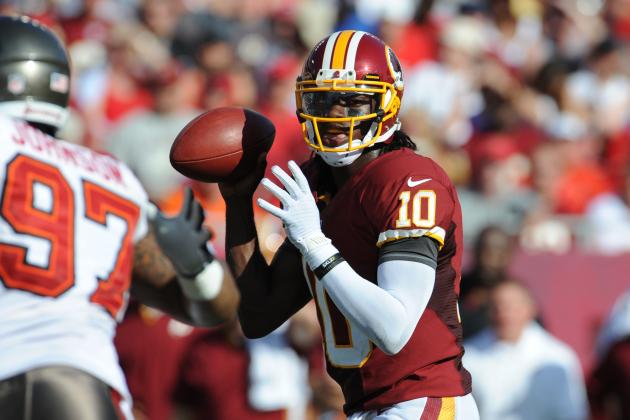 Al Messerschmidt/Getty Images
RG3 is still the leading OROY candidate
Week 4 of the 2012 season saw Miami Dolphins QB Ryan Tannehill emerge with 431 passing yards against an Arizona Cardinals defense that had been tough to move the ball against.
Another rookie with a huge game was New England Patriots RB Brandon Bolden, who exploded for 137 rushing yards on just 16 carries for an average of 8.6 yards per rush. He scored one touchdown and looked like he could become the featured back for the Patriots with his physical style of running.
Colts QB Andrew Luck had his bye week, so that left the spotlight for the pair of Washington Redskins rookies to continue to shine; namely quarterback Robert Griffin III and running back Alfred Morris.
Griffin is ranked as the No. 4 quarterback in the NFL Passer Ratings at 103.2. His average of 8.63 yards per attempt is the third-best mark out of every QB in the NFL. Griffin is clearly the leading candidate right now for the Rookie of the Year award.
Not too far behind him is his running back, Alfred Morris. Morris is ranked as the No. 5 running back in the NFL with 376 yards and is averaging a very healthy 4.6 yards per rush.
In my opinion, the two Redskins rookies have played at a higher level than the rest of the 2012 rookie crop, but since there are still 13 weeks left to play, there is still time for other candidates to step up.
Clearly, Tannehill stepped up against the Cardinals. He took Arizona to overtime, and was more effective against their defense than Tom Brady or Michael Vick was. Most people laughed at the lack of quality receivers that Miami had coming into the season, but throwing for 431 yards is hardly a joke.
Chicago Bears WR Alshon Jeffery will be one of the featured players performing later tonight on Monday Night Football, so we will see what he can do in the national spotlight.
Tampa Bay Buccaneers RB Doug Martin is ranked No. 17 and Cleveland Browns RB Trent Richardson is ranked No. 19 for all NFL running backs after four weeks.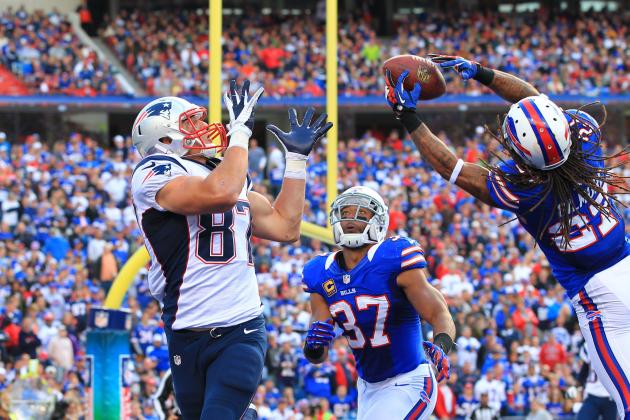 Kevin Hoffman-US PRESSWIRE
Stephon Gilmore broke up two would-be touchdown passes to Gronk
One of the games that I watched yesterday was the New England Patriots vs. the Buffalo Bills, and there were two rookies on defense that impressed me in the game.
Patriots DE Chandler Jones and Bills CB Stephon Gilmore each had solid games and made a number of key plays. Patriots LB Dont'a Hightower looked good early, but left with a hamstring problem and I never saw him return.
Gilmore made some big hits and looked very good in separating TE Rob Gronkowski from a pass that looked like it would be a sure touchdown early in the third quarter. Gilmore made seven tackles along with four pass deflections.
It was clear that Tom Brady was going after him to see what he was made of. Gilmore also nearly came up with an interception on a pass to Gronk in the far end zone (see photo).
Jones, on the other hand, looked like a handful to deal with. He recorded five tackles, one sack, two tackles for a loss and two other quarterback hits.
Both Jones and Gilmore will be in the discussion for Defensive Rookie of the Year.
There will be plenty of eyes on Dallas Cowboys CB Morris Claiborne tonight on MNF. The nationally televised game will give everybody a chance to see how well he can do against the Bears' improved pass offense. A solid game by Claiborne could boost his chances for this award.
Tampa Bay Buccaneers LB Lavonte David is the leading rookie tackler so far, as he has made 33 tackles on the year, but the rest of his stat line is completely empty. Next up is Carolina Panthers CB Josh Norman with 30 tackles, and he has also defended three passes to date.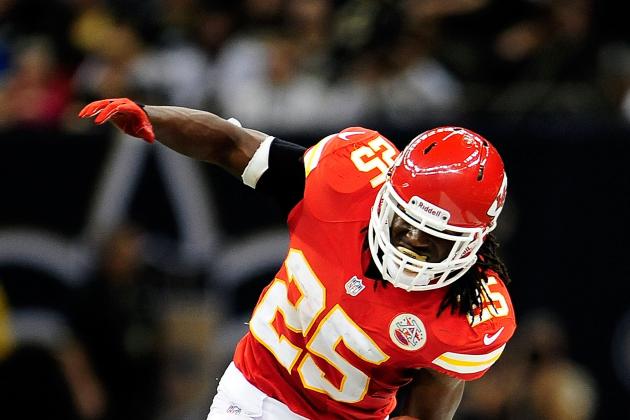 Stacy Revere/Getty Images
Jamaal Charles is now No. 2 in rushing after four weeks
While we imagine it would be difficult for anybody to overtake Denver Broncos QB Peyton Manning for this award, Kansas City Chiefs RB Jamaal Charles is certainly very much in the running now.
Charles rushed for 92 yards in Week 4, and now finds himself ranked as the No. 2 running back in the NFL with 415 yards on the year. He is averaging 5.8 yards per rush, and is generating 103.8 rushing yards per game, which the Chiefs really need based on the play of Matt Cassel.
As for Manning, he led Denver to an easy 37-6 win over the Oakland Raiders. Manning completed 30-of-38 passes for 338 yards and three touchdowns. Manning is now tied with Matt Ryan by throwing for 1,162 yards, which ranks both of them at No. 6 in the NFL right now.
His statistics from Sunday weren't overwhelming by any stretch, but coming into the Monday Night Football game, Minnesota Vikings QB Christian Ponder has led the Vikings to a 3-1 record, sitting atop the NFC North division, pending the outcome of the Bears game on MNF.
Ponder has stepped up his play this year, and if the Vikings keep winning, he will generate some consideration.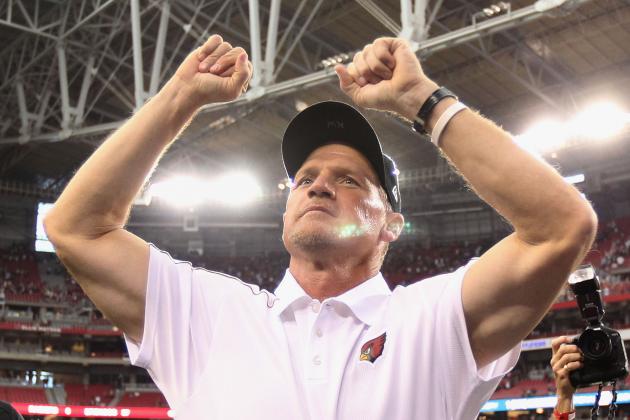 Christian Petersen/Getty Images
Right now Cardinals head coach Ken Whisenhunt has my vote
The three undefeated teams after Week 3 continued to find a way to win, so we are still looking at these three head coaches as the leading contenders for Coach of the Year.
Ken Whisenhunt of the Arizona Cardinals, Gary Kubiak of the Houston Texans and Mike Smith of the Atlanta Falcons have to be considered the early-season favorites based on having their teams sitting there with a 4-0 start.
Out of that trio, my vote right now would go to Whisenhunt, who had a far worse dilemma on his hands with the quarterback situation there, and it looks like he has restored Kevin Kolb to the point that he is starting to play with more confidence.
As for the other 29 teams, you have to like the job that some head coaches have done with teams that are either 3-1 or 2-2. Those coaches would be Leslie Frazier (Minnesota), Marvin Lewis (Cincinnati) and Jeff Fisher (St. Louis) have done so far.
We don't know the outcome yet, but either Lovie Smith (Chicago) or Jason Garrett (Dallas) is going to emerge tonight with a 3-1 record, so the victor will have to be pleased with their fast start.
Finally, we have our two head coaches that started out the year on the hot seat, but both Andy Reid (Philadelphia) and Norv Turner (San Diego) are 3-1 and have guided their teams to being in first place heading into Week 5.
This is going to be shaping up as one of the more interesting award races of the year.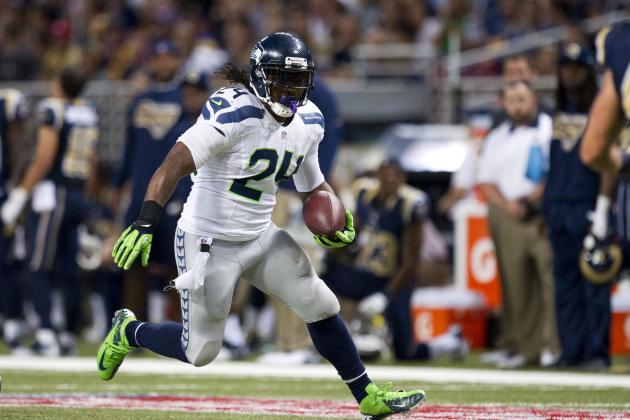 David Welker/Getty Images
Marshawn Lynch leads the NFL in rushing
For the NFL Offensive Player of the Year award, I think it is still too much of a clouded picture since so much of the season is left, so here are some candidates to consider after four weeks.
On the passer front, there are four quarterbacks that I like in this category: Matt Ryan (Atlanta), Ben Roethlisberger (Pittsburgh), Joe Flacco (Baltimore) and Matt Schaub (Houston). The quartet has combined to throw 33 touchdown passes compared to only seven interceptions.
As for running backs, you have to like the jobs that Marshawn Lynch (Seattle), Jamaal Charles (Kansas City) and LeSean McCoy (Philadelphia) are doing so far this season. Lynch and Charles are both averaging over 100 rushing yards per game, while McCoy isn't far behind with 96 yards per game.
Hard to believe this is true, but the leading NFL receiver after four weeks is Miami Dolphins Brian Hartline. I have to be honest, I never saw that one coming in a million years, which is part of the beauty of the NFL, because you never do truly know what will happen. Other WR candidates include A.J. Green (Cincinnati) and Calvin Johnson (Detroit).
The NFL Offensive Player of the Year Award looks like it will be a healthy race with a number of candidates showing up with great production already.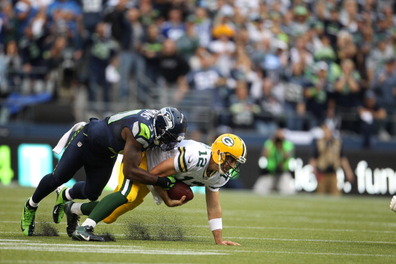 Kevin Casey/Getty Images
One of four sacks Chris Clemons had on Aaron Rodgers
Kudos to Carolina Panthers defensive lineman Charles Johnson, who had a monster game against the Atlanta Falcons. Johnson came up with 3.5 sacks, eight tackles, and deflected a pass. The 3.5 sacks set a Panthers franchise record.
We went to publication prior to the MNF game in Week 3, so we also need to acknowledge Seattle Seahawks defensive end Chris Clemons, who sacked Green Bay Packers QB Aaron Rodgers four times in the game.
So, who is leaping ahead of the field after the first four weeks for Defensive Player of the Year?
I will narrow down the field to my favorite seven candidates, noting that two of them will be in action tonight on Monday Night Football. The seven are:
San Francisco 49ers LB NaVorro Bowman, Houston Texans DE J.J. Watt, Green Bay Packers LB Clay Matthews, Dallas Cowboys LB Sean Lee, Arizona Cardinals LB Daryl Washington, Chicago Bears CB Tim Jennings and Atlanta Falcons LB Stephen Nicholas.
This group of candidates represents players that are separating themselves from their peers based on consistent play and being a leader on the defensive unit.

All seven are excelling this year and it should also be noted that none of the seven are playing for a team with a losing record. Each of the three undefeated teams are represented with the player that I think is doing the best job for his team, and the other four are each having a very solid year.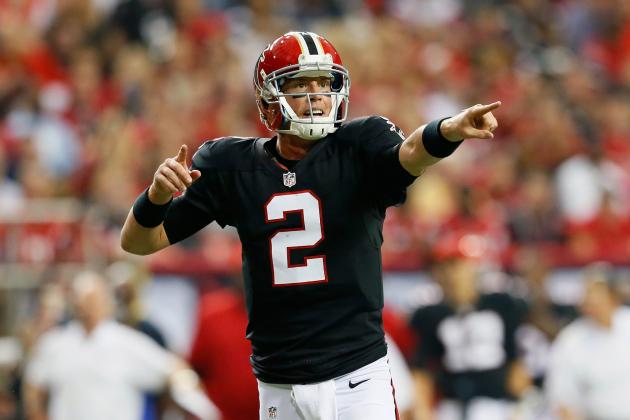 Kevin C. Cox/Getty Images
Matt Ryan is having a great start to his 2012 season
As for the NFL Most Valuable Player award, I think the head-and-shoulders best candidate after four weeks is Atlanta Falcons QB Matt Ryan. He has guided his team to a perfect 4-0 start, and the Falcons are establishing a huge lead in the NFC South divisional race.
Not only are the Falcons playing great football, but Ryan is the top-ranked quarterback in the NFL. His QB Passer Rating is 112.1. Ryan has a ratio of 11 touchdowns to just two interceptions, which is the type of ratio you would expect from the NFL MVP.
But there are still 13 weeks left to play, so Ryan will need to play at this level all year if he really wants to be considered for some major hardware.
Last week, the other MVP candidates to discuss included Eli Manning, Joe Flacco, Calvin Johnson and Clay Matthews. These candidates are still playing well, but their teams need to win to secure more MVP votes later on.
While teams like the Falcons and Houston Texans remain undefeated, you have to consider Ryan, Arian Foster and Matt Schaub for MVP voting. I can't say that any of the Arizona Cardinals on offense are performing like an MVP candidate right now.
We are still waiting for some players to step up and have some huge games in consecutive weeks. Bye weeks will start creeping up more regularly in the weekly schedules, so teams are able to regroup and fine-tune some of the problems that have held teams back so far.
Thanks for checking out the presentation. We will be back next week with a look around the league after the Week 5 games.