2013 NFL Mock Draft: Complete 1st Round Predictions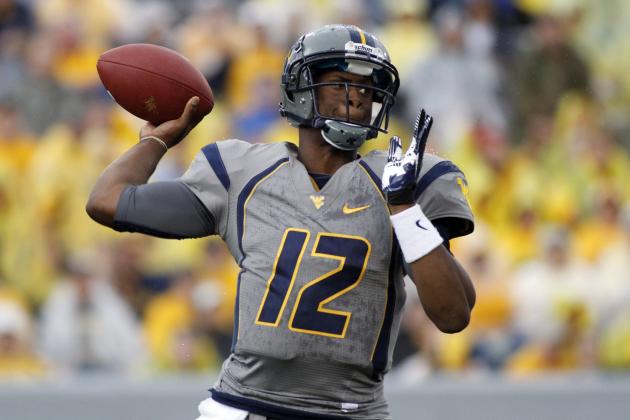 Justin K. Aller/Getty Images

West Virginia's Geno Smith is emerging as the top quarterback of the 2013 NFL draft class, and if he continues to shine, I predict he'll be the No. 1 overall draft choice.
It's never too early to start making predictions about where the top college players will land next season in the NFL. Even though it's only Week 3 of the NFL season, it's already becoming clear where teams will need to upgrade next year.
Here are my predictions for the entire 2013 first round.
Begin Slideshow

»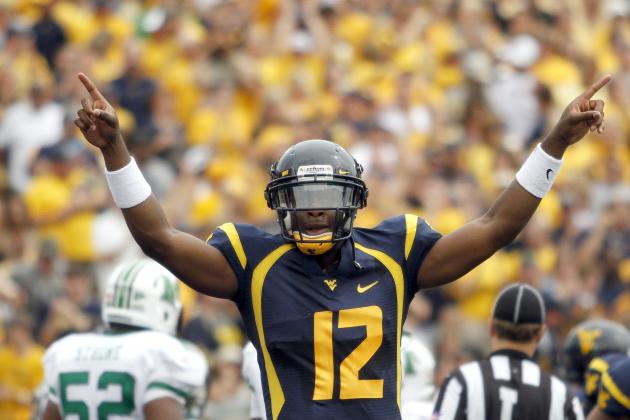 Justin K. Aller/Getty Images

Geno Smith, Quarterback, West Virginia
Carson Palmer has impressed me with his play through three games, but he isn't the long-term answer for the Oakland Raiders. The Raiders won't win many games this year, and as a result they'll have the opportunity to pick up the best quarterback in 2013.
Geno Smith is just the kind of smart, athletic quarterback that Greg Knapp loves. Through three games this season for West Virginia, Smith has completed over 80 percent of his passes for 1,072 yards with 12 touchdowns and zero interceptions.
Combined with Darren McFadden's speed and athleticism, Smith would be a terror for opposing defenses to handle—much like what we've seen with Robert Griffin III in Washington.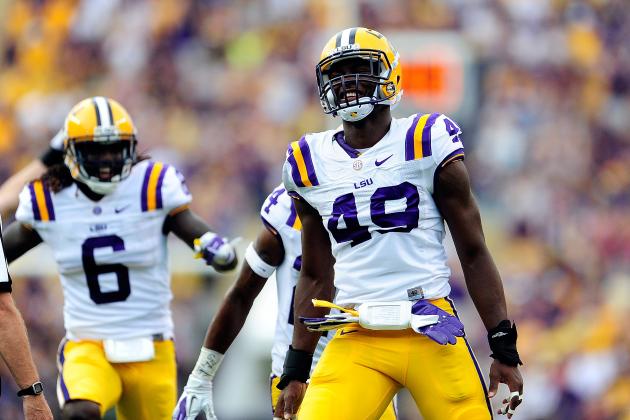 Stacy Revere/Getty Images

Barkevious Mingo, Defensive End, LSU
The Cleveland Browns are already a terror on defense, and adding Mingo to the front seven will make life difficult on opposing offenses.
Mingo is a pass-rushing specialist who explodes off the ball. He can get into opponents' backfields in a split second, and he'll be a handful for offensive linemen at the next level.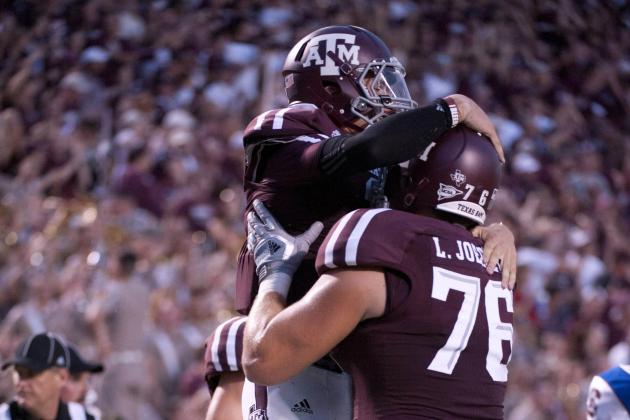 Brendan Maloney-US PRESSWIRE

Luke Joeckel, Offensive Tackle, Texas A&M
It's plain to see after three games that the Jacksonville Jaguars still have issues on their offensive line. If Blaine Gabbert is ever going to develop into a starting quarterback, he needs help.
Joeckel specializes in pass protection, and he's a serviceable run-blocker. He's just what the doctor ordered for Gabbert and the Jags.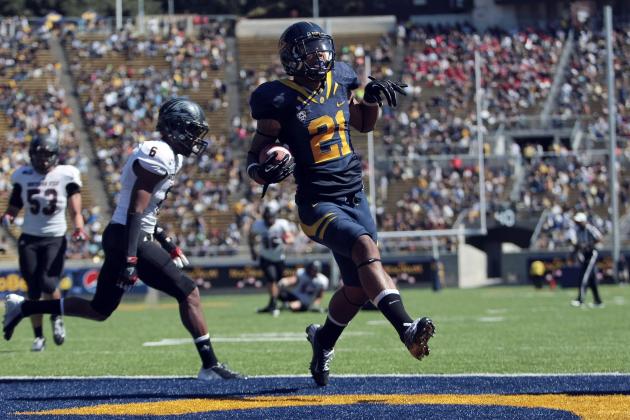 Kelley L Cox-US PRESSWIRE

Keenan Allen, Wide Receiver, California
Allen is a dynamic wide receiver with good size and elite athleticism. He has good speed that can stretch the field, though he isn't in the same class as DeSean Jackson.
Ryan Tannehill clearly needs a playmaking wide receiver to throw to next year, and the Dolphins would be smart to land this talented player from Cal to bolster the young man's confidence.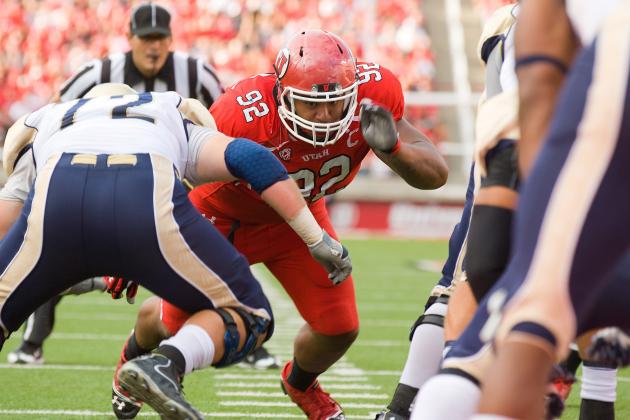 Russ Isabella-US PRESSWIRE

Star Lotulelei, Defensive Tackle, Utah
Right now, the Indianapolis Colts defense has a nice, soft middle that would be great if it were a creme-filled custard, but it's pretty inconvenient in the NFL. The Colts desperately need a player like Lotulelei to be an immovable object in the middle of their new 3-4 defense, and he won't last long on the board.
Lotulelei is this year's top defensive-tackle prospect, and he'd improve the quality of that defense right off the bat. He is strong enough to take on double-teams and agile enough to make plays down the line. This team would be foolish to leave him on the board.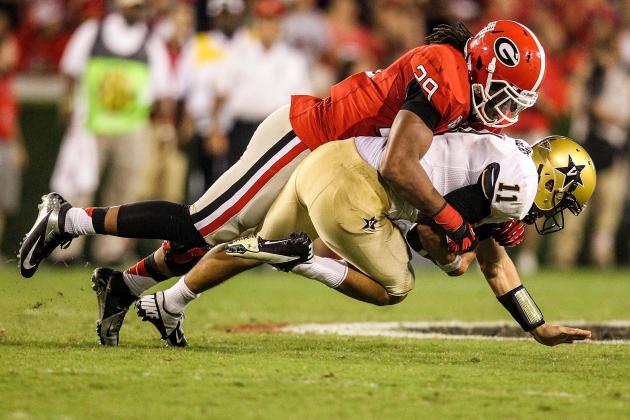 Daniel Shirey-US PRESSWIRE

Jarvis Jones, Outside Linebacker, Georgia
Jones reminds some people (myself included) of Von Miller, as his athleticism makes him one of those intriguing prospects that should thrive in either a 4-3 alignment or a 3-4.
Given that the St. Louis Rams could use another dynamic playmaker to make their burgeoning defense even more dangerous, Jones fits right in. He's the best natural athlete at the linebacker position in the entire draft class, and he will make an immediate positive impact.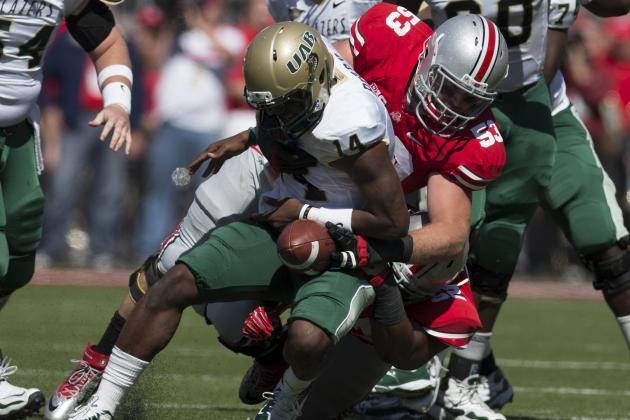 Greg Bartram-US PRESSWIRE

Johnathan Hankins, Defensive Tackle, Ohio State
The Minnesota Vikings could go in a bunch of different directions with this pick, as the team has multiple areas of need. The best thing to do in this situation is always to take the best player available.
Hankins is a 330-pound powerhouse of a big man who can shoot the gap and make plays in the backfield in both the running game and as a pass-rusher. He is just the player the Vikings need to recover their once-dominant front line.
He'll make everyone else on the line better, as opposing offenses will be forced to decide whether to double him, Jared Allen or Kevin Williams—who may or may not be back next year after his contract expires.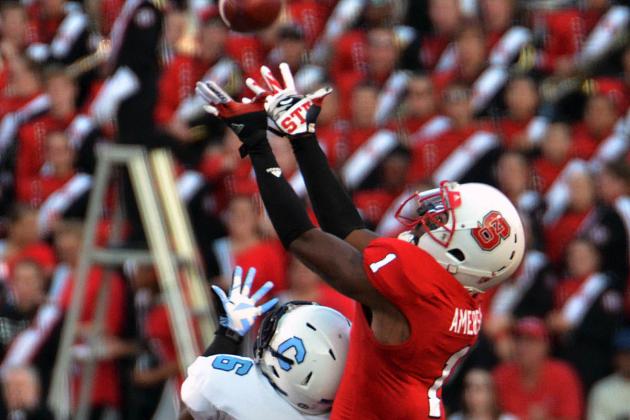 Rob Kinnan-US PRESSWIRE

David Amerson, Cornerback, North Carolina State
With Andrew Luck and Matt Schaub coming to play four times a year, it's never a bad idea to stock up on cover cornerbacks.
Amerson is a big guy, at 6'2", who is the best cover corner in this year's draft class, and his ability to pick off passes with regularity (three already this year) makes him a must-have for the Tennessee Titans. Paired with Jason McCourty, the two players would wreak havoc on opposing offenses for years to come.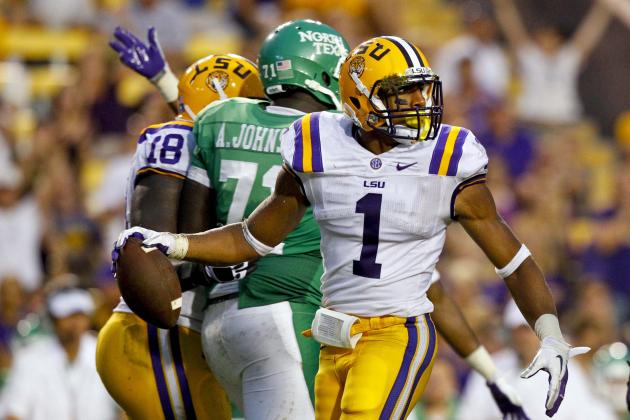 Derick E. Hingle-US PRESSWIRE

Eric Reid, Free Safety, LSU
The Carolina Panthers can't stop anyone on defense (No. 24 in the NFL), and one of the biggest reasons the team struggles is that there isn't a true center fielder in the secondary.
Reid is a rangy, instinctive, fast and hard-hitting free safety who would bring a much-needed spark to this unit in 2013. He's far better than Haruki Nakamura, the man currently playing that role for the Panthers.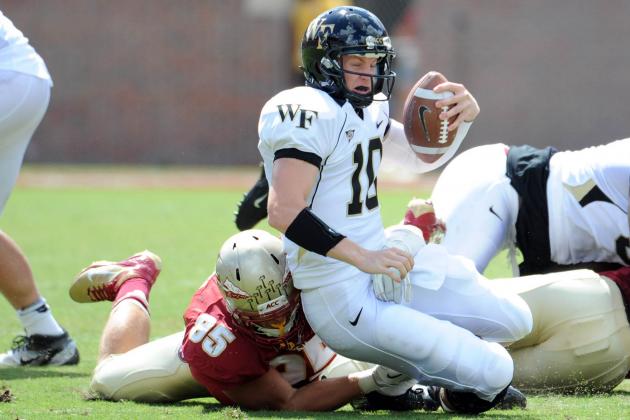 Melina Vastola-US PRESSWIRE

Bjoern Werner, Defensive End/Outside Linebacker, Florida State
The New York Jets need a strong pass rush for Rex Ryan's defense to be fully effective. Through three games in 2012, the team only has three sacks. That's not going to cut it.
Werner is a ferocious pass-rusher who could be for the Jets what Aldon Smith has been for the San Francisco 49ers. Even if he's not ready to be a starting outside linebacker right off the bat, he'll be highly effective as a down lineman on nickel packages.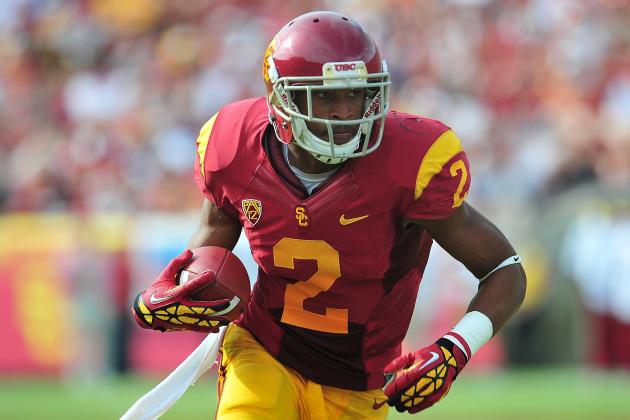 Gary A. Vasquez-US PRESSWIRE

Robert Woods, Wide Receiver, USC
With Vincent Jackson on one side, bringing in Woods to play opposite would turn a subpar passing team into a really good unit, provided Josh Freeman doesn't forget how to throw the ball.
Woods has good size, speed, hands and athleticism, and he would be a tremendous asset to the team.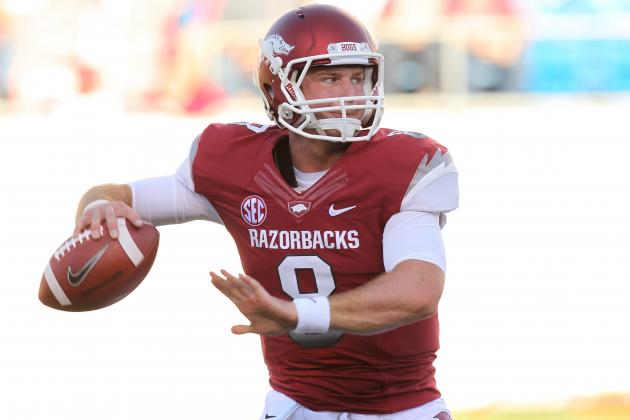 Nelson Chenault-US PRESSWIRE

Tyler Wilson, Quarterback, Arkansas
Wilson has the rare ability teams are desperate to find: He makes players around him better.
His intangibles are off the charts. Matched with his natural talent as a quarterback, it's a combination that will bode well for him at the next level.
With all the talent the Kansas City Chiefs have on offense, it's a shame Matt Cassel isn't doing more. Wilson is the man to elevate this offense to the point where it lives up to its lofty potential.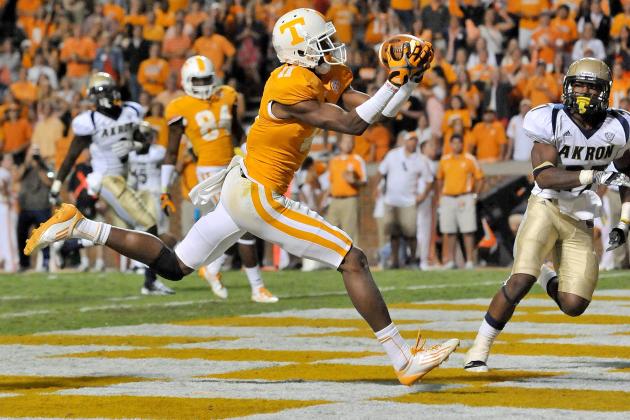 Jim Brown-US PRESSWIRE

Justin Hunter, Wide Receiver, Tennessee
With Russell Wilson's ability to drive the ball deep and Marshawn Lynch's ability to pound the rock, the Seattle Seahawks need a true deep threat at wide receiver who can stretch the field and gain yards after the catch.
Hunter is a physically imposing player, at 6'4" and 200 pounds, who has track-star speed. He also has shown this year at Tennessee that he is capable of hauling in a high volume of passes.
This is a no-brainer for Pete Carroll and the Seahawks.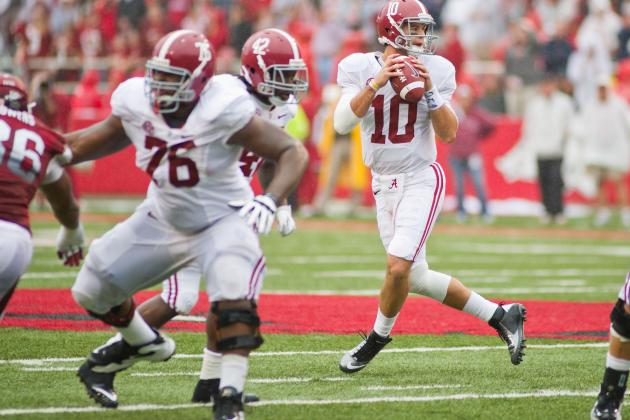 US PRESSWIRE

D.J. Fluker, Offensive Tackle, Alabama
With Rodger Saffold constantly getting hurt, the St. Louis Rams need to find someone more reliable who can protect Sam Bradford.
Fluker is more than a pass-protector, though. He's also a devastating run-blocker who relishes the opportunity to take it to opposing defenders. He's perfect for Steven Jackson and the Rams running game, and the best part is that his skills are still raw and his best days are surely ahead of him.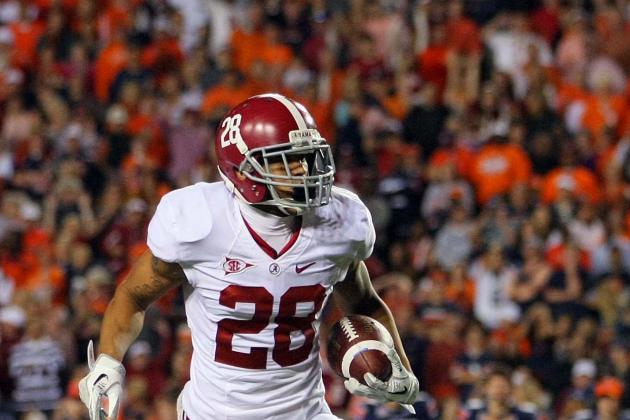 Marvin Gentry-US PRESSWIRE

Dee Milliner, Cornerback, Alabama
The New Orleans Saints are horrendous on defense so far this 2012 NFL season, and it's clear that they need help at a number of different positions.
Milliner is a lockdown cornerback who has a knack for staying in opposing receivers' hip pockets. His ability to play straight-up, man coverage will be a big plus for Steve Spagnuolo's defense.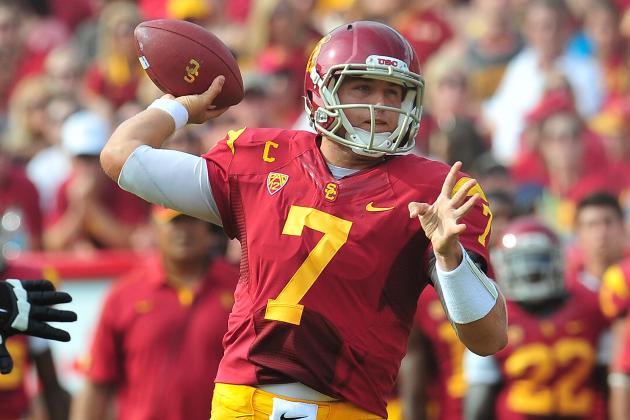 Gary A. Vasquez-US PRESSWIRE

Matt Barkley, Quarterback, USC
The Buffalo Bills will find out once and for all this season that Ryan Fitzpatrick isn't the quarterback to get this team over the hump.
Barkley's offensive line isn't doing him any favors this year at USC, and as a result, he will slide in the draft. The Bills will gladly pick him up here at No. 16, though, especially considering how much cheaper rookie quarterbacks are since the new CBA.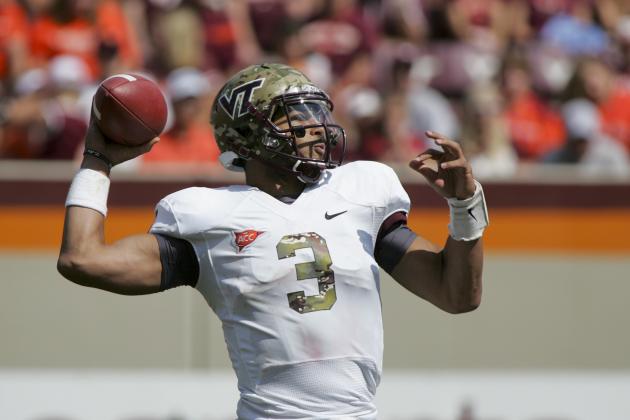 Peter Casey-US PRESSWIRE

Logan Thomas, Quarterback, Virginia Tech
Thomas is the kind of quarterback Ken Whisenhunt desperately needs to make his good team great.
He is athletic, smart and has all the arm strength you need to make every NFL throw. Yes, he's raw right now, but if he is trained properly Thomas will become an excellent pro quarterback.
Given the way Kevin Kolb has stepped up and played well for the Cards this year, it wouldn't be a terrible idea to let Thomas sit on the bench for a year or two and learn.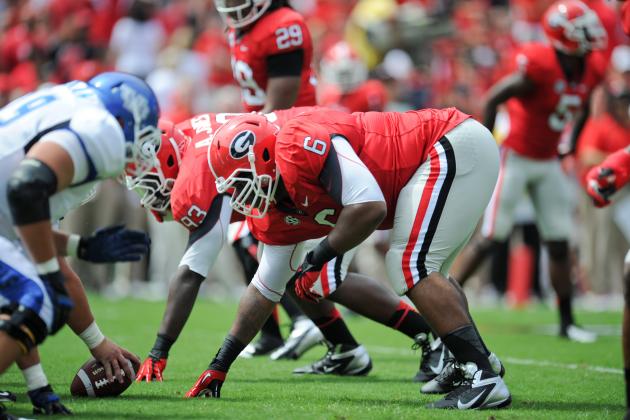 Kevin Liles-US PRESSWIRE

John Jenkins, Defensive Tackle, Georgia
Jenkins is the kind of force in the middle that can turn the good Philadelphia Eagles defense into a truly dominant force in the NFL.
At 6'3" and 358 pounds, Jenkins has the power and mass to force teams to double-team him in both the running and passing games. He has an explosive first step that, combined with his incredible size and exceptional agility, make him tough to guard.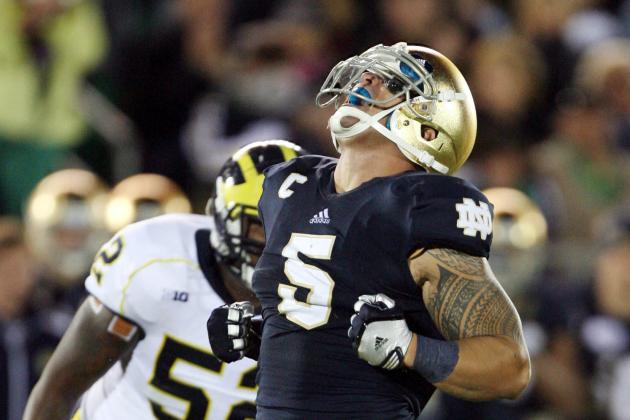 Brian Spurlock-US PRESSWIRE

Manti T'eo, Middle Linebacker, Notre Dame
Given the fact that Brian Urlacher is clearly on his last legs, the Chicago Bears would be wise to look for his replacement before he's actually finished for good. There's no better way to teach a young man to carry on the legend of being a middle linebacker for the Bears than to have him sit behind a legend for a year.
T'eo is incredibly gifted, and his ferocity on the field can't be matched. He even looks like Urlacher when he plays.
Drafting him is the most logical step the Bears could take here, unless, of course, they actually decide to deal with their porous offensive line (they won't).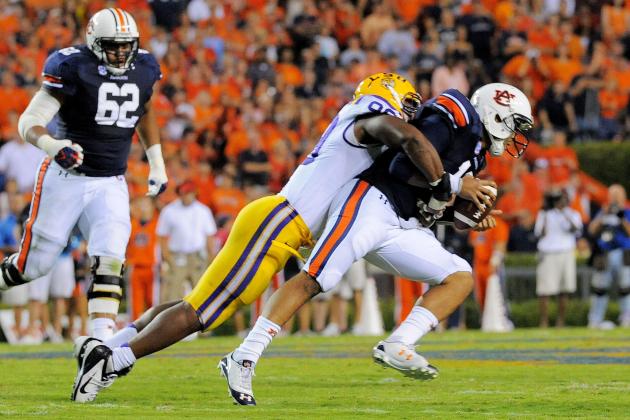 Shanna Lockwood-US PRESSWIRE

Sam Montgomery, Defensive End, LSU
The Cincinnati Bengals need to bolster their pass rush, being in the same division as the Baltimore Ravens and Pittsburgh Steelers.
Montgomery may end up being better suited to rush the passer at the next level than teammate Barkevious Mingo, and he'd be a nice addition to an already-impressive young group of lineman for the Bengals.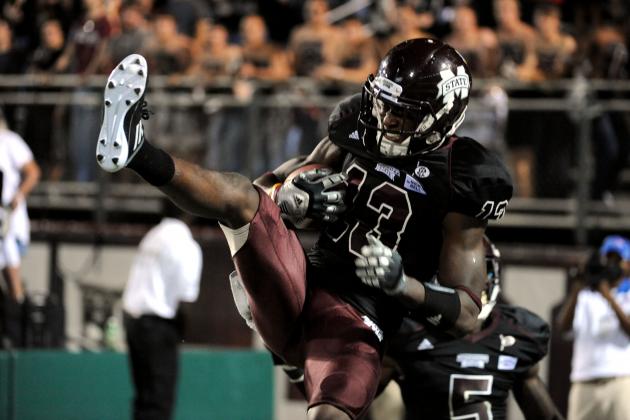 Chuck Cook-US PRESSWIRE

Johnthan Banks, Cornerback, Mississippi State
After three weeks, it's no secret that the Detroit Lions can't stop anyone's passing attack (No. 20 in the NFL).
Banks is a big cornerback, at 6'2" and 185 pounds, who will greatly improve the Lions' chances at holding down opposing receivers. He is a solid cover corner with good ball skills—the type of player the Lions can't possibly have enough of in the NFC North.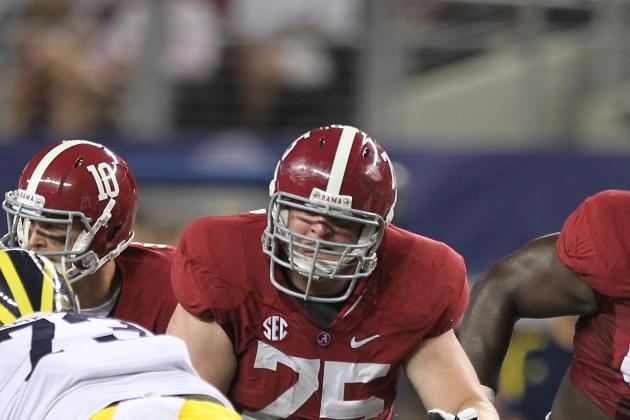 Matthew Emmons-US PRESSWIRE

Barrett Jones, Offensive Lineman, Alabama
Jones is the most versatile lineman coming into the NFL next year, and there's no doubt that the Denver Broncos could use his services. Whether it be Peyton Manning, Brock Osweiler or someone else behind center next year, this team needs to bolster the offensive line.
Jones can literally play all five positions on the line. He has done so in college, and this versatility, along with sound technique and adequate size and strength, make him a valuable commodity in the NFL. The Broncos would be foolish to pick anyone else at this spot.
Gary A. Vasquez-US PRESSWIRE

T.J. McDonald, Safety, USC
After adding Morris Claiborne in 2012, the Dallas Cowboys will continue to cultivate their youth movement in the secondary by adding another playmaker.
McDonald is a solid-tackling safety with fantastic range and athleticism. He isn't necessarily a ball hawk, but his ball skills aren't bad, either. He will be a boon to the Cowboys against the run and the pass, and he's too tempting to pass up at this point in the draft.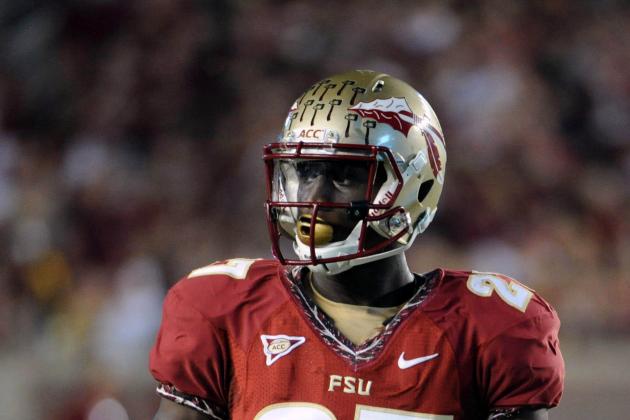 Melina Vastola-US PRESSWIRE

Xavier Rhodes, Cornerback, Florida State
The New York Giants could look to bolster their offensive line with this pick, but Rhodes is worthy of the selection, and this team needs secondary help just as badly.
Rhodes is another big corner coming out of this draft. At 6'2" and 210 pounds, he has the size, speed and athleticism to keep up with most of today's monster wide receivers, and given his tenure with the Seminoles, he has plenty of experience already.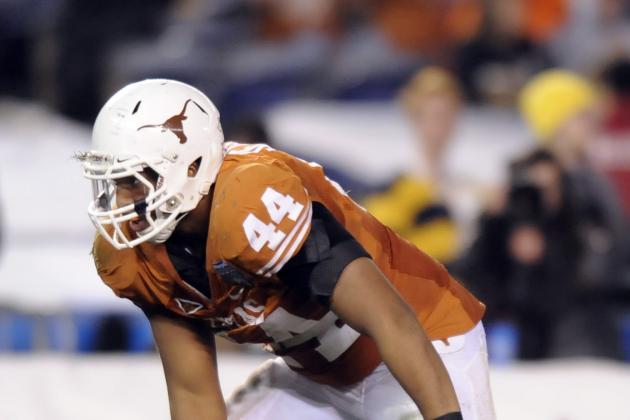 Christopher Hanewinckel-US PRESS

Jackson Jeffcoat, Defensive End/Outside Linebacker, Texas
The Pittsburgh Steelers need to continue getting younger and more athletic on defense, or this once-great unit will start fading even more dramatically next year than we're seeing so far in 2012.
Jeffcoat is an explosive edge-rusher who will give the Steelers the presence that's been missing this year. Given the way James Harrison has fallen off the past couple of seasons, Jeffcoat is the right man to come in and fill the void.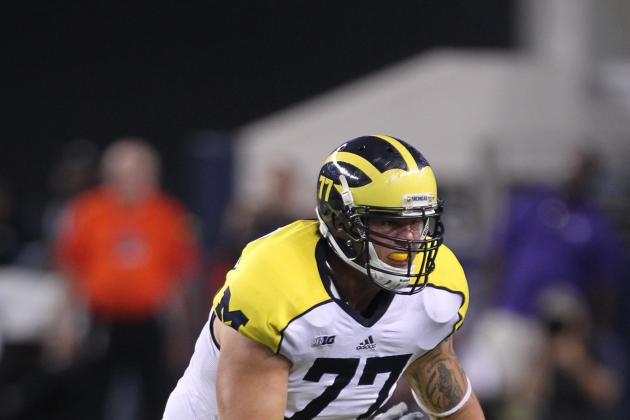 Matthew Emmons-US PRESSWIRE

Taylor Lewan, Offensive Tackle, Michigan
For the sake of Philip Rivers' health, the San Diego Chargers need to take an offensive lineman here near the bottom of the first round.
Lewan is a big, strong, athletic guy who has good lateral movement, and he will come in and immediately challenge for the starting left-tackle spot.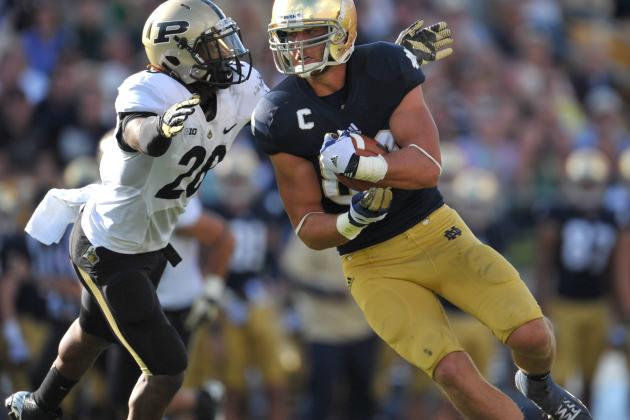 Matt Cashore-US PRESSWIRE

Tyler Eifert, Tight End, Notre Dame
The Jermichael Finley experiment in Green Bay has proven to be futile, and it's about time the Packers realize this truth.
Eifert would be a lightning rod for Aaron Rodgers and the offense, and taking him would add another big-play threat to the most dangerous offense in the NFL.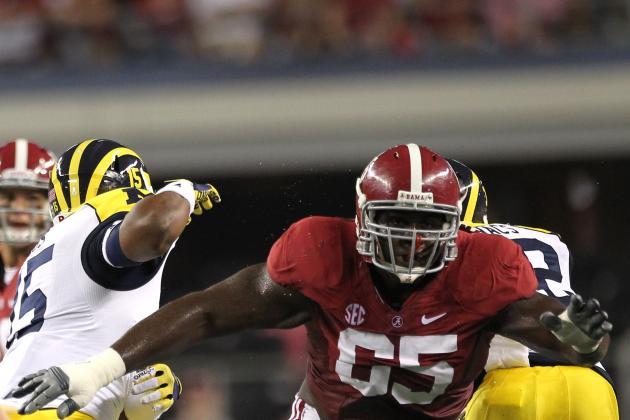 Matthew Emmons-US PRESSWIRE

Chance Warmack, Offensive Guard, Alabama
Right now, the biggest weakness for the New England Patriots is their offensive line. Tom Brady can't afford to keep getting hit like he has through three games, or he's going to get seriously injured.
Warmack is a good defender in the passing game, but where he really shines is as a run-blocker. He's also athletic and agile enough to be a welcome addition in the screen game the Pats love to run with their wideouts.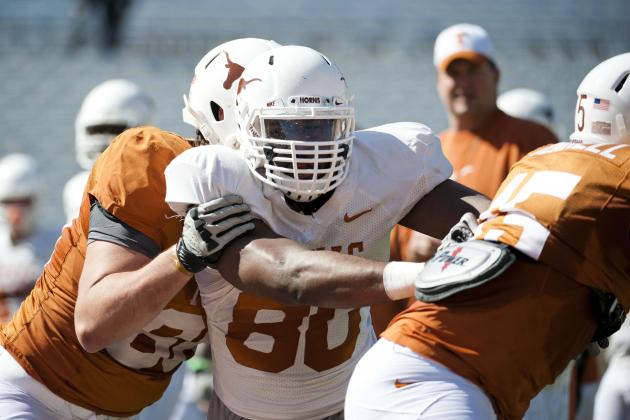 Brendan Maloney-US PRESSWIRE

Alex Okafor, Defensive End, Texas
If Mike Nolan could have just one wish for his defense, it would be that he had just one more pass-rusher with whom to terrorize opposing quarterbacks.
Okafor is a big man who can play any position on the line in a 4-3 defense on obvious passing downs. He is long and explosive—just what NFL scouts are looking for at the defensive-end position. He played defensive tackle at Texas his sophomore year, even though his natural position is on the outside.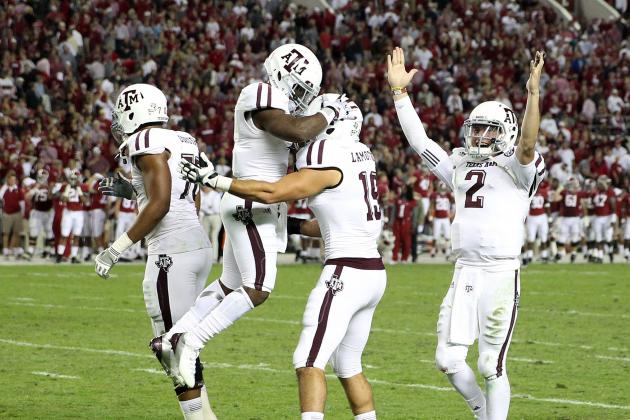 Mike Zarrilli/Getty Images

Jake Matthews, Offensive Tackle, Texas A&M
Matthews isn't as heralded as his teammate at Texas A&M, Luke Joeckel, but he shouldn't be taken lightly. He is just as good as Joeckel in pass-protection, and he can really pound away at defenders in the running game.
Michael Oher is doing just enough to keep Joe Flacco from getting plastered, but Matthews represents an upgrade for the Ravens at the left-tackle position.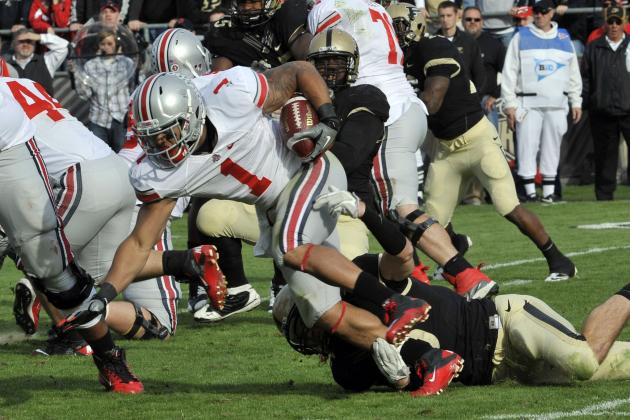 Sandra Dukes-US PRESSWIRE

Kawann Short, Defensive Tackle, Purdue
The San Francisco 49ers don't lack much these days, but their defensive line is frightfully short on depth.
Short is just the kind of player that will fit in with the group of guys the 49ers have on their front line, and given a year or two behind Justin Smith, he could become the next dominant defensive end for this talented 3-4 defense.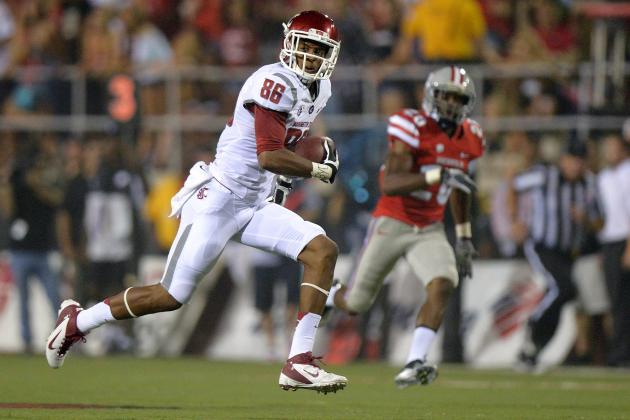 Jake Roth-US PRESSWIRE

Marquess Wilson, Wide Receiver, Washington State
Imagine how much better Matt Schaub and the Houston Texans would be on offense with another legitimate threat at the wide-receiver position.
That's what Wilson brings to the table.
At 6'4" and 185 pounds, Wilson clearly has room to grow. His natural athleticism and agility will be more than enough for him to thrive for his first couple of seasons. And as he gains more strength, he'll become a tough man to defend on the perimeter, which will make Andre Johnson's life much easier.
Follow me on Twitter @JesseReed78