6 Ways Signing Josh Hamilton Would Impact the S.F. Giants' 2013 Roster, Season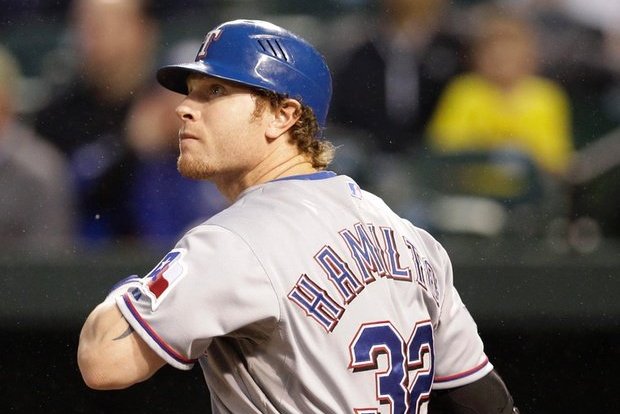 AP Photo/Patrick Semansky
For a team that's hit only 22 home runs at home this season, adding a guy capable of jacking four dingers in a single game makes some serious sense.
The guy in question is of course Josh Hamilton, left fielder for the Texas Rangers and headed for free agency this winter. The team in need of a power slugger is the San Francisco Giants, who lost their All-Star Game MVP and are looking to rebuild a patchwork outfield this offseason.
If San Francisco signed Josh Hamilton, a move ESPN's Buster Olney suggests may not be merely wishful thinking, the dynamics of the club would immediately change in a number ways. Everything from pitching needs to merchandise revenue would need to be reconsidered with a megastar of Hamilton's caliber aboard. Here are six ways inking Josh Hamilton would impact the 2013 San Francisco Giants.
Begin Slideshow

»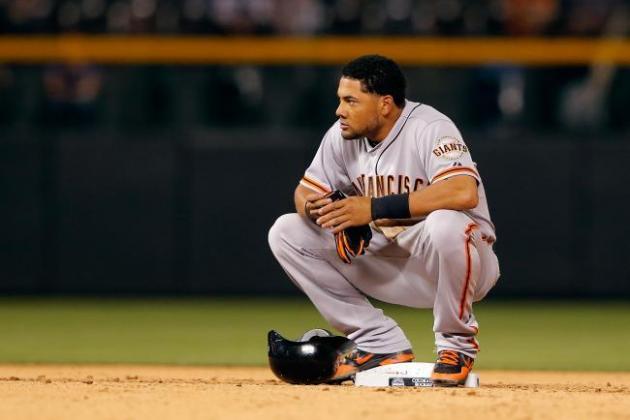 Signing Josh Hamilton leaves no need to bring Melky Cabrera back.
There's simply no room for both.
With Josh Hamilton anchoring left field at AT&T Park, the potential of the Giants reconnecting with disgraced slugger Melky Cabrera plummets to just shy of zero. While Hunter Pence and Angel Pagan's roles with the team will be in flux (more on that later), Cabrera isn't really the guy you want moving over to center or right field.
Furthermore, the fresh start and inevitable fan worship Josh Hamilton would invite in San Francisco affords Brian Sabean the chance to wipe the slate clean by cutting ties with Cabrera.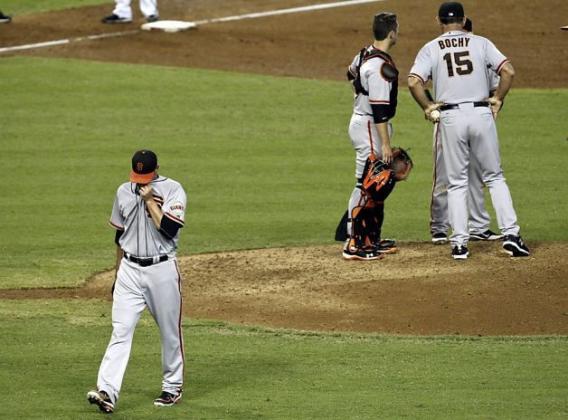 Associated Press /Ross D. Franklin
The talk of the Giants needing pitchers is not one we've heard in a while. And yet, with a potential playoff run rooming, concerns with the starting five are growing.
Ryan Vogelsong is in the midst of a slump that has seen his September ERA bloat to 12.34. Tim Lincecum, while certainly throwing better than when the season began, is still long ways off from Cy Young caliber and Barry Zito remains Barry Zito. In short, if the starting pitching costs the Giants this fall, you can be sure they'll consider adding a sixth arm to the mix.
Unless they have Josh Hamilton.
With Josh Hamilton in the heart of the batting order every day, it affords San Francisco's starters the chance to be a little less perfect each time they take the mound. Certainly Hamilton is no excuse for a performance, but he may very well be able to nullify one. If the Giants get Hamilton, the stable of starters currently on the roster will be plenty enough for 2013.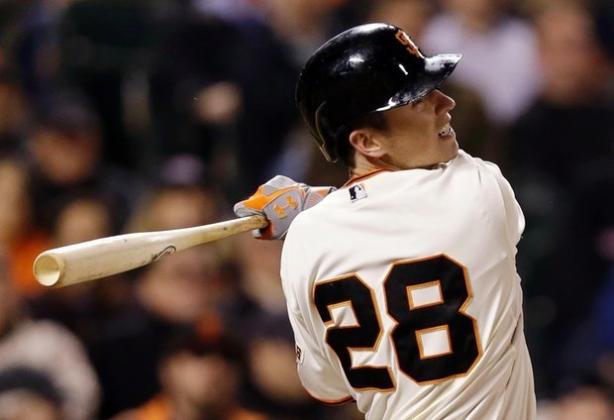 Buster Posey may move to the three spot if Josh Hamilton becomes a Giant.
One problem plaguing an offense that has been, for the most part, remarkably productive, is its lack of depth. While the top five batters for San Francisco get hits and reach base consistently, the bottom half of the Giants' batting order has struggled to drive them home.
Josh Hamilton could fill the role Melky Cabrera temporarily inherited, batting in the three spot ahead of Buster Posey at cleanup, Pablo Sandoval in the five and Hunter Pence behind him. Add in Brandon Belt and Brandon Crawford bringing up the back and you've got the makings of a seriously potent offense.
Buster Posey's stats are sure to benefit from Hamilton batting ahead of him, giving a great chance to amass RBI and forcing pitchers to pitch to him with the looming threat of Pablo and Pence. Hamilton's numbers will be helped by the leadoff tandem of Angel Pagan and Marco Scutaro, who've both done a tremendous job of getting on base this season.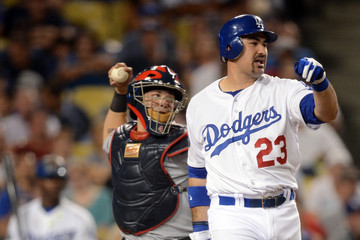 Getty Images
In elementary school, when another kid in class got a cool toy, you wanted one too. Well, professional baseball is not kindergarten, but the Giants would certainly be embodying the "you have one, I want one" mindset if they signed Josh Hamilton to offset their rival's acquisitions of Hansley Ramirez, Adrian Gonzalez and Carl Crawford this season.
The Los Angeles Dodgers' blueprint of spending whatever it takes to win hasn't worked out in the short term, but the offseason will afford them time to congeal and perhaps add even more talent to the mix. They may enter 2013 as serious contenders for the NL West title and beyond.
Josh Hamilton is the type of guy that makes a team feel a lot better about facing a lineup that includes Matt Kemp and Andre Either in addition to Ramirez and Gonzalez. By raiding the Red Sox in the season's biggest trade, the Los Angeles Dodgers found themselves with a heart quotient of American League players. In and of itself, the designation "American League player" is meaningless, but there is an intangible mentality that some AL batters have, and getting a big taste of it with Josh Hamilton would complement Los Angeles' offering nicely.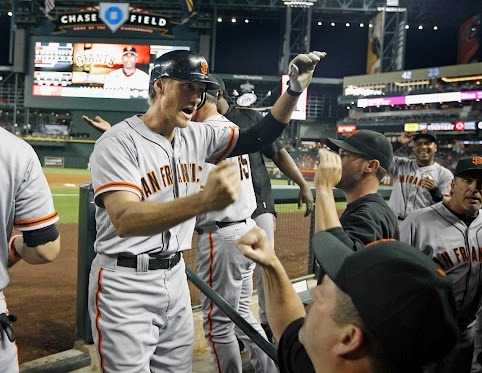 Is there room in the budget for a Hunter Pence extension?
The night Hunter Pence was traded to the San Francisco Giants, he told local reporters that he was "absolutely open" to a long-term extension. Let's hope he can hold on that enthusiasm for a little while longer.
Brian Sabean won't sign Josh Hamilton to anything longer than a three-year deal. The risk of Hamilton's production decreasing in the latter years of a longer deal is enough to keep Sabean from offering something in the five year, $140 million range. Regardless, any contract to bring Hamilton to San Francisco, even if only for two or three years, is sure to be very expensive. Factor in the arbitration costs of eligible players like Buster Posey and Sergio Romo, and Sabean would surely rather offer Pence arbitration and wait until the burden of Barry Zito's contract leaves the books in 2014 to get extension talks going.
Pence has languished on the rosters of an awful Houston Astros team and a Philadelphia Phillies team without the means to retain him in the long-term, which is to say he's probably quite willing to play along and secure himself a job for the foreseeable future.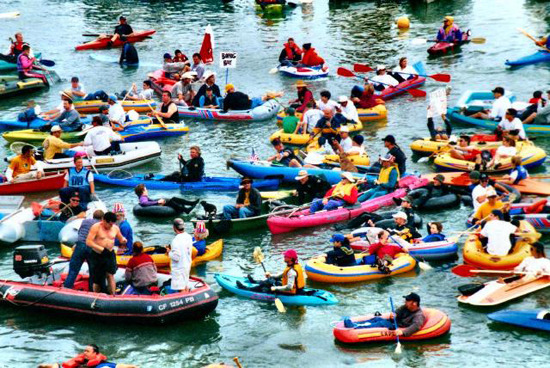 The kayaks and surfboards will return to McCovey Cove if Josh Hamilton joins the Giants.
AT&T has a feast or famine history when it comes to home runs.
When the park opened, heavyweights like Jeff Kent and Barry Bonds made sure the bleachers and arcade got their fair share of souvenirs. The thirsty waters of McCovey Cove were regularly appeased with colossal blasts off the bat of #25.
As Giants fans know, this era of play has given way to the pitcher dominated performances of the team's current roster. Josh Hamilton would bridge the gap nicely.
According to ESPN's batter spray chart, Hamilton hit 41 percent of his hits to right field. In addition,ESPN's Home Run Tracker tells us that all but one of his 42 home runs this season would've made it out in AT&T Park. Rangers Ballpark in Arlington features a deeper right field porch than the one at AT&T Park, meaning Hamilton would enjoy a reduced distance to the fences in San Francisco.
(Major hat tip to Christopher Benvie for his help on this slide!)