Fantasy Football: 10 QB's Ready to Produce Big Numbers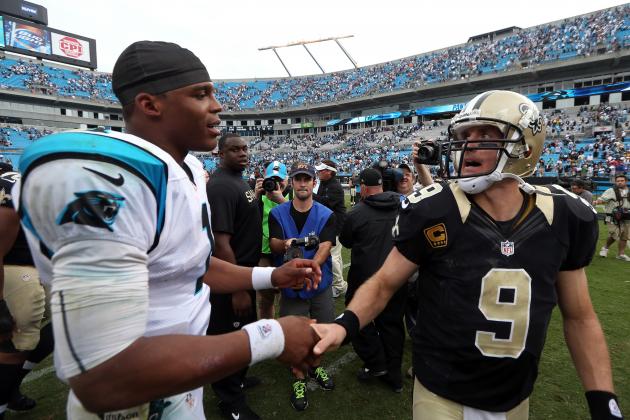 Streeter Lecka/Getty Images

With Week 3 just around the corner, another week of setting fantasy football rosters is among us.
Perhaps you built your team around running backs, so you need help at wide receiver.
Or, maybe you arranged your team around both running backs or receivers.
Anyways, if you're looking to trade for or even start a quarterback this week, let's took at the rankings heading into Week 3 and see which QBs are ready to produce more big numbers.
Begin Slideshow

»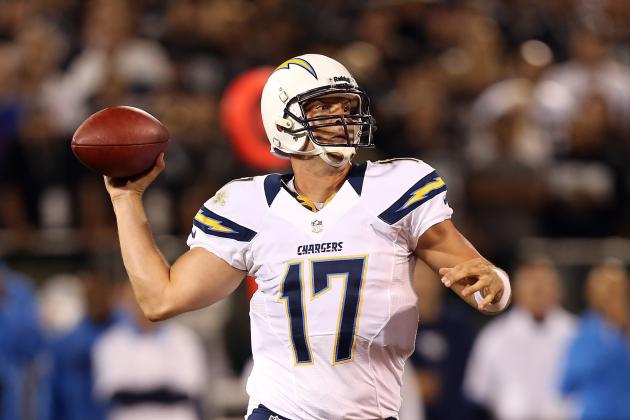 Ezra Shaw/Getty Images

Tied for the league with most interceptions, the Atlanta Falcons defense caused hell for Peyton Manning on Monday night.
Philip Rivers and the Chargers look to avoid the same fate, as they look to welcome back Ryan Matthews to the team.
Running back Ryan Matthews missed most of preseason and the start of the regular season due to a broken clavicle.
With his return, the Chargers offense can expect to do things differently, which may open up the passing game for Rivers.
On the flip side, the Chargers may try to get Matthews in the swing of things, so he may actually get more carries and reduce Rivers' attempts.
Rivers is still a top 10 quarterback with Matthews in the lineup, just don't expect anything phenomenal.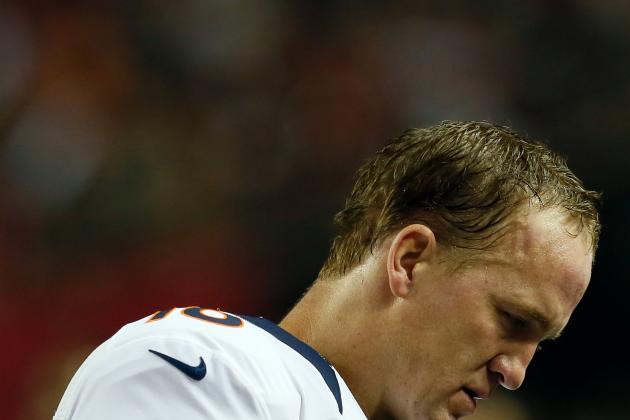 Kevin C. Cox/Getty Images

Almost mounting a comeback after his three early interceptions against Atlanta, Manning's comeback does not get easier as he plays the very good defense of the Houston Texans.
Currently the best ranked pass defense in the NFL, they've only allowed 124 yards per game and three interceptions.
You can expect J.J. Watt and that Texans' pass defense to come after Manning and force him to make throws he does not want to.
Manning will improve as the season goes on, but playing Houston's defense in Week 3 may limit his ceiling.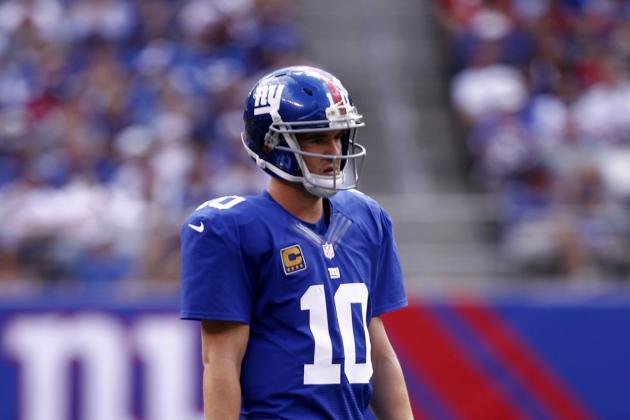 Jeff Zelevansky/Getty Images

After throwing for more than 500 yards with three touchdowns and three interceptions, Manning gets the short week as the Giants face the Panthers on Thursday night.
It seems that Manning will be slinging the arm once again, as running back Ahmad Bradshaw has been ruled out.
However, after throwing 51 times with a short time to recover, will Manning's arm show signs of fatigue?
For some reassurance, Manning has thrown for 559 yards and four TDs in his past two meetings with Carolina.
If the run game can take some pressure off Manning, he should be comfortable throwing the ball and have another solid outing.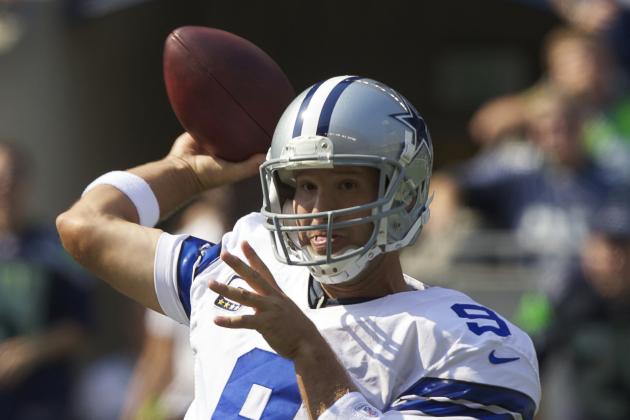 Stephen Brashear/Getty Images

A miserable outing in Seattle last week, Romo has an opportunity to bounce back against the Tampa Bay Buccaneers.
With the worst passing defense in the league, Eli Manning was able to torch them for 510 yards.
The Bucs currently allow 401 yards per game through the air two games into this season, and with the weapons that Romo has he should be able to torch this defense as well.
Romo is also very good against the Bucs, as he has a career 3-0 record against them. In those games, he went 61-for-86 (71 percent), thrown for 908 yards, 11 TDs and zero interceptions.
Yeah, ZERO.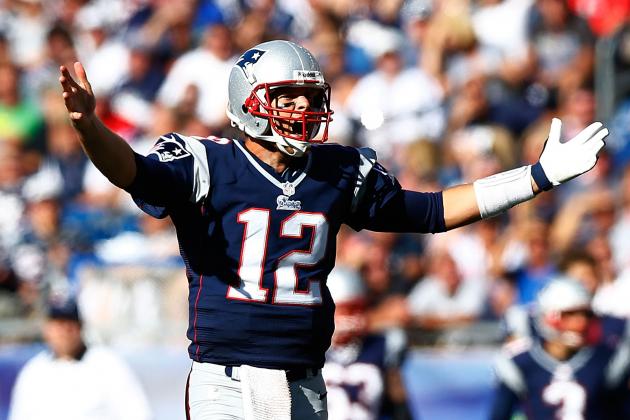 Jared Wickerham/Getty Images

The loss of Aaron Hernandez should really not scare owners too much.
The Patriots have signed Kellen Winslow Jr., and brought back Deion Branch to aid in his absence.
This is a team that game-plans as well as any offense, and with Gronk still in the mix, along with Brandon Lloyd and Wes Welker, Brady still has a lot of weapons to throw to.
Brady goes into Week 3 facing a Baltimore defense that is ranked 26th against the pass so far in the season.
Although the Ravens have a reputation of a good defense, Brady has too many weapons to not get his points this weekend.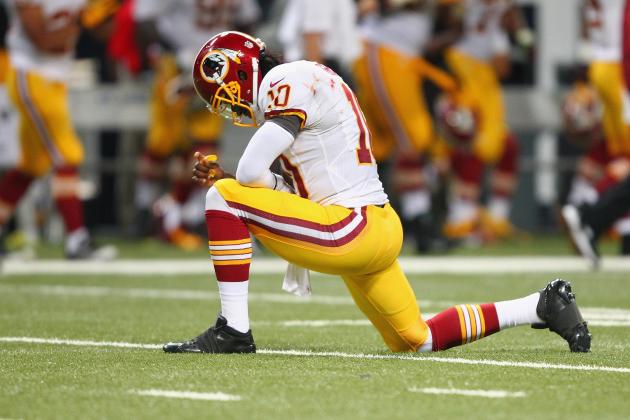 Dilip Vishwanat/Getty Images

After his Week 1 frenzy through the air, RG3 showed why he is so versatile.
In Week 2, the Rams had trouble stopping his running ability as Griffin rushed for 82 yards on 11 attempts and two touchdowns.
It's only been two weeks, but in both weeks, teams have not been able to slow down his performance.
Lucky for Griffin, he gets to play a Cincinnati defense that had trouble stopping a Browns offense with virtually no weapons besides Trent Richardson.
It may be another week where RG3 has his way.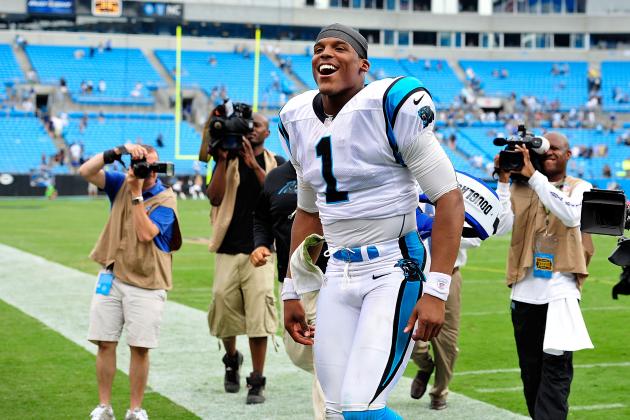 Grant Halverson/Getty Images

A better passer at home, Newton and the Panthers get to host the Giants on Thursday Night Football.
The Giants' defense thus far has looked sorry to say the least, allowing 29 points per game and 259 passing yards per game.
It's hard to say if the Giants' pass rush will finally show up. If that pass rush can't pressure and contain Newton, expect Cam to go off and have a big night on Thursday.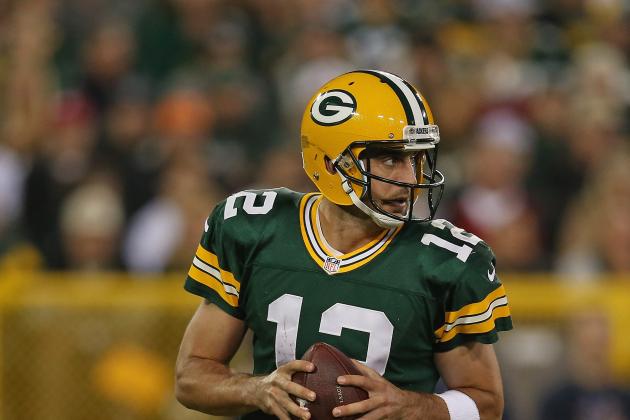 Jonathan Daniel/Getty Images

In Week 2, the Packers relied more on the run game, and Rodgers did not score the points we are accustomed to seeing.
With the Seattle Seahawks allowing only 2.6 yards per carry on the ground, expect the Packers to go back to their spread offense and let Rodgers sling the ball.
It looks as if Rodgers will be expected to throw the ball more this week, and we all know what kind of damage he can do when given the chance to sling the ball a numerous amount of times.
With so many pass attempts this week, Rodgers returns back into top 3 quarterback status.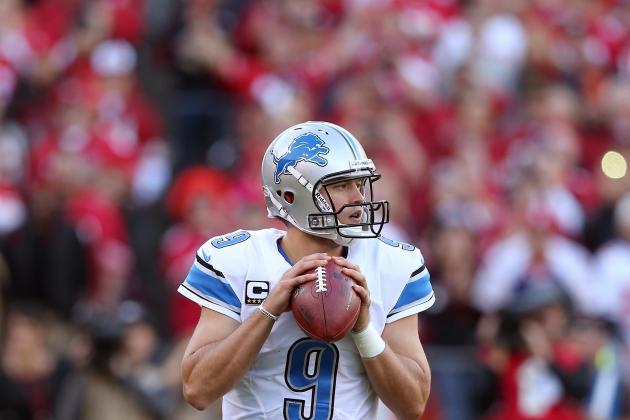 Ezra Shaw/Getty Images

Stafford has yet to have that monster game this year that we all thought he would have.
To his credit, he played a very physical Niners defense that is arguably the best in the league.
That may all change this week, as the Lions play the Titans, who have given up five touchdowns through the air this season.
The Titans have allowed 248 yards per game this season, and Stafford may capitalize this week, after having a disappointing first two weeks.
He's bound to bounce back right?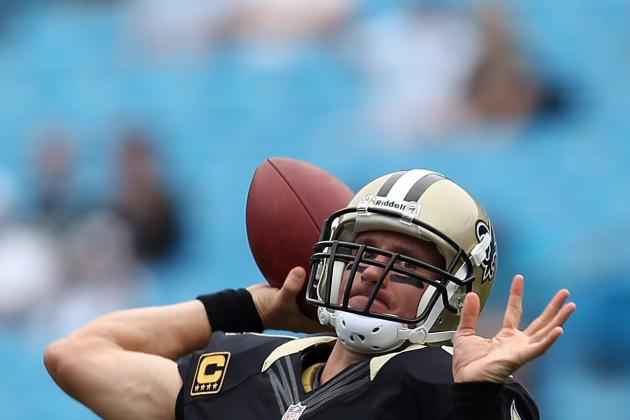 Streeter Lecka/Getty Images

Say whatever you want to say about Brees and the Saints going 0-2.
Brees has still thrown for more than 300 yards in each of the two games played.
Heading into Week 3, Brees has a favorable matchup against the Kansas City Chiefs, who have allowed 75 points in only two games played this season.
With the array of weapons on the Saints offense, Brees should have ease picking apart this Chiefs defense who can't seem to stop opponents from scoring.
Heading into Week 3, Drew Brees is the number one rated fantasy quarterback.