NFL Rookie Report: Week 1 Grades for Every Team's Rookie Class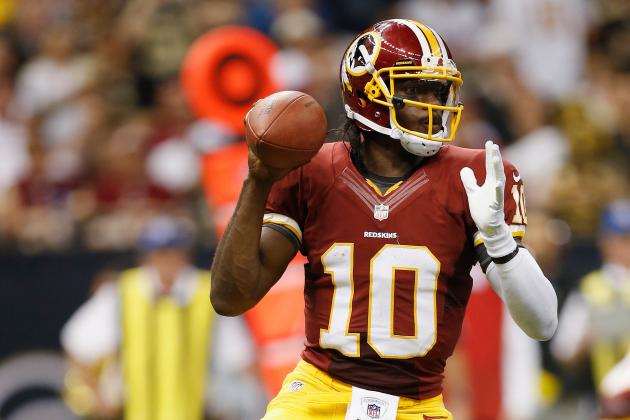 Chris Graythen/Getty Images

This week showed us all just how quickly a rookie can make a major impact. Robert Griffin III surprised the New Orleans Saints and the rest of the NFL, as his superb play was the main reason the Washington Redskins pulled off the upset. Several other rookies put up excellent numbers in their first games as a pro, too.
The upcoming slides break down each team's rookie class following their Week 1 accomplishments. Not everyone performed as well as Robert Griffin III. Actually, there were several rookies that really disappointed.
Begin Slideshow

»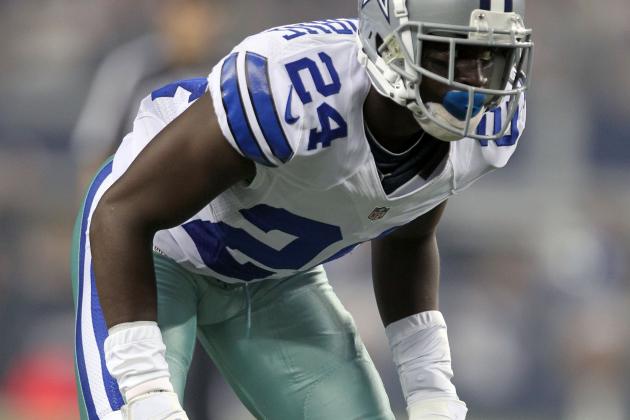 Matthew Emmons-US PRESSWIRE

Picks: Morris Claiborne, Tyrone Crawford, Kyle Wilber, Matt Johnson, Danny Coale, James Hanna and Caleb McSurdy
Morris Claiborne faced a tough test in his first game with the Dallas Cowboys; the New York Giants have top-notch wide receivers like Hakeem Nicks and Victor Cruz. Eli Manning tried to test the rookie Claiborne, but he really played well.
Rob Ryan employed Claiborne mainly in bump-and-run coverage. He did a great job getting physical at the line of scrimmage. Once the wideout was able to release, Claiborne stayed in his hip pocket and reacted quickly to the ball. I was also impressed with the way he trusted his coverage, mainly his safeties in deep coverage.
It was nice to see James Hanna haul in a catch. This is a player that should continue to be worked into the game plan. It never hurts to have someone with his type of speed working out of the tight-end spot.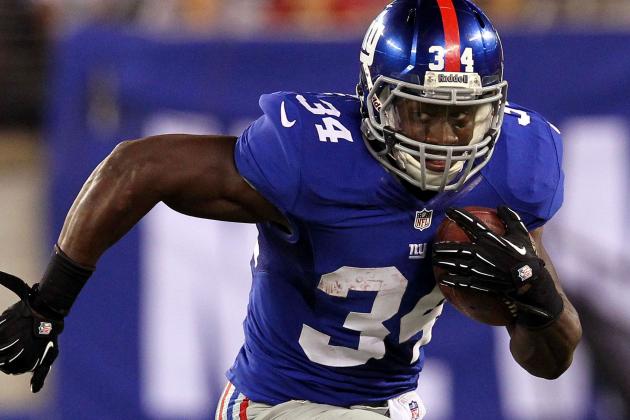 Brad Penner-US PRESSWIRE

Picks: David Wilson, Rueben Randle, Jayron Hosley, Adrien Robinson, Brandon Mosley, Matt McCants and Markus Kuhn
The New York Giants didn't have the performance they were expecting from their rookie class.
Everyone had high hopes that David Wilson would be able to provide the Giants with an offensive spark. However, his fumble played a role in the team's loss to the Dallas Cowboys. Because of his fumble issues at Virginia Tech, this has to be a bit of a long-term concern.
Jayron Hosley had a key special-teams penalty and wasn't given an opportunity to play cornerback when the Giants were desperate for someone to step up. This means that New York isn't completely comfortable with him lining up on defense; they'd rather play Justin Tryon.
Rueben Randle wasn't part of the offensive game plan and wasn't even targeted in the game.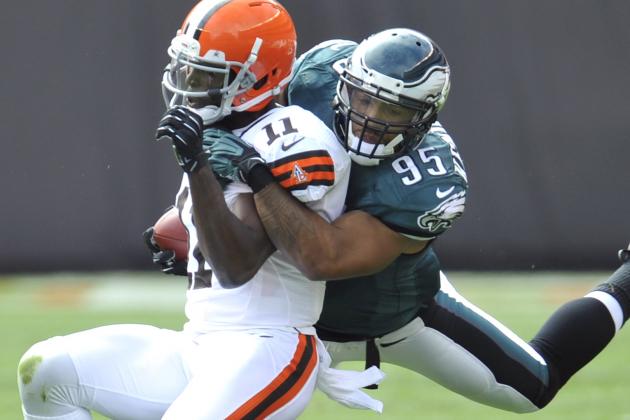 David Richard-US PRESSWIRE

Picks: Fletcher Cox, Mychal Kendricks, Vinny Curry, Nick Foles, Brandon Boykin, Dennis Kelly, Marvin McNutt, Brandon Washington and Bryce Brown
The Philadelphia Eagles' defense got a major boost from rookies Fletcher Cox and Mychal Kendricks. Both received a significant number of snaps and made some impact plays.
Kendricks showed a wide range of skills. His quickness allowed him to flow to the football, work his way into the backfield and drop into coverage. Additionally, he really did a great job in both man-to-man and zone coverage.
Cox was able to record a sack in his first game as a professional. His ability to generate pressure on the quarterbacks is what made him so attractive to the Eagles. Expect to see his snap count continue to rise as the season progresses.
Brandon Boykin saw some time on both defense and special teams. It appears that he's in for a big role as a returner on both kickoffs and punts.
Philadelphia was very impressed with what Bryce Brown did in the preseason. His play is the reason he was the only other running back besides LeSean McCoy to get a carry.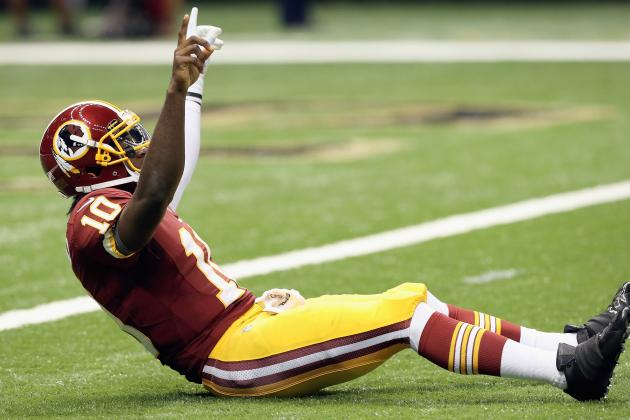 Ronald Martinez/Getty Images

Picks: Robert Griffin III, Josh LeRibeus, Kirk Cousins, Keenan Robinson, Adam Gettis, Alfred Morris, Tom Compton, Richard Crawford and Jordan Bernstine
The Washington Redskins got a total of 425 yards from their top-two rookie performers. Robert Griffin III and Alfred Morris both have a very bright future in the NFL.
Mike and Kyle Shanahan did a great job designing a game plan that put RG3 in a position to succeed. The ability to gain some early confidence played a major role in Griffin's excellent performance.
Washington couldn't have asked for a better Week 1 performance from its rookie quarterback. He moved the football, avoided mistakes and provided several explosive plays. Griffin will have his share of bumps in the road, but appears to be a star in the making.
As for Alfred Morris, it's hard to predict how many carries he'll get each week. However, he showed good power and the ability to move the pile. He's the type of one-cut back that could really succeed in this zone-blocking scheme.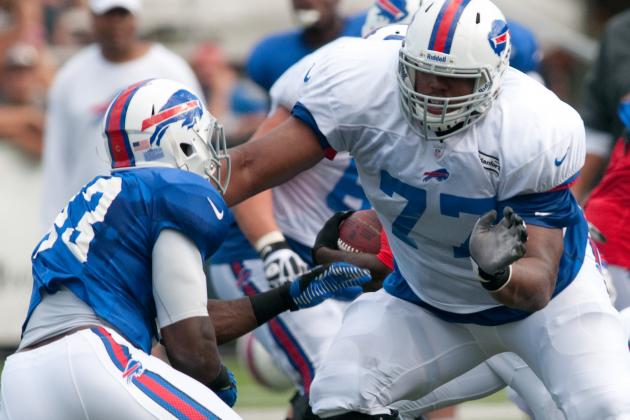 Mark Konezny-US PRESSWIRE

Picks: Stephon Gilmore, Cordy Glenn, T.J. Graham, Nigel Bradham, Ron Brooks, Zebrie Sanders, Tank Carder, Mark Asper and John Potter
The Buffalo Bills' top-two selections both played a large number of snaps against the New York Jets. Cordy Glenn helped hold the Jets without a sack. He played with a lot of balance and good quickness, and his solid use of angles allowed him to protect the edge from the speed-rushers.
Glenn also did a great job opening running lanes for C.J. Spiller. He is proving to be both a powerful and athletic offensive lineman. It appears that the Bills have finally solidified the left-tackle position.
Stephon Gilmore had some ups and downs in his first official game as a pro. The most notable mistake was how he bit on the double move by Stephen Hill and surrendered a long touchdown. All cornerbacks make mistakes, but it's the way they respond that matters even more.
Other than the long touchdown, Gilmore did a great job playing a physical brand of football. When in man coverage, he blanketed receivers and had good reaction time. He'll learn from his mistake and correct it moving forward.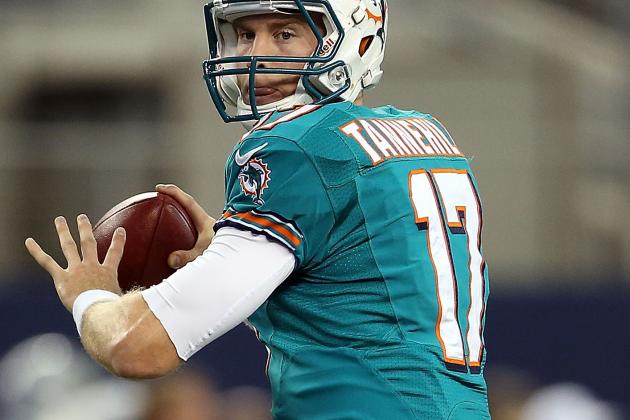 Ronald Martinez/Getty Images

Picks: Ryan Tannehill, Jonathan Martin, Olivier Vernon, Michael Egnew, Lamar Miller, Josh Kaddu, B.J. Cunningham, Kheeston Randall and Rishard Matthews
The fact that Ryan Tannehill had to open his NFL career by facing the highly talented Houston Texans defense is a tough draw. Houston's defense has a wide range of talent, including ferocious pass-rushers and top-notch cornerbacks. This tough defense forced Tannehill to throw three interceptions and struggle moving the football.
As much as the defense played a role, Tannehill also made plenty of mistakes and poor decisions. It appeared that he was letting the moment get the best of him. However, Tannehill didn't get much help from his wide receivers. This is a group of wideouts that lacks talent. Unfortunately, this is the group he has to deal with all year.
Jonathan Martin held his own against a tough Texans defensive line. He showed good balance and the ability to reach the edge. This is only the beginning for Martin, as he'll continue to get better as the year progresses.
Olivier Vernon saw some action as part of the defensive-line rotation. He didn't make much of an impact, but it shows Miami has some trust in his skills.
Jim Rogash/Getty Images

Picks: Chandler Jones, Dont'a Hightower, Tavon Wilson, Jake Bequette, Nate Ebner, Alfonzo Dennard and Jeremy Ebert
The big story here is the fact that Chandler Jones recorded a sack in his first game as a New England Patriot. This is a very good sign for New England, as it is counting on Jones to be the team's top pass-rusher. Jones is someone that'll continue to produce because of his athleticism, quickness off the ball and excellent work ethic.
It was a great debut for linebacker Dont'a Hightower. Not only was he consistently around the football, but he also recorded a touchdown on a fumble return. This is the exact reason the Patriots moved up in the draft to add him to the mix—he makes big plays.
Tavon Wilson also found a way to make an instant impact. He was able to haul in an interception off of a tipped pass in the end zone. I'll be honest, the Wilson selection struck me as a major over-draft. However, New England might have found a steal here.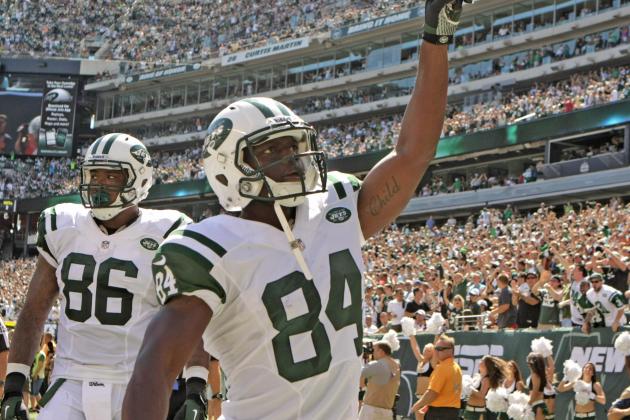 The Star-Ledger-US PRESSWIRE

Picks: Quinton Coples, Stephen Hill, Demario Davis, Josh Bush, Terrance Ganaway, Robert T. Griffin, Antonio Allen and Jordan White
The New York Jets got a major contribution from second-round pick Stephen Hill. He made several explosive plays, including two long touchdown receptions. This is an important development, as the Jets really needed another wide receiver to emerge opposite Santonio Holmes.
It might be a bigger story that Mark Sanchez seemingly has developed trust in Hill. Because of his size and speed, Hill is the type of receiver that can go up and make the tough catch in traffic. This is the type of thing quarterbacks love.
Quinton Coples didn't record a sack, but he did make a nice tackle behind the line of scrimmage. He showed off his versatility, as he did a good job versus both the run and pass. Prior to the draft, people discussed Coples' lack of effort. However, he showed a lot of hustle and tenacity.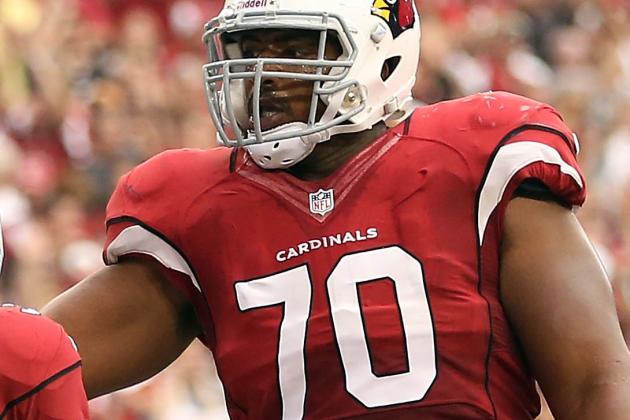 Christian Petersen/Getty Images

Picks: Michael Floyd, Jamell Fleming, Bobby Massie, Senio Kelemete, Justin Bethel, Ryan Lindley and Nate Potter
All preseason long, I've talked about how tough it would be for Michael Floyd to make a major impact because of the Arizona Cardinals' quarterback situation. However, both John Skelton and Kevin Kolb played well against the Seattle Seahawks, and Floyd was a no-show.
If anything, Andre Roberts just solidified his role as the No. 2 receiver for the Cardinals. It's safe to start getting a little concerned about Floyd's future. He has more than enough talent that he should've earned a role in the game plan. There might be some work-ethic or playbook issues here.
Bobby Massie is a star in the making. This guy has the size and foot speed needed to eventually develop into a top-notch left tackle. In his first game, Massie played with a lot of tenacity and poise. He was very physical in the running game and really got a great push off the line. In pass protection, he had a quick shuffle and was able to protect the edge. It won't be long before the Cardinals shift him over to the left side of the line.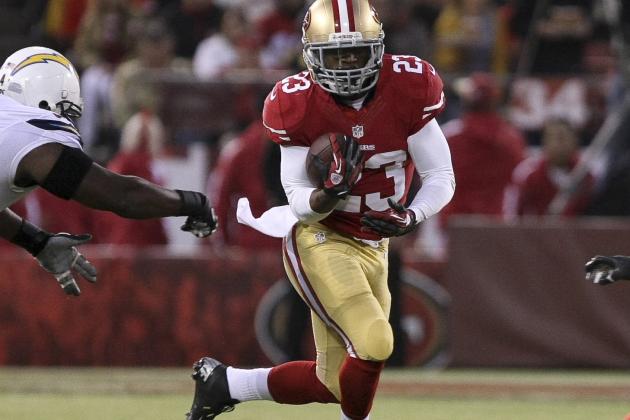 Kelley L Cox-US PRESSWIRE

Picks: A.J. Jenkins, LaMichael James, Joe Looney, Darius Fleming, Trent Robinson, Jason Slowey and Cam Johnson
The San Francisco 49ers made some head-scratching picks during the 2012 draft. As a result, nobody from this year's draft class made an impact in their first game against the Green Bay Packers. Both of their top-two picks failed to do enough this preseason to earn a role in the offense.
San Francisco is hoping that A.J. Jenkins and LaMichael James can eventually develop enough to make a difference. However, nothing they've shown so far is enough to create a ton of optimism. Jenkins had a very disappointing training camp, and James is already showing some durability concerns.
Kendall Hunter looked very explosive in the first game of the season. I have a hard time seeing a scenario where James steals carries away from Hunter.
It's certainly possible that this entire draft class turns out to be a bust for the 49ers.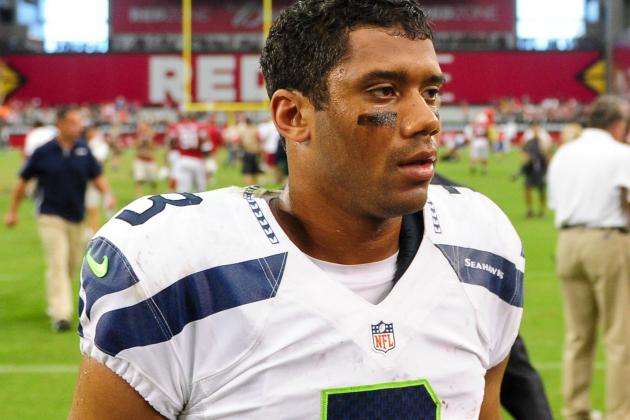 Matt Kartozian-US PRESSWIRE

Picks: Bruce Irvin, Bobby Wagner, Russell Wilson, Robert Turbin, Jaye Howard, Korey Toomer, Jeremy Lane, Winston Guy, J.R. Sweezy and Greg Scruggs
The story for the Seattle Seahawks surrounds the play of Russell Wilson. Despite some ups and downs, he had a really strong debut. Wilson moved the ball well, located open targets and handled the rush. His drive late in the game set his team up for the victory, but unfortunately, Braylon Edwards wasn't able to pull in the game-winning throw.
It's apparent that Wilson became more comfortable as the game progressed. This wasn't an easy matchup, as it came on the road against a divisional opponent with a very strong defense. Based on this performance, it's safe to say Wilson has a bright future in the NFL.
Seattle also got strong play from several other rookies. On the offensive side of the ball, Robert Turbin and J.R. Sweezy showed a ton of promise. Turbin only had two carries, but at some point, the Seahawks will have to increase his workload. They need Turbin to help keep Marshawn Lynch healthy and fresh.
Sweezy's ability to make the switch from the defensive line to guard is amazing. He still needs time to develop, but he more than held his own.
Defensively, both Bobby Wagner and Bruce Irvin saw plenty of action. Irvin did a good job attacking the edge, even getting a good hit on the quarterback. Wagner showed that he's a strong leader and has good instincts.
Overall, Seattle's rookie class has a ton of upside and impact players.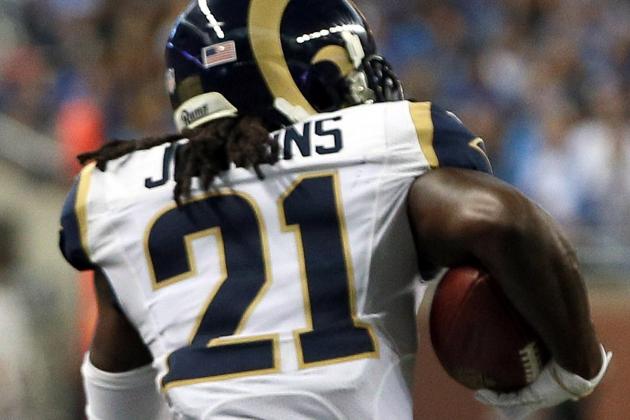 Dave Reginek/Getty Images

Picks: Michael Brockers, Brian Quick, Janoris Jenkins, Isaiah Pead, Trumaine Johnson, Chris Givens, Rokevious Watkins, Greg Zuerlein, Aaron Brown and Daryl Richardson
If the St. Louis Rams can keep Janoris Jenkins out of trouble, he'll provide them with Pro Bowl-level play. This is a rookie who possesses Top 10 talent that only fell to the second round because of off-the-field concerns. Jenkins is a tremendous athlete whose instincts and quick burst make him really dangerous. The combination of Jenkins and Cortland Finnegan has a chance to be special.
Michael Brockers was held out of the first game with an injury, so there's not much to report there. He'll likely be back by the Rams' Week 2 game.
The Rams were hoping that Brian Quick, Isaiah Pead and Chris Givens could do enough this preseason to earn playing time. However, none of them impressed, and all three weren't a part of the Week 1 game plan as a result. In fact, Daryl Richardson was able to get two carries, while Pead got zero.
Rokevious Watkins won the starting left guard job after Scott Wells went down with an injury, but struggled in his first game. The Detroit Lions were able to get a lot of pressure up the middle, with their three sacks all coming from defensive tackles.
A larger concern is the fact that the entire Rams offensive line struggled to open running lanes. With the lack of explosive weapons at wide receiver, St. Louis is counting on Steven Jackson to be its top playmaker.
Rookie kicker Greg Zuerlein was a perfect 3-of-3, including a 48-yard field goal.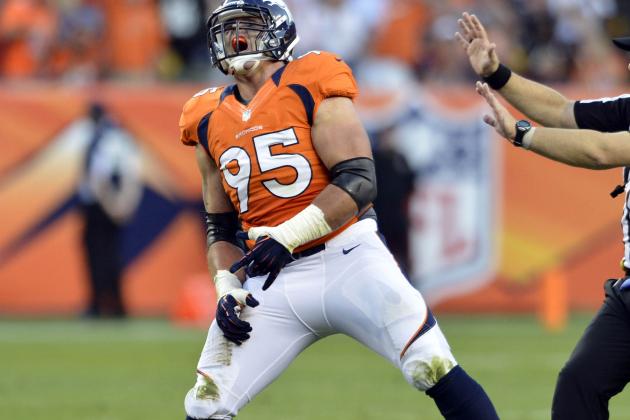 Ron Chenoy-US PRESSWIRE

Picks: Derek Wolfe, Brock Osweiler, Ronnie Hillman, Omar Bolden, Philip Blake, Malik Jackson and Danny Trevathan
The Denver Broncos may have found a major steal in Derek Wolfe. In his first game, Wolfe was a disruptive force, making several plays behind the line of scrimmage. He showed that he's more than capable of taking advantage of the favorable matchups created by Von Miller and Elvis Dumervil.
His versatility is a real asset, as the Broncos are lining him up at defensive end and bumping him inside to tackle in passing situations. This allows them to get the best pass-rushers on the field when they need them the most.
Both Ronnie Hillman and Malik Jackson were inactive for Week 1. The fact that Hillman was inactive is a real disappointment. He entered training camp with a realistic chance to win the third-down-back job. However, injuries limited his ability to make an impression.
At this point, it looks like Knowshon Moreno has a strong hold on the No. 2-running-back spot. He looked good in limited action against the Pittsburgh Steelers.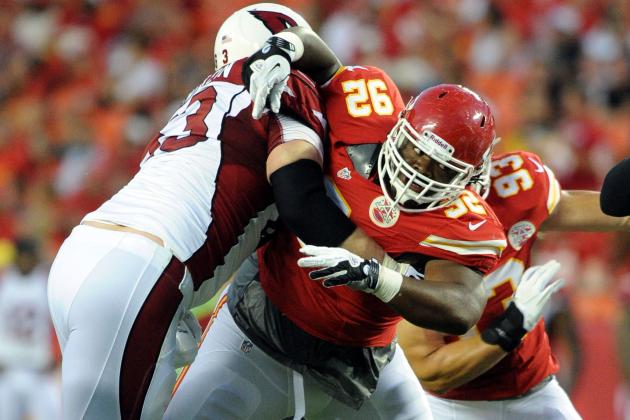 John Rieger-US PRESSWIRE

Picks: Dontari Poe, Jeff Allen, Donald Stephenson, Devon Wylie, DeQuan Menzie, Cyrus Gray, Jerome Long and Junior Hemingway
Dontari Poe was the only Kansas City Chiefs rookie to see action against the Atlanta Falcons. His debut wasn't all that impressive. Even though he got the start and saw plenty of playing time, Poe was pushed around by the Falcons' offensive line.
On more than a handful of plays, he was doubled-teamed and driven a few yards off the ball. Other times, center Todd McClure was able to turn Poe and seal him from the play. I have a hard time agreeing with those that have big expectations for Poe's rookie season.
This is a very raw player who needs time to grow into the position. He doesn't yet have the ability to read his keys, locate the football and attack. Poe needs time to learn the ins and outs of being a nose tackle. He still has a bright future, but will have his struggles this season.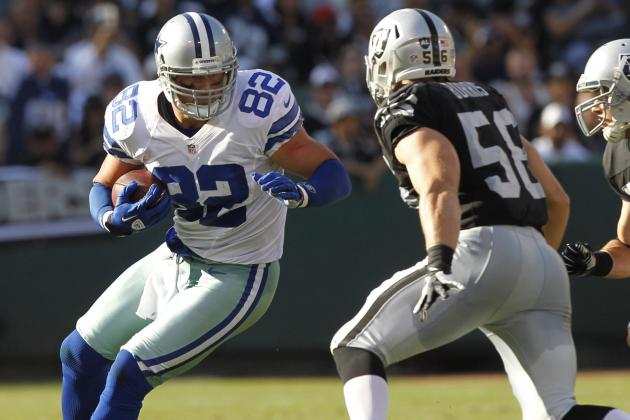 Cary Emondson-US PRESSWIRE

Picks: Tony Bergstrom, Miles Burris, Jack Crawford, Juron Criner, Christo Bilukidi and Nathan Stupar, Rod Streater
Rod Streater and Miles Burris were the only rookies to see meaningful action for the Oakland Raiders. Streater was able to haul in four passes for 28 yards, but had a fumble on the opening drive that cost the team some points. Streater performed as he did in the preseason; he was a reliable target, yet nothing spectacular. Look for him to see less time when Denarius Moore and Jacoby Ford return from injury.
Burris is a completely different story. He looks like a long-term fixture in the linebacker corps alongside Rolando McClain. Burris showed a ton of explosiveness, tenacity and instinct. He was very decisive and didn't hesitate to attack the line of scrimmage. This is a player with a ton of upside.
He ended up leading the team with seven solo tackles and two tackles for loss.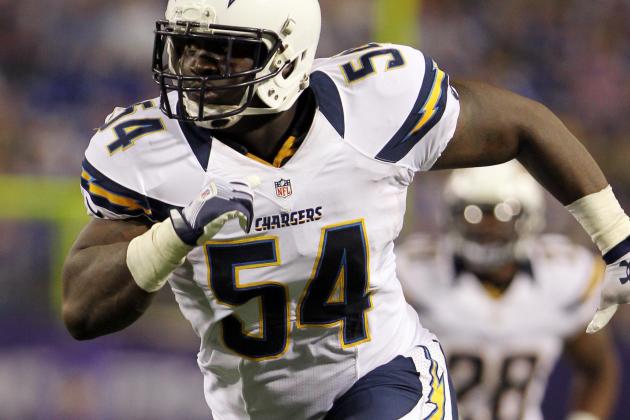 Brace Hemmelgarn-US PRESSWIRE

Picks: Melvin Ingram, Kendall Reyes, Brandon Taylor, Ladarius Green, Johnnie Troutman, David Molk and Edwin Baker
The only reason the San Diego Chargers were able to pull off the win against the Oakland Raiders is because of the defense and special teams. Rookies Melvin Ingram and Kendall Reyes both played a major role in keeping the Raiders' offense in check.
Ingram provided a ton of pressure off the edge and forced the only turnover of the game. His nonstop motor and tenacity constantly put him in position to make a play. That hustle is the reason he was able to force Rod Streater's fumble.
San Diego worked Reyes in as part of its defensive-line rotation. However, when he was on the field, he did a great job holding up against the run and getting a push on the pocket. This is a player with a wide range of skills; there's little doubt he'll earn a starting job by the end of the season.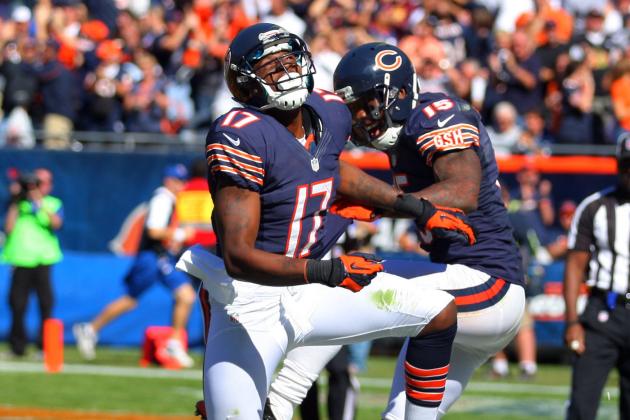 Dennis Wierzbicki-US PRESSWIRE

Picks: Shea McClellin, Alshon Jeffery, Brandon Hardin, Evan Rodriguez, Isaiah Frey and Greg McCoy
The Chicago Bears got a ton of production from their rookie class. Only three of their picks were able to make the active roster, but all three saw significant playing time. Alshon Jeffery got all the headlines because of his 42-yard touchdown reception.
Chicago was willing to take a risk on Jeffery in the second round, and so far, it looks like that risk is going to pay off. He has the talent to develop into a real difference maker for the Bears.
First-round pick Shea McClellin didn't record an official stat, but he did a good job getting pressure on the quarterback. He flashed a quick burst off the line and an excellent spin move. Look for McClellin to continue to get more playing time as the season progresses.
I loved what I saw from Evan Rodriguez. Chicago used him at both fullback and tight end. His run-blocking played a key role in several of Matt Forte's long runs. This is someone that has a very bright future.
Tim Fuller-US PRESSWIRE

Picks: Riley Reiff, Ryan Broyles, Dwight Bentley, Ronnell Lewis, Tahir Whitehead, Chris Greenwood, Jonte Green and Travis Lewis
The Detroit Lions didn't get a lot of production from their rookie class in Week 1. However, the the play of Dwight Bentley was a really promising sign. Detroit's secondary is dealing with a ton of injury issues, which forced the rookie Bentley into action.
He and the rest of the Lions' secondary limited Sam Bradford to less than 200 yards passing. The pace at which Bentley develops will have a major impact on how the Lions' season turns out. They need their secondary to play well if they hope to return to the playoffs.
The rest of the class is more about the future than making an immediate contribution. Riley Reiff is a future starter along the offensive line. He has the potential to line up at either guard, right tackle or left tackle.
Look for Ryan Broyles to be brought along slowly as he recovers from a knee injury.
Benny Sieu-US PRESSWIRE

Picks: Nick Perry, Jerel Worthy, Casey Hayward, Mike Daniels, Jerron McMillian, Terrell Manning, Andrew Datko and B.J. Coleman
Most of the Green Bay Packers' additions through the draft came on the defensive side of the ball. Unfortunately, the defense didn't appear to improve any from last season. Top pick Nick Perry tallied six solo tackles and was around the football. However, he was unable to record a sack.
Green Bay brought Perry in to help increase the pass rush. If he's unable to fulfill that role, he'll be a major disappointment for the Packers.
The defense really struggled to stop the San Francisco 49ers' ground game. It was able to rush for 186 yards while averaging 5.6 yards per carry. This is an area in which Green Bay hoped Jerel Worthy would be able to help. However, he failed to register a single tackle.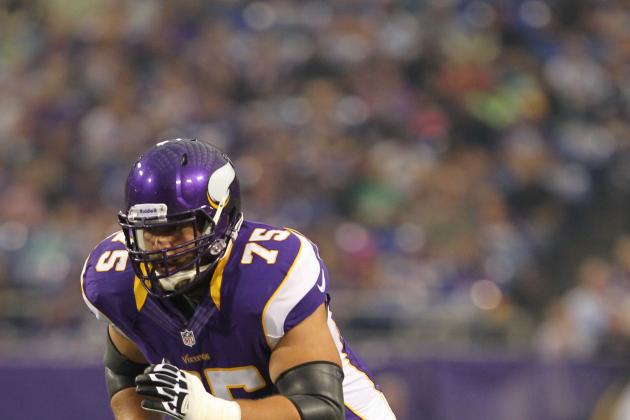 Brace Hemmelgarn-US PRESSWIRE

Picks: Matt Kalil, Harrison Smith, Josh Robinson, Jarius Wright, Rhett Ellison, Greg Childs, Robert Blanton, Blair Walsh, Audie Cole and Trevor Guyton
Overall, Matt Kalil had a very solid debut for the Minnesota Vikings. He played with a lot of balance and sound technique. Kalil maintained a wide base, used proper angles and kept his hands out in front in pass protection. For the most part, he kept both Andre Branch and Jeremy Mincey of the Jacksonville Jaguars out of the back field. The one area he could stand to improve is the quickness in getting out of his stance.
Harrison Smith proved to be an excellent leader and communicator. He consistently helped make adjustments in the secondary. In coverage, Smith avoided major mistakes by keeping good depth in his drops. He was also aggressive when supporting the run.
I thought we'd see Jarius Wright get a chance to return some punts or kicks. He possesses the explosiveness to be a difference maker in that area, which is why it came as a shock to me that he was inactive for the first game.
Rookie kicker Blair Walsh had a good day, going 4-of-4, including a 55-yard field goal.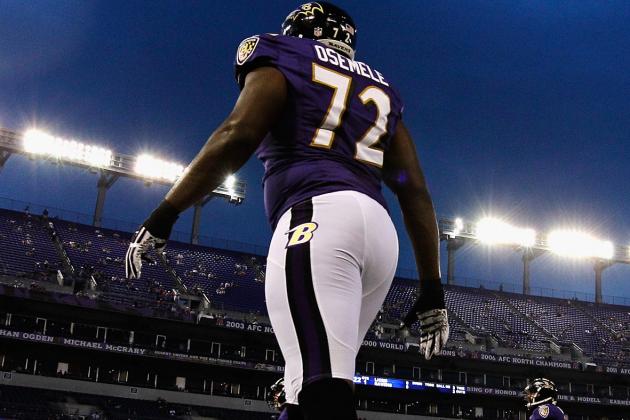 Rob Carr/Getty Images

Picks: Courtney Upshaw, Kelechi Osemele, Bernard Pierce, Gino Gradkowski, Christian Thompson, Asa Jackson, Tommy Streeter and DeAngelo Tyson
The Baltimore Ravens heavily featured a total of four rookies in the first game of the season. Courtney Upshaw, Kelechi Osemele, Bernard Pierce and Justin Tucker all saw action against the Cincinnati Bengals. The most significant contribution came from Osemele, as he was asked to start at right tackle.
Osemele didn't have a flawless game, but he's a bit raw and needs time to grow. His good size and surprising athleticism means he has a ton of potential. The fact that the Ravens were willing to cut ties with Bryant McKinnie altogether shows that they have some trust in the rookie. Luckily, they did renegotiate with McKinnie as a backup plan.
Bernard Pierce wasn't spectacular in relief of Ray Rice. However, the Ravens are only counting on him to give Rice a rest from time to time.
Upshaw had a rough preseason, but looked good in the first game of the season. He was able to penetrate and help record a sack. His ability to hold up against the run was also an asset.
It's nice to see a rookie kicker not miss a kick in his first action. Tucker's job is safe as long as he's making kicks.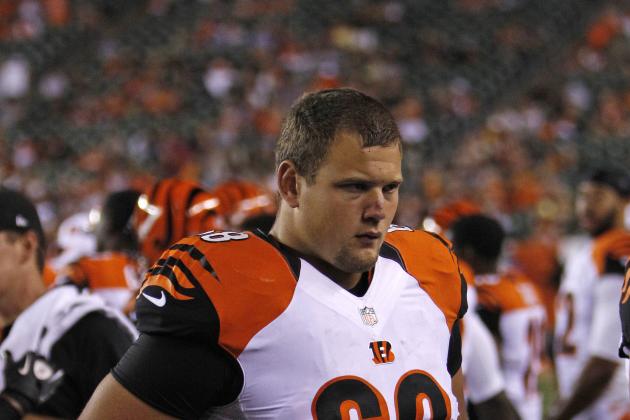 Frank Victores-US PRESSWIRE

Picks: Dre Kirkpatrick, Kevin Zeitler, Devon Still, Mohamed Sanu, Brandon Thompson, Orson Charles, Shaun Prater, Marvin Jones, George Iloka and Dan Herron
Only one of the Cincinnati Bengals' first-round picks played in the opening game against the Baltimore Ravens. However, Kevin Zeitler had a terrific game and showed a ton of promise. Cincinnati brought Zeitler into the mix because it needed a physical presence on the interior of the offensive line.
Playing in the AFC North means that Cincinnati must face the Baltimore Ravens and Pittsburgh Steelers twice a year. Both teams have a massive and physical defensive front. Zeitler showed Monday night that he has the strength and technique needed to generate a push against NFL competition. BenJarvus Green-Ellis was able to average 5.1 yards a carry against the Ravens in large part because of Zeitler.
The other members of this draft class saw some action late in the game when things were getting out of hand. Devon Still, Mohamed Sanu, Orson Charles and Marvin Jones are all depth players who figure to see increased snaps as the season progresses.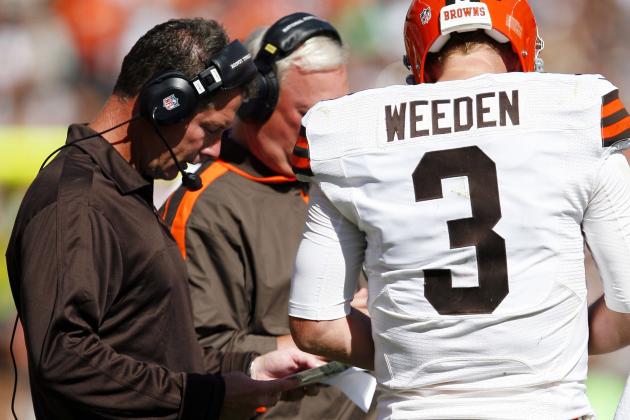 US PRESSWIRE

Picks: Trent Richardson, Brandon Weeden, Mitchell Schwartz, Josh Gordon, John Hughes, Travis Benjamin, James-Michael Johnson, Ryan Miller, Emmanuel Acho, Billy Winn, Tevin Wade and Brad Smelley, L.J. Fort

The Cleveland Browns got a decent performance from their rookie class, but it wasn't from their top-two picks. Both Trent Richardson and Brandon Weeden struggled in their NFL debuts. Weeden looked like the least-prepared rookie quarterback to take the field on Sunday. This doesn't bode well for a quarterback that's several years older than the rest of the rookie class.
Weeden's most concerning problems came with handling the pressure brought on by the Philadelphia Eagles. He struggled to make good decisions, hang tough in the pocket and locate the proper target. Philadelphia's pressure really rattled the young quarterback. The most disappointing part of his performance is the fact the Browns actually had a chance to win this game.
The Browns' running game wasn't able to get going because of the struggles of the passing game. Richardson had little-to-no running room because the Eagles stacked the box. I'm not using this game as a measuring stick for Richardson's potential.
Cleveland got strong play from its late-round picks and undrafted free agents. L.J. Smith was the biggest surprise. His ability to drop back in coverage means that, at the very least, he has a future role as a nickel linebacker.
For as bad as the passing game looked, Josh Gordon showed promise and a lot of potential. He needs time to continue to develop, but the future is bright.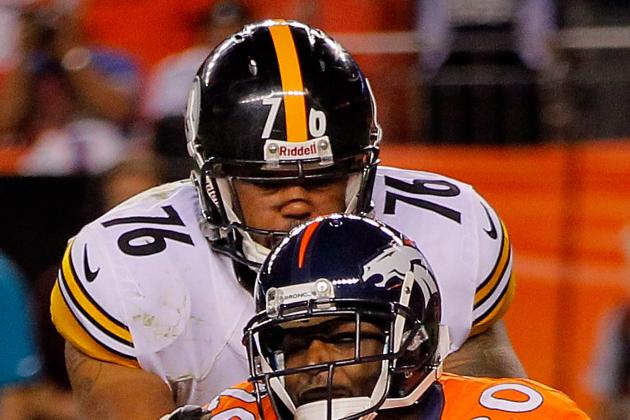 Doug Pensinger/Getty Images

Picks: David DeCastro, Mike Adams, Sean Spence, Alameda Ta'amu, Chris Rainey, Toney Clemons, David Paulson, Terrence Frederick and Kelvin Beachum
At one point, it looked like the Pittsburgh Steelers put together a very impressive draft class. They added two very talented offensive linemen, a potential replacement for Casey Hampton and a versatile running back. Things just haven't gone as planned, and this group figures to contribute very little this season.
The biggest blow was the injury to David DeCastro. He was expected to play a major role in the Steelers' revamped offensive line. However, Mike Adams' struggles at tackle might have made the biggest impact. Pittsburgh was hoping he would be able to step in and start at left tackle. Instead, he really struggled throughout the preseason and was eventually benched in favor of Max Starks.
Chris Rainey has been the one bright spot of this group. But, after showing a lot of explosiveness throughout the preseason, I expected the Steelers to get him more involved against the Denver Broncos.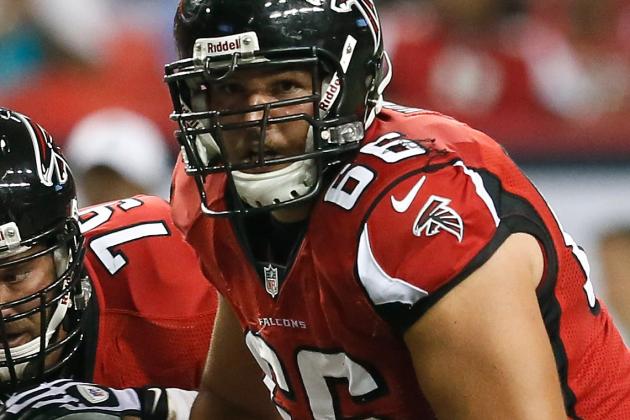 Kevin C. Cox/Getty Images

Picks: Peter Konz, Lamar Holmes, Bradie Ewing, Jonathan Massaquoi, Charles Mitchell and Travian Robertson
It's tough to grade the Altanta Falcons' draft because nobody made an impact in Week 1. Actually, Peter Konz and Travian Robertson were the only active rookies on the roster. I gave them an incomplete because eventually we'll see Konz somewhere in the lineup.
However, I probably should've given them an F. It's tough to put together a rookie class that doesn't feature a single impact player. There was a lot of discussion about the Oakland Raiders' draft and how it lacked talent, but Atlanta may actually have the worst 2012 draft class.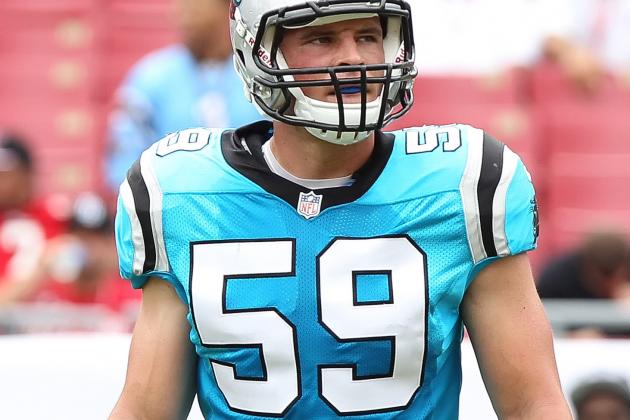 Kim Klement-US PRESSWIRE

Picks: Luke Kuechly, Amini Silatolu, Frank Alexander, Joe Adams, Josh Norman, Brad Nortman and D.J. Campbell
Luke Kuechly looked fantastic all throughout the preseason, but his first official game didn't go so well. He had trouble reading his keys and appeared a little too over-hyped. Later in the game when he settled down, Kuechly was making the proper reads and trusting his instincts. He's the type of hard worker that won't make the same mistake twice.
Amini Silatolu, on the other hand, is such a raw player that I expect him to make a lot of mistakes this season. In his first game, he had two penalties and contributed to allowing a sack of Cam Newton. His problems are all things that can be corrected over time. Silatolu needs the experience in order to improve.
Frank Alexander and Josh Norman both saw time on the defensive side of the ball. They were rotated in and out of the lineup, but made their presence felt. Alexander was especially strong against the run, using his hands to hold at the point of attack.
Special teams got a boost from the rookie class. Brad Nortman and Joe Adams both played major roles in the opener. Nortman was the more impressive of the two, as he pinned two punts inside the 20-yard line.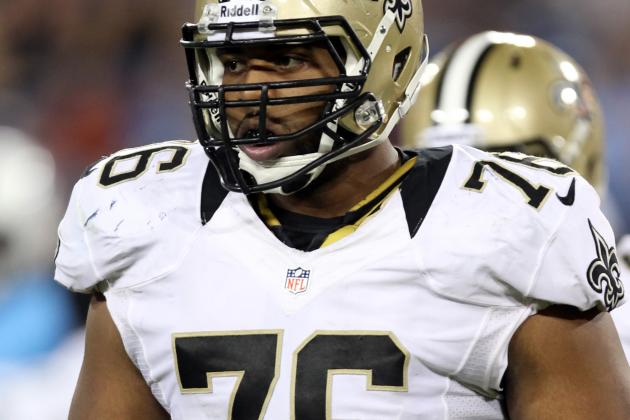 Joe Murphy/Getty Images

Picks: Akiem Hicks, Nick Toon, Corey White, Andrew Tiller and Marcel Jones
The New Orleans Saints didn't have many picks in the 2012 draft. This is the reason why they had zero contributions from the players they selected. Their top pick, Akiem Hicks, was inactive for the game, while their next promising pick, Nick Toon, is on IR.
New Orleans had a limited amount of picks because of its trade to land Mark Ingram in 2011 and the bounty penalties. This is a team that must head into the 2013 draft looking to add a handful of impact players. A team that doesn't build through the draft can get old rather quickly.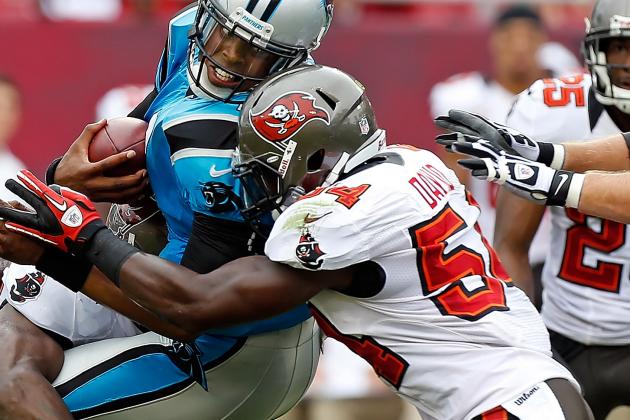 J. Meric/Getty Images

Picks: Mark Barron, Doug Martin, Lavonte David, Najee Goode, Keith Tandy, Michael Smith and Drake Dunsmore
The Tampa Bay Buccaneers' draft class is very top-heavy, with their first three picks all making a significant contribution. Doug Martin got a lot of attention in the preseason because everyone was curious to see if he could beat out LeGarrette Blount for the starting-running-back job.
Martin was able to accomplish that feat and is obviously the lead back. While Blount only carried the ball a total of three times for eight yards, Martin got 24 carries for 98 yards and caught four passes. He is the one back on the roster that can fill all the roles asked of a running back.
Although Martin had a good game, Lavonte David had the most impressive performance out of the Buccaneers' rookie class. His quickness and tenacity helped him lead the team with six total tackles. There's a great chance he'll finish the season as the leader in tackles among all rookies.
I liked what I saw from Mark Barron, especially in pass defense. He did a great job reading the quarterback and closing on the ball.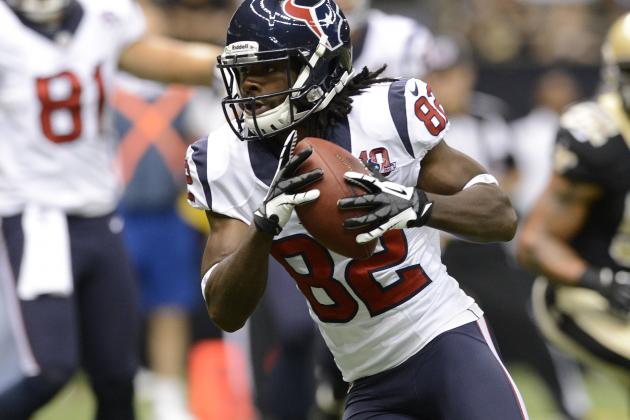 John David Mercer-US PRESSWIRE

Picks: Whitney Mercilus, DeVier Posey, Brandon Brooks, Ben Jones, Keshawn Martin, Jared Crick, Randy Bullock and Nick Mondek
The Houston Texans' rookie class didn't make much of an impact against the Miami Dolphins. The only one to record a stat was Keshawn Martin, and that was for a dropped pass. After that drop, Martin didn't get another pass thrown in his direction.
Quarterbacks need to trust their receivers, and if they don't, they tend to go somewhere else with the ball. This is likely the reason fellow rookie wide receiver DeVier Posey was inactive for the first game.
I was disappointed to see Whitney Mercilus didn't do much of anything in his first game. He was brought in to help increase the Texans' pass rush. While Houston did record three sacks, they all came from the defensive line.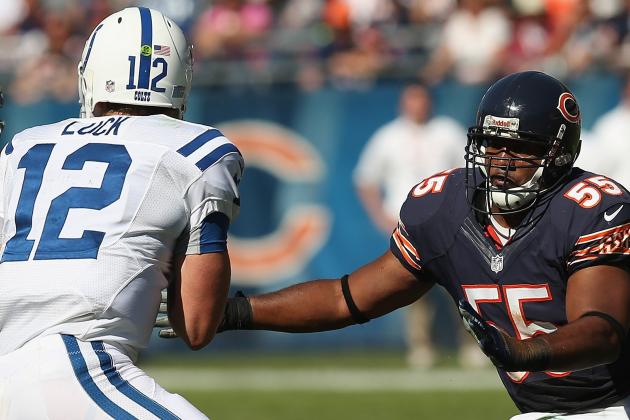 Jonathan Daniel/Getty Images

Picks: Andrew Luck, Coby Fleener, Dwayne Allen, T.Y. Hilton, Josh Chapman, Vick Ballard, LaVon Brazill, Justin Anderson, Tim Fugger and Chandler Harnish
Andrew Luck's NFL debut didn't exactly go as he and the Indianapolis Colts pictured. He finished the game with a 51-percent completion rate, 309 yards, one touchdown and three interceptions. The Chicago Bears' defense did a great job generating pressure on Luck. This resulted in a few forced throws, poor decisions and the interceptions.
Despite the poor stat line, Luck showed a lot of promise and the ability to move on from his mistakes. He especially looked good running the hurry-up offense. Luck's rookie season will have ups and downs, but expect to see him improve each and every week.
It's obvious that Luck feels very comfortable working with fellow rookie Coby Fleener, as the two connected six times for 82 yards. Fleener's combination of size, quickness and strong hands will make him a tough matchup all season.
LaVon Brazill fumbled on a kickoff, but other than that, he played well. It appears that he'll continue as the top return man for now.
Vick Ballard has been one of my sleeper picks since he landed with the Colts this past April. Indianapolis only ran the ball 13 times against the Bears, and Ballard had four of those carries.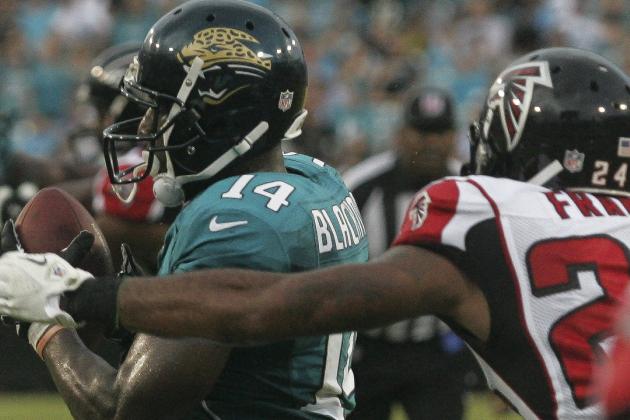 Phil Sears-US PRESSWIRE

Picks: Justin Blackmon, Andre Branch, Bryan Anger, Brandon Marshall, Mike Harris and Jeris Pendleton
I was disappointed that the Jacksonville Jaguars only targeted Justin Blackmon a total of six times. He's by far their most dangerous wide receiver, and he must be more involved in the game plan. Besides, the Minnesota Vikings don't have a lot of talent in their secondary. Maybe if Jacksonville was more aggressive, it would've pulled off the victory in Week 1.
Andre Branch didn't record a sack, but he played with a lot of quickness and tenacity. He showed an excellent burst off the line and ability to penetrate the pocket. On one specific play, he beat Matt Kalil off the ball and worked his way into the backfield to make the tackle.
Punter Bryan Anger had a very impressive debut. He averaged 53.3 yards per punt, with a long of 57 yards.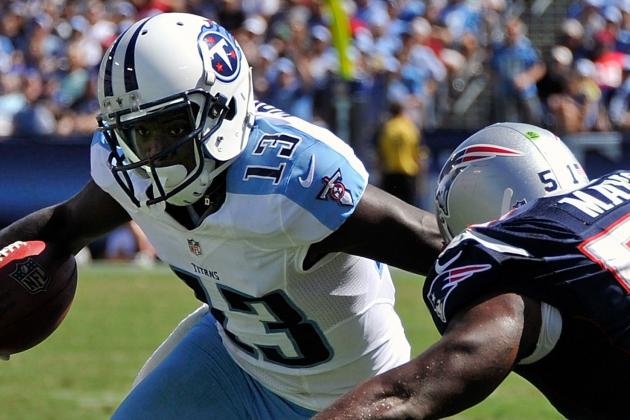 Frederick Breedon/Getty Images

Picks: Kendall Wright, Zach Brown, Mike Martin, Coty Sensabaugh, Taylor Thompson, Markelle Martin and Scott Solomon
It was a tough first game of the season for the entire Tennessee Titans team. They struggled on both sides of the ball against the New England Patriots. However, some of the rookies were able to get valuable playing time. Kendall Wright, Zach Brown and Mike Martin all worked their way into the rotation.
Wright's performance was a little disappointing. He had a really strong preseason and was expected to be a bigger part of the offense. This was especially true for the first week because Kenny Britt was sidelined due to a suspension. Wright was able to haul in five passes, but only averaged a little more than seven yards per catch.
Brown and Martin both had a chance to rotate in on defense. At this point, these two are depth players that will continue to get work. There's a good chance that Brown unseats Will Witherspoon as the starting weak-side linebacker at some point this season.