Fantasy Football: 13 Star Players I Don't Own in 11 Fantasy Leagues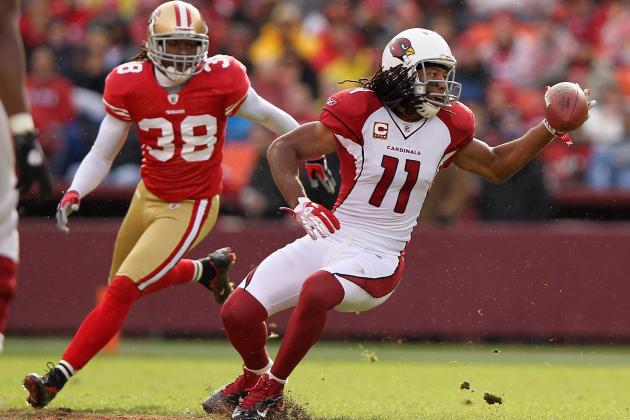 Ezra Shaw/Getty Images
Cardinals receiver Larry Fitzgerald amazingly pulled down 80 catches for 1,411 yards and eight TDs last year, despite having John Skelton-Kevin Kolb as his quarterbacks in Arizona.
On Thursday, I offered a whimsical slideshow of "11 Star Players Who Ended Up on 4 of My Fantasy Teams." (I know...clumsiest headline ever.)

On the flip side, today's countdown touts 13 star players who weren't drafted onto any of my fantasy leagues.

For the record, of my 10 snake drafts (one was a keeper/auction), I had the No. 1 slot once, No. 3 twice, No. 6 twice, No. 7 once, No. 9 once, No. 10 twice and No. 11 once.

As a general rule, I'll happily move heaven and earth to land a running back at the top of drafts.

By extension, high-end quarterbacks and tight ends sometimes get lost in the shuffle.

Enjoy the show!
Begin Slideshow

»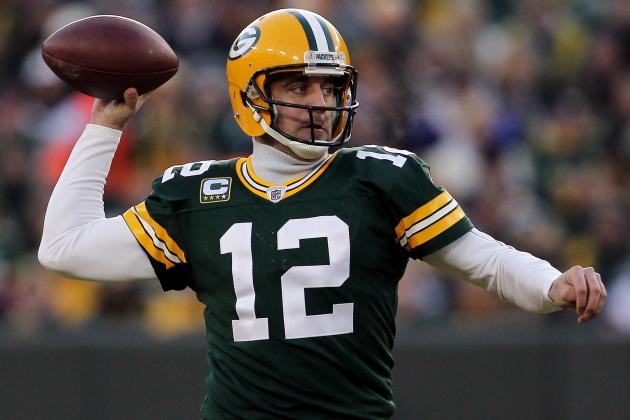 Jonathan Daniel/Getty Images

2011 Stats: 4,643 yards passing, 48 TD (three rushing)

Reasons for Not Drafting: never owned the No. 4 or 5 overall picks.

Skinny: I don't need anyone to regale me with tales of greatness involving Aaron Rodgers.

I've already declared his 2011 numbers (48 total touchdowns, six interceptions) as the most efficient/dynamic season for any quarterback in NFL history.

But for this countdown, I simply wasn't willing to pass on LeSean McCoy or Arian Foster whenever possessing a top-three pick.

My rationale: I'll take my chances on a Matthew Stafford, Cam Newton, Eli Manning or even Matt Schaub (in Round 7 or 8) and draft high from a scarcer pool of elite running backs.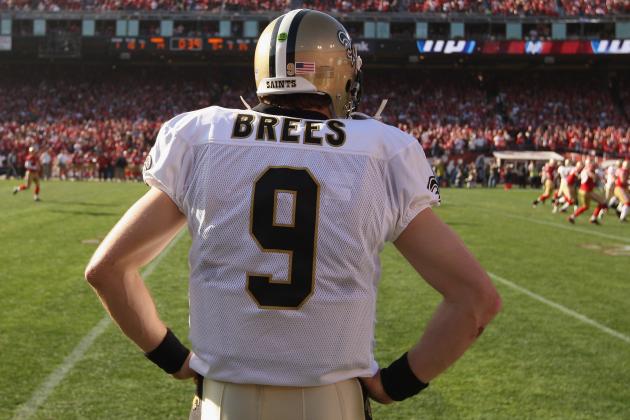 Ezra Shaw/Getty Images

2011 Stats: 5,476 yards passing, 47 TD (one rushing)

Reasons for Not Drafting: favored RB/WR at tail end of Round 1.

Skinny: The Rodgers rationale essentially holds true for Drew Brees, the NFL's all-time, single-season passing king.

I would have certainly considered Brees at value—sometime between the seventh and 10th picks. But in each circumstance, I opted for a high-end receiver or back like Calvin Johnson and Chris Johnson.

The absence of Saints head coach Sean Payton also played a role in the draft indifference, as I harbor doubts about Brees eclipsing the 5,000-yard mark in consecutive seasons.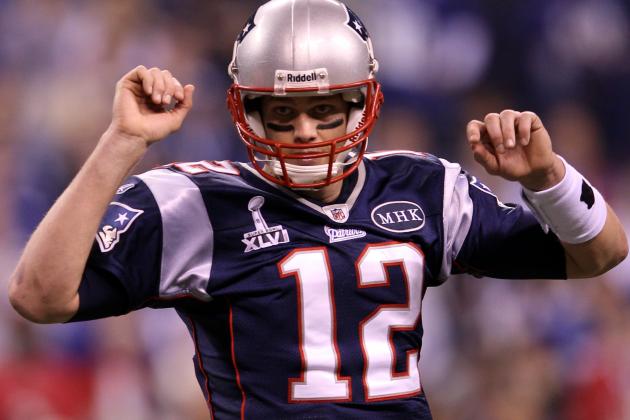 Elsa/Getty Images

2011 Stats: 5,239 yards passing, 42 TD (three rushing)

Reasons for Not Drafting: favored Stafford or tailback at end of Round 1.

Skinny: I had the option of taking Tom Brady at No. 10 overall three times.

But since I value Matthew Stafford over Brady—by the tiniest of margins—it made sense to grab Stafford in all three scenarios.

I'm also leery of three Brady factoids:

1. It took 10 full NFL seasons for Brady to eclipse the 5,000-yard passing mark.

2. Brady's three greatest performances from 2011 occurred in Weeks 1-3—and in descending order.

3. In Brady's illustrious career, he has enjoyed a seasonal improvement in touchdown passes only three times.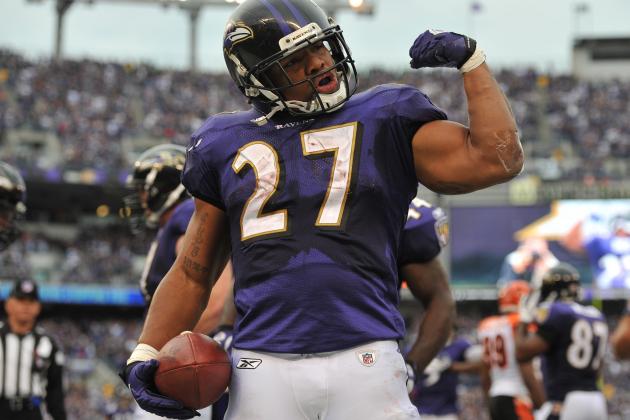 Larry French/Getty Images

2011 Stats: 2,068 total yards, 15 TD

Games of 5 Catches, 90 Total Yards and/or 1 TD: 16

Reasons for Not Drafting: wasn't available in nine of 10 drafts.

Skinny: In his four pro seasons, Ray Rice has developed a pattern of 2,000 total yards and 70-plus catches in odd-numbered years, with totals short of that in even-numbered ones.

Using that convoluted logic, Rice likely won't become just the 10th running back in NFL history to cross the 2,000-yard threshold in consecutive years.

That aside, Rice is still the kingpin in points-per-reception circles. He's the only lock for 60 catches, 1,700 total yards and double-digit scores.

He's also the only back to go 16-for-16 in the above threshold of five catches, 90 total yards and/or one touchdown last season.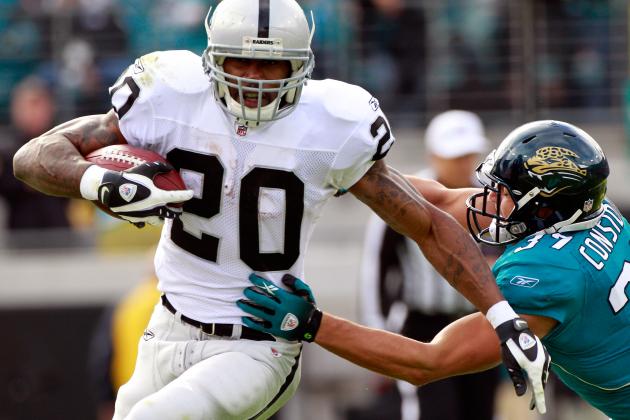 Sam Greenwood/Getty Images

2011 Stats: 768 total yards, five TD

Games of 5 Catches, 90 Total Yards and/or 1 TD: five

Reasons for Not Drafting: lost games of "Draft Chicken" for Round 2.

Skinny: Assuming full health, Darren McFadden should have a monster season with the Raiders.

Michael Bush is gone (no more vulture TDs) and backups Mike Goodson/Taiwan Jones, frankly speaking, aren't in Bush's class.

That aside, I was still shocked to see McFadden get drafted at 13 or higher in eight of my 10 snake drafts.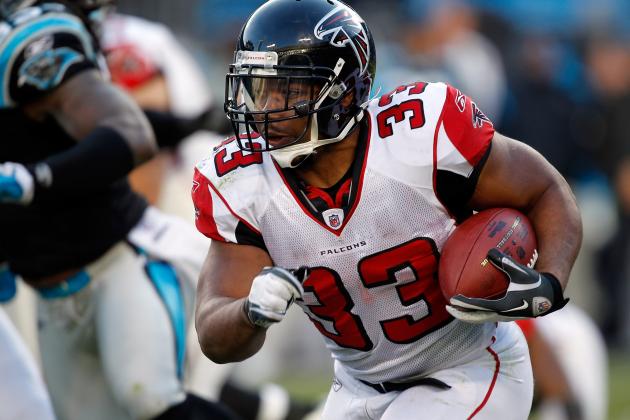 Streeter Lecka/Getty Images

2011 Stats: 1,508 total yards, 11 TD

Games of 5 Catches, 90 Total Yards and/or 1 TD: 11

Reasons for Not Drafting: lost games of "Draft Chicken" for Round 3.

Skinny: I can live with myself for passing on Michael Turner in Round 3 of PPR drafts.

After all, Turner has a grand total of 40 catches in four seasons with the Falcons (2008-11), which explains the Grand Canyon-size gulf between his pre-draft value in standard-scoring (Round 3) and PPR leagues (Round 5).

But I must have been seriously touched in the head to pass on Turner in Round 4 of my Detroit homeboys league (standard scoring).

My reasoning: With Steven Jackson and Frank Gore already on the roster, I didn't want three "old men" as my top rushers...just in case the trio was primed for a Thelma and Louise-style ride off the production cliff—not unlike Shaun Alexander, Brian Westbrook or Larry Johnson in years past.

Passing on Turner wayyyyyyyy past his normal value? In the immortal words of golfer Phil Mickelson: "Man, I'm...such an idiot."
Al Bello/Getty Images

2011 Stats: 1,078 total yards, two TD

Games of 5 Catches, 90 Total Yards and/or 1 TD: five

Reasons for Not Drafting: wussed out in Rounds 2 and 3.

Skinny: For me, the big-picture highlight of the Cowboys-Giants opener involved the rushing prowess of DeMarco Murray (140 total yards) and Ahmad Bradshaw (93 total yards, one TD).

Both talents were running "downhill" on seemingly every carry and not shying away from contact.

In fact, if the Cowboys had earmarked more than five carries (and 12 yards) for Murray during the preseason, perhaps I wouldn't have been so reticent to grab him within the first 26 picks of 11 different fantasy leagues.

(Murray's rookie campaign was curtailed by a broken ankle in Week 14.)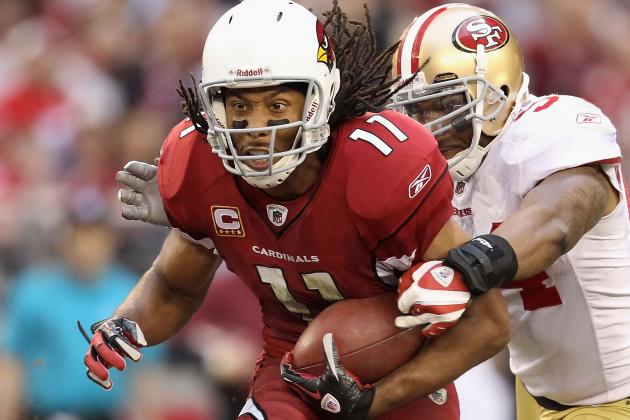 Christian Petersen/Getty Images

2011 Stats: 80 catches, 1,411 yards, eight TD

Reasons for Not Drafting: wussed out in Round 2.

Skinny: Matthew Stafford, Jamaal Charles and Larry Fitzgerald are my three favorite players to watch every NFL Sunday.

But that still wasn't enough gratis to grab Fitzgerald in Round 2 of standard-scoring drafts—at least not with John Skelton as the Cardinals' starting quarterback.

(I prefer Kevin Kolb in Arizona...but that's not my call.)

Here's the bottom line: If you were Fitzgerald or Wes Welker—a pair of reasonable locks for 90 catches, 1,300 yards and eight to nine touchdowns—and had to pin your fantasy hopes to either Tom Brady, Kolb or Skelton, which one would you choose?

Which one would you choose?

On the positive side, Fitzgerald's 154 targets from last season—including six double-digit efforts—scream something in the realm of 90-93 receptions.

Bottom line: It's a shame Fitz never slid to me in Round 3.
Otto Greule Jr/Getty Images

2011 Stats: 65 catches, 1,057 yards, seven TD

Reasons for Not Drafting: no interest in taking him before Round 4.

Skinny: I have three viable reasons for attaching a modest preseason ranking (No. 15) to A.J. Green—one obvious and two that may become abundantly clear to fantasy gurus by October.

For starters, the overall depth at receiver has blossomed to previously unforeseen levels. There isn't a fantasy dog in the top 40.

In previous seasons, a stud athlete coming off a rookie campaign of four 100-yard games and seven touchdowns would be a top-10 consideration. But in Green's case, it's merely the foundation that guarantees him a spot in the top 16.

Now, for the second part: With Jerome Simpson now running routes for the Vikings, the Bengals are in dire need of a consistently productive No. 2 receiver, a vacancy that Brandon Tate, Armon Binns and rookie Mohamed Sanu will attempt to fill. In the meantime, Green is bound to see plenty of double-teams.

One more thing: The Bengals' 2012 schedule, from the perspective of opposing pass defenses, might be the toughest in the entire NFL. Two dates with the Steelers, Ravens and Browns, followed by clashes with the Redskins, Cowboys, Giants, Eagles, Broncos, Dolphins and Chiefs.

Bottom line, for 2013 and beyond, I love Green's prospects for becoming a top-10 fantasy asset. But for the upcoming season, I simply prefer 14 other wideouts ahead of him.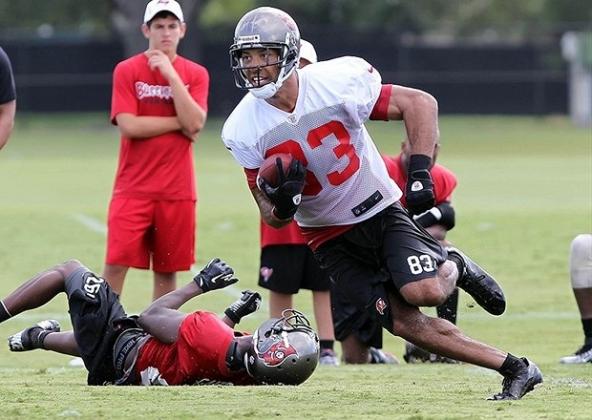 Photo Credit: US PRESSWIRE
2011 Stats: 60 catches, 1,106 yards, nine TD

Reasons for Not Drafting: had better options in Round 6.

Skinny: It never fails.

In this era of free agency, there's always one veteran who just doesn't look right in his new uniform.

By extension, it makes things uncomfortable when selecting that player on draft day, at or above value.

In other words, I may have Vincent Jackson installed as the No. 19 receiver in standard-scoring leagues.

But in a weird way, he'll need to re-prove his fantasy greatness all over again in Tampa Bay.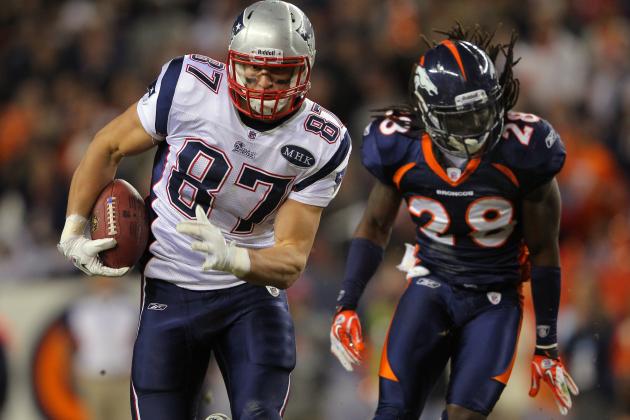 Doug Pensinger/Getty Images

2011 Stats: 90 catches, 1,327 yards, 18 TD (one rushing)

Reasons for Not Drafting: favored running backs in Round 2.

Skinny: Rob Gronkowski might be the most gifted athlete/route-running tight end I've seen in 15 years (since a young Tony Gonzalez), but he isn't alone at his position.

There are plenty of athletic freaks at tight end, affording fantasy owners the opportunity to pass on Gronk and Jimmy Graham (all but one draft) in Rounds 1 or 2...and hope for breakout performances from Brandon Pettigrew, Fred Davis, Brent Celek, Jermaine Gresham or Kyle Rudolph/Coby Fleener in later rounds.

Please don't mistake the above rationale for a lack of Gronkowksi appreciation. He is one of the 10 best fantasy talents in the marketplace.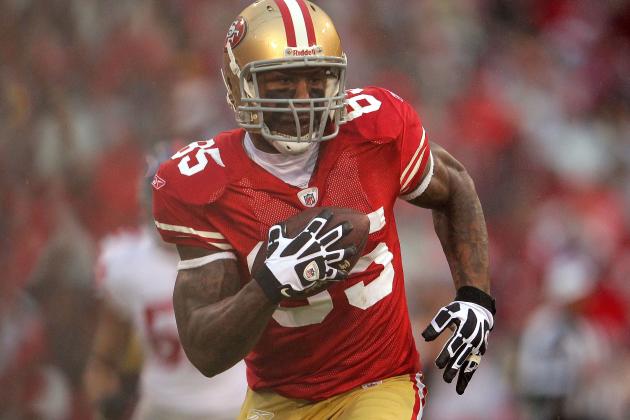 Doug Pensinger/Getty Images

2011 Stats: 67 catches, 792 yards, six TD

Reasons for Not Drafting: favored other options in Round 5.

Skinny: I really have no excuse for passing on Vernon Davis, my No. 4 tight end in standard-scoring leagues.

For the most part, his Round 6 and 7 value was an acceptable threshold for someone of VD's considerable talents.

But in each case of sidestepping Alex Smith's go-to target, I opted for building up the tailbacks or receiver corps with assets like Shonn Greene, Doug Martin, Jeremy Maclin or Dwayne Bowe.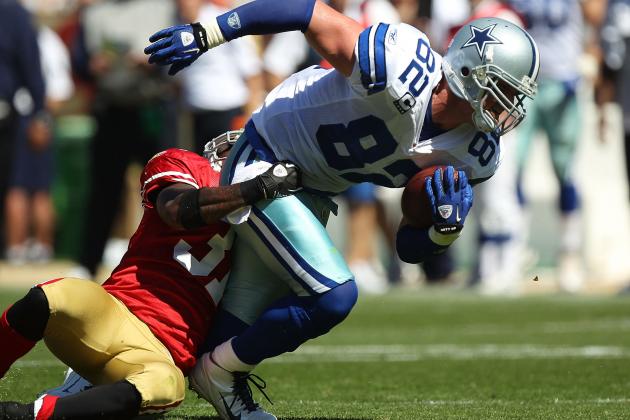 Jed Jacobsohn/Getty Images

2011 Stats: 79 catches, 942 yards, five TD

Reasons for Not Drafting: red flag on injury front.

Skinny: It's immaterial that Jason Witten was cleared by doctors for the Cowboys' opener against the Giants.

When I heard words like "lacerated spleen" and "possible spleen removal" in August, it was enough to sound the alarms on Witten's viability for the entire season.

And if Witten should go injury-free for all of 2012 and threaten to match or eclipse last year's strong numbers...then so be it.