Thursday Night Football 2012: Week by Week Matchups, Predictions and TV Info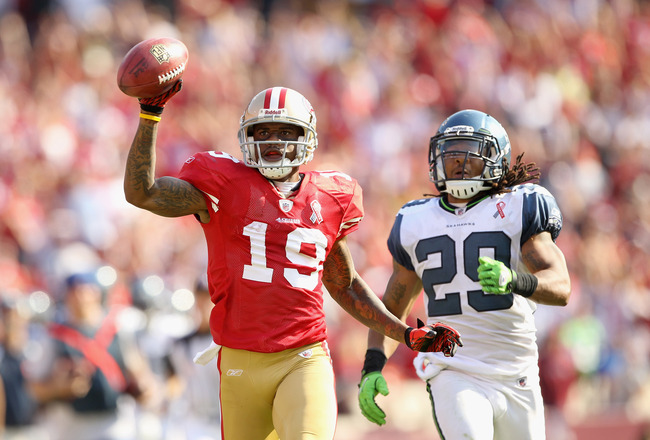 Ezra Shaw/Getty Images
The 2012 NFL regular season is upon us, and that signals the start of non-stop football for the next five months.
New to the NFL this season is Thursday Night Football. Sure, there have been Thursday games played in the NFL in the past, but never throughout the regular season.
Aside from Weeks 1, 16 and 17, there will be an exciting matchup every Thursday night for fans to satisfy their football hunger before the weekend arrives.
There will be countless stars featured, recent Super Bowl champions and a plethora of intriguing divisional matchups.
No team will play more than once on Thursday, which will provide viewers with some variety this fall.
Here is everything you need to know to watch and enjoy every Thursday Night Football matchup this season.
Week 2: Chicago Bears vs. Green Bay Packers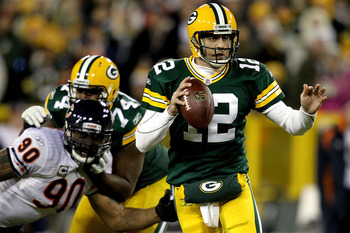 Matthew Stockman/Getty Images
When: Thursday, September 13 at 8:20 p.m. ET
Where: Lambeau Field, Green Bay, WI
Watch: NFL Network
Green Bay swept Chicago last season, and topped them easily, winning 35-21 at Lambeau Field in Week 16. Packers quarterback Aaron Rodgers threw for five touchdowns in that game.
The Bears have lost three straight to their bitter rival. But they won't have much of an advantage in Week 2's Thursday night matchup considering both teams will be coming off short weeks having played the Sunday before.
Green Bay's defense, specifically its pass rush, will be much improved this season, and we know what to expect from Rodgers and the vaunted aerial assault. The Packers take this Thursday night opener at home.
Prediction: Packers 27, Bears 20
Week 3: New York Giants vs. Carolina Panthers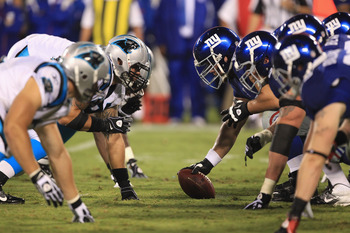 Streeter Lecka/Getty Images
When: Thursday, September 20 at 8:20 p.m. ET
Where: Bank of America Stadium, Charlotte, NC
Watch: NFL Network
The defending Super Bowl champion New York Giants will travel south to take on the up-and-coming Carolina Panthers on Thursday night in Week 3.
Fans will get to see Cam Newton up close. Newton threw for more than 4,000 yards as a rookie in 2011 and scored 35 touchdowns in all, including 14 on the ground.
New York's defense will be tested against Newton and the Carolina rushing game, but as reigning NFL champions, they know the importance of getting off to a hot start in September.
Giants win a close one in Charlotte.
Prediction: Giants 20, Panthers 17
Week 4: Cleveland Browns vs. Baltimore Ravens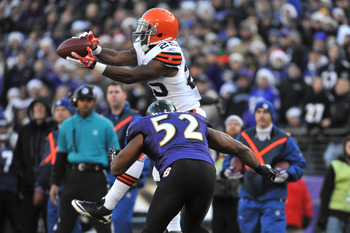 Larry French/Getty Images
When: Thursday, September 27 at 8:20 p.m. ET
Where: M&T Bank Stadium, Baltimore, MD
Watch: NFL Network
The Baltimore Ravens haven't lost to the Cleveland Browns since John Harbaugh took over as head coach in 2008. Since then, Baltimore is 8-0 against its division rival.
Although the Browns made strides in the first round of the 2012 NFL draft last April, selecting running back Trent Richardson and quarterback Brandon Weeden, Cleveland still lacks the championship-caliber talent all around that makes the Ravens the superior team.
Harbaugh and the Birds rarely lose at home, and they never lose to Cleveland.
Prediction: Ravens 24, Browns 13
Week 5: Arizona Cardinals vs. St. Louis Rams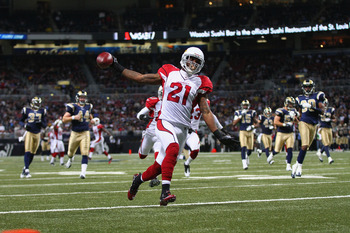 Dilip Vishwanat/Getty Images
When: Thursday, October 4 at 8:20 p.m. ET
Where: Edward Jones Dome, St. Louis, MO
Watch: NFL Network
This matchup is one of the guaranteed duds of 2012. Both NFC West squads struggled last season and looked awful at times during August's preseason.
Arizona has had the edge over St. Louis recently, winning both matchups against the Rams last season. However, the home-field advantage will belong to St. Louis in primetime Thursday night.
The Rams get their first home win of the season against the troubled Cardinals.
Prediction: Rams 17, Cardinals 13
Week 6: Pittsburgh Steelers vs. Tennessee Titans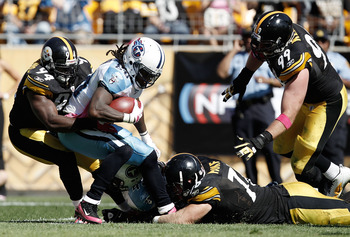 Jared Wickerham/Getty Images
When: Thursday, October 11 at 8:20 p.m. ET
Where: LP Field, Nashville, TN
Watch: NFL Network
Thursday night's showdown between the Steelers and Titans in Week 6 promises to entertain as both teams play a physical brand of football that's fun to watch and routinely makes for a close game.
Tennessee will be out to avenge their 2011 loss to the Steelers on the road in Pittsburgh. Ben Roethlisberger and company annihilated the Titans, winning 38-17.
I'm expecting another dominant year from the Steelers' defense, however, which means that Chris Johnson will kept under wraps for most of the game. It'll be close, of course, but Pittsburgh has the championship pedigree to outlast.
Prediction: Steelers 16, Titans 13
Week 7: Seattle Seahawks vs. San Francisco 49ers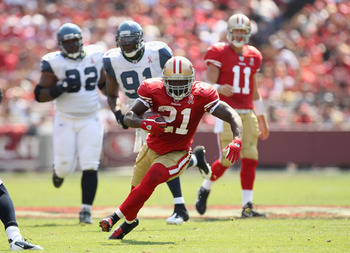 Ezra Shaw/Getty Images
When: Thursday, October 18 at 8:20 p.m. ET
Where: Candlestick Park, San Francisco, CA
Watch: NFL Network
The Niners took both matchups against NFC West rival Seattle in 2011, winning by 16 on their home field to open the season a year ago.
In mid-October, the two teams will face off again at Candlestick Park, where San Francisco went 7-1 a season ago. Sure, the Seahawks are stout defensively and looking better and better on offense with Marshawn Lynch leading the way, but the Niners are too dominant at home.
Jim Harbaugh's squad has tasted the NFC Championship Game, and they surely want to get back in 2012. Therefore, I like San Francisco to take this Thursday night matchup rather easily.
Prediction: 49ers 27, Seahawks 17
Week 8: Tampa Bay Buccaneers vs. Minnesota Vikings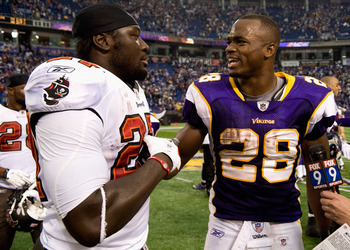 Hannah Foslien/Getty Images
When: Thursday, October 25 at 8:20 p.m. ET
Where: Mall of America Field, Minneapolis, MN
Watch: NFL Network
The last Thursday night matchup of October will feature the Tampa Bay Buccaneers visiting the Minnesota Vikings in a rematch of last season's thrilling Week 2 showdown.
The Bucs edged the Vikings 24-20 on the road despite 120 rushing yards from Adrian Peterson. Peterson should be playing at 100 percent by Week 8, which means that the Bucs will be in trouble unless they tighten up their porous run defense.
Tampa ranked dead last in the NFL a season ago in rushing defense and will likely struggle to contain Minnesota's back on the road in front of a jazzed-up Minneapolis crowd. I like the NFC North over the NFC South in this game.
Prediction: Vikings 30, Buccaneers 10
Week 9: Kansas City Chiefs vs. San Diego Chargers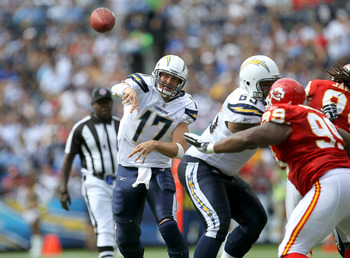 Stephen Dunn/Getty Images
When: Thursday, November 1 at 8:20 p.m. ET
Where: Qualcomm Stadium, San Diego, CA
Watch: NFL Network
These two AFC West rivals split their two meetings a season ago, each winning at home. The second matchup between the Chargers and Chiefs in 2012 will be a Thursday night primetime showdown.
Although the Bolts seem to generate high expectations year in and year out despite rarely living up to them, I think it's safe to say that San Diego's championship window has closed.
Kansas City will return an underrated pass defense this fall (ranked sixth in the NFL in 2011), and I give them the edge against Philip Rivers and the Chargers' passing attack in the first game of November.
Chiefs sting the Chargers on the road.
Prediction: Chiefs 28, Chargers 24
Week 10: Indianapolis Colts vs. Jacksonville Jaguars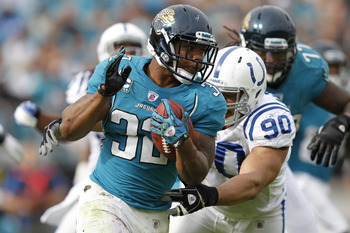 Joe Robbins/Getty Images
When: Thursday, November 8 at 8:20 p.m. ET
Where: EverBank Field, Jacksonville, FL
Watch: NFL Network
In what was a rare down year for the Indianapolis Colts in 2011, they were beaten twice by division rival Jacksonville.
Jaguars running back Maurice Jones-Drew rushed for over 100 yards in both wins and nearly tallied 170 yards on the ground in the victory in Jacksonville on New Year's Day.
The Colts ranked 29th in the NFL last season against the run and likely haven't improved that much over the summer.
Assuming Jones-Drew is suiting up and playing hard, the Jags should dominate possession and keep Andrew Luck off the field. I like them to win a tight divisional matchup at home to open up Week 10.
Prediction: Jaguars 21, Colts 16
Week 11: Miami Dolphins vs. Buffalo Bills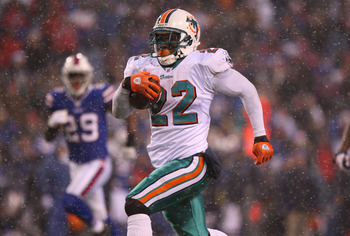 Tom Szczerbowski/Getty Images
When: Thursday, November 15 at 8:20 p.m. ET
Where: Ralph Wilson Stadium, Orchard Park, NY
Watch: NFL Network
The first matchup between AFC East rivals Miami and Buffalo will come on Thursday Night Football in Week 11, as the Dolphins travel to take on the Bills, who they swept in 2011.
The Fins won by seven on the road last December thanks to a 200-plus-yard rushing effort from Reggie Bush. Bush exploited the Bills' 28th-ranked run defense last season, no doubt, but that won't be the case in 2012.
With Buffalo playing at home in primetime on Thursday night, the Bills defense, with new acquisition Mario Williams, will rise to the occasion and deliver a monster effort against Miami.
Bills win another tough Thursday night divisional clash.
Prediction: Bills 24, Dolphins 17
Week 12: New England Patriots vs. New York Jets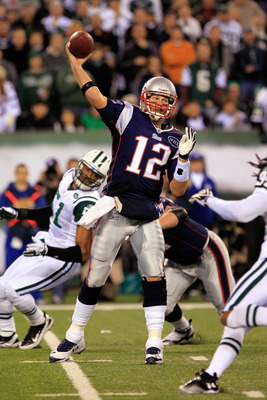 Chris Trotman/Getty Images
When: Thursday, November 22 at 8:20 p.m. ET
Where: MetLife Stadium, East Rutherford, NJ
Watch: NBC
Although there will be three NFL games featured on Thanksgiving Day in 2012, only one of them will go deep into the night.
The New England Patriots and New York Jets will square off in a classic AFC East rivalry that will provide Rex Ryan's squad with a shot at avenging their brutal home loss to Tom Brady and company last November.
The Pats dismantled the Jets at MetLife Stadium in Week 10 last fall, winning 37-16. In 2012, I expect this matchup to be a whole lot closer. But still, I can't pick against New England and its video game-like passing attack.
Prediction: Patriots 31, Jets 21
Week 13: New Orleans Saints vs. Atlanta Falcons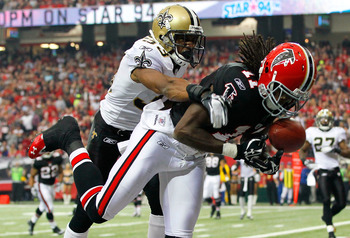 Kevin C. Cox/Getty Images
When: Thursday, November 29 at 8:20 p.m. ET
Where: Georgia Dome, Atlanta, GA
Watch: NFL Network
The second game between the Saints and Falcons will take place in Atlanta in Week 13, on the final Thursday of November.
New Orleans swept Atlanta a season ago en route to winning the NFC South and forcing the Falcons to settle for a Wild Card berth. A field goal in overtime helped lift the Saints at the Georgia Dome a year ago. But they will need to bring their A game in Week 13 if they are to upend the Dirty Birds on the road.
Although I don't buy the Falcons as Super Bowl contenders, I do believe in them at home. Falcons win a hard-fought divisional clash against the Saints thanks to a stingy defensive effort.
Prediction: Falcons 23, Saints 20
Week 14: Denver Broncos vs. Oakland Raiders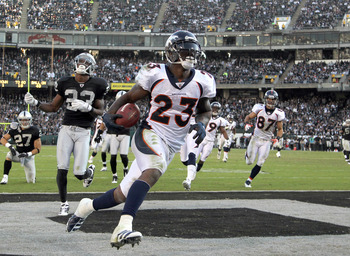 Ezra Shaw/Getty Images
When: Thursday, December 6 at 8:20 p.m. ET
Where: O.co Coliseum, Oakland, CA
Watch: NFL Network
The Oakland Raiders will be looking to make up for their poor performance against the Denver Broncos at home last season when the two AFC West rivals meet up in California for a Thursday Night Football showdown.
Denver put up 38 points on Oakland on the road last November, despite starting Tim Tebow under center. In 2012, Denver will have Peyton Manning at the helm, which means bad news for the Raiders.
Oakland is still a bad defensive team, and I expect Manning to exploit that for four quarters. Denver's schedule is far from easy, and they will need to win games like this in order to make the playoffs this winter.
Prediction: Broncos 34, Raiders 10
Week 15: Cincinnati Bengals vs. Philadelphia Eagles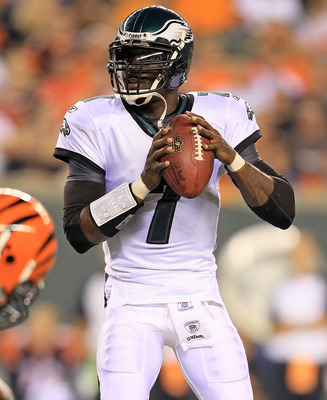 Andy Lyons/Getty Images
When: Thursday, December 13 at 8:20 p.m. ET
Where: Lincoln Financial Field, Philadelphia, PA
Watch: NFL Network
The last time the Cincinnati Bengals and Philadelphia Eagles met during the regular season was in 2008 when the game infamously went to overtime and finished in a tie at 13-13.
In 2012, the teams will try to decide a winner in Philadelphia as both playoff hopefuls look to add a key win to their record as the regular season winds down.
The Bengals' pass defense will definitely give Michael Vick some trouble, as well as LeSean McCoy on the ground. Cincinnati boasted a top-10 defense a season ago and returns many of their key pieces.
In a shocking result, I like the Bengals to steal a win from the Eagles on the road in the Thursday Night Football finale.
Prediction: Bengals 24, Eagles 16
Follow Bleacher Report Featured Columnist Patrick Clarke on Twitter All Season Long For More NFL Predictions, Analysis and Reaction.
Keep Reading