NFL Picks 2012: Top Matchup Predictions for the Entire Season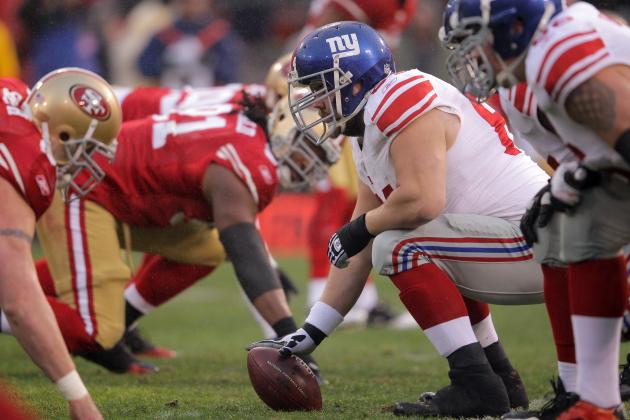 Doug Pensinger/Getty Images

Every NFL season has games that you must circle on your calendar to make sure you don't miss them. A couple months ago, I focused on 25 such games.
This article, while mirroring my previous one to an extent, is going to end up giving you predictions for each of the games that I determine are amongst the best this season has to offer.
Sorry, St. Louis Rams and Cleveland Browns fans, you will not see your team in this article. On that note, the San Francisco 49ers, New England Patriots and New York Giants will find themselves on this list multiple times.
So let's take a look.
Begin Slideshow

»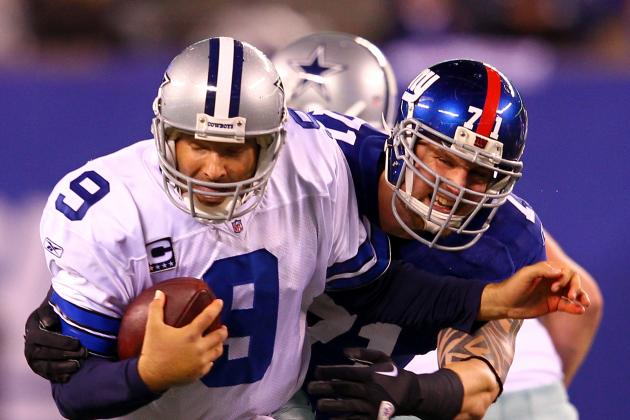 Al Bello/Getty Images

A huge early season game if there ever was one. The Dallas Cowboys travel to New Jersey to take on the defending Super Bowl Champion New York Giants tomorrow evening.
For the Giants, it is about maintaining a stranglehold on a division that they clinched against these very same Cowboys in the final regular season game of 2011. On the other hand, Dallas wants not just show their NFC East rivals that they're back, but prove to a national audience that this team is once again prepared to contend.
New York will be missing both Terrell Thomas and Prince Amukamara in the secondary. They will also go up against a Cowboys offense that is banged up heading into the opener. Dez Bryant and Miles Austin will play, but it remains to be seen just how much of an impact each will have. Meanwhile, Jason Witten (lacerated spleen) is doubtful.
I have to give the advantage here to the defending Super Bowl Champions, who are playing at home and will be pumped after a pregame ceremony focusing on their second title of the Manning era.
Prediction
Dallas Cowboys: 23
New York Giants: 27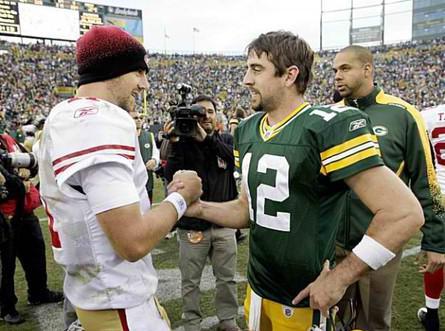 Courtesy of ESPN
The San Francisco 49erst travel to take on the Green Bay Packers in a matchup between two teams that many experts believed should have met in the NFC Championship Game in January.
They went a combined 28-4 last season before falling short of the ultimate goal. Both teams enter 2012 with a "Super Bowl or bust mentality" and both will be jockeying for home-field advantage through the postseason.
Needless to say, this is one of the biggest early season games in the National Football League.
San Francisco returns all 11 starters from a defense that was among the best in the league last season. They have also added a vast array of weapons on the offensive side of the ball, most notably Randy Moss and Mario Manningham at receiver. This team is absolutely stacked.
Meanwhile, the Packers attempted to revamp a defense that ranked dead last in the NFL last season. They did so with an infusion of young talent in the front seven. It will be interesting to see just how much of an impact these young players can make in the season opener.
The key to this game will be pass-protection from a 49ers standpoint. If they are able to give Alex Smith some time, this offense will be able to put up points. If not, it could be a long day for the defending NFC West Champions.
Green Bay also needs to give Aaron Rodgers the necessary protection to pick apart a 49ers secondary that despite having two Pro Bowl performers, looked weak during the preseason.
In the end, I will take the home team in a close game between two of the best squads in the league.
Prediction
San Francisco 49ers: 24
Green Bay Packers: 28
David Banks/Getty Images

One of the oldest and bitterest rivalries in the history of the National Football League. The Chicago Bears need to go into Wisconsin and show the Green Bay Packers that the NFC North isn't going to be a cake walk.
I could care less if this is an early season game. The entire tone in this division could be set if Chicago is able to pull off a win.
These two teams played last Christmas, but it wasn't a fair game. Chicago was missing both Jay Cutler and Matt Forte. They have since added Brandon Marshall and Alshon Jeffery at wide receiver.
Does this mean Chicago is in position to pull off a Thursday night special in Lambeau?
No, Green Bay will get past their first two games of the season, both difficult games, with a perfect record.
Prediction
Chicago Bears: 20
Green Bay Packers: 31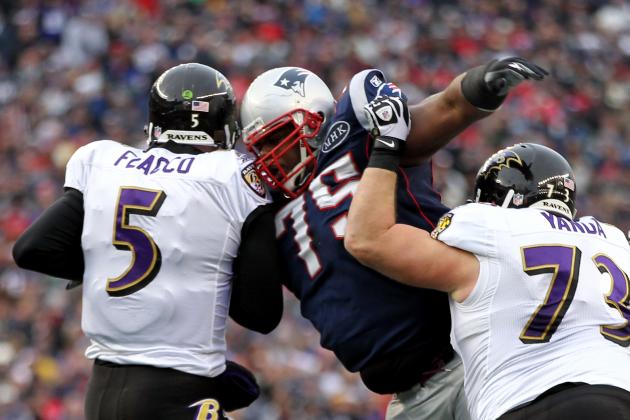 Jim Rogash/Getty Images

A rematch of the 2011 AFC Championship Game. The Baltimore Ravens are looking to avenge their disheartening loss in that game.
We all know the story. Lee Evans unable to hold on to the ball in the end zone. Billy Cundiff missing a field goal and the Ravens going home prematurely.
These two teams are once again fighting for the AFC Championship and this game could go a long way in determining who makes the trip to New Orleans in February. In short, home-field advantage throughout the postseason could be on the line here.
I am going to go with the home-standing Ravens in this game. They have won 17 of their last 18 regular season home games, making it nearly impossible for opposing teams to win in Baltimore.
That doesn't change here.
Prediction
New England Patriots: 23

Baltimore Ravens: 31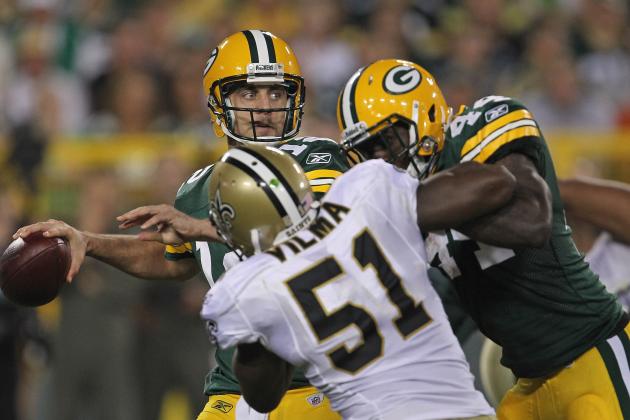 Jonathan Daniel/Getty Images

This was one of the better games of the 2011 season. The New Orleans Saints traveled to Green Bay in order to take on the Packers. It was matchup between the last two Super Bowl Champions and just so happened to open up the season.
Aaron Rodgers and Drew Brees combined for 732 yards and six touchdowns as Green Bay defeated New Orleans 42-34. It would be a sign of things to come for a talented Packers' offense.
However, neither team played a role in determining the NFC Championship in 2011.
They are now both looking to regain hold as the best team in what promises to be a tough conference throughout the duration of the 2012 season.
Once again, I am going to go with the home team here. Green Bay is just so damn difficult to beat at home. Additionally, I have a hard to believing that the Saints will be able to hold Rodgers and Co. down enough to outscore them.
Prediction
New Orleans Saints: 20
Green Bay Packers: 34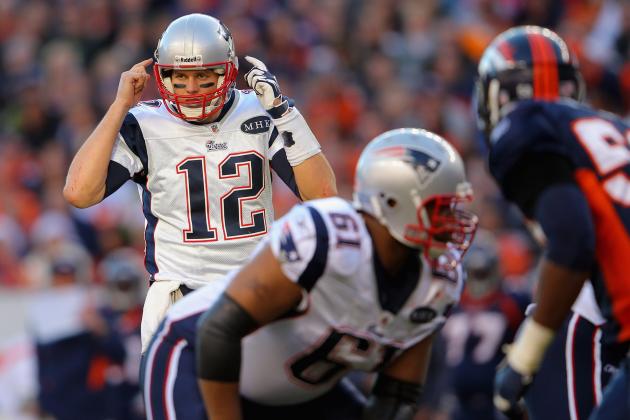 Doug Pensinger/Getty Images

Tom Brady vs Peyton Manning. Yep, we have heard this same ole' story over and over again. However, it just doesn't seem to get old. After all, you are looking at two quarterbacks that have combined for seven Super Bowl appearances and four championships.
The only thing that has changed is the teams. Manning joins the Denver Broncos and looks to go up against his old nemesis in route to a third Super Bowl appearance.
In order for this to happen, Denver needs to show they can hang with the big boys.
It isn't going to happen in New England. Instead, you can expect Brady to continue his dominance in this series.
Prediction
Denver Broncos: 24
New England Patriots: 30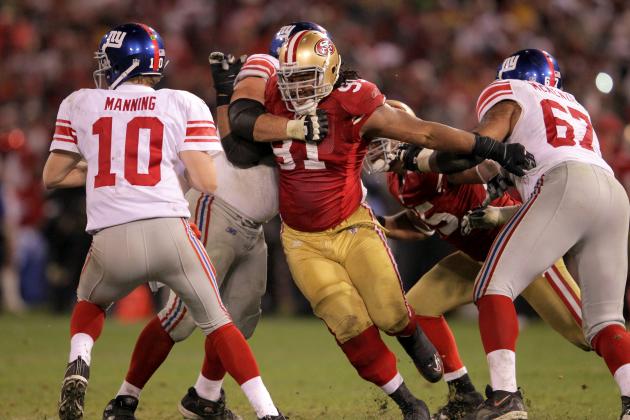 Doug Pensinger/Getty Images

The third time in less than a calendar year that the New York Giants have to travel to California in order to take on the San Francisco 49ers. These teams split their two games last season with the Giants taking the NFC Championship Game in Candlestick in January.
That overtime affair was marred by two Kyle Williams fumbles, which left the home team reeling and sent them packing for the winter.
Both teams are considered contenders for the Super Bowl this season with the 49ers looking to exact some sort of revenge.
San Francisco isn't an easy place to play. The fans got extremely loud as the 2011 season progressed and there was a true home-field advantage late in the year and in the postseason.
You can expect the 49ers' running game on offense and ability to stop the run on defense to be the difference here. Somehow, I am sure that Ted Ginn, not Williams, will be returning punts as well. If San Francisco plays mistake-free football, which was their MO last season, they should take this game.
Prediction
New York Giants: 17
San Francisco 49ers: 27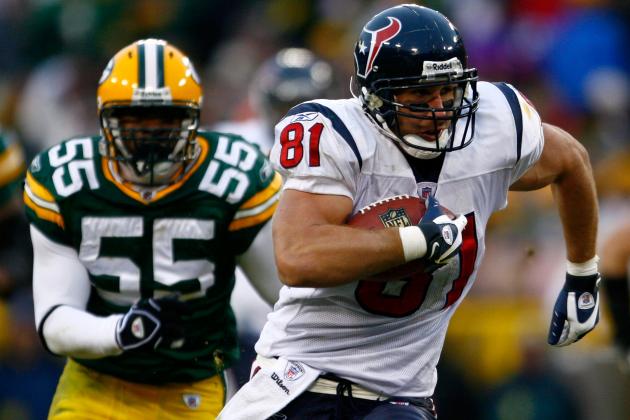 Jeff Gross/Getty Images

This is some experts' pick for the Super Bowl in New Orleans. Both the Green Bay Packers and Houston Texans have the talent to make a deep run in the postseason. Both have dynamic offenses, but go about it a different way.
The difference here is going to be that the game is being played in Houston and the Texans defense is much better than their counterpart.
Look for Arian Foster and Ben Tate to control the time of possession battle and the Texans' defense to make enough stops to pull of this big win.
Prediction
Green Bay Packers: 24
Houston Texans: 27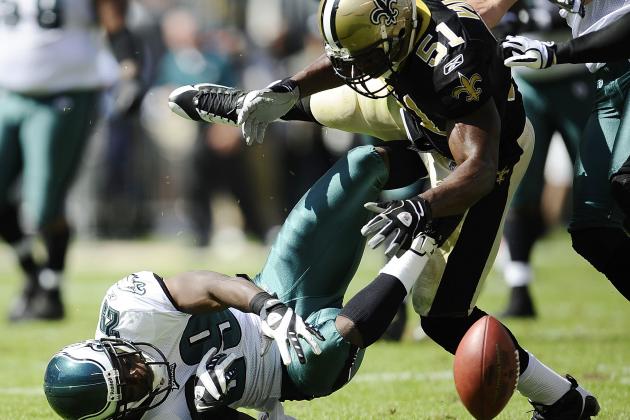 Jeff Zelevansky/Getty Images

If the Philadelphia Eagles are going to rebound from a disappointing 2011 season, they are going to have to go toe-to-toe with the big buys, not just in the NFC East, but the rest of the conference as well.
This is one such game.
Michael Vick and Co. travel to the Bayou to take on the New Orleans Saints, a team that is also looking to rebound, but in a much different way.
Both New Orleans and Philadelphia could be considered division favorites, but both still have a wide array of different questions. This game should go a long way in determining where each team stands.
Like I have done in most previous predictions, I am going to go with the home team here. Philadelphia is going to be relying on a whole host of young defenders. This doesn't equate well to playing New Orleans in the Super Dome.
Prediction
Philadelphia Eagles: 20
New Orleans Saints: 34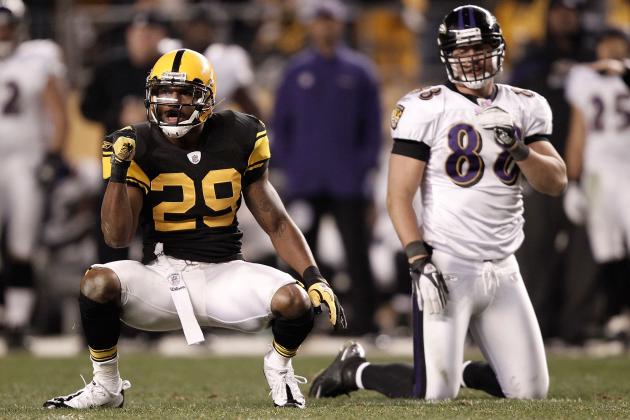 Jared Wickerham/Getty Images

Both the Pittsburgh Steelers and Baltimore Ravens won 12 games last season. The division championship came down to Baltimore winning both of their head-to-head matchups.
With that in mind, it is reasonable to expect that this will be the case in 2012 as well.
Pittsburgh needs to defend their home turf if they are going to have a chance at capturing the AFC North Championship this season. If Baltimore is able to go in and grab a win here, it is going to definitely hurt the Steelers' chances at avoiding a wild-card game.
I go with the road team here. Baltimore just seems to match up incredibly well with Pittsburgh. They bring the pressure on a consistent basis, something that a weak Steelers offensive line might not be able to handle.
Additionally, there is a chance that Terrell Suggs would be able to return for this game.
Prediction
Baltimore Ravens: 24
Pittsburgh Steelers: 17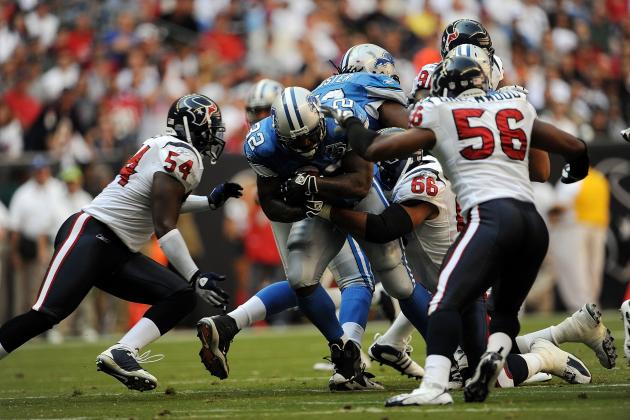 Ronald Martinez/Getty Images

We can now look forward to watching the Detroit Lions play on Thanksgiving. For the decade prior to last season, them playing on this holiday was more of a national disgrace than anything else.
Detroit will be hosting the Houston Texans in a game between two up-and-coming title contenders. You can definitely expect somewhat of a shootout as both offenses are dynamic in their own way.
In the end, Houston's defense is the difference here. They will be able to stop Matthew Stafford, Calvin Johnson and Co. more than Detroit will be able to hold Arian Foster and Andre Johnson in check.
It will, however, be an entertaining and high scoring affair.
Prediction
Houston Texans: 31
Detroit Lions: 28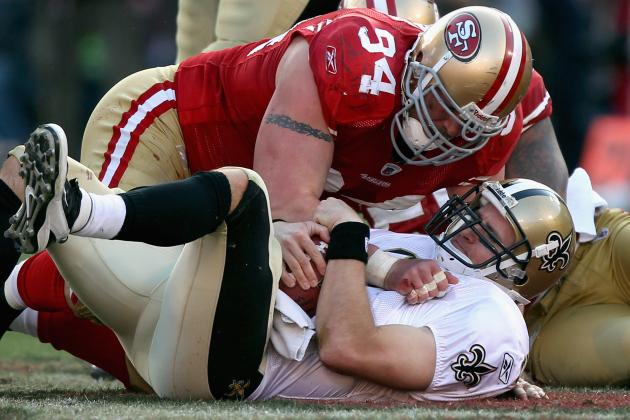 Jed Jacobsohn/Getty Images

The New Orleans Saints and San Francisco 49ers played one of the best postseason games in the modern history of the National Football League last season. Alex Smith led the 49ers on two come-from-behind touchdown scoring drives in the final three minutes of the game in order to lead his team past the Saints.
That game also represented the climax of the "Bounty Gate" scandal.
New Orleans will be looking to exact revenge after exiting the 2011 postseason prematurely. San Francisco will attempt to build off that game and show the Saints defense exactly how it is done within the confines of the rules.
I have the 49ers going in and taking this game from the home-standing Saints. Their physicality will just be too much for Drew Brees and Co.
Prediction
San Francisco 49ers: 31
New Orleans Saints: 17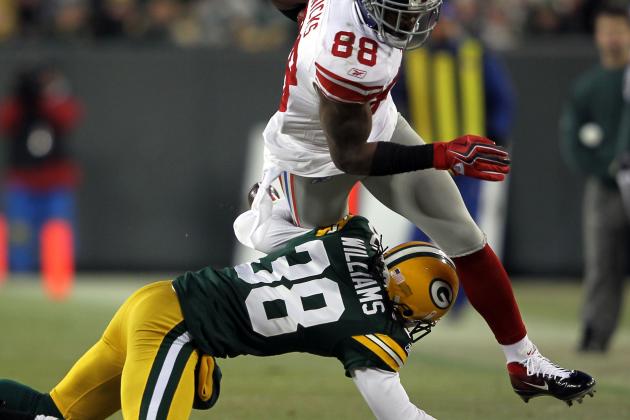 Jamie Squire/Getty Images

No one in their right mind would have believed that the New York Giants could go into Green Bay and defeat the Packers in a playoff game, especially after Green Bay had won 15 regular season games.
Well, this is exactly what happened.
In a game filled with mistakes by Green Bay, the Giants took full advantage. The Packers turned the ball over four times in route to a surprising 37-20 defeat.
Both teams enter this season with high expectations. New York is looking to repeat, while Green Bay still must have a sour taste in their mouths following that disheartening loss.
You can definitely expect this game to have playoff implications.
Green Bay gets revenge here by defeating the Giants in New Jersey.
Prediction
Green Bay Packers: 37
New York Giants: 23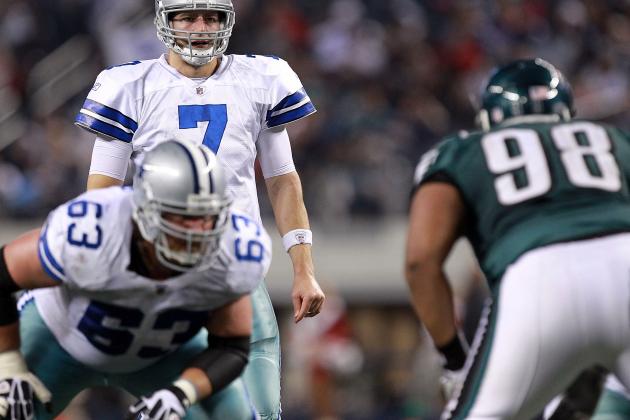 Ronald Martinez/Getty Images

It is going to be extremely difficult for more than one team to make the postseason out of the NFC East. They are going to have major competition from the Atlanta Falcons, New Orleans Saints, Chicago Bears, Detroit Lions and Seattle Seahawks, among others.
You also have to take into account that the NFC East is the new "black and blue division." This indicates that they are going to beat up on one another a great deal.
When the Philadelphia Eagles take on the Dallas Cowboys towards the back end of the 2012 regular season, there is going to be a whole heck of a lot on the line.
Three teams will be vying for the division crown. The games that they play against one another take on extra importance.
Dallas holds serve here. No matter what you want to say about this fledgling franchise, they still do have an amazing home-field advantage. This is what's going to ride them to victory. It also doesn't hurt that Philadelphia might not be able to rely on Michael Vick's health at this point in the year.
Prediction
Philadelphia Eagles: 23
Dallas Cowboys: 31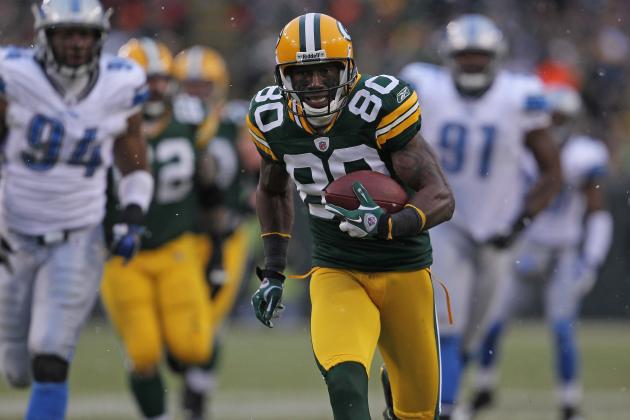 Jonathan Daniel/Getty Images

If the Detroit Lions want to take that next step towards elite status, they are going to have to go into Lambeau Field and defeat the Green Bay Packers.
It really is that simple.
Detroit failed to defeat Green Bay in the final week of the 2011 regular season, despite the fact that Aaron Rodgers sat the game out. Instead, Matt Flynn threw for 480 yards and a Packers' single-game record six touchdowns.
That has to be alarming for a Lions team that has done real little to upgrade what has been an average secondary.
My pick is obvious here. Green Bay takes the game relatively easy. Once again, Detroit is relegated to looking at the wildcard standings.
Prediction
Detroit Lions: 17
Green Bay Packers: 38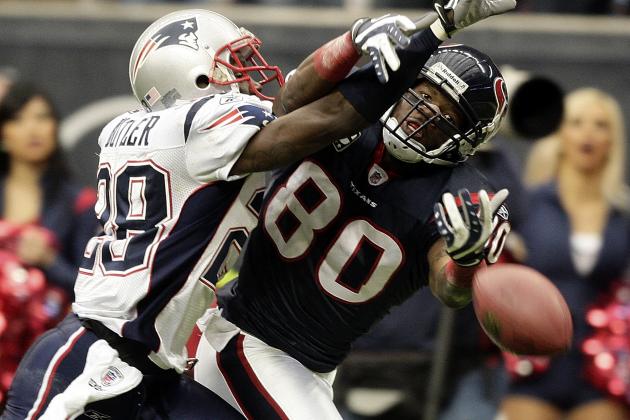 Bob Levey/Getty Images

The Houston Texans and New England Patriots could easily face off in the AFC Championship Game in January. They are among the three most talented teams in the conference.
This is why their Week 14 matchup in New England is going to be so big. You are talking about the possibility of the winner earning home-field advantage throughout the postseason. We all know how hard it is to beat the Patriots at home in the postseason.
It is nearly as hard to beat them there in December. Accordingly, I have Tom Brady and Co. taking this game.
Prediction
Texans: 20
Patriots: 27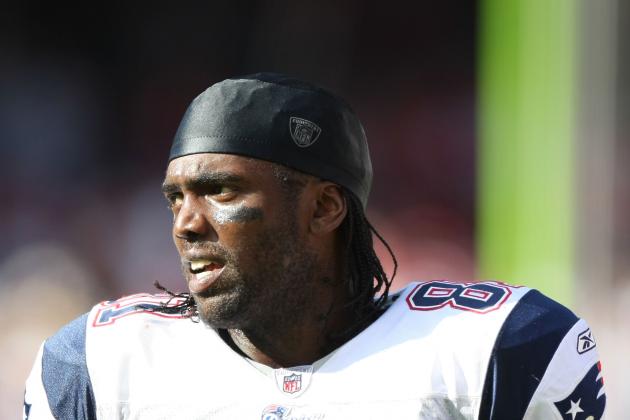 Jed Jacobsohn/Getty Images

Tom Brady going up against his childhood team with bragging rights of two elite franchises on the line. Hmm, many of us thought this is what was going to occur in the Super Bowl last February.
We all know how that turned out.
Instead, the San Francisco 49ers travel to Foxboro for a late-season game against the defending AFC Champion' New England Patriots.
Bragging rights will definitely be on the line here. That being said, there is something of utmost importance that comes with a game of this magnitude. Top teams in each NFL conference going up against one another with playoff positioning on the line.
Can the 49ers join the big boys?
Not today. I am picking Brady and Co. to win by the slimmest of margins in what promises to be one of the better games of the season.
Prediction
49ers: 24
Patriots: 27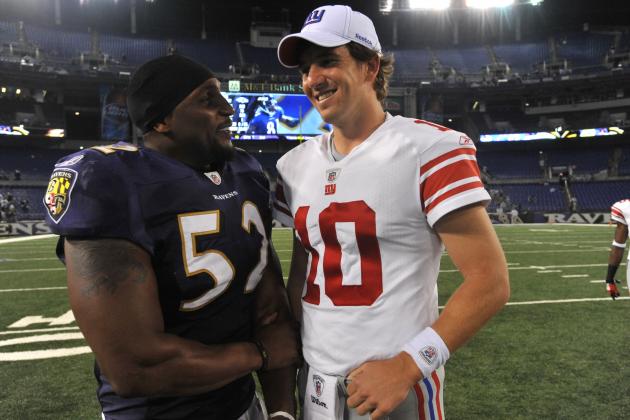 Larry French/Getty Images

We were pretty darn close to getting a Super Bowl rematch between the Baltimore Ravens and New York Giants in January. Instead, the Giants proceeded along to face the New England Patriot in yet another rematch.
As has been the case with every other slide in this article, these two teams have Super Bowl aspirations. No tie-breakers or divisional consequences will be on the line here. Instead, Baltimore and New York will be able to gauge where they stand heading into the postseason. In the case of the Giants, their postseason lives may rely on this game in Baltimore.
Baltimore doesn't lose regular season games at home and that isn't going to change here. You can expect Terrell Suggs to be back and Courtney Upshaw to be a more consistent force this late in the season. That definitely cross cancels the Giants' front seven and puts the onus on the road team to pull off an unlikely victory.
It won't happen!
Prediction
New York Giants: 13
Baltimore Ravens: 20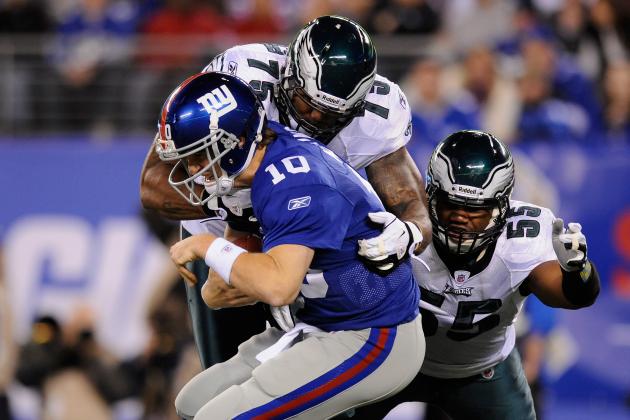 Patrick McDermott/Getty Images

Fresh off of their road loss to the Baltimore Ravens, the defending Super Bowl Champions will be reeling as the 2012 regular season comes to a conclusion.
The New York Giants will need a win here against the division rival Philadelphia Eagles in order to keep their slim playoff hopes alive. Additionally, Michael Vick and Co. need to keep pace with both New York and Dallas in the NFC East heading into the final week of the season.
Could you ask for a bigger late-season game?
Remember, the Giants were just a Week 17 loss to the Dallas Cowboys last season from missing the playoffs altogether. You can expect this to be the case in 2012.
Unfortunately, Eli Manning can only do so much. New York goes down and with it their playoff hopes fade.
Prediction
Philadelphia Eagles: 24
New York Giants: 21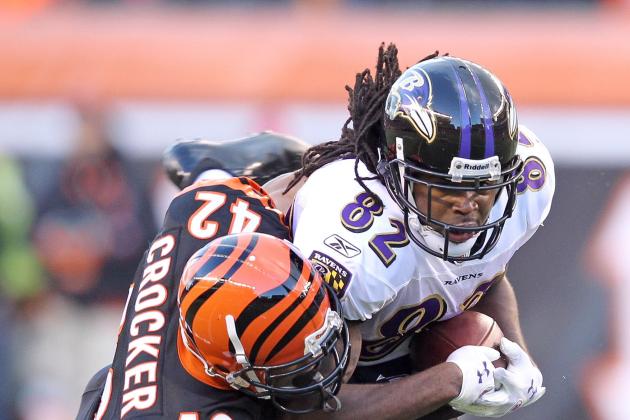 Andy Lyons/Getty Images

Could this game determine the winner of the AFC North? Is it possible that the Cincinnati Bengals will be bigger players in the outcome of that division than the Pittsburgh Steelers?
We will have answers to both of these question prior to the season finale between the Bengals and Baltimore Ravens in Cincinnati.
Either way, this is one huge regular season game. I have to hand it to the NFL, who made the decision to schedule division games only during the final week of the year.
As it is, Baltimore will have already clinched the division with Cincinnati looking to earn a playoff spot. With that in mind, I have Cincinnati winning this one.
Prediction
Baltimore Ravens: 24
Cincinnati Bengals: 27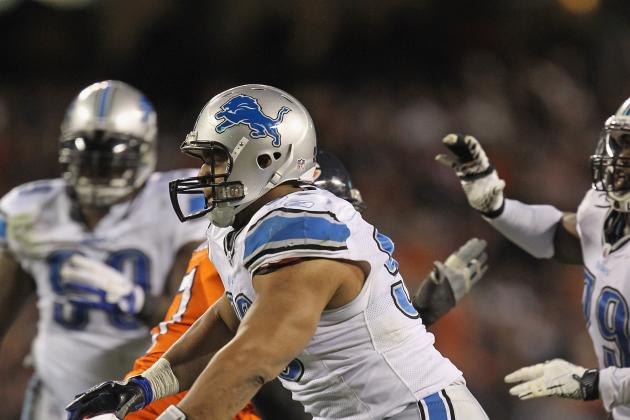 Jonathan Daniel/Getty Images

The Chicago Bears and Detroit Lions will be battling for a playoff spot in this game. Pure conjecture, but I believe it will be a wild card that is on the line with the Green Bay Packers in the division.
These two bitter rivals going up against one another with everything on the line. Could you ask for more? Once again, we must thank the NFL for this one.
I will go with the better all-round team here in Chicago. They seem to have what it takes to win on both sides of the ball in late December.
Meanwhile, Detroit will come up short on the defensive side of the ball and miss out on the postseason after a surprising 2011 performance.
Prediction
Chicago Bears: 31
Detroit Lions: 28