NFL Power Rankings 2012: Teams That Will Be More Exciting Than Record Shows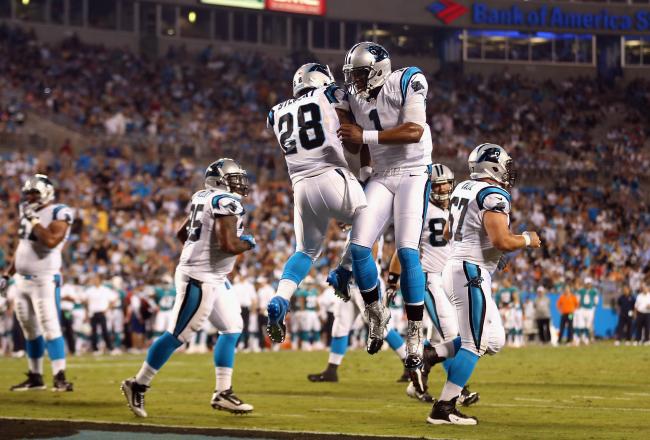 Streeter Lecka/Getty Images
The NFL is riddled with contenders, pretenders and everything in between this year. Some of the league's most exciting teams aren't necessarily ready to win, but you will find yourself waiting for their game to start every Sunday.
Exciting football can come in all shapes and sizes. Star players, rookie players or straight drama can create anticipated situations even for a team that won't finish .500.
It's always fun to watch a powerhouse tear through an opponent with the utmost precision, but you would get bored if that was all you enjoyed watching.
Let's look at three teams that will be more exciting than their record will tell you.
Grant Halverson/Getty Images
The Panthers finished 6-10 in Cam Newton's rookie year, and I don't think they will make a huge jump in 2012. Not that they won't improve, but their win total won't clear eight.
There are simply too many holes to fill on the defensive side of the ball for this team to play for a playoff spot this year, but who wouldn't want to watch this offense?
Newton is surrounded by Pro Bowl talent at wide receiver (Steve Smith), running back (DeAngelo Williams and Jonathan Stewart) and a very good tight end in Greg Olsen.
Outside of Smith, Brandon LaFell and Louis Murphy aren't going to scare many teams, but they are capable targets.
Watching Newton develop in his second season is reason enough to tune in by itself. The "sophomore slump" talk will be on full display, and he, like usual, will be out to prove everyone wrong.
Defensively, the addition of Luke Kuechly isn't enough to bolster a unit that gave up over 330 yards per game last season, but he will help.
This team isn't there yet, but it will be fun watching them get there.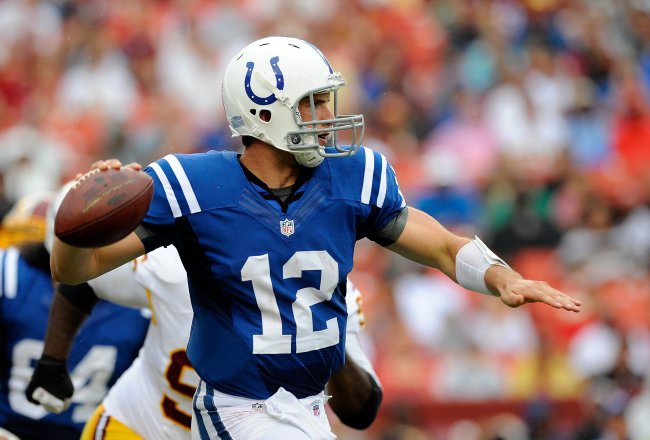 Patrick McDermott/Getty Images
I could have put the Washington Redskins here, but I think the Colts have a worse record by the end of the season.
However, I do think Andrew Luck has a more efficient rookie season than Robert Griffin III. Watching the No. 1 overall pick in the 2012 NFL draft develop is going to be fun. Just as fun as it was to watch Newton last year.
Indianapolis won only two games last season. I think they will wind up with six wins this year. For any other team, that wouldn't be a success.
Luck has the receiving corps he needs to succeed. Reggie Wayne, T.Y. Hilton and his tight ends (Coby Fleener and Dwayne Allen) are all capable targets. All four also bring a different element to the offense.
The Colts also have Donald Brown in the backfield. He ran for 645 yards and five touchdowns last season and seems to be at home behind Luck in the backfield.
You may prefer Griffin III and Washington's hybrid attack, but watching Luck systematically break down an NFL defense is a treat worth watching every single time.
The Jets won't have a winning record. There, now that that's out of the way, let's talk about why they are going to be fun to watch.
The answer is obvious, and it really has nothing to do with talent anywhere. Not that they don't have any. The Jets secondary is still elite, Revis island is still in place and their front seven improved in the offseason.
They simply won't score enough points to win the games they should. Whether it's being said or not, how could there not be apprehension from both quarterback candidates?
On top of that, neither Mark Sanchez nor Tim Tebow are ready to lead a playoff team. I know, I know—they both have before. But that was before they were battling each other. Tebow's magic only exists in the gray areas, and Sanchez hasn't been able to take the next step in his development.
That doesn't mean you shouldn't watch, though. The Wildcat is always interesting, and this team could fight each other anytime. It'll at least feel that way. Just watch this in case you forgot:
This Jets team just has a weird vibe around it. They aren't talented enough to talk the way that they do, but they continue to bring press to their team for all the wrong reasons. Their fans hope this attention results in something good, but it's not going to happen.
Where will the points come from? They won't, and their defense will be left to fend for themselves.
People will watch this team for the "car crash" effect. It's going to get ugly, but it will be fun to watch the NFL's most dysfunctional family.
NFL Power Rankings
10. Detroit Lions
13. Dallas Cowboys
15. Tennessee Titans
16. Chicago Bears
18. Seattle Seahawks
19. Buffalo Bills
20. New York Jets
21. Denver Broncos
24. Tampa Bay Buccaneers
25. Carolina Panthers
26. Oakland Raiders
27. Indianapolis Colts
28. Cleveland Browns
31. St. Louis Rams
32. Miami Dolphins
This article is
What is the duplicate article?
Why is this article offensive?
Where is this article plagiarized from?
Why is this article poorly edited?