7 Washington Redskins Players to Watch During the Colts Game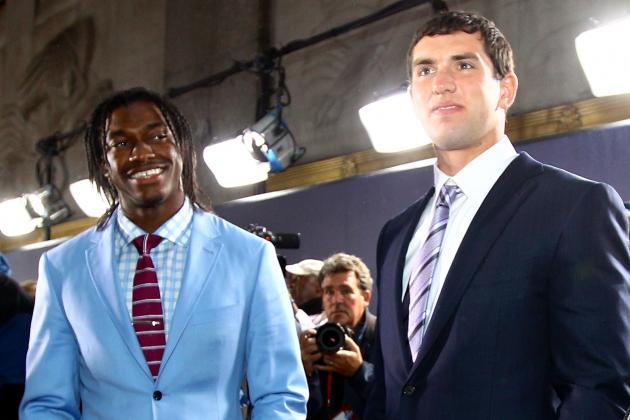 Al Bello/Getty Images

On Saturday, we'll see the closest thing to a regular season Redskins game with Robert Griffin III at the helm. The starters will play around three quarters, so there will be a lot of tape to evaluate them by.
The starting offense struggled to get anything going last week. The biggest problems were by far the offensive line, but the offensive play-calling wasn't very diverse. With a more open playbook, it'll be interesting to see whether things change.
With Andrew Luck coming into his own in Indianapolis, the defense should get another challenge this week. The secondary looked especially week against Chicago, so we'll see if that has improved.
While there's a whole slew of players to keep an eye on against the Colts, here's a list of seven of the most intriguing players to watch for tomorrow.
Begin Slideshow

»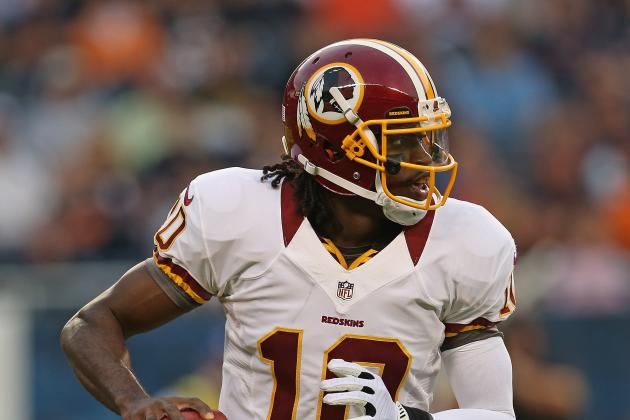 Jonathan Daniel/Getty Images

The biggest storyline for Saturday is obviously the Robert Griffin III vs. Andrew Luck showdown. The two quarterbacks will be forever linked throughout their careers, and the rivalry begins tomorrow.
Now while this game has been blown way out of proportion by some (for just $35 you can get a commemorative shirt), this is another chance to judge Griffin's progress as a starter.
Against Chicago the offensive line played like Swiss cheese, so Griffin couldn't get anything going in the passing game. He did have a few nice scrambles that showed his incredible speed, but he needs to get reps in the pocket.
Robert Mathis and Dwight Freeney are still All-Pros, but other than those two, Indianapolis doesn't have much talent on defense. Griffin should have more time in the pocket to work with.
This will probably be the last time we see Griffin until the season opener in New Orleans, so time is quickly running out for him to get a good grasp of the offense. We should see a lot more diversity in play-calling, but Shanahan will still keep some stuff up his sleeve for the season.
Most likely, the offense that takes the field tomorrow will be very similar to the offense we see in the regular season. We'll see how Griffin fares.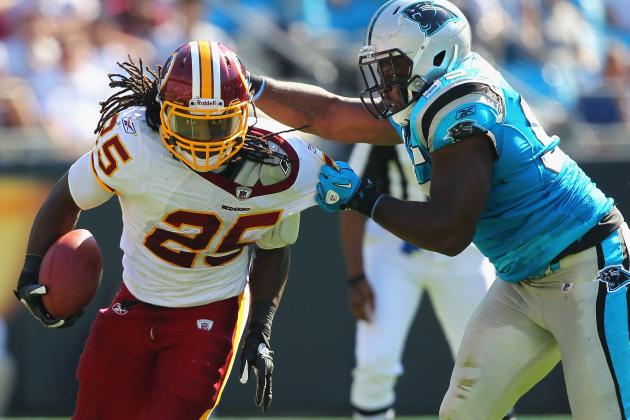 Dilip Vishwanat/Getty Images

After nine months of rehab, Tim Hightower has finally been cleared to play on Saturday. After practice on Thursday, last year's starter got emotional when talking to a group of reporters.
"This is huge, man. Wow. I don't even know what to say," Hightower said in an interview with The Washington Post. "I'm sure it'll hit me Saturday when I get down on that field, the nerves and everything. It's a blessing. I've definitely been working a long time, so it's a huge step for me."
Hightower has worked hard to get back to football shape, but there's no guarantee that he'll be able to cut and explode like before. He tore both an ACL and MCL against Carolina last year. It is quite possible that he'll never be the same back, but hopefully he can return to form.
If healthy, Hightower will be the starting running back for the opener. He isn't the best runner on the team, but he is by far the best in pass protection.
Alfred Morris had a missed block against Chicago, which led to the RGIII fumble. That's the kind of play that Hightower makes every time, and that's why the coaches love him. Keep an eye on him to see if he's still got it.
Rob Carr/Getty Images

Niles Paul has had an inconsistent preseason so far. He's had a few solid practices but then struggled against starters in preseason games.
The Chicago game is a great example. In the first half, he looked lost and even dropped a very catchable first down pass. But then in the second, he hauled in four passes—one of them for a touchdown—and looked solid as a blocker.
Granted he was playing against a second-string defense, but for the first time he actually looked comfortable on the field.
With Cooley playing mostly fullback, Paul has been getting a lot of reps behind Fred Davis along with Logan Paulsen, who also looked strong in the second half of the Chicago game.
Paul will get another shot against a starting defense against the Colts, so look for him to build off his strong showing. If he can block well and avoid drops, he should earn a good amount of playing time in the regular season.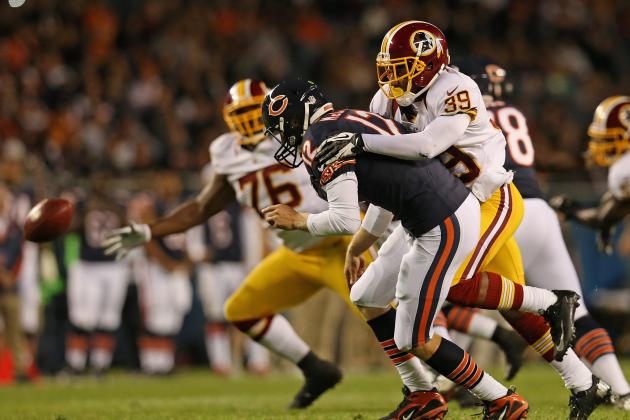 Jonathan Daniel/Getty Images

RGIII aside, Richard Crawford has been perhaps the most impressive rookie on the team. He's been solid in coverage and should challenge Cedric Griffin and Kevin Barnes for the third cornerback spot.
Against Chicago, Crawford was solid all game. On one play, he jumped a route perfectly but dropped the interception. He's shown great timing and instincts as a corner against solid talent.
In just two weeks, Crawford has gone from a bubble player to a roster lock. Since he plays special teams and can return kicks, he'll be a valuable player this year, especially considering Brandon Banks' struggles.
It'll be interesting to see if he will return kicks against the Colts, but more likely he'll just play defense. His number should be called early, so watch to see how he fares playing with the first-string.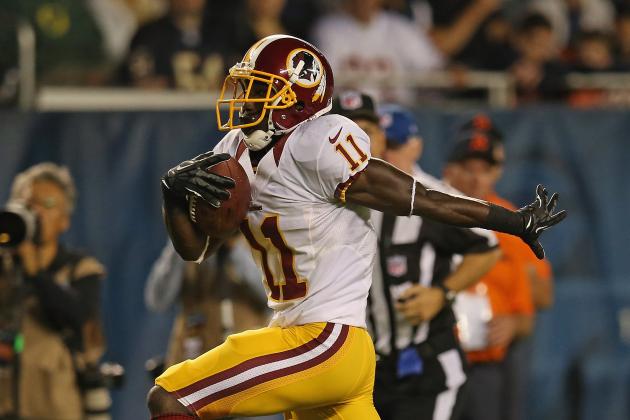 Jonathan Daniel/Getty Images

Like Niles Paul, Aldrick Robinson went off in the second half of the Chicago game. He caught six passes for 104 yards and a touchdown and looked good doing it.
Robinson spent last year on the practice squad to work on route running and returning punts. He didn't do any of the latter against Chicago, but he ran five different routes on his six completions.
With his speed, Robinson can at least be a force in the return game. Unfortunately he hasn't shown that so far, which is the only reason why Brandon Banks is still a threat to his roster spot.
One game doesn't make or break Robinson, but it definitely helps. He needs to record a few catches and show some skill in the return game against the Colts to solidify his place on the team.
The fifth and sixth receiver positions are still an open competition after two games. Look for Robinson to continue to make his case for one of them.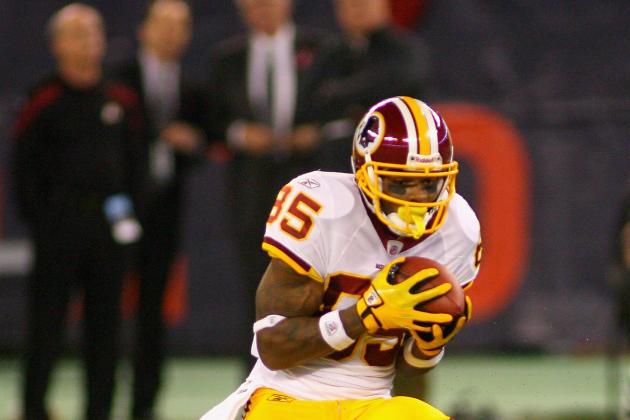 Rick Stewart/Getty Images

Leonard Hankerson has the talent to be an elite second receiver. He has excellent speed and size that allows him to get separation and then seal off a defender with his body. The problem is that he hasn't been very visible in games this preseason.
He's shown a few flashes, but not nearly enough. Last year, he recorded a 100-yard game against Miami before leaving the field with a hip injury. If he can show that skill this year, the Redskins will finally have a legitimate receiving group.
Against Buffalo, Hankerson had a nice catch and run for 12 yards. He needs to replicate those kind of plays against the Colts.
Pierre Garcon is by far Robert Griffin III's favorite target, but with a more diverse offensive game plan, Hankerson should get more opportunities on Saturday. Look to see what he does with them.
Dennis Wierzbicki-US PRESSWIRE

Tanard Jackson was all over the field against Chicago. The former Tampa Bay Buccaneer has the skills to be a capable starter at one of the safety spots in Washington, but still hasn't quite beaten out Madieu Williams.
Jackson will get looks at free safety and strong safety with Brandon Meriweather out with injury. He needs to show off his play-making skills to beat out Williams.
In Tampa Bay, Jackson was notorious for his character concerns and missed tackles, but Raheem Morris helped bring him up to D.C. for a reason. So far he seems motivated to put his past behind him.
Watch for Jackson to make plays out of the strong safety spot and split time at free safety.