Fantasy Football: The Top Sleeper for Each Team in 2012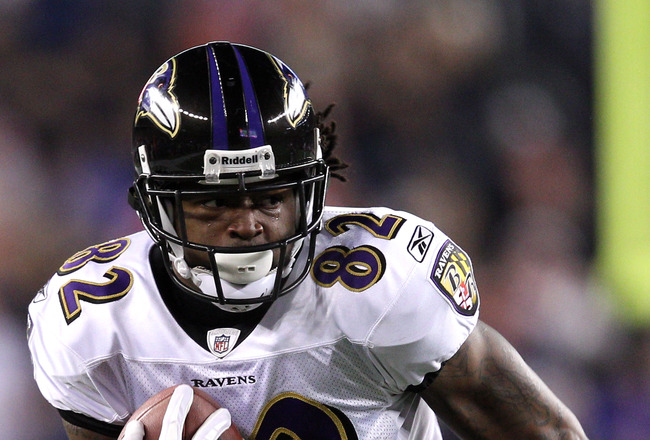 Elsa/Getty Images
Football is back, everyone!
Which means one great thing: Fantasy football is back!
By now, some leagues have already conducted their draft, which is fine if you love seeing your first round pick tear his Achilles in a meaningless preseason game.
For those that haven't, you're in luck. Everyone is looking for sleepers and I have 32 of them, one from each team, to keep your eye on.
Save your 'Thank You' cards for the end of the season, though.
Arizona Cardinals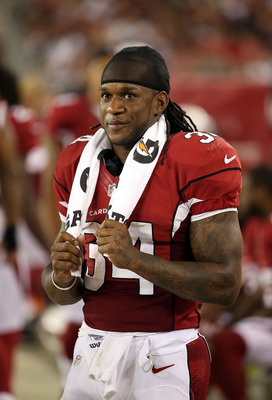 Christian Petersen/Getty Images
Ryan Williams - RB
Larry Fitzgerald isn't a sleeper, obviously. The rest of the receiving corps is a little thin so it had to come from the running back position.
Beanie Wells and Ryan Williams have each struggled to stay healthy, and if Wells can go the whole year, he will be an above average player for your fantasy team.
However, if he goes down, Williams looked pretty good in his preseason debut and although I wouldn't suggest drafting him, keep him in mind if one of your backs goes down early.
Atlanta Falcons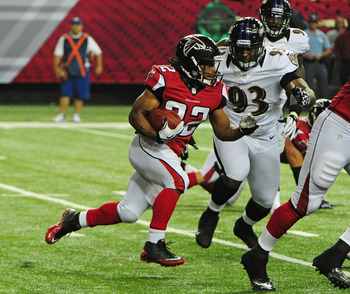 Scott Cunningham/Getty Images
Jacquizz Rodgers - RB
When it comes to the Falcons, there aren't really many sleepers due to their skill position starters being household fantasy names (Matt Ryan, Roddy White, Julio Jones, Tony Gonzalez, Michael Turner).
Consider one thing about Jacquizz Rodgers though: Atlanta is starting to build their team into a New Orleans clone.
This is good for Rodgers as he can become the Darren Sproles of Atlanta. He won't see a boatload of carries since he has a workhorse in front of him, but with so much attention focused on White and Jones, Rodgers should see quite a few catches out of the backfield.
Baltimore Ravens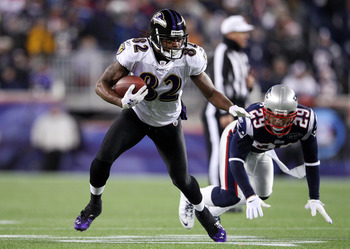 Elsa/Getty Images
Torrey Smith - WR
You probably saw this coming when I made Torrey Smith the main picture for this article.
Smith is the beneficiary of a copycat rivalry just like Jacquizz Rodgers. Atlanta is trying to duplicate New Orleans, Baltimore is trying to duplicate Pittsburgh.
Think of Torrey Smith as a Mike Wallace type. He will be a big-play receiver and Flacco is starting to fire a lot of targets his way deep down the field.
If he can get two or three big catches per week, he will be a valuable addition to your fantasy team.
Buffalo Bills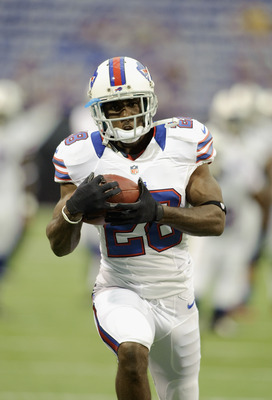 Hannah Foslien/Getty Images
C.J. Spiller - RB/WR
If you had Spiller for the first year of his career and the first half of the second year of his career, you probably weren't very impressed.
When Fred Jackson went down in 2011 though, Spiller became a fantasy stud and be confident that the Bills took notice.
They don't have much of a receiving corps if you haven't noticed, so Spiller could transition into a full-time receiver if Jackson proves he is fully back from injury.
All the Bills have to do is get the ball in his hands somehow and he can pick up a lot of points for you off of big plays.
Carolina Panthers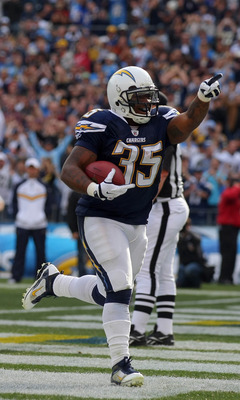 Donald Miralle/Getty Images
Mike Tolbert - FB
Cam Newton owners, get ready to be angry this season.
No doubt Newton will still get you a lot of points through the air, but wave goodbye to a lot of those tasty rushing touchdowns your team had in 2011.
Anyone that has had a non-Tolbert Chargers running back in the past couple of years will attest to that. The guy is an absolute touchdown vulture and his final stat line for the season will probably look like this:
16 Rushes, 23 Yards, 14 touchdowns
If you have Newton or Steve Smith, pray that they don't get tackled inside of the two yard line.
Chicago Bears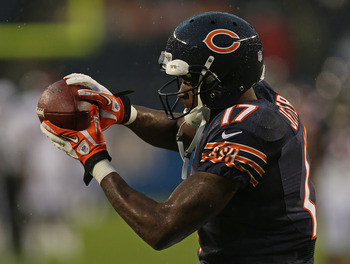 Jonathan Daniel/Getty Images
Alshon Jeffery - WR
Don't look now, but Jay Cutler has some new toys to play with.
With the acquisition of Brandon Marshall, defenses will be expecting that Cutler will want to pump the ball his way whenever he gets a chance.
When he's covered though, Jeffery should be the second read and will get his fair share of targets. He's already looked pretty impressive this preseason.
Expect him to put up good stats for a rookie, which in a best case scenario, would be around what Julio Jones did last year (959 yards eight TD's).
Cincinnati Bengals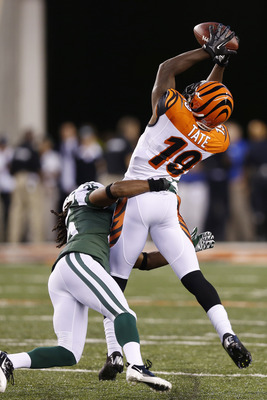 Joe Robbins/Getty Images
Brandon Tate - WR
I was tempted to put Benjarvus Green-Ellis on here, but I couldn't bring myself to do it.
I think I have owned him every year and have only been disappointed.
With that said, Brandon Tate should see a huge bump in targets and playing time without Jerome Simpson around. As much as Andy Dalton would like to, he can't throw to A.J. Green on every drop back.
Tate had 432 yards which is a decent season for a third receiver and you can expect that number to skyrocket now that he's in the starting lineup.
Cleveland Browns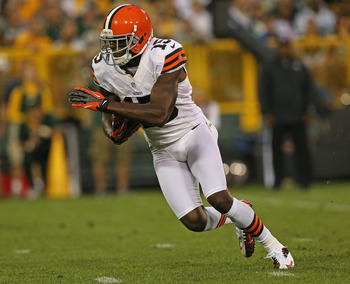 Jonathan Daniel/Getty Images
Greg Little - WR
Greg Little put up some decent yards last year, going over 700 total. Right now, he is the number one receiver on the depth chart and should see a lot of passes come his way from rookie/senior citizen, Brandon Weeden.
There's no doubt that he's capable of going over 1,000 yards in 2012 and the addition of Trent Richardson should take some of the pressure off of the passing game.
He may night set the world on fire, but Little will be deserving of a spot on your roster and a very capable starter once bye weeks and injuries start to settle in around the fantasy world.
Dallas Cowboys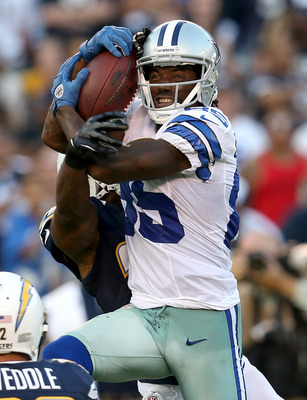 Stephen Dunn/Getty Images
Kevin Ogletree - WR
Last season, Laurent Robinson was a surprise sleeper for the Cowboys after Miles Austin went down with injury.
With Robinson in Jacksonville and Austin (along with Dez Bryant) being unpredictable, Ogletree could easily step in and prove to be a valuable pickup.
Denver Broncos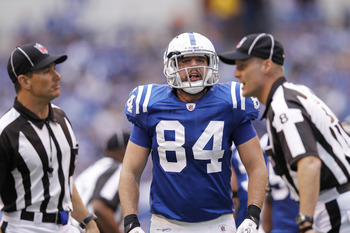 Joe Robbins/Getty Images
Jacob Tamme - TE
Word seems to have gotten out on Jacob Tamme being a sleeper, since he is being drafted in the middle rounds of most drafts.
People's memories aren't as short as I thought and they seem to remember how good Tamme was for Indianapolis when he had Peyton Manning after Dallas Clark went down to injury.
Still, he's not named Gronkowski, Graham, or Gates so he still counts as a sleeper and I expect him to be a top-ten tight end for the 2012 season.
Detroit Lions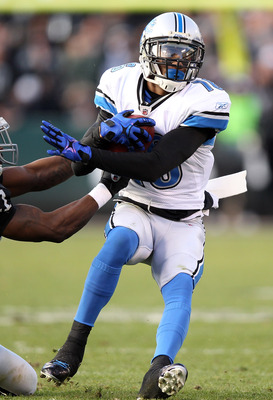 Ezra Shaw/Getty Images
Titus Young - WR
Young had a modest rookie season, gaining over 600 yards and finding the end zone six times. With that production, he should see an increase in playing time.
Also, I'm not sure if you remember who's on the cover of the new Madden video game, but he happens to be the number one receiver for Detroit.
If/when Calvin Johnson does go down to injury because of that, Titus Young will be a go-to-guy for a pass happy Lions offense.
And yes, I am justifying this pick by using the Madden Curse.
Green Bay Packers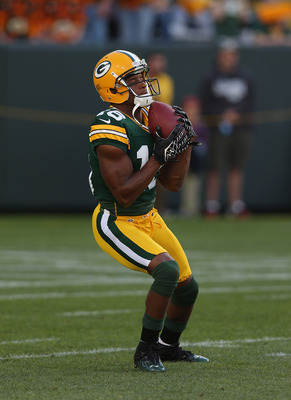 Jonathan Daniel/Getty Images
Randall Cobb - WR/KR
Cobb got the chance to impress in his rookie year and showed some playmaking ability. This year with Donald Driver in the twilight of his long career and an offense that passes more than any team, expect Cobb to put up solid numbers.
The biggest knock on any Packers receiver is the fact that when one gets hot, Aaron Rodgers tends to ignore all of the other ones. Cobb will have one or two games like that where he absolutely blows up, you just have to know when to play him.
Houston Texans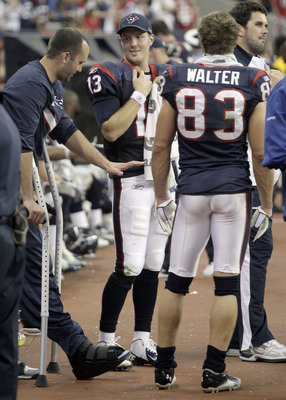 Thomas B. Shea/Getty Images
Kevin Walter - WR
In terms of "sleepers," the Texans don't have a lot to work with.
Matt Schaub isn't a sleeper, Arian Foster and Andre Johnson certainly are sleepers, and Ben Tate has proven himself to be good enough to remove himself from sleeper status.
For Kevin Walter to have a big year, it is all contingent on the health of Andre Johnson. If he misses significant time, then Walter will have decent numbers by default.
Don't expect that to be the case and make sure you hit the waiver wire hard if Johnson does indeed go down.
Indianapolis Colts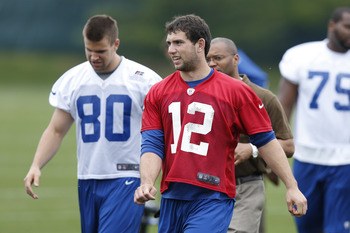 Joe Robbins/Getty Images
Coby Fleener - TE
Lost in the Andrew Luck circus was the Colts next pick, Coby Fleener.
Never underestimate chemistry among a tight end and a quarterback in this league. Fleener should be the primary target from the get-go and could be a top-ten tight end in his rookie season.
My prediction is that he will have the second most receiving yards on the team behind Reggie Wayne and will prove to be a consistent fantasy tight end for the next decade.
Jacksonville Jaguars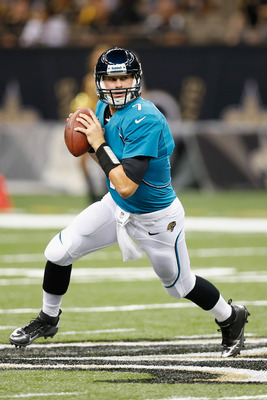 Chris Graythen/Getty Images
Chad Henne - QB
Blaine Gabbert's rookie season was, in one word; awful.
I don't think it will take long for Gabbert to get yanked if he keeps it up for the first couple of weeks in the 2012 campaign.
If that is the case, then Chad Henne will step in. We've seen him play pretty well in the NFL, and if he can develop a good chemistry with Justin Blackmon and Laurent Robinson, then Henne can become a mid-level fantasy quarterback.
If Henne comes in and you are stressed for a quarterback due to injuries, Henne should be a more than welcome addition.
Kansas City Chiefs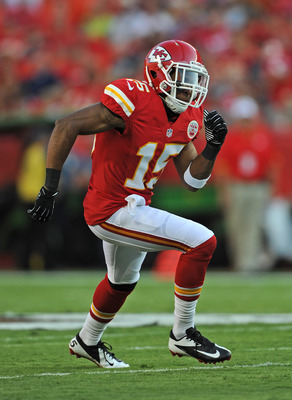 Peter Aiken/Getty Images
Steve Breaston - WR
Breaston has shown flashes of stud ability over the last few years, and now it is time for him to step up.
With a healthy season, Breaston could match his best season where he went for over 1,000 yards in 2008. He's looking to prove that if Dwayne Bowe leaves Kansas City, he could be the guy to replace him.
You could do a lot worse than Breaston, so he's worth drafting late.
Miami Dolphins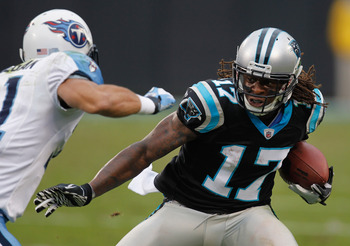 Streeter Lecka/Getty Images
Legedu Naane - WR
It's time for Naane to be something more than a funny name.
I don't expect him to have a huge year with an offense that will likely struggle with a rookie quarterback, but since the Dolphins have him as the number one receiver on the depth chart, you could do worse.
Your other starting option is Davone Bess so you have six on one hand, half a dozen on the other.
Minnesota Vikings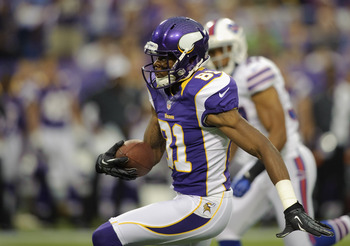 Hannah Foslien/Getty Images
Jerome Simpson - WR
We've seen the amazing athleticism that Simpson has, we're just waiting for him to be a true go-to receiver.
He'll be suspended for the first three games so you can nab him late in the draft if not free agency. He will be starting as soon as he gets back.
Just like the Dolphins, Simpson is the pick because, who else are you going to go with?
New England Patriots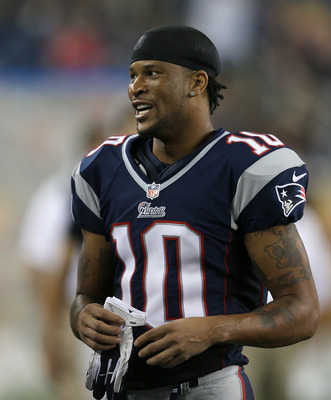 Jim Rogash/Getty Images
Jabar Gaffney - WR
Here's a fun stat for you: Gaffney had 947 yards and five touchdowns in 2011.
He played for the Redskins.
Rex Grossman was his quarterback.
Granted, he won't get as many targets with Brandon Lloyd, Wes Welker, and the tight ends taking up some of those, but Gaffney will still get some chances.
New Orleans Saints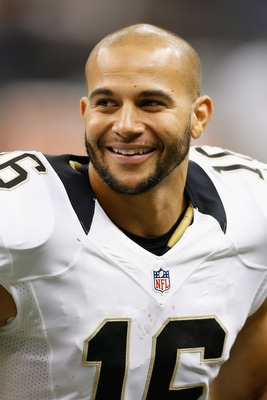 Chris Graythen/Getty Images
Lance Moore - WR
Every dog has his day in the NFL, and if you are a New Orleans Saints' skill position player, you will have multiple days in a given season.
Moore had a few big games in 2011 and the expectation is he will do something identical. Play him at your own risk because he is a boom or bust guy, but when he does boom, it's pretty exciting.
He does get in the end zone quite a bit too, having eight touchdowns in each of his last two seasons.
New York Giants
Chris Trotman/Getty Images
D.J. Ware - RB
When it comes to Tom Coughlin, he doesn't like to give the ball to the same running back more than a couple of times in a row.
For the last several seasons, Brandon Jacobs was the first guy off of the bench to steal carries from Ahmad Bradshaw, and now that he's gone, someone has to fill that hole.
D.J. Ware is the next in line and should see a huge boost in carries and yards. He's not going to be worthy of a starting slot on your fantasy roster right away, but down the road, he could prove to have some value as the season progresses and Bradshaw's fumbles get him on Coughlin's bad side.
New York Jets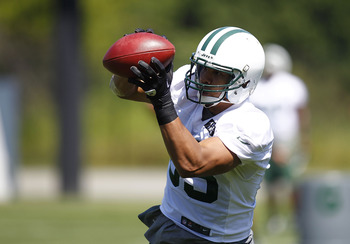 Jeff Zelevansky/Getty Images
Chaz Schilens - WR
Outside of Dustin Keller and Santonio Holmes, the Jets don't have a lot to work with.
The man that benefits most from that is Chaz Schilens who comes over from Oakland. It may take a few games for him to adjust, but at about halfway through the season, he should be a great option as a bye week filler.
He has good size at 6'4" so he should see a lot of the red zone targets that Plaxico Burress got in 2011.
Oakland Raiders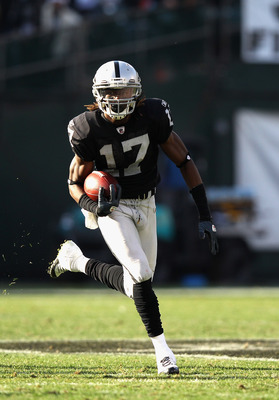 Ezra Shaw/Getty Images
Denarius Moore - WR
I expect this to be the year where Denarius Moore blows up stat-wise. He has a quarterback that's finally settled in and will see a lot of targets.
He isn't going very high in drafts, but if you do get the opportunity, I suggest taking him if his name starts creeping up on your cheat sheet.
Darrius Heyward-Bey should have a good year as well since these players know that if you don't do well with the Raiders, they won't hesitate to get rid of you.
Philadelphia Eagles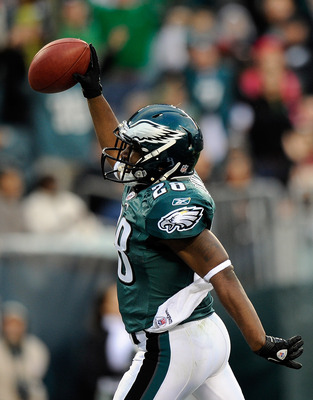 Patrick McDermott/Getty Images
Dion Lewis - RB
One thing every fantasy owner doesn't want to hear is the coach saying their stud running back got too many carries last year.
That's where Lewis steps in. He should be getting a lot more carries in an effort to make sure that LeSean McCoy doesn't get worked too much.
Andy Reid doesn't care about stats so if it comes down to it, Lewis may split time on the goal line as well so McCoy avoids the big red zone hits.
Pittsburgh Steelers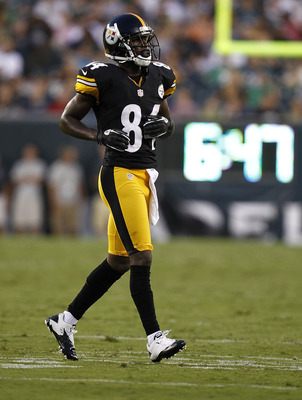 Jeff Zelevansky/Getty Images
Antonio Brown - WR
Of all the sleepers, this is who I expect to have the biggest year.
After being moved up to the starting lineup, quarterback Ben Roethlisberger has admitted that Brown will be the go-to-guy for the 2012 season.
After the drama with Mike Wallace's contract situation in the offseason, Brown stepped in and seems dedicated to become a Pro Bowl-caliber receiver.
Since I said I'm predicting big things, I will guess that he gets 1,200 yards and 10 touchdowns. Draft him early before someone else bounces in and has a great season with him.
San Diego Chargers
Kevin C. Cox/Getty Images
Robert Meachem - WR
If you liked having Vincent Jackson on your roster for the past few seasons, make sure to get Robert Meachem.
After having to split targets with about 37 different receivers in New Orleans, he moves to San Diego where he will be one of the three primary targets for the very good Phillip Rivers.
He will flourish now that he's a starter and is worth a mid-level draft pick.
San Francisco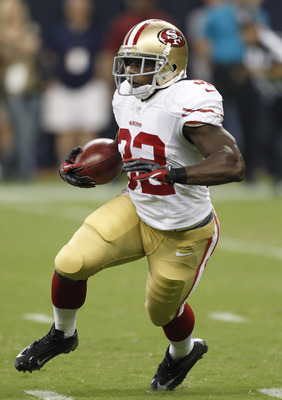 Bob Levey/Getty Images
Kendall Hunter - RB
Frank Gore is starting to wind down a little bit as he gets older and the 49ers will want to protect him, especially in an easy division where the Niners are expected to cruise.
If they take a large division lead, Hunter should get a solid chunk of carries and will be worth a few starts in the second half of the season.
Hunter did have almost 500 yards in his rookie season and should see a boost. In a keeper league he isn't just a sleeper but almost a must-have.
Seattle Seahawks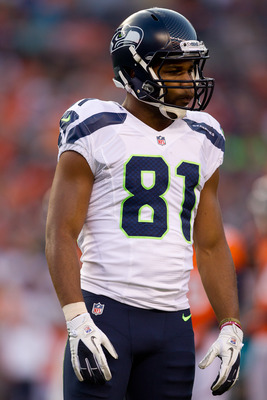 Justin Edmonds/Getty Images
Golden Tate - WR
It's time for Tate to step it up this season. If he cannot assert himself as a playmaker, then his tenure in Seattle will likely come to an end.
You could basically list any Seahawks' player as a sleeper outside of Marshawn Lynch, but no one has more to prove this season than Tate.
St. Louis Rams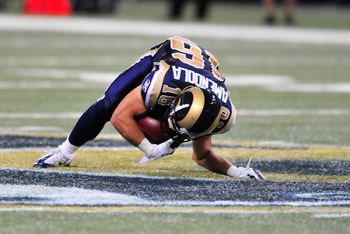 Jeff Curry/Getty Images
Danny Amendola - WR
Injuries set back what could potentially be a very good connection for an entire season in 2011.
Now that Amendola and quarterback Sam Bradford are back, expect him to have a big year if they can each stay healthy.
Bradford will need a primary target and Amendola is about the only person he's going to have to do that in 2012. It's not crazy to think that he will finish with a 1,000 yard season and he has the hands to make some end zone catches.
Tampa Bay Buccaneers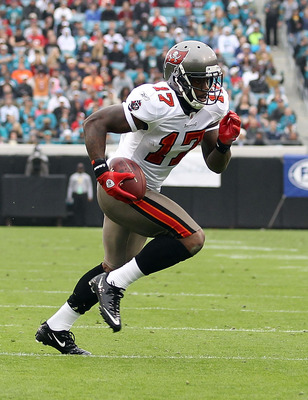 Sam Greenwood/Getty Images
Arrelious Benn - WR
With Mike Williams in front of him and the addition of Vincent Jackson, Benn should be able to get free in coverage more often than not.
Josh Freeman is expected to have a bounce-back year, and if he can spread the ball effectively, there is some value to Benn.
Mike Williams has also struggled as of late, so if Benn can prove he's ready, look for him to possibly pass Williams on the depth chart.
Tennessee Titans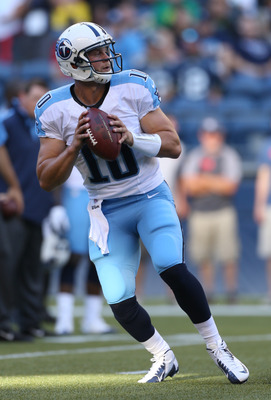 Otto Greule Jr/Getty Images
Jake Locker - QB
Now that Locker has gotten the nod at starting quarterback for Tennessee, look for him to put up good fantasy numbers.
He isn't going to be great right away in terms of wins and losses, but he should be able to sprinkle in a couple of rushing touchdowns to go along with his passing stats.
When it comes to fantasy football, a quarterback that can run is extremely valuable. If Locker is available on your waiver wire, it would be foolish not to pick him up.
Washington Redskins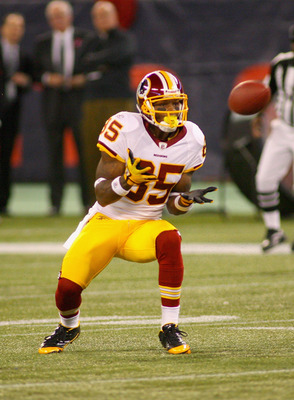 Rick Stewart/Getty Images
Leonard Hankerson - WR
It appeared that Hankerson was going to have a big second half in 2011 for the Redskins before an injury ended his season.
Now that he's back, he finds himself a little farther down the depth chart with the addition of Pierre Garcon and Josh Morgan.
He's not going to be able to pass Garcon, but he should have the opportunity to take away targets and receptions from Morgan.
Keep him in mind on the waiver wire, but at this point, it wouldn't be too wise to draft him.
Keep Reading