Ranking the Top 50 NFL Players to Start a Franchise With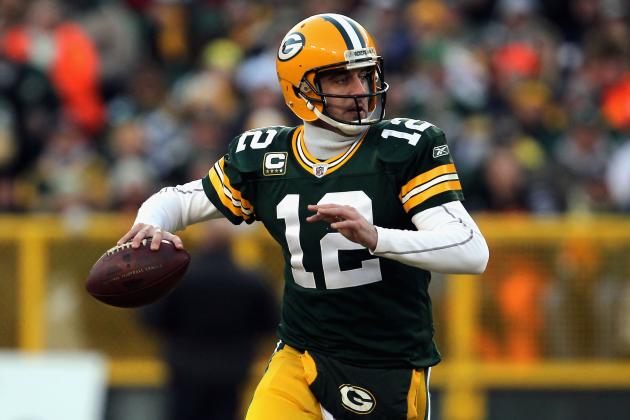 Jonathan Daniel/Getty Images

If an NFL team was starting from scratch, what player would be chosen to lead it?
Presumably, a fresh team wouldn't be particularly good at first. It would take time for this team to win. A player too old would have a limited time frame in which he could win games, and he may be finished by the time his team is good.
Youth is constantly working in a player's favor. The more time a player has before he hits the end of his career, the more chances he has at winning.
Which players would give an NFL team its best shot at building a dynasty?
Begin Slideshow

»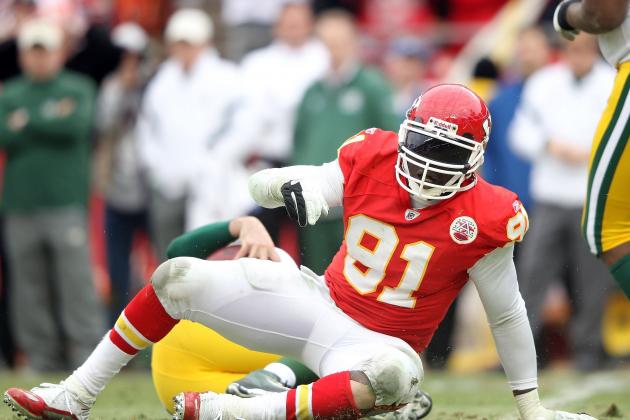 Jamie Squire/Getty Images

With 26.5 sacks the past two seasons, Tamba Hali has established himself as a premier threat off the edge. Hali consistently gets after quarterbacks while defending the run at a high level.
Hali isn't a truly elite edge-rusher, but he is good enough that he is almost always impacting the game. That's a huge start.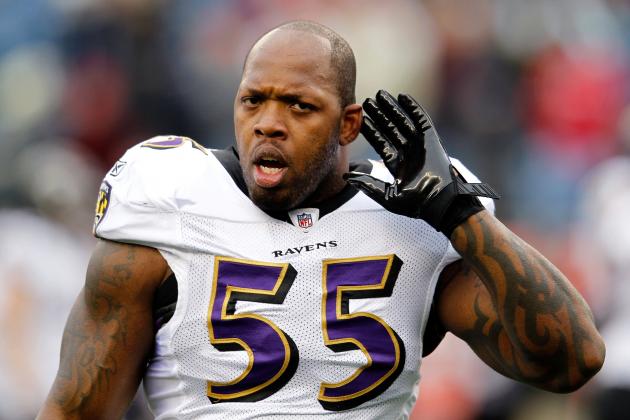 Rob Carr/Getty Images

One of the most complete pass-rushers in the game, Terrell Suggs can do anything at a high level. The star Raven can obviously rush the passer, but he can also defend the run and play in coverage.
There are better edge-rushers out there, but Suggs' complete game makes him more valuable than most. He is a constant threat to the offense.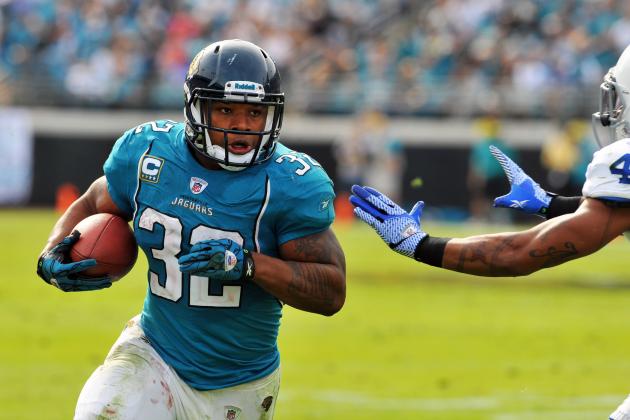 Al Messerschmidt/Getty Images

Maurice Jones-Drew is the rare running back who contributes on all four downs. Jones-Drew can run the ball, catch the ball or even return the ball. That's rare.
MoJo is an explosive player who also possesses the power to pound the rock in any situation. He is a player the defense is constantly accounting for.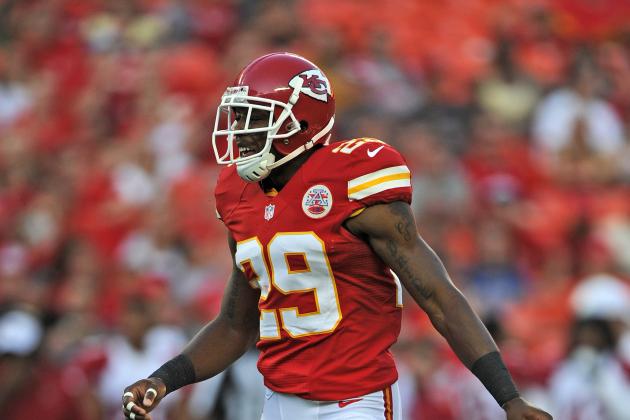 Peter Aiken/Getty Images

Recovering from a torn ACL in 2011, Eric Berry is still a little bit of an unknown. If he fully recovers, however, Berry should be a beast.
The former No. 5 overall pick is a ball-hawking safety who can also play up close to the line of scrimmage and defend the run. He is a force to be reckoned with in all situations.
If not for his injury and the position he plays, Berry would be higher.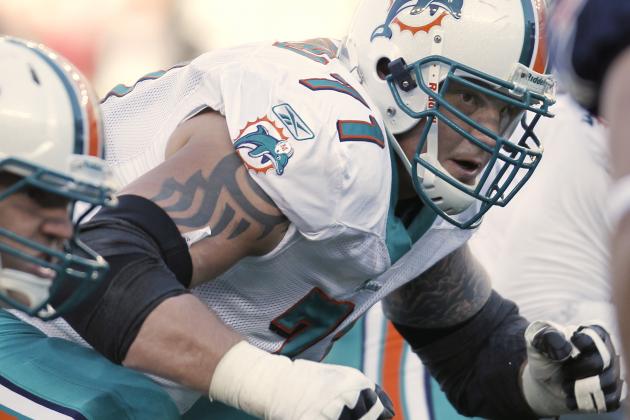 Winslow Townson/Getty Images

Despite a few injury issues, Jake Long is still an elite left tackle. Long can create space in the run game or buy the quarterback time to pass when he drops back.
The former Michigan Wolverine is perhaps the most complete left tackle in football. He dominates at all times.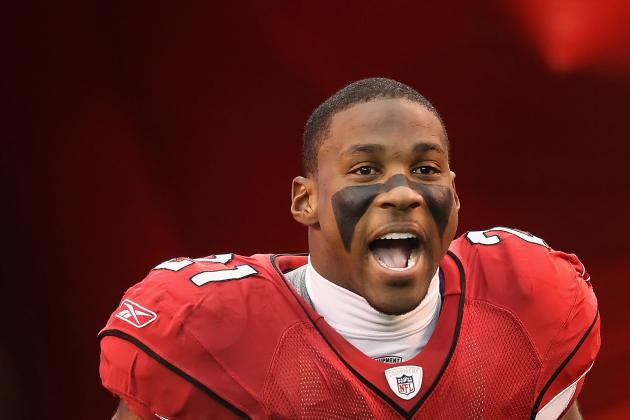 Christian Petersen/Getty Images

Few cornerbacks offer the insane upside of Patrick Peterson. The 6'1", 219-pounder is fast, explosive and incredibly strong. He is an incredible return man with outstanding potential on defense.
Peterson still has to develop, but he could be a once-in-a-decade cornerback. This rare upside at a key position can't be ignored.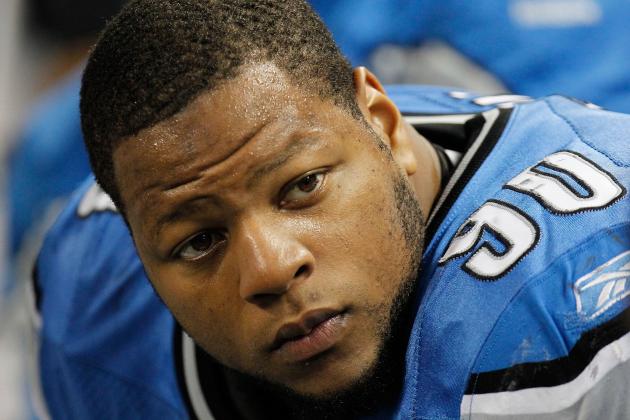 Gregory Shamus/Getty Images

After a disappointing sophomore season, Ndamukong Suh now has 14 career sacks. The former No. 2 overall pick is an explosive interior pass-rusher who can stand strong against the run.
Suh offers rare playmaking ability at defensive tackle. He can pressure the quarterback like a defensive end while also plugging up the run game.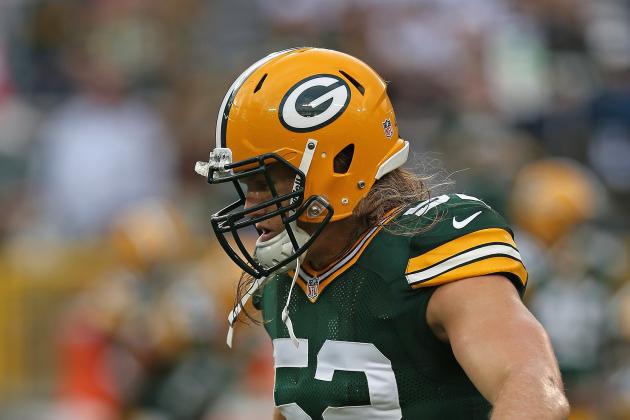 Jonathan Daniel/Getty Images

Clay Matthews is an excellent pass-rusher, but his ability in coverage is what makes him special. Many edge-rushers offer similar pass-rushing ability to Matthews. Few, however, offer his overall game.
Matthews is the rare 3-4 outside linebacker who can routinely drop into coverage and actually make some plays there. It's key that defensive coordinators can use Matthews however they want without him being a weakness.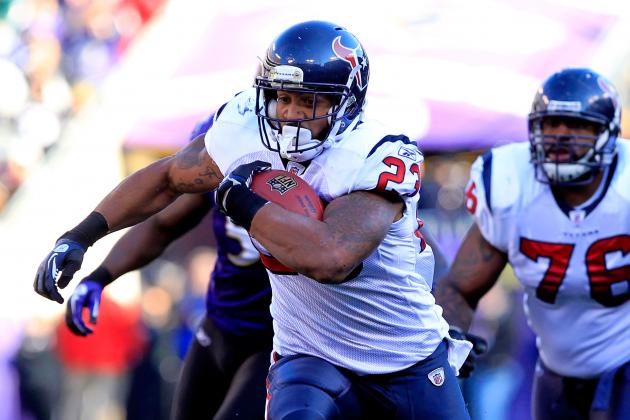 Chris Trotman/Getty Images

If it weren't for injury concerns, Arian Foster would be even higher on this list. Foster is a complete running back who can catch the football or run with power.
The Texans take advantage of Foster's ability, but he is capable of even more. The 25-year-old has a ton of dominance in front of him still.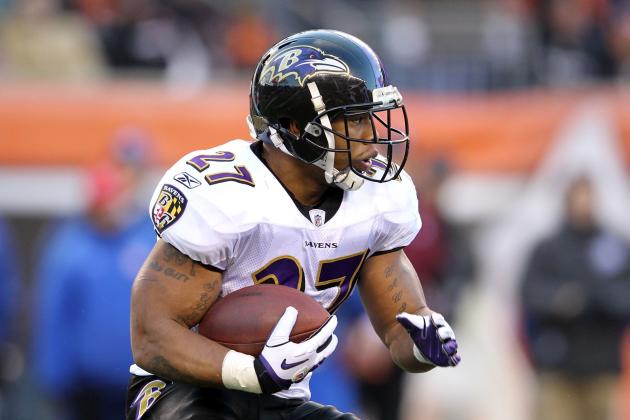 Andy Lyons/Getty Images

Ray Rice is similar to Arian Foster without the injury issues. Where Foster beats Rice on the ground, Rice is a more complete receiver who has rarely missed time to injury.
Rice is just 25 years old and is a dynamic weapon in all aspects of the game. The defense must always be thinking about what Rice could do.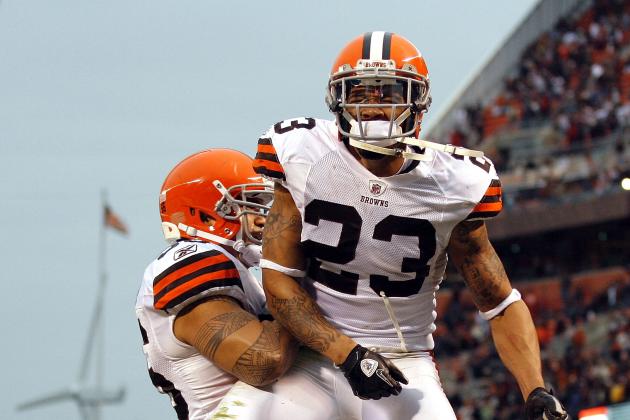 Matt Sullivan/Getty Images

Cornerbacks are becoming more important by the year, and at just 23 years old, Joe Haden is already an elite player at the position. Haden doesn't give up many catches and does an excellent job defending the run.
The former No. 7 overall pick uses his athleticism to deflect many passes, and he is excellent at using his size to overpower wide receivers. Even the best wideouts struggle to get open against him.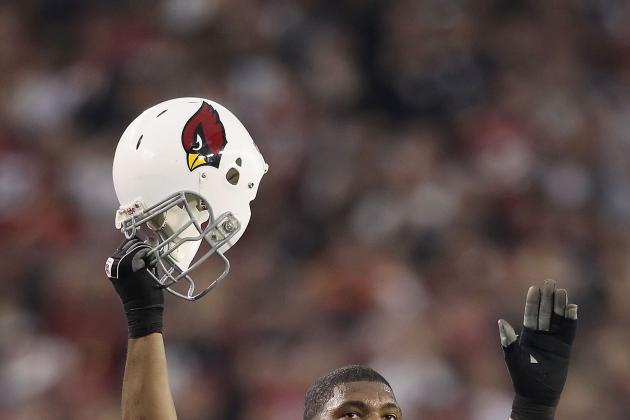 Christian Petersen/Getty Images

With eight sacks in 2011, Calais Campbell proved he can rush the passer in addition to stopping the run. Campbell plays the 5-technique position in Arizona's 3-4 scheme, but he could just as easily play defensive end in a 4-3. He is incredibly versatile.
Still just 25 years old, Campbell has a history of dominating against the run and pass. Not many at his position get noticed, but Campbell is noticed on nearly every play.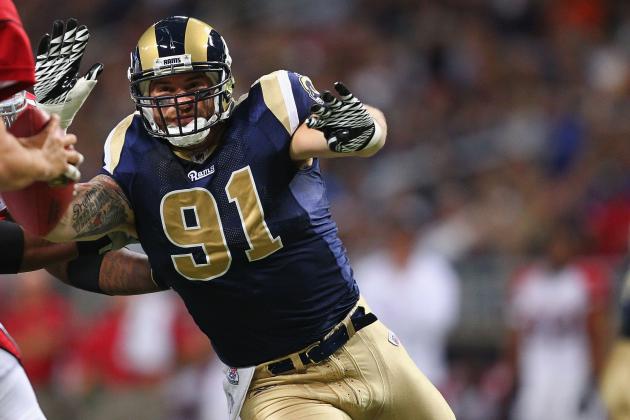 Dilip Vishwanat/Getty Images

Chris Long picked up 13 sacks in 2011 while also doing a superb job of defending the run. While Long may not often repeat these sack numbers, he will frequently pressure the quarterback.
The former No. 2 overall pick has plenty of years left, and not many defensive ends play as complete of a game as he does. Long is a great piece to build around.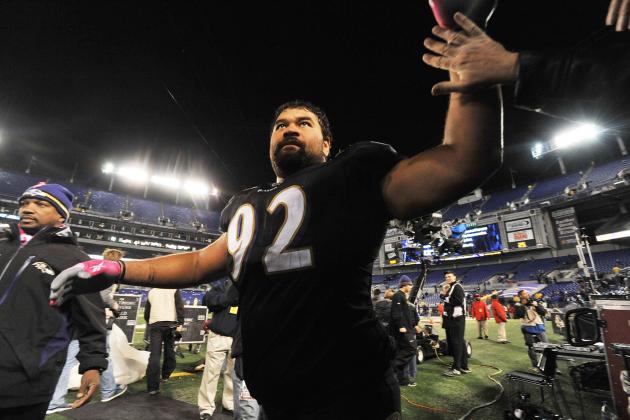 Larry French/Getty Images

There is perhaps no more physically dominating defensive player in the NFL than Haloti Ngata. The 6'4", 340-pounder moves around the defense, and he dominates no matter where he is.
Ngata isn't a great pass-rusher—he had 5.5 sacks in 2011—but he is absolutely dominant against the run. Teams simply can't run away from him—Ngata is everywhere.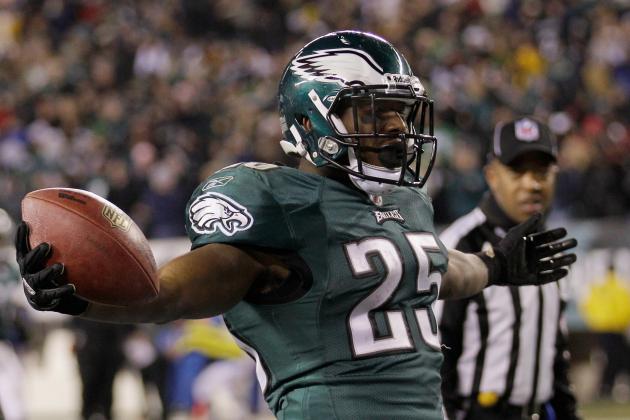 Rob Carr/Getty Images

At just 24 years old, LeSean McCoy is perhaps the NFL's best running back. McCoy is fast, explosive and quick with great vision. He is also a superb receiver.
A former second-round pick, McCoy is a bit undersized but hasn't had any injury issues. His shiftiness keeps him from receiving big blows, and he makes huge plays to compensate for any power he might lack.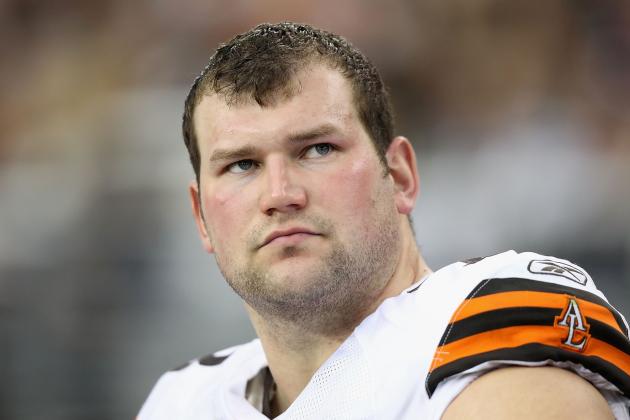 Christian Petersen/Getty Images

The NFL's best left tackle, Joe Thomas has dominated since entering the NFL in 2007. The 27-year-old is rarely outplayed, and as a result, he has made the Pro Bowl in each of his first five seasons.
Many offensive linemen dominate, but Thomas has been so incredible that he is frequently noticed for his play. He has made four All-Pro teams—once was second team—in his young career.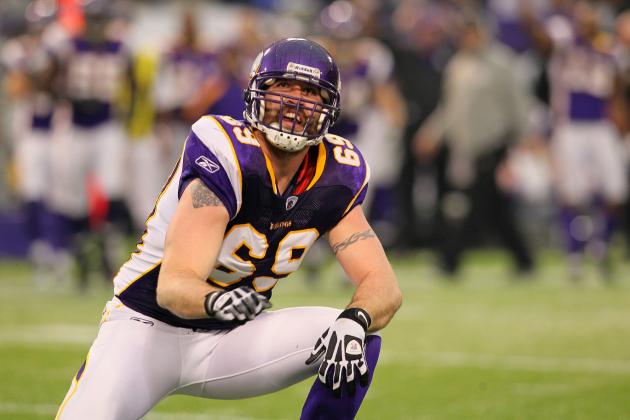 Adam Bettcher/Getty Images

Jared Allen has accumulated sacks like few others have. The star defensive end nearly broke Michael Strahan's sack record in 2011, and he has picked up at least nine sacks every year but one.
Allen is 29 year old, so he doesn't have a ton of time left, but he's simply too good to pass up. Few players have ever done what he does.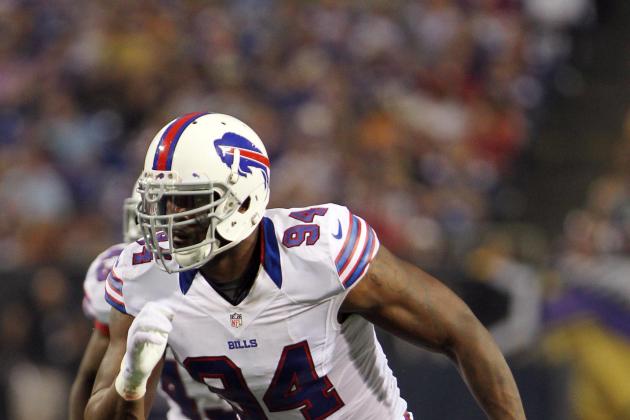 Brace Hemmelgarn-US PRESSWIRE

When healthy, Mario Williams is about as dominant of a defensive end as there is. Super Mario is a physical freak who annihilates offensive tackles.
However, the 27-year-old's last two seasons have ended in injury. If injuries don't continue to plague Williams, he should be an absolute force for Buffalo.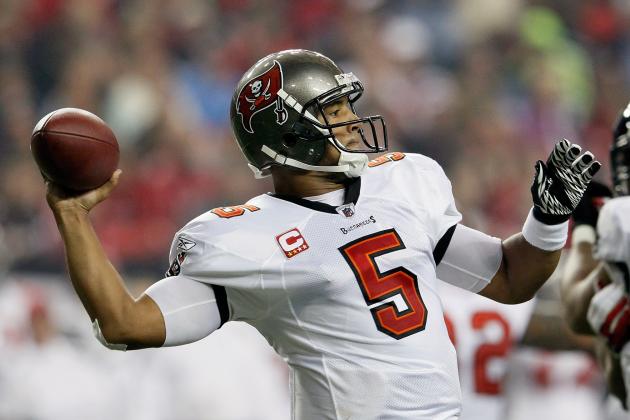 Kevin C. Cox/Getty Images

Josh Freeman followed up an excellent 2010 campaign with a disappointing in 2011. As of now, we don't know which Freeman is the one we'll see in the future.
So this expansion team has to take a chance. Freeman has the ability to be great, but no one knows if he actually will be.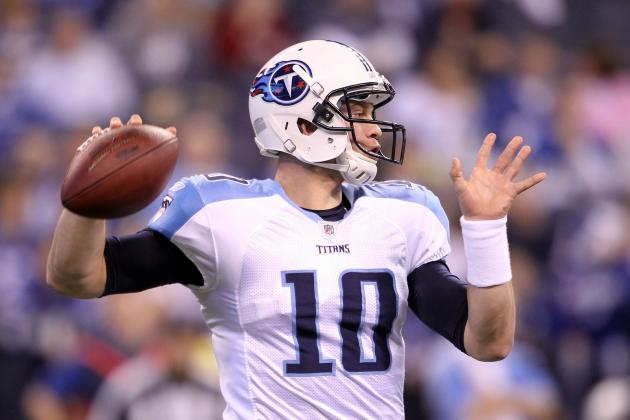 Andy Lyons/Getty Images

Jake Locker has little starting experience in the NFL. He has flashed great ability and potential, but so far, these are just flashes. There is nothing to be sure of.
Locker has potential, no doubt, but he has continued to struggle with accuracy. It's anyone's guess whether he'll be able to overcome this critical flaw.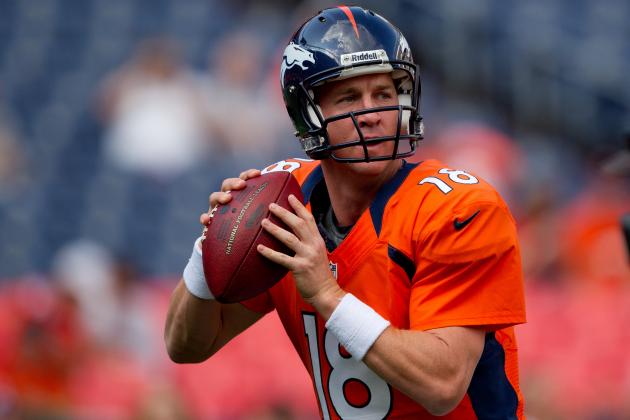 Justin Edmonds/Getty Images

It's obvious why Peyton Manning isn't higher than this. He is 36 years old coming off multiple neck surgeries. Does this sound like a player who has much time left?
Manning may still be great for a few seasons, but he won't be as incredible as he used to be, and he won't be great for long. Unfortunately, these are huge factors in the presented scenario of an expansion team.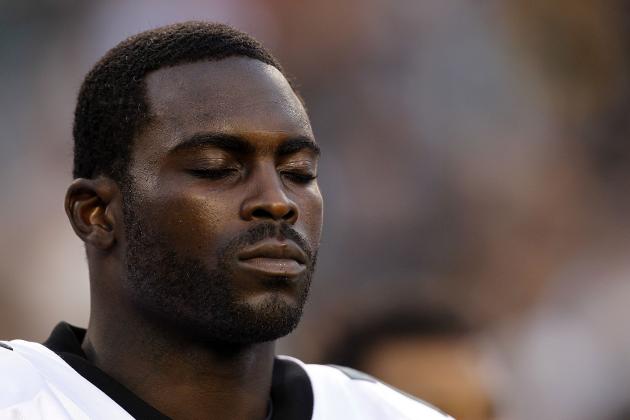 Jeff Zelevansky/Getty Images

Michael Vick has, at times, been simply unbelievable. He makes throws no one else can dream of. He also struggles to stay on the field and makes some terrible throws.
With Vick, there is bad to go with the good. He has never been a consistent quarterback, and he has never won a Super Bowl. At age 32, his elite physical ability may soon begin to wane.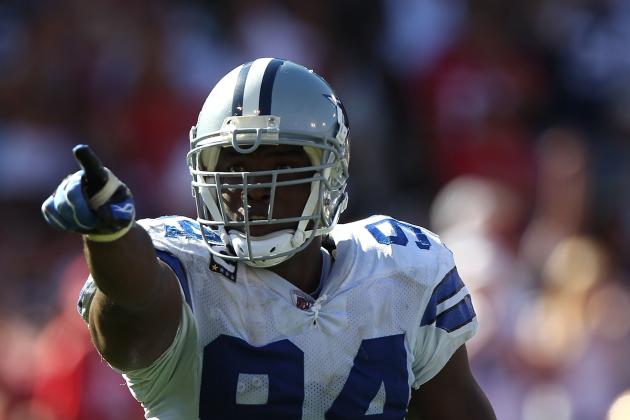 Jed Jacobsohn/Getty Images

DeMarcus Ware is one of the best pass-rushers in NFL history. Ware stars in Dallas' 3-4 scheme in every aspect of the game, but no one can get to the quarterback like he can.
Ware's 35 sacks the past two years show how consistent he is. He's the type of player that makes a quarterback nervous when there's nothing to be afraid of.
And when there is something to be afraid of, Ware makes plays.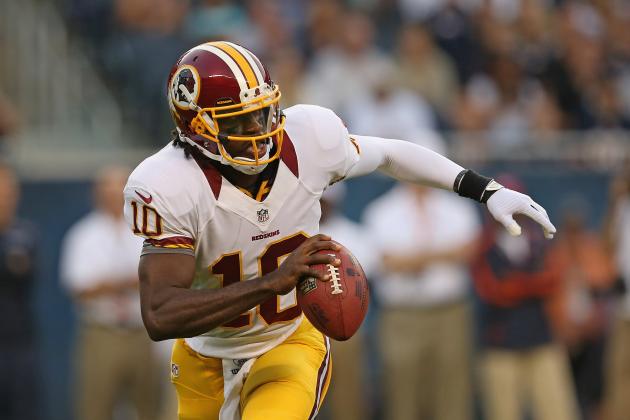 Jonathan Daniel/Getty Images

Though Robert Griffin III is full of potential, he's a complete unknown in the NFL. The physical ability is there, but the questions loom large. Can he handle an NFL beating? Can he handle the mental aspect of the game? Can he stand strong in a collapsing pocket?
Until Griffin puts together a strong NFL resume, these questions will remain. In the meantime, he has enough potential to justify a high ranking here.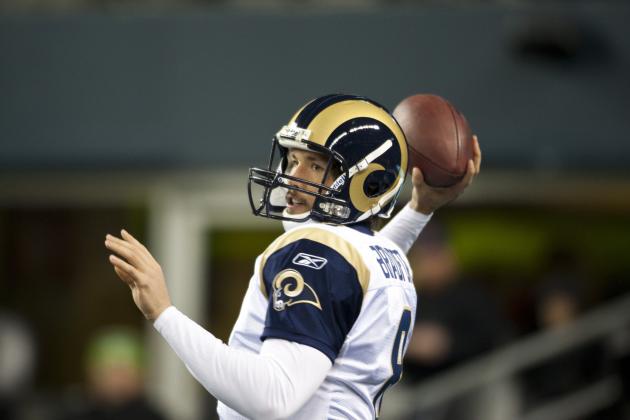 Jay Drowns/Getty Images

Call me foolish, but I still believe in Sam Bradford. The former No. 1 overall pick has been abused because of a terrible offensive line and awful wide receivers, but he can still throw the football.
If Bradford hasn't been ruined yet, he can still be a great NFL player. He just needs a little bit of talent around him for it to show.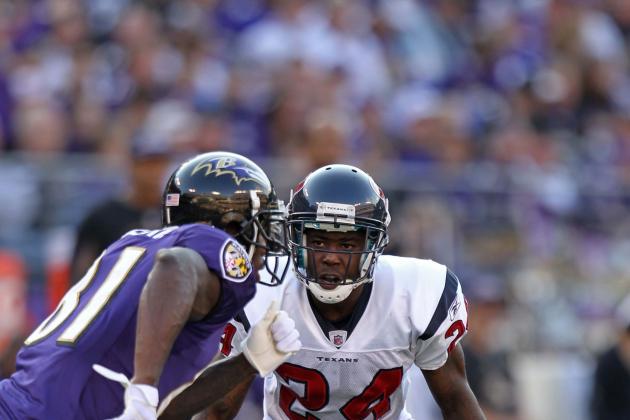 Mitch Stringer-US PRESSWIRE

Jonathan Joseph has always been a good player, but he took a great step forward in 2011, finally establishing himself as elite. The Texan is a legitimate shutdown cornerback.
Joseph doesn't haul in many interceptions, but he rarely allows a catch, and even more infrequently allows a big play. It's best for quarterbacks to avoid him entirely.
Joseph takes away a team's best wide receiver, and that's critical.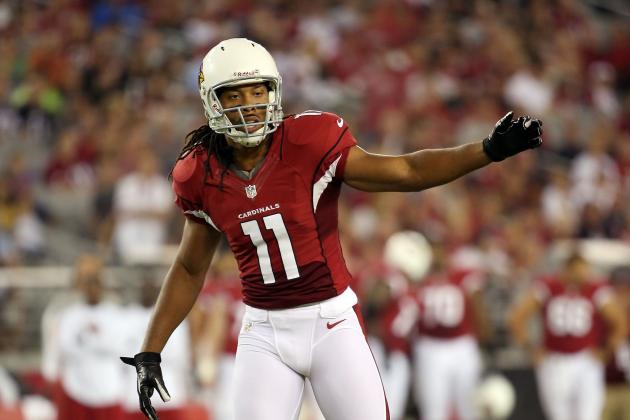 Christian Petersen/Getty Images

It seems like he's been around forever, but Larry Fitzgerald is still just 28 years old. There are perhaps two better wideouts in the NFL, but Fitzgerald is still an incredible deep play threat with several years left in the tank.
Over the past five years, Fitzgerald has missed just one game due to injury, and he has remained dominant the entire time, always catching at least 80 passes for at least 1,000 yards.
This type of weapon can't be found just anywhere.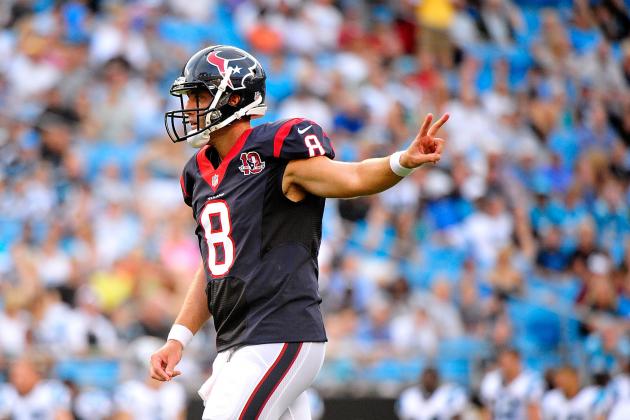 Grant Halverson/Getty Images

A good but not great quarterback, Matt Schaub excels with elite talent around him. With an average supporting cast, Schaub wouldn't fare nearly as well.
In addition to his reliance on the talent around him, Schaub also struggles with injuries. The former Falcon has missed at least five games three times in his career.
A quarterback is always valuable, but Schaub isn't dominant or healthy enough to warrant a higher ranking.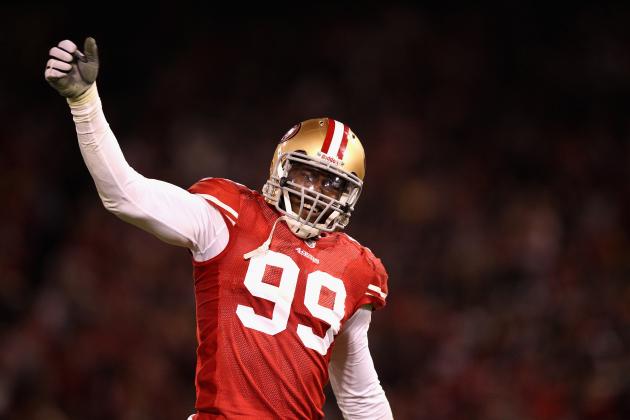 Ezra Shaw/Getty Images

The last rookie pass-rusher to dominate like Aldon Smith did was The Freak, Jevon Kearse. Smith is simply an incredible physical specimen with enough pass-rush moves to overpower offensive linemen.
As a rookie playing only on pass downs, Smith picked up 14 sacks. It's scary to think what he can do as a starter with some experience under his belt.
The 49ers star will be terrorizing quarterbacks for years to come.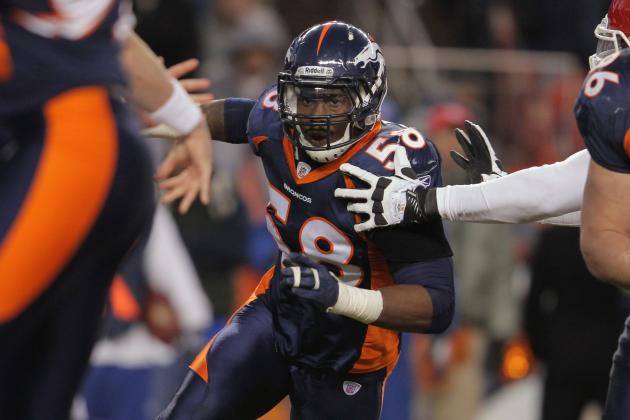 Doug Pensinger/Getty Images

In 2011, Von Miller picked up 11.5 sacks as a 4-3 outside linebacker. He was a rookie playing a brand-new position.
Miller has the potential to change the game. Never before has a 4-3 linebacker offered this type of ability, and it's scary to think what he might do for the Broncos.
There is simply no limit to Miller's potential, and he's already beginning to approach barriers unreached in the NFL.
Jeff Gross/Getty Images

Rob Gronkowski can block, and he is one of the biggest matchup problems in the NFL. The only reason he isn't ranked higher is because his college back injuries still worry me.
Gronk's 90-catch, 1,327-yard, 17-touchdown season would have been incredible for a wide receiver, much less a tight end.
He is a weapon demanding constant attention.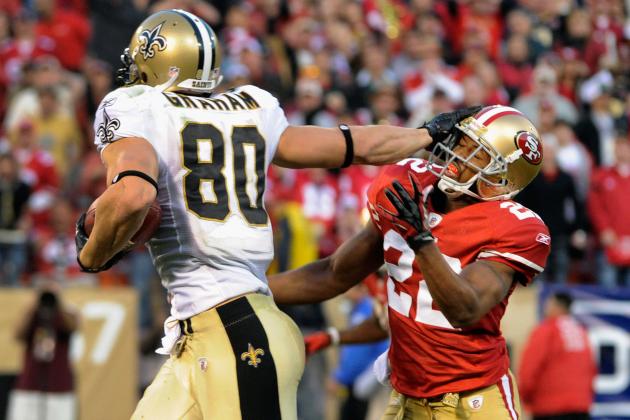 Thearon W. Henderson/Getty Images

A 6'7" former basketball player, Jimmy Graham is the prototype athletic freak. He caught 99 passes for 1,310 yards and 11 touchdowns in 2011. He dominated.
Graham isn't a great blocker, but he is an unbelievable receiver and matchup problem. There is no one who can cover him one-on-one.
And that's a great thing to have on offense.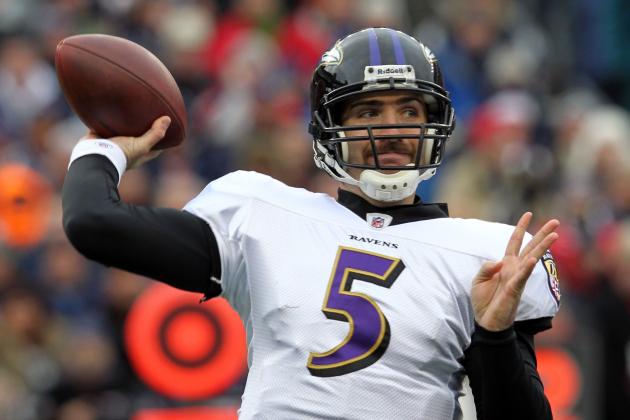 Jim Rogash/Getty Images

A good quarterback since entering the NFL, Joe Flacco has yet to fully utilize his physical ability and cross the threshold to great. By now, it may never happen.
But a good quarterback is still a huge thing to have. Flacco won't lose many games, and he will win some. That's a solid start at quarterback.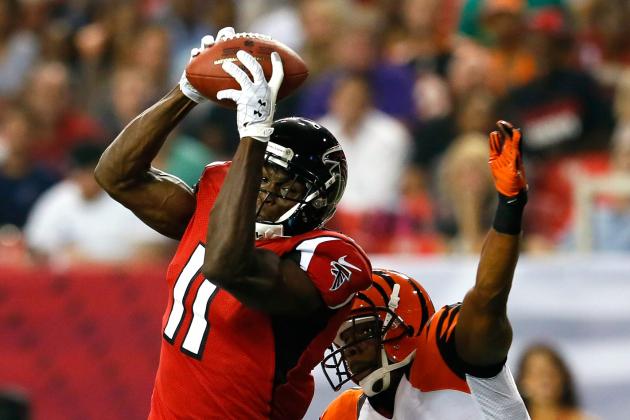 Kevin C. Cox/Getty Images

Julio Jones showed what he can do in 2011. In 13 games, Jones caught 54 passes for 959 yards and eight touchdowns. The only problem is the 13 games. Jones has historically struggled to stay healthy.
On the field, though, Jones is a force. He can stretch the field vertically or work the underneath, breaking tackles and dominating with the ball in his hands. He's as complete of a wideout as there is.
Jones' potential is nearly unlimited, but injuries and drops could still ruin his career.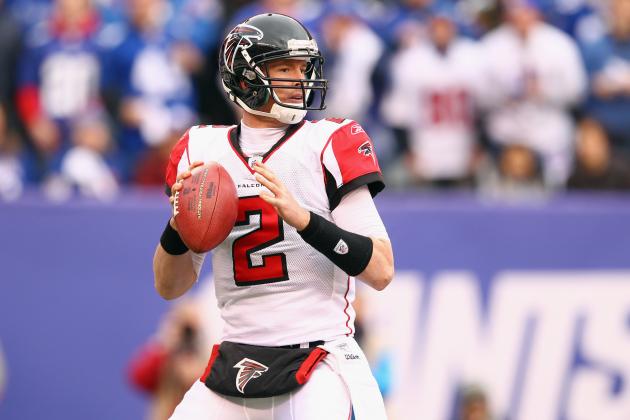 Al Bello/Getty Images

Like fellow 2008 draftee Joe Flacco, Matt Ryan has always been good but rarely great. Ryan is accurate and smart, but doesn't make enough big plays.
The Boston College product works the underneath instead of taking advantage of intermediate and vertical routes. He needs to open up his game a little, and then he can be a great player.
Until that happens, though, Ryan is still a solid quarterback to start a franchise off with.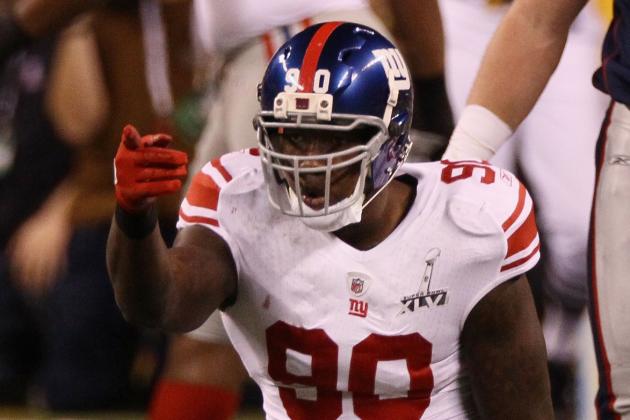 Win McNamee/Getty Images

In 2011, Jason Pierre-Paul was perhaps the NFL's most disruptive defensive player. Pierre-Paul was just 22 years old when he racked up 16.5 sacks and 86 tackles.
As he continues to develop as a pass-rusher, Pierre-Paul will dominate even more. Last year, Pierre-Paul was relying on his physical ability, and he was that good.
Wait until he adds some legitimate pass-rushing skills.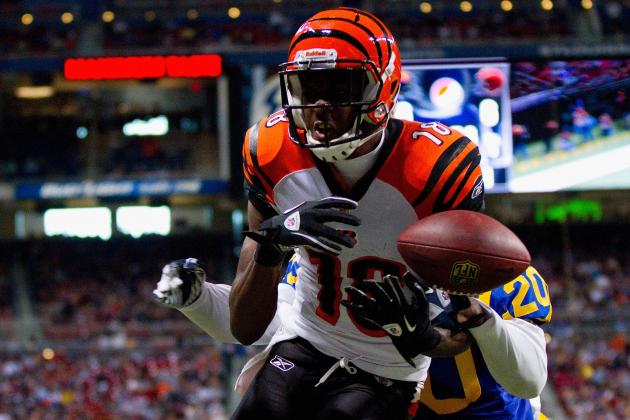 Dilip Vishwanat/Getty Images

As a rookie, A.J. Green was one of the NFL's best wide receivers. The 6'4", 207-pounder is incredibly smooth and uses his size and catching ability to dominate defensive backs.
Green doesn't have much in the way of weaknesses, and as he develops physically and fine tunes parts of his game, he should be nearly unstoppable.
Green opens up the rest of the offense while making quite a few plays himself.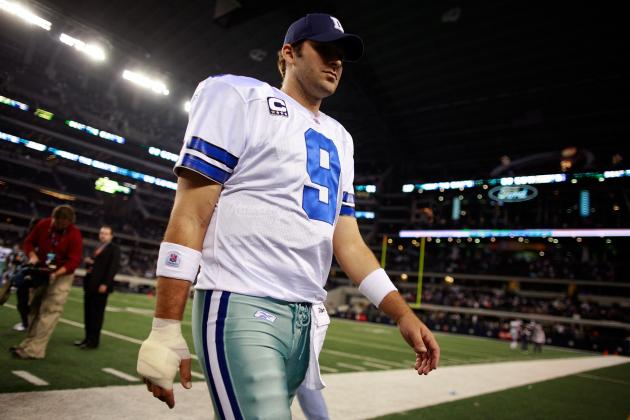 Tom Pennington/Getty Images

A superb athlete, Tony Romo has the physical ability to be an elite player. And he nearly is. However, Romo's poor decision-making is often costly.
Romo is still more than good enough to win, and he'll win a few games without much help. He's a great player. But he is not the elite quarterback teams seek.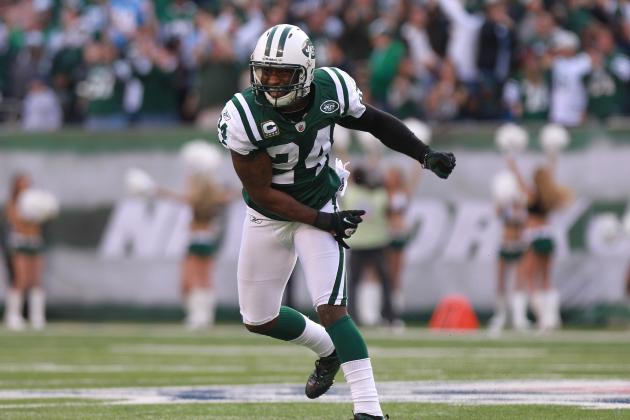 Nick Laham/Getty Images

It's been a long time since the NFL has seen a cornerback like Darrelle Revis. He shuts down whatever wideout he is facing with ease. If the quarterback is dumb enough to throw his way, Revis will occasionally pick up an interception.
Essentially, Revis takes away the offense's best weapon. He puts more pressure on the rest of the offense, and he makes some plays himself. It doesn't get much better than that.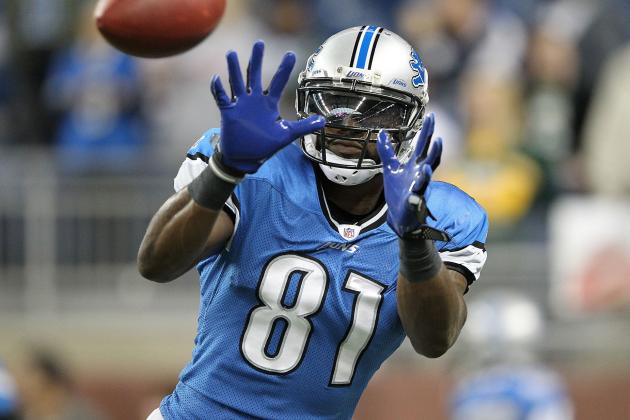 Leon Halip/Getty Images

In 2011, Calvin Johnson put up one of the best receiving years ever. The 6'5", 236-pounder is simply too big, too strong and too athletic to be stopped. Megatron can make an NFL offense by himself.
It doesn't really even matter who is quarterback. I could probably throw the ball to Johnson, and that's saying something.
The fact is that Johnson will catch the ball and make huge plays regardless of how terribly thrown the pass is. He's just that good.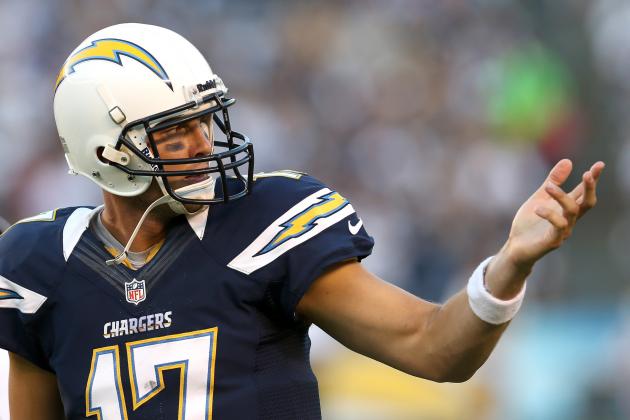 Stephen Dunn/Getty Images

After posting three straight seasons with quarterback ratings of at least 100, Philip Rivers had a bit of a down year in 2011. He was still quite good, but he wasn't dominant.
However, Rivers will likely rebound and continue to tear up the NFL. Without a great supporting cast, Rivers won't dominate like he has previously, but he will still put up great numbers.
At age 30, Rivers still has several great years left.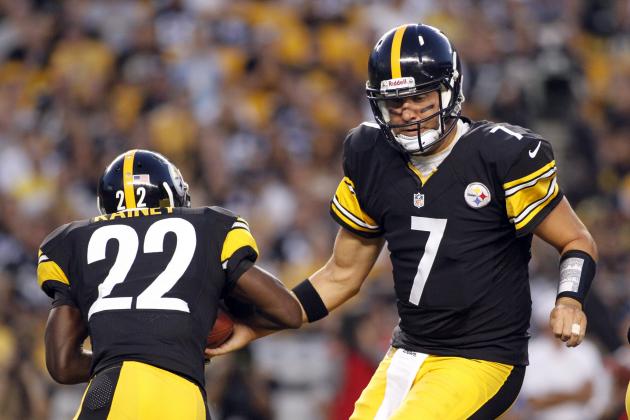 Justin K. Aller/Getty Images

For years, Pittsburgh's offense carried Ben Roethlisberger. But now, make no mistake about it, Roethlisberger carries the Steelers.
Big Ben's size, athleticism and rocket arm make him a dynamic quarterback. He isn't limited in what he can do, and he does everything well.
There's a reason Pittsburgh is still a great team despite its declining defense.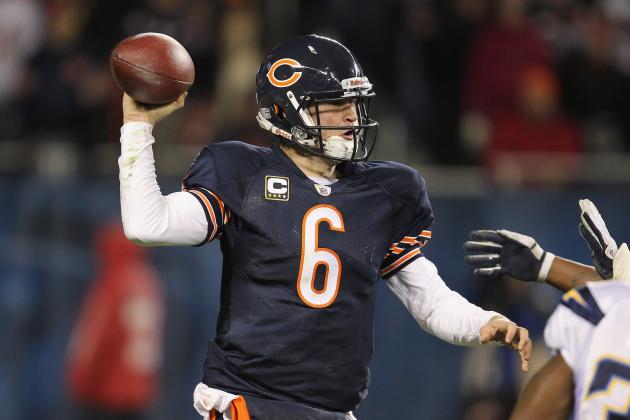 Jonathan Daniel/Getty Images

With some actual talent around him, Jay Cutler could do scary things. Cutler has played on a dreadful offense for most of his career, and he has still played at a high level.
Still just 29 years old, Cutler has time before he starts to physically decline. Even then, Cutler's athleticism and arm strength will be well-above-average.
It will be quite a while before Cutler isn't good enough to carry an offense.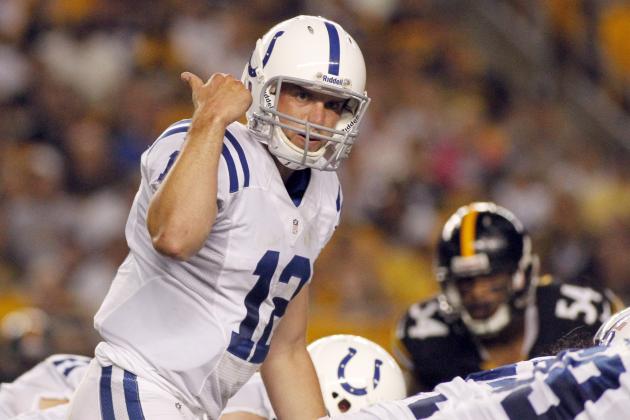 Justin K. Aller/Getty Images

This is a risky pick, but since pretty much everyone agrees Andrew Luck is a combination of all the best quarterbacks ever, it seems like a logical ranking.
Luck is the most NFL-ready quarterback the NFL has ever seen. He has good physical ability to go along with his mental prowess, and there's no reason he shouldn't succeed.
That's not to say something couldn't go wrong. It's just that it's very unlikely. The more likely scenario is that Luck dominates the NFL for 15-plus years.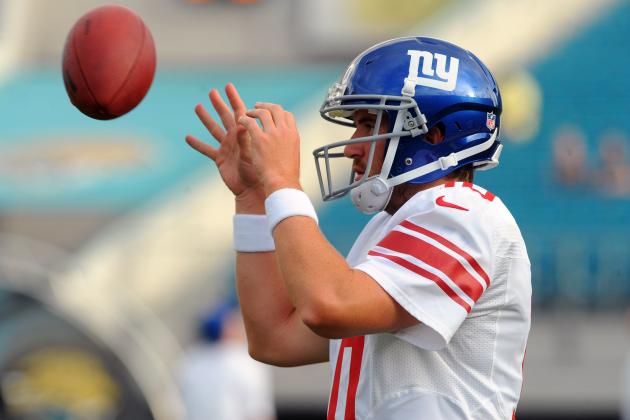 Al Messerschmidt/Getty Images

The winner of two Super Bowls, Eli Manning has developed into a great quarterback. Manning was a disappointment at the beginning of his career, but he is now one of the game's best.
At age 31, Manning is no longer young, but he's not old either. Manning has several years before he starts to seriously decline.
In other words, Manning has won two Super Bowls and is just getting started.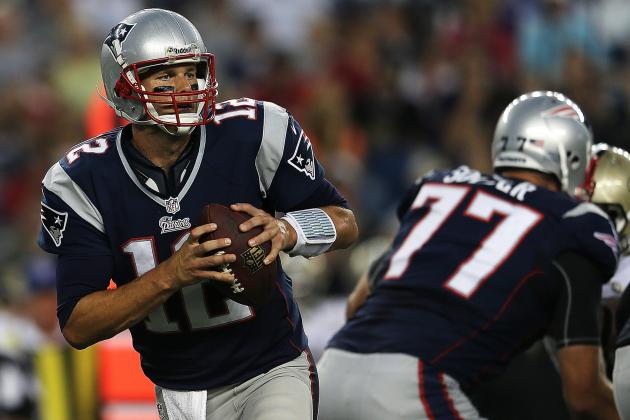 Jim Rogash/Getty Images

Perhaps the NFL's second-best quarterback, Tom Brady loses points here for age. Brady doesn't have a ton of time left atop the NFL.
Right now, Brady is a nearly flawless player. He's deadly accurate, he has a rocket arm and he reads defenses with ease. Before too long, though, Brady's ball will begin to lose its zip, and his reactions will slow just a bit.
That's enough, even for someone as good as Brady, to fall back down to earth.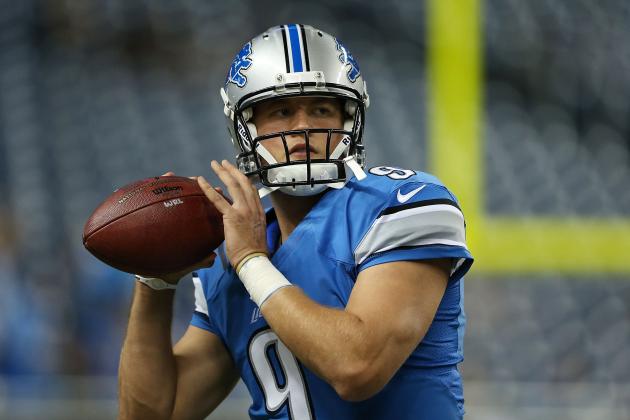 Leon Halip/Getty Images

Matthew Stafford is just 24 years old, and he is one of four players to pass for at least 5,000 yards in a single season. If that doesn't tell how good Stafford is, nothing does.
Stafford dominates because of his arm. Few players can throw it as hard as he can, and those who can aren't as accurate.
The former No 1 overall pick has a decade before his arm and reactions start to decline, and he's already an elite player. There's no telling what Stafford could accomplish before his career is up.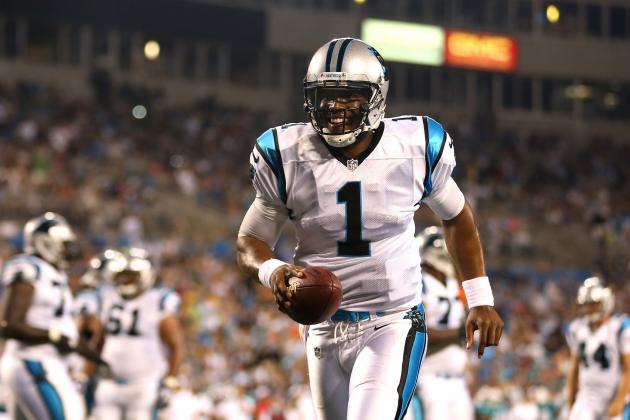 Streeter Lecka/Getty Images

Despite having played just one NFL season, Cam Newton has established himself as a premier player. Newton could possibly regress and never make much of a career in the NFL. Or he could completely revolutionize the game of football.
The fact is that the NFL has never seen someone like Newton. The 6'5", 245-pounder can run like few quarterbacks can, and he can throw the ball at an equally impressive level.
No one has ever had this combination of size, athleticism and arm strength before.
That's why Newton, at age 23, has more potential than anyone in NFL history.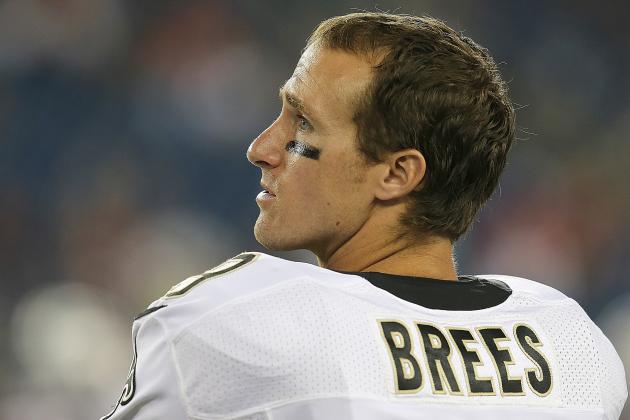 Jim Rogash/Getty Images

Despite dominating for quite a while now, Drew Brees still seems a bit underrated. He is among the most accurate players ever, the most productive players ever and the highest paid players ever. Yet everyone seems to think Tom Brady is so much better than him.
Brees is younger than Brady at age 33, and he isn't much, if at all, worse of a player. The Saints star doesn't need much talent around him to dominate, and defenses can't really stop him.
Brees wins games by himself, and he has a Super Bowl ring to show for it.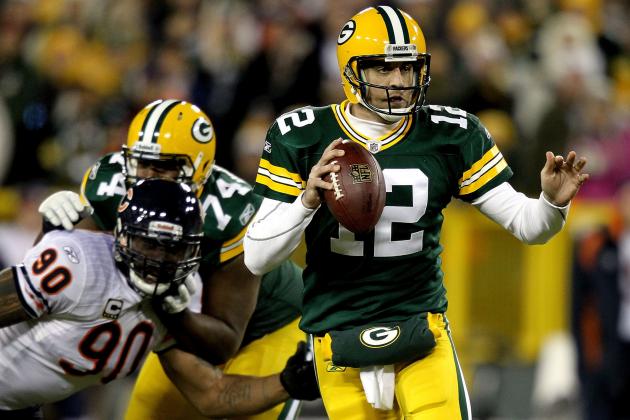 Matthew Stockman/Getty Images

How could anyone else be No. 1?
Aaron Rodgers is just 28 years old and just finished what is possibly the best quarterback season ever. No other player is nearly as good as he is, and he has a decade left in the NFL.
Why would anyone else even be in consideration for the top spot?
Rodgers has talent around him, sure, but he is smart, quick-thinking and extremely talented. He makes throws few others can, combining rare arm strength with incredible accuracy.
That's not even mentioning his athleticism and ability to make plays on the move.
When it's all said and done, Rodgers could go down as the best quarterback ever. And he's not even in his prime yet.