Biggest Winners and Losers of the 2012 NFL Preseason, so Far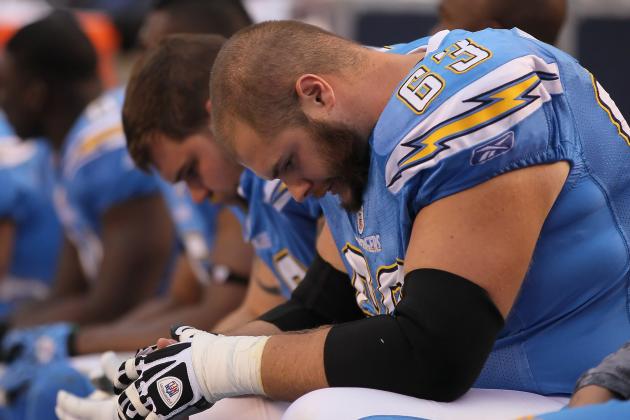 Jeff Gross/Getty Images

The NFL preseason is a dangerous thing. It's football, but not quite. It's real live action, but not really. Teams and players are playing, but not actually.
Evaluating players and teams when starters and backups are flexing in and out is tough. Judging teams and players when the points matter as much as they do in the old comedy improv show Whose Line is it Anyway? (they don't) is practically impossible.
But there are some performances so excellent, so undeniably great, that there's no way to take them as anything but good news. And there are some performances so wretched you know they won't be getting any better when the lights really go on in September.
Then you have the teams that have bet the farm on this year's draftees and free-agent signees. The early returns on the new players can be crucial to the way the coach uses them—not to mention their confidence. Which teams can officially start counting their chickens, and which teams' playoff hopes are cracked?
Here are the big winners and losers of the 2012 NFL preseason, so far.
Begin Slideshow

»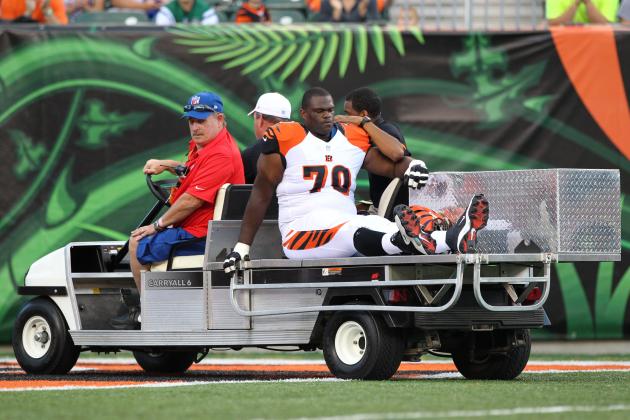 Matthew Emmons-US PRESSWIRE

The Cincinnati Bengals are 2-0 after the first two games of the preseason. But the No. 1 goal of preseason football is not to win—it's to escape intact.
Three plays into his first preseason game as a Bengal, free-agent signee guard Travelle Wharton was lost for the season with a right knee injury, according to Paul Dehner Jr. of CBS Sports.
The Bengals had already lost defensive end Robert Geathers until Sept. 10, and they lost his replacement Carlos Dunlap for even longer, per the Cincinnati Enquirer's Joe Reedy.
Rey Maualuga and Jermaine Gresham also picked up knocks; if the Bengals can't get through the remaining preseason games without losing anyone else, they won't do a lot of winning in the regular season.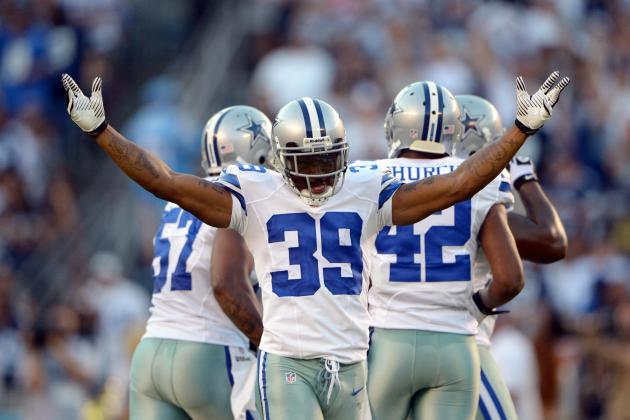 Kirby Lee-US PRESSWIRE

Dallas Cowboys first-round rookie Morris Claiborne was supposed to anchor a shaky secondary.
Instead, Claiborne has struggled with injury, and according to Jon Machota of the Dallas Morning News, Brandon Carr has been the best defensive back on the practice field.
Better yet, it's shown on the field: Carr intercepted the Chargers' Philip Rivers twice in their second preseason game.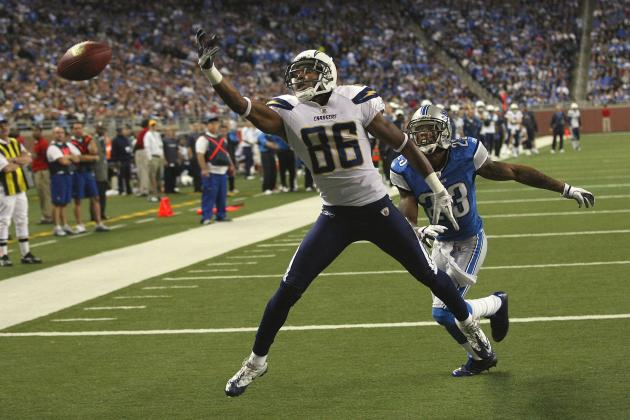 Dave Reginek/Getty Images

After losing star receiver Vincent Jackson to free agency, sophomore wideout Vincent Brown had an opportunity to step up.
Unfortunately, he won't be doing much stepping for the next eight weeks: According to ESPN's John Clayton, Brown will be out at least that long after breaking his ankle against the Dallas Cowboys.
The Chargers, who've struggled to move the ball through the air, will be relying on oft-injured targets Robert Meachem, Malcom Floyd and Eddie Royal.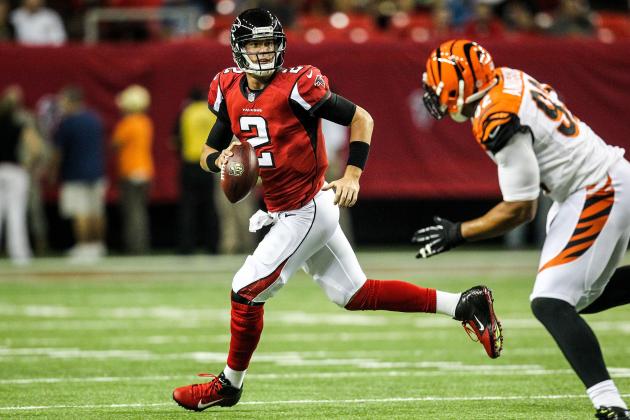 Daniel Shirey-US PRESSWIRE

The Atlanta Falcons are 0-2 so far in the preseason, but their first-team offense is flying so high, there's no doubt they're going to be a force to be reckoned with in the regular season.
Quarterback Matt Ryan is in especially fine form, completing 27-of-34 for 329 yards and two touchdowns.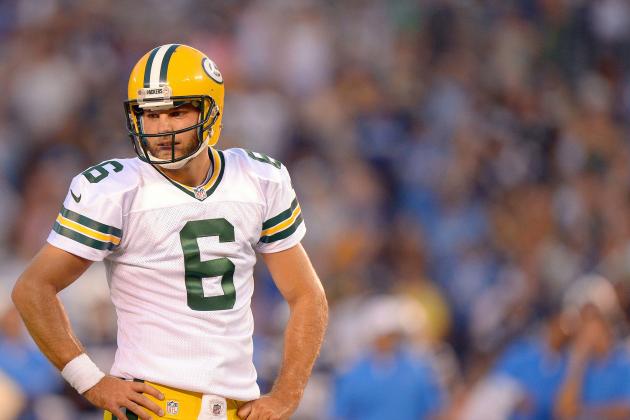 Jake Roth-US PRESSWIRE

With Matt Flynn off to Seattle, the Packers had to get a new No. 2 behind Aaron Rodgers. The man for the job was apparently going to be Graham Harrell, but something funny happened on the way to the regular season.
Against the Cleveland Browns, Harrell took a pratfall, to the tune of two interceptions and a safety. He completed just 12-of-24 for 100 yards, and he didn't look good doing it.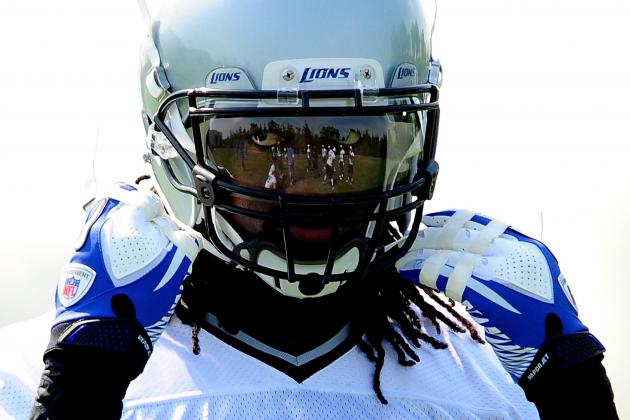 Andrew Weber-US PRESSWIRE

With starting defensive end Kyle Vanden Bosch sitting out much of training camp due to injury and the other starting defensive end Cliff Avril sitting out much of training camp due to a contract holdout, Willie Young had a chance to make a big impression.
He did.
Young had a sack-fumble of Cleveland Browns quarterback Brandon Weeden in the first preseason game, and he blocked a Baltimore Ravens punt from the defensive tackle spot in the second.
Young also poured the pressure on in relief, giving the Lions a viable threat to spell (or replace) either starter as needed.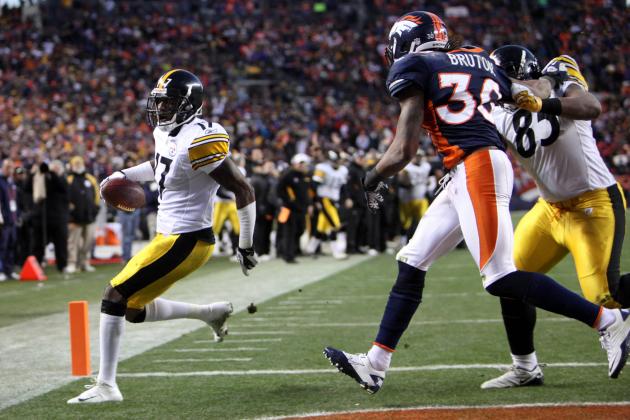 Chris Humphreys-US PRESSWIRE

Mike Wallace is a talented wide receiver, but perhaps he's not so great a negotiator. After the Steelers offered him a sizable extension, according to Yahoo!'s Doug Farrar, he held out for much more.
The Steelers then gave that same extension to receiver Antonio Brown, who in the second preseason game tore the Colts up with an amazing 57-yard touchdown catch (and flip into the end zone).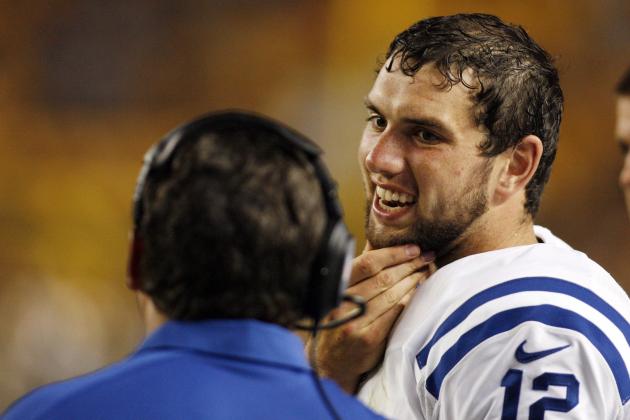 Charles LeClaire-US PRESSWIRE

The No. 1 overall pick is, more often than not, spent on a quarterback. But No. 1 overall quarterbacks are, more often than not, not worth that lofty draft status.
The Indianapolis Colts made a bold choice, letting future Hall of Fame quarterback Peyton Manning seek his fortune in Denver in favor of Andrew Luck.
Luck hasn't been perfect through the first two games, but a dismantling of the St. Louis Rams and valiant effort against the Pittsburgh Steelers proves Luck's talent pops off NFL fields as much as it did off of NCAA fields.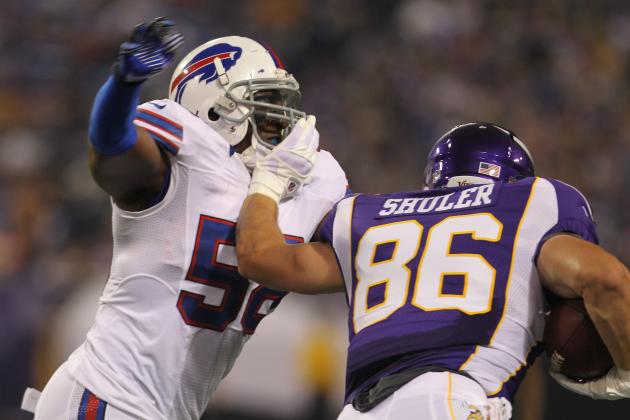 Brace Hemmelgarn-US PRESSWIRE

Winning isn't everything in the preseason, or even really much of anything. But not only are the Bills 0-2, they're looking just as moribund as they did during their 1-8 run at the end of 2011. They've been outscored 17-3 in the first quarters of their two preseason games and 26-10 in the first halves.
Quarterback Ryan Fitzpatrick has been as hot-and-cold as ever, netting a passer rating of 56.0 against Washington and 115.0 against Minnesota. He'll have to be more consistent if the Bills are going to avoid another collapse in 2012.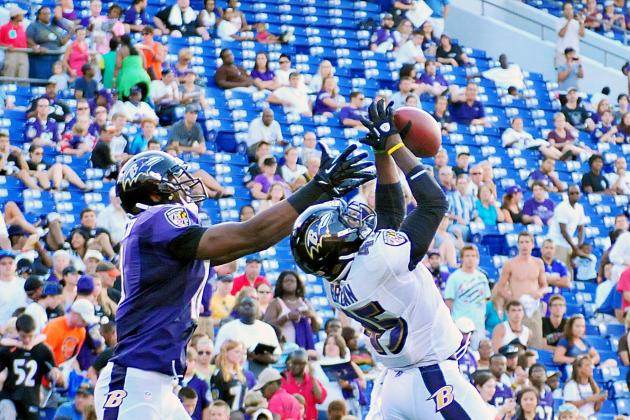 Evan Habeeb-US PRESSWIRE

Omar Brown has had an unforgettable preseason so far: In the first game, against the Atlanta Falcons, Brown had two fumble recoveries and an interception.
In the second game, against the Detroit Lions, Brown had another three recoveries—of a blocked punt, an onside kick and a loose ball near his own goal line.
It's hard to see the Turk coming for Brown with all of those key plays fresh in John Harbaugh's mind.
Al Bello/Getty Images

The New York Jets are in deep trouble. They put their starting quarterback Mark Sanchez in a terrible spot (ahead of the world's most famous backup quarterback), and they've failed to protect him both literally (with offensive linemen) and figuratively (with an elite running game and defense).
The Jets got blasted, 26-3, by their rivals and stadium-mates the New York Giants. Combined with their performance against the Cincinnati Bengals, the Jets were outscored 23-3 in the combined first halves. The Jets are going to have to get their offense figured out, and fast.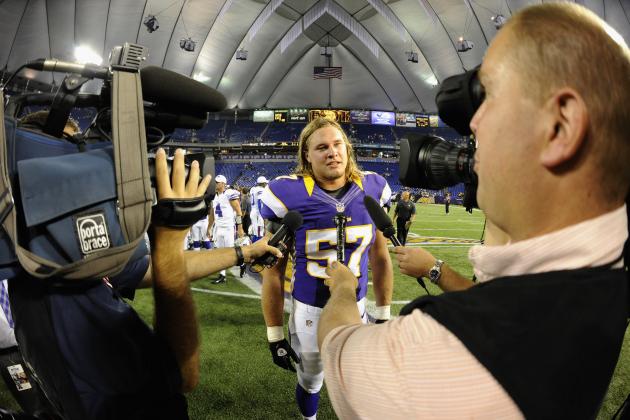 Hannah Foslien/Getty Images

Minnesota Vikings linebacker Audie Cole was drafted in the seventh round of the 2012 draft, and anything he can do to stick out in coaches' minds could be the difference between making the team and making travel arrangements for home.
Back-to-back pick-sixes ought to do the trick.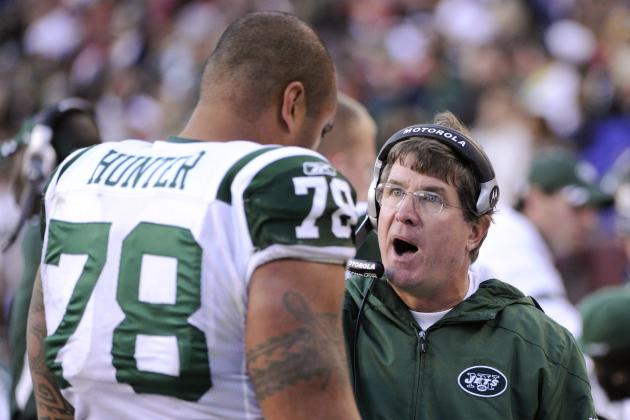 Howard Smith-US PRESSWIRE

They say when you never hear an offensive lineman's name, he's doing a great job.
So what if a lineman's name is trending on Twitter in the United States, as Manish Mehta of the New York Daily News noted Wayne Hunter's did during the game against Buffalo?
It probably means he didn't do very well—and indeed, he didn't: Hunter allowed four sacks in the just the first half of the Jets' second preseason game. If he begins the season as the Jets' starting right tackle, it's terrible news for their offense.