Giants vs. Jets: Score, Twitter Reaction, Recap and More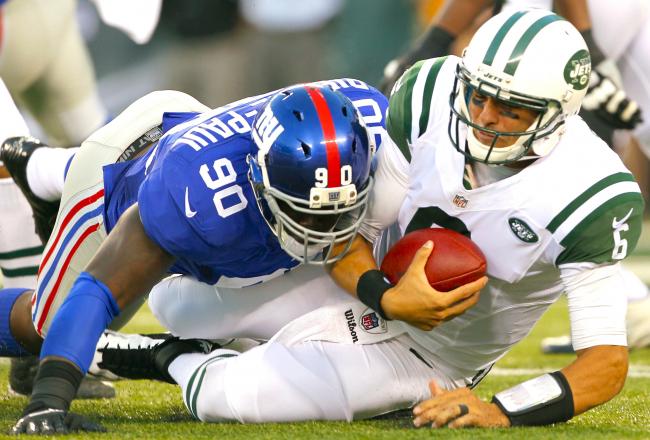 The New York Giants and New York Jets engaged in their annual preseason contest at Met-Life Stadium on Saturday, and the Giants ruled the Big Apple once again. They won the game 26-3, much to the delight of those fans arrayed in blue.
Neither starting quarterback fared well.
Eli Manning threw an interception to LaRon Landry, who looked pretty decent, by the way. Mark Sanchez took it one step further when he threw an ill-advised pass well off target that was intercepted and returned for a touchdown by Jayron Hosley.
As if we needed further proof that Wayne Hunter isn't fit to start, the offensive tackle whiffed so many times in pass-blocking situations that it looked like he should have been wearing blue instead of green.
Tim Tebow looked pretty decent for a while, guiding the offense on a 14-play, 68-yard drive that resulted in the first and only points the Jets managed to scrounge on the night. Just to make things interesting, though, he couldn't hit the broad side of a barn the rest of the way.
Tweets of the Night
Not Marv Albert got us started with a little quip:
Jets Vs Giants: the battle for NY bragging rights!Unless, of course, Superbowls matter.

— Marv Albert (@NotMarvAlbert) August 18, 2012
ESPNNewYork.com's Rich Cimini didn't take long to chime in on his thoughts regarding the horrible offensive production of the Jets:
Jets offense -- 8 plays, 1 first down. Forget the Wildcat, might be a good time to break out their regular offense. #Jets

— Rich

Cimini

(@RichCimini) August 18, 2012
Ahmad Bradshaw went out of the game early with a hand injury, but according to Ralph Vacchiano of the New York Daily News, he didn't break any bones. Big-time bullet dodged with that one:
The Giants say the X-Rays on Ahmad Bradshaw's hand were negative. He's got it wrapped though now, with ice. #NYG

— Ralph

Vacchiano

(@RVacchianoNYDN) August 19, 2012
Cimini chimes in again with a dig at the offense:
Interception by Landry. Maybe they should use him at WR. #Jets

— Rich

Cimini

(@RichCimini) August 19, 2012
Finally, the coup de grâce, from NFL Network's Albert Breer:
Giants rushers don't even need to put moves on Hunter. They're just going around him like the dude is a tour-guide-to-the-quarterback.

— Albert

Breer

(@AlbertBreer) August 19, 2012
Grades for Key Giants Players
Eli Manning: D+
Manning is going to wish he could just forget about his performance against the Jets. He only completed 50 percent of his passes, throwing one interception and zero touchdowns.
Manning looked good early on, hitting Victor Cruz on a number of good-looking timing plays, but he started faltering midway through the first quarter and things went downhill from there.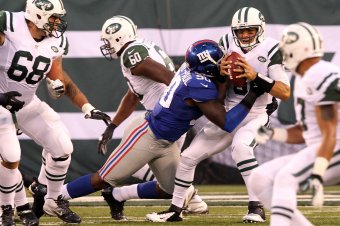 Brad Penner-US PRESSWIRE
Jason Pierre-Paul: A
JPP looked as deadly as ever against the Jets. Of course, it surely didn't hurt that he was going up against Wayne Hunter and the Jets' anemic, porous offensive line.
Still, two sacks in less than a half are noteworthy, regardless of who he was facing.
Grades for Key Jets Players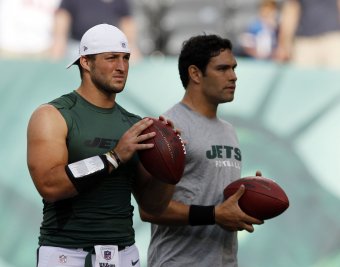 Tell me Tebow isn't making Sanchez worse.
The Star-Ledger-US PRESSWIRE
Mark Sanchez: C
Sanchez did some good things against the Giants on Saturday, especially considering the atrocity that was his offensive line. But, and there always seems to be a but when you're talking about Sanchez, he threw a pick-six to Jayron Hosley in the second quarter that killed his evening.
Wayne Hunter: F
I have never seen such ineptitude from a starting NFL tackle. There isn't anything else to say.
Game MVP: Jayron Hosley
Mark Dolejs-US PRESSWIRE
Hosley's interception for a touchdown in the second quarter was the biggest play of the game, and it was also a beautiful all-around play. In a game devoid of offensive production, it's apt that a defender would be the game's MVP.
Not bad for a third-round rookie, and it sure looks like the Giants have found another mid- to late-round steal.
What's Next?
The Giants get to stay home for their next opponent. The Chicago Bears will come into town next week for a Friday night game, in what could be a preview of the 2012 NFC Championship game. The two teams will kickoff at 8:00 p.m. ET.
Thanks to the beauty of a flexible schedule and ridiculously hard-working and under-appreciated crew at Met-Life Stadium, the Jets will also stay home for their next preseason opponent. They will host the Carolina Panthers on Saturday at 7:00 p.m. ET.
The Jets still have a sticky situation on offense. The offensive line is terrible, and neither Sanchez nor Tebow have been impressive early on this season.
The Giants need to improve as well, especially in the running game. Both defenses have shown some good things and some bad things, but that's what the preseason is for.
Follow me on Twitter @JesseReed78.
This article is
What is the duplicate article?
Why is this article offensive?
Where is this article plagiarized from?
Why is this article poorly edited?