Giants vs. Jets: Four-Quarter Grades for Gang Green's 26-3 Loss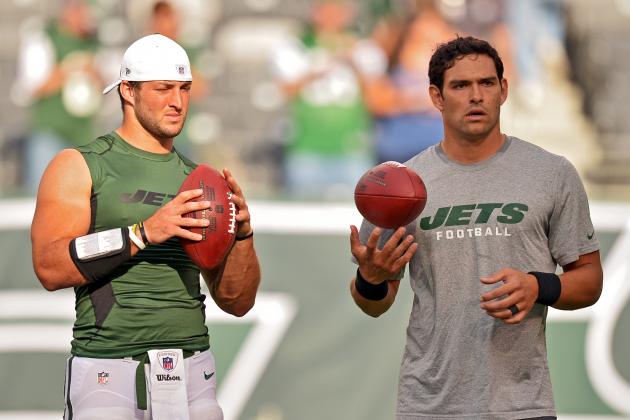 Drew Hallowell/Getty Images

The New York Jets failed to score a touchdown for the second consecutive game, but luckily, they were not looking to exact revenge on the New York Giants for the game on Christmas Eve.
Instead, they were just looking to prove themselves to their coaches; some were looking for starting spots, others were looking for roster spots.
Unfortunately for the Jets, the side effect of losing 26-3 is that a lot of them only proved that there's a lot of work to do before the regular season starts.
Here are my grades for the Jets in their second preseason game.
Begin Slideshow

»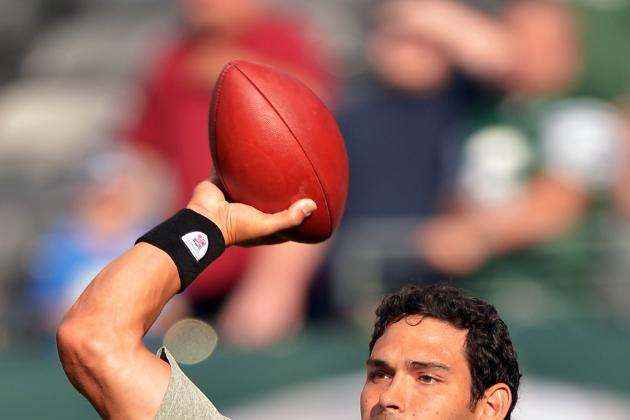 Drew Hallowell/Getty Images

Q1: B+
Q2: D+
Q3: A
Q4: D
OVERALL: C+
It was a tale of two quarters for Mark Sanchez. The Jets largely took the ball out of his hands in the first quarter, calling three pass plays and five run plays on the two opening series.
He finished the night 9-of-11 for 59 yards and an interception. His accuracy was solid for the most part, despite an overthrown ball to wide receiver Patrick Turner, but he hardly threw any balls deeper than 10 yards, averaging just 6.6 yards per attempt on the night.
The pick six was a poorly thrown ball off his back foot and a pass he had no business making with cornerback Jayron Hosley in tight coverage on his target—Turner.
It all appeared to be going according to the script for Tim Tebow on the first drive. He went 4-of-5 for 52 yards, adding two rushes for five yards as he marched the Jets down the field before stalling out in the red zone. Tebow showed command of both the offense and of his throws on the first drive.
Then, it got ugly and stayed ugly, with Tebow's trademark overthrows and underthrows dotting the "i" on his performance against the Giants. After that first drive, Tebow completed just one more pass.
It didn't help either quarterback, though, that the offensive line didn't seem to want to block anyone. Sanchez was sacked three times, and Tebow was sacked four times.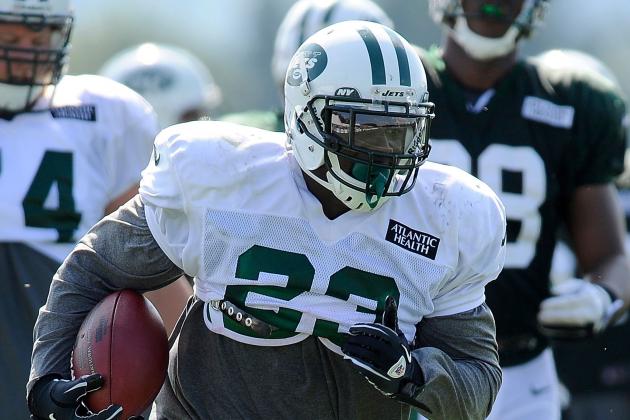 Rich Barnes-US PRESSWIRE

Q1: B-
Q2: C-
Q3: B+
Q4: C+
OVERALL: C+
Shonn Greene capitalized on some good holes in the running game, but there were a few times where he ran directly into the backs of his blockers. That continued in the second quarter.
Of course, it would have helped if the offensive line was opening up any holes against the Giants front four. But still, you'd like to see him at least try to bounce the run outside if the inside is closed off.
When the holes were there, Greene looked OK and picked up solid yards. But when asked to improvise, it was not pretty.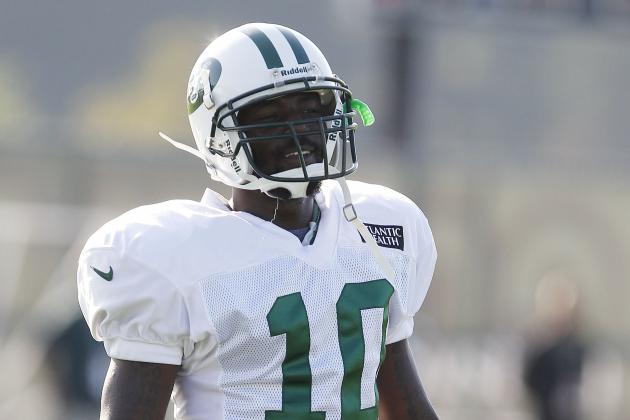 The Star-Ledger-US PRESSWIRE

Q1: C+
Q2: B-
Q3: A-
Q4: B-
OVERALL: B-
It's hard to evaluate the wide receivers when the offense only throws 10 passes in the first half, especially when only three of them are caught by wide receivers.
Jordan White was brought down quickly on a pair of screen plays, unable to break a tackle both times. Patrick Turner had a nice catch on a pass that was a bit overthrown, but also dropped a pass that he should have caught.
The receivers struggled to get separation off the Giants' defensive backs, which resulted in Sanchez holding onto the ball too long and taking a pair of sacks.
Stephen Hill looked solid in the third quarter, with two receptions on Tebow's first drive. Both of his catches came on out routes. One knock on Hill coming out of college was that he couldn't run more than a few routes.
Overall, the Jets wide receiver corps didn't look incredible. White and Turner had some moments and could end up being solid depth for the Jets, but they still lack big-play threats in the passing game.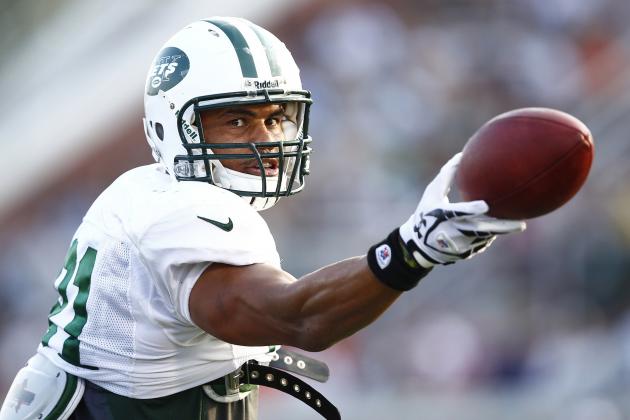 Mark L. Baer-US PRESSWIRE

Q1: B-
Q2: B-
Q3: B+
Q4: B-
OVERALL: B-
The Jets tight ends figure to be a bit more valuable in the passing game than people give them credit for; the reason being that their offense lacks big-play threats.
Tight ends Dustin Keller and Jeff Cumberland combined for four of the team's 13 receptions through the third quarter.
The lack of a run-blocking tight end reared its ugly head on a few running plays in the first half, with a few outside runs being stuffed because of poor blocking by the tight ends.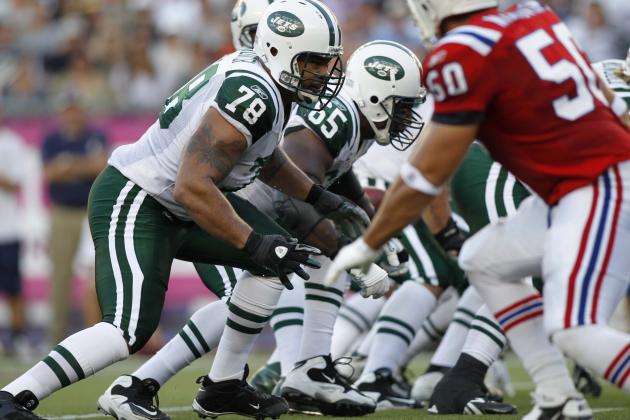 Greg M. Cooper-US PRESSWIRE

Q1: B-
Q2: D+
Q3: B-
Q4: D-
OVERALL: C-
Center Nick Mangold had a few solid blocks in the running game in the first half, but as a whole, the Jets' offensive line got pushed around by a four-man rush that is considered among the best in football, specifically in the passing game. The Jets gave up six sacks on the night.
And, of course, Wayne Hunter gave up a pair of sacks. Go figure. It would have been three were it not for an offside penalty. The Jets gave up three sacks on Mark Sanchez in the first half.
The second half wasn't much better. Pressure was constantly in Tebow's face, with the quarterback scrambling around the pocket on a couple of pass plays. They also failed to open up any holes on multiple run plays that were stuffed at the line of scrimmage, with the offense averaging 3.2 yards per carry in the second half.
In total, the Jets' offensive line gave up seven sacks.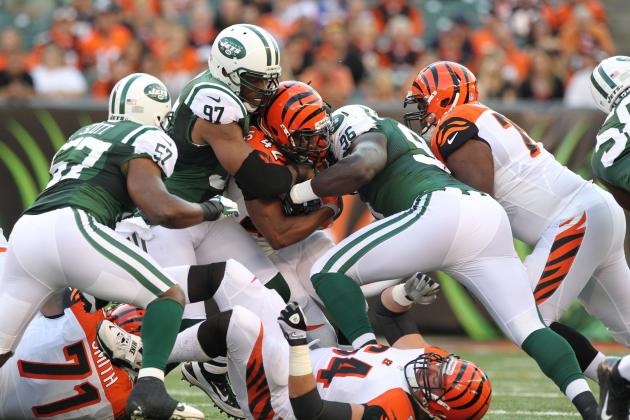 Matthew Emmons-US PRESSWIRE

Q1: B-
Q2: A-
Q3: C+
Q4: A
OVERALL: B+
The Jets' defensive front was a mixed bag, with gaping holes against the run on a pair of plays in the first quarter as the Giants ran right at Quinton Coples.
They held the Giants to seven carries for 20 yards in the first quarter, but gave up ground on a few key rushes that went for first downs. They got minimal pressure rushing Eli Manning, but largely struggled in that area, as well.
They improved their push against the run in the second quarter, holding the Giants to minus-one yard rushing. Their push off the ball was impressive, especially up the middle with Kenrick Ellis and Muhammad Wilkerson.
Coples made an impression in the second half, though, with a run stuff and a sack. The defensive line as a whole got much better pass rush in the fourth quarter.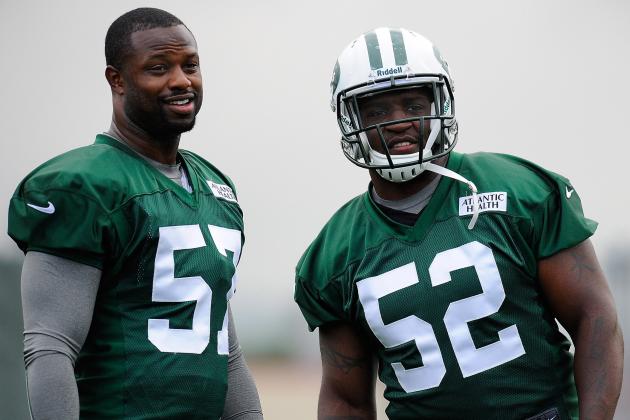 Rich Barnes-US PRESSWIRE

Q1: B+
Q2: A-
Q3: B+
Q4: B+
OVERALL: B+
Bart Scott's revenge tour has begun. He laid a pair of huge hits on running back D.J. Ware, shooting gaps both times to bring down the runner behind or short of the line of scrimmage. He then put a solid lick on Eli Manning on a third-down pass play.
Overall, the Jets linebackers gave up just one reception to a tight end through the third quarter. Covering tight ends was a huge struggle spot for the Jets defense last year. They also made good reads when blitzing through gaps, which will be important if the Jets are hit by injury at linebacker as they were last year.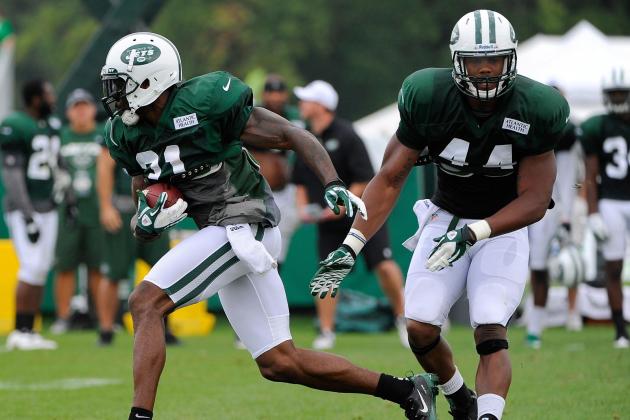 Rich Barnes-US PRESSWIRE

Q1: A-
Q2: B+
Q3: C
Q4: C+
OVERALL: B-
Revis gets an A. Everyone covering Victor Cruz gets an F.
In all seriousness, Manning and Cruz put on a clinic, connecting on 5-of-7 first-quarter targets for 51 yards. Safeties LaRon Landry and Yeremiah Bell both looked solid in run defense, and each contributed on some tackles against Cruz in the passing game.
Landry's interception off Eli Manning was a gift. It was an awful and errant throw by Manning as he was pressured by defensive linemen Mike Devito. He held onto the ball for far too long, allowing Devito to get the pressure.
In the third quarter, defensive back Julian Posey gave up a huge reception to Giants receiver Rueben Randle over the top and a pass interference later in the third quarter. Posey has been among a group of backup defensive backs that have struggled in training camp.
He was determined to get in on the next play, though, and came up to make the run stop. Rookie safety Antonio Allen laid a huge hit on Giants receiver Jerrel Jernigan, stopping him short of the first-down marker.
Oh, and they're still trying to tackle Jernigan.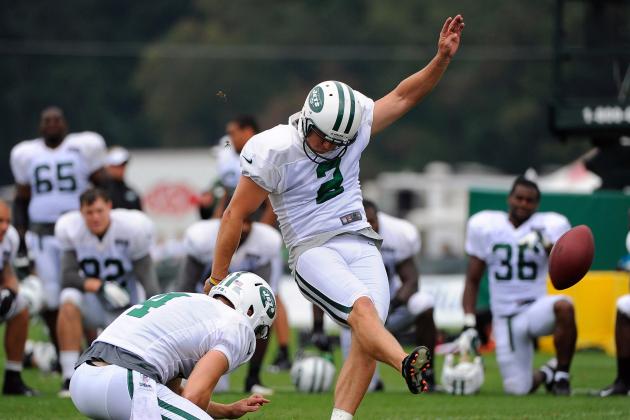 Rich Barnes-US PRESSWIRE

Q1: F
Q2: A
Q3: A
Q4: F
OVERALL: C-
The first quarter was marred by mental errors, from penalties to returning kicks from deep in the end zone to missed blocks.
First, the Jets' defensive stand on the Giants' first drive was usurped by a roughing-the-kicker penalty on running back Joe McKnight. Then, McKnight returned a kickoff out of the end zone, picking up 12 yards which were then cut in half by a holding penalty on Josh Baker.
They turned it around in the second quarter, though, with a blocked punt by defensive end Aaron Maybin. McKnight redeemed his penalty with a nice return that set the Jets up at the 45-yard line. Punter T.J. Conley pinned the Giants at the 1-yard line on a beautiful punt just before halftime.
The real story of the second half was the two shanked punts by T.J. Conley, which netted 19 and 23 yards. The Jets might want to look into that.