Fantasy Football: 10 Veterans That Will Lose a Step in 2012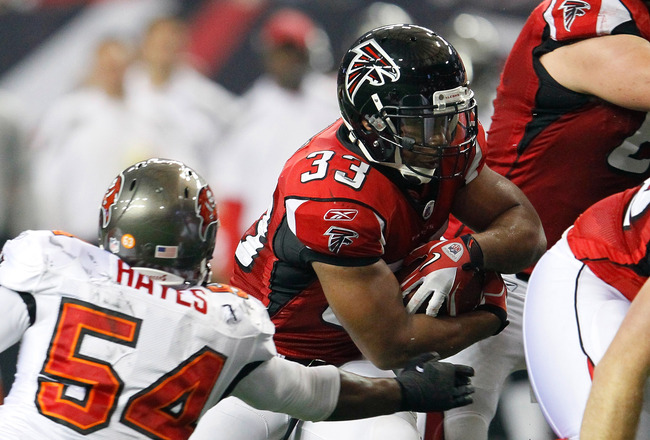 Kevin C. Cox/Getty Images
It's a trend we see every year: big-name players who most likely won you a championship in years past, get drafted way too early and barely have anything left today.
Well, let me help you sift through all this rubbish and shine light on 10 former fantasy studs that probably won't put up those elite numbers for you this season.
These guys have definitely lost a step. Whether it was lost last season and it's only going to continue regressing this year, or if I'm predicting it will begin to happen this season, the step is just not there any more.
Let me also be clear that I wouldn't mind most of these guys on my fantasy roster this year. Most of these players will end up being serviceable fantasy assets in 2012, but just not for the value you'd get them in the draft.
Here are 10 old geezers that have lost a step heading in to the 2012 NFL season.
Frank Gore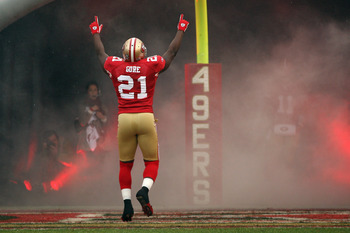 Ezra Shaw/Getty Images
The 2011 season was basically a tale of two halves for San Francisco 49ers' running back Frank Gore.
In the first half of the season, the 29-year-old looked like the Gore of old by rushing for 782 yards and five touchdowns in the first eight games.
However, the second half of the season, Gore failed to break the 90-yard mark for a game total. And that's the half that should concern his fantasy owners.
There's no question that Gore often finds himself on the bench due to of some sort of injury, which also isn't helping his cause. However, the 49ers did find a way to keep him on the field for a full season last year by intensely monitoring his workload.
That to me is a win-lose for Gore (win; he's healthy, lose; his carries are cut).
There just isn't a whole lost fantasy-wise that is working in Gore's favor this season.
Andre Johnson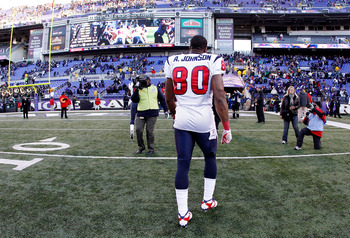 Rob Carr/Getty Images
After being available in only seven games for the Houston Texans last season, my main concern regarding Andre Johnson is whether he'll be the aggressor this season or play more tentatively in 2012.
He's still one of the most talented pass-catchers we have in the game today; that obviously won't change, but his injury concerns force me to add him on this list.
Entering 2012 and beyond I think the days of Andre Johnson being a top three wide receiver in the NFL are over. I'm confident in saying that top five isn't likely either.
He's still a player I want on my team, like most of these guys, but not in the over-drafted, late-first, early-second that you're likely to see him taken based upon name value only.
Willis McGahee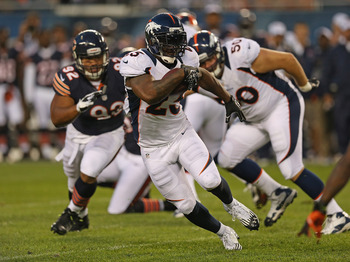 Jonathan Daniel/Getty Images
Much of Willis McGahee's resurgence in 2011 has to be credited to Tim Tebow's presence in the backfield which left defenses on edge and created massive running lanes for Denver's running backs.
However, you can't overlook the fact that it had been four full season since the last time McGahee even broke 700 yards rushing, leaving me to believe that this year's stats won't mirror his 2011 stats.
Willis McGahee will turn 31 years old during the 2012 season, and he already has a laundry list of injuries that have hampered his promising career to this point.
He'll be the primary back in the Peyton Manning offense this season, but don't think for a second that his production will be a high as it was in Tebow's, so proceed with extreme caution when deciding on who your second running back will be this season.
Reggie Wayne
Andy Lyons/Getty Images
I'm not going to lie, Reggie Wayne has already lost one or two steps prior to this season. He's on here because I think we're going to see his last step in 2012.
Last year Wayne produced his lowest yardage and touchdown totals since 2003 at 960 yards and four touchdowns. Much of that has to be attributed to the fact that Curtis Painter was his quarterback, but I'm not going to overlook the fact that he's 33 and it definitely showed on the field.
I will say this, I am pretty excited to see the contrast of old school (Wayne) and a new school quarterback like Andrew Luck in his rookie season.
We'll see what kind of relationship the two can form at the end of Wayne's career and how he will to help Luck become an elite quarterback with his experience and the fact that he once caught like a million passes from Peyton Manning.
Brandon Lloyd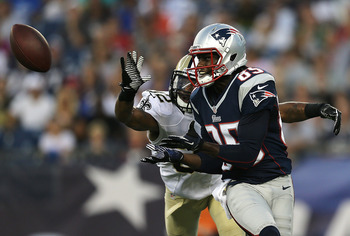 Jim Rogash/Getty Images
Brandon Lloyd's career is one of the most perplexing stories you could possibly tell because prior to his 2010 breakout season (1,448 yards and 11 touchdowns), Lloyd had never even surpassed 700 yards in his previous seven season.
Now, as he's joining Tom Brady and the New England Patriots everyone is expecting to see similar results from the 31-year-old wide receiver with the same Brady-Randy Moss fireworks from 2007.
Let me tell you one thing: That's not going to happen. Lloyd, while talented, doesn't possess the same on-field magic that Moss had.
Brandon Lloyd is aging fast, and he's taken a lot of hits in his career. He's still got juice left in the tank and will produce, but let's not forget that he's still probably only the third option behind Rob Gronkowski and Wes Welker on Brady's list of top targets.
Michael Turner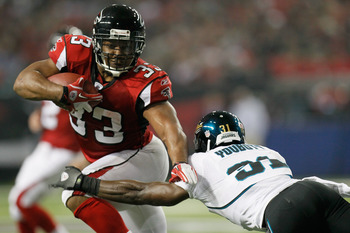 Kevin C. Cox/Getty Images
Michael "The Burner" Turner is now into his 30's so the main thing here is that he probably won't have the same "burners" that once gave him that nickname.
Nonethess, Turner still rushed for 1,340 yards and 11 touchdowns for the Atlanta Falcons last season; however, that was his lowest yardage and touchdown total in season he has played a full 16 games for the team.
I think what I'm trying to say here is that it's likely we'll see the Falcons do something similar to the 49ers and Frank Gore, and that is limit Turner's touches in an attempt to keep him as fresh as a 30-year-old running back who averages over 320 rushing attempts a season can be.
It's safe to say that if you're going to go after Michael Turner in your draft this year, you're not going to receive the same product as you did the last few seasons. He's no longer a top running back in fantasy football. He's more of a middle-of-the-pack No. 2 option.
Tony Gonzalez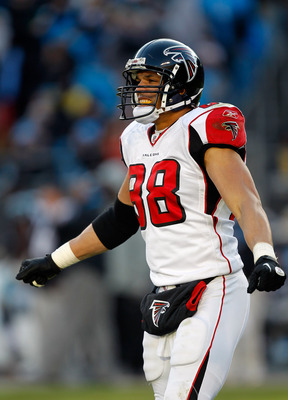 Streeter Lecka/Getty Images
Future Hall of Famer and arguably the greatest tight end to ever play the game, Tony Gonzalez is no longer the football player he used to be. However, at the age of 36 the man simply still makes plays.
Don't ask me how; it's as confusing to me as it is to you.
See, tight ends are one of the trickiest positions to accurately draft in fantasy football because you have guys like Gronkowski, Gates, Davis and Graham who have the ability to put up wide receiver numbers. After those guys, you start to see people reach even though the production decline is so steep past those top four.
You have to make sure you don't make that same mistake with Gonzalez because he's clearly slower in his routes from a few years ago. Couple that with the fact that Julio Jones is going to be Matt Ryan's new favorite red-zone threat, Gonzo's touchdown numbers will be decreasing significantly also.
Proceed with Gonzalez at extreme caution but also remind yourself that there are worse options out there.
Fred Jackson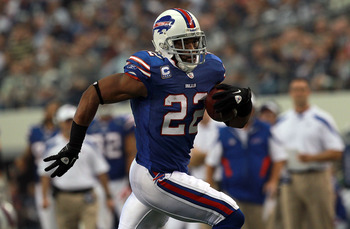 Ronald Martinez/Getty Images
Last season Fred Jackson's 934 yards in only 11 games surpassed the 927 yards he produced in a full 16 games in 2010. What was more impressive to me was the 5.5 yards per attempt that he was doing this with.
However, now at age 31 and coming off a season-ending broken fibula, it'd be a surprise to see Jackson return to the form he was molding during 2011.
The Pride of Coe College also has to worry about breakout star C.J. Spiller stealing a few more of his touches after his impressive performance filling in for Jackson at the end of last season.
It'll be interesting to see how the system plays out in Buffalo. Fred Jackson will surely still be the lead back throughout the course of the season, but I don't believe he'll be the elite one we saw in the first half of last season.
Randy Moss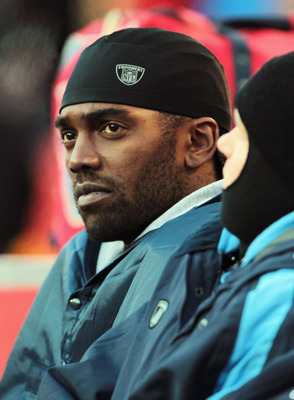 Jamie Squire/Getty Images
It wasn't tough to tell that Randy Moss' downfall in Minnesota and Tennessee at the end of the 2010 season wasn't because he was 35 years old and worn down as much as it was the fact that he just didn't care anymore—which isn't a trait that anyone would put past Randy.
However, this season Moss looks mentally rejuvenated and ready to play more football.
Unfortunately for him, he's not 37 and he's no longer catching passes from Tom Brady, so it shouldn't surprise you that Moss isn't going to put up numbers that put pressure on the top 20 in the league.
He'll be serviceable and he'll catch a few touchdowns from Alex Smith, but it's a loaded pass-catching group they have in San Francisco, with even more guys able to catch balls out of the backfield.
Don't look at Moss with the hopes that he'll bring back the glory of yesteryear. He lost a step or two in his year-long hiatus away from the NFL.
Ahmad Bradshaw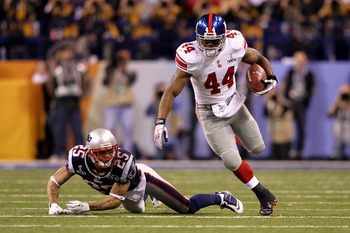 Jamie Squire/Getty Images
Ahmad Bradshaw's production difference between 2010 and 2011 are two complete polar opposites. In 2010, Bradshaw was marvelous gaining over 1,500 total yards and eight touchdowns. However, in 2011 he was only good for just over 900 yards but did increase his touchdowns to 11.
The difference in Bradshaw's numbers from '10-'11 was because of a stress fracture in his foot that sidelined him for four games during the middle of the season.
Do I hope that this foot problem won't spill over into 2012? No. Will it? Well, that's the unanswered question. But it's not something that I would bet my money on.
It'll be interesting to see if Bradshaw can produce numbers more similar to his 2010 campaign rather than his injury-hampered 2011 season. However, if his blocking doesn't improve and his health doesn't improve he might be a player you find yourself leaving on the bench week to week.
Keep Reading