A Half-Dozen NFL Records on the Verge of Being Broken in 2012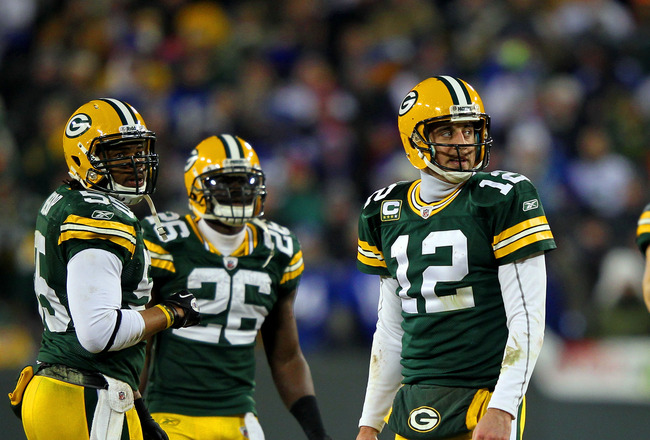 Could 2011 NFL MVP Aaron Rodgers (12) threaten the record for touchdown passes in a season in 2012?
Jamie Squire/Getty Images
They say records are made to be broken, and given the frenetic offenses in the NFL these days, it's anyone's guess what we're getting ready to see next.
And while the onus always seems to be on the offensive side of the ball, defenders are getting many more opportunities to make a play either via the sack or takeaway.
Here's a look at a few league records within the grasp of some of the NFL's best players (and teams).
Most Consecutive Games with at Least One Touchdown Pass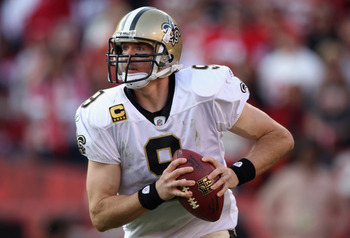 Saints quarterback Drew Brees threw for an NFL-record 5,476 yards in 2011.
Jed Jacobsohn/Getty Images
At one time, many felt this mark was indeed unbreakable, as Pro Football Hall of Fame passer Johnny Unitas set quite the standard, throwing at least one touchdown pass in 47 straight games over a five-season span from 1956-60.
Enter Saints quarterback Drew Brees, who has connected for at least one score through the air in 43 consecutive contests.
The prolific passer can break that mark in New Orleans' fifth game of the season, and against the Chargers, no less. Not only is that the team that Brees began his career with in 2001, but it's where Unitas ended his career in 1973.
Most Seasons with 100 or More Receptions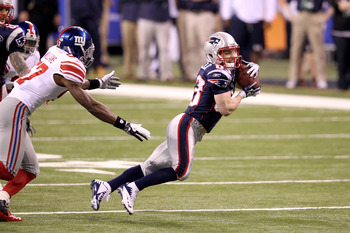 Wes Welker has caught 554 passes in five seasons with the Patriots.
Andy Lyons/Getty Images
Wes Welker's career in Foxboro has been remarkable indeed.
In four of his five seasons with the Patriots, he's caught a C-note-plus worth of passes, including his first three years with the club (2007-09). Last season, his 122 catches marked the third time in his tenure with the Pats that's he's led or tied for the league lead in receptions.
He and former Vikings wideout Cris Carter (1994-95) are the only two players to total at least 120 receptions in a season twice. Welker, Hall of Fame receiver Jerry Rice and former Colts star Marvin Harrison are the only players with four seasons of 100 or more catches (Harrison turned the trick four straight seasons from 1999-02), but Welker can separate himself with another stellar year.
Most Return Touchdowns, Career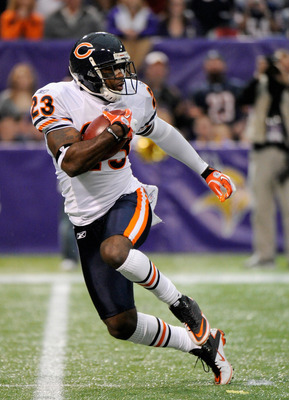 Chicago's Devin Hester has returned an NFL-record 17 kicks for touchdowns.
Hannah Foslien/Getty Images
Here's a mark you don't hear much about but probably aren't shocked at who owns the record (as well as the player threatening it).
It's been a remarkable six-year run for Chicago's Devin Hester, who owns a total of 18 return touchdowns, including records regarding punt return scores (12) and total special teams returns for touchdowns (17), his other return for pay dirt a memorable 108-yard jaunt via a Giants' missed field-goal attempt back in his rookie season in 2006.
The record Hester is chasing is owned by Pro Football Hall of Famer Deion Sanders. He had 19 returns for scores via interceptions (9), fumbles (1), punts (6) and kickoffs (3).
Most Interception Return Yards, Career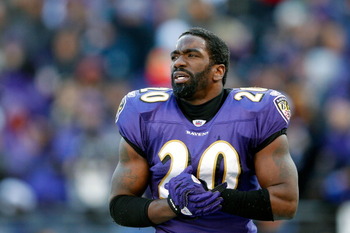 Ed Reed continues to climb up the league's all-time interceptions list.
Rob Carr/Getty Images
There's rarely a dull moment when Ravens safety Ed Reed is around the football, which is constantly. His 57 interceptions (tied for 11th in NFL history) have come in just 10 seasons (144 games). Depending on how long he plays, he could threaten the league's all-time record held by safety Paul Krause (81).
But where Reed really makes his impact is in what he does after he gets the ball; he's the owner of the two longest interception returns (107 and 106 yards) in league annals.
All told, Reed has amassed 100 or more yards in interception returns in seven of his 10 seasons, and his 1,463 yards trails the all-time record by Hall of Fame defender Rod Woodson (1,483) by a mere 20 yards.
Most Seasons Scoring 500 or More Points, Team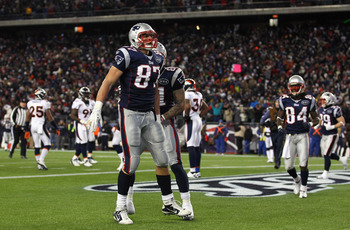 Patriots tight end Rob Gronkowski (87) was among the league leaders in touchdowns (18) last season.
Al Bello/Getty Images
It's not one that you'll find in the league's Record and Fact Book, but it's interesting nonetheless. In 2011, the Packers (560), Saints (547) and Patriots (513) all scored 500-plus points—the first time in the history of the league that three clubs achieved that feat in the same season.
New England has reached this mark two straight years and three times since 2007, when they set the record for scoring in a season (589). Now Bill Belichick's team can not only tie the Rams in terms of consecutive campaigns of 500-plus points (1999-01), they can become the first franchise to reach the scoring mark four times.
Most Interceptions Returned for Touchdowns, Career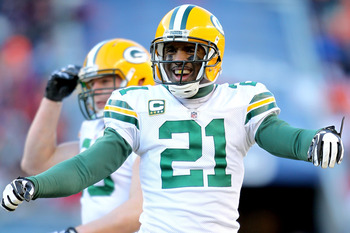 There have been many happy returns for Charles Woodson since he joined the Packers.
Andy Lyons/Getty Images
Given the opportunities presented to secondaries these days, it's safe to say that this mark could bite the dust courtesy of Green Bay's Charles Woodson, a Pro Bowler in his days with both the Packers and Raiders.
But the former Heisman Trophy winner has discovered the magic touch in "Titletown." In six seasons with the Pack, Woodson has totaled 37 interceptions and returned nine for touchdowns, compared to his eight years with the Silver and Black, where he picked off 17 passes and took pack a pair for scores.
All told, Woodson has 11 interceptions for touchdowns, one short of the NFL record held by Hall of Famer Rod Woodson (12).
Other Accomplishments (Peyton Manning)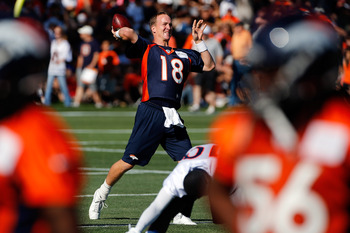 Broncos quarterback Peyton Manning continues to climb up the NFL passing charts.
Doug Pensinger/Getty Images
In his 13 seasons on the field with the Colts, quarterback Peyton Manning never threw fewer than 26 touchdown passes in any of the campaigns.
Now he arrives in Denver, and it's worth noting that the Broncos' team record for scoring tosses in a season (27) is held by both John Elway (1997) and Jake Plummer (2004).
And Manning's next touchdown pass will be No. 400, trailing only Brett Favre (508) and Dan Marino (420).
Other Accomplishments (Steelers)
Pittsburgh has allowed the fewest points in the NFL three of the last four seasons under defensive coordinator Dick LeBeau.
Karl Walter/Getty Images
The Steelers have allowed the fewest points in the league each of the last two seasons and three of the last four years dating back to 2008.
The last team to accomplish that back-to-back feat was the 1991 and '92 New Orleans Saints. But the last club to give up the fewest points in three consecutive seasons was that talented Vikings squad from 1969-71.
Other Accomplishments (Randy Moss)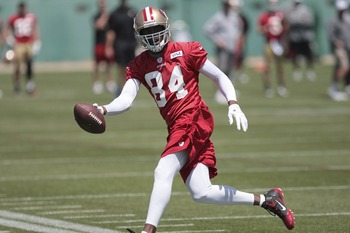 The 49ers are Randy Moss' latest team and first since suiting up for the Titans in 2010.
Kelley L Cox-US PRESSWIRE
While Jerry Rice's NFL record of 197 touchdown receptions appears safe for now, the two players closest in pursuit find themselves back in the league after a one-year hiatus. And not only are Randy Moss (49ers) and Terrell Owens tied for second all-time with 153 scoring grabs, they're now divisional rivals.
Moss has a realistic shot at another milestone. His 954 catches making him 46 short of becoming the ninth player with 1,000-plus receptions, a list that includes Owens (1,078).
Keep Reading