The NFL's Biggest Storylines Entering Week 1 of the Preseason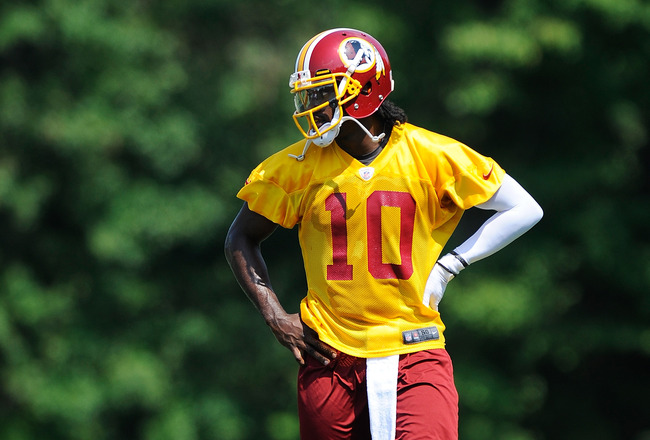 Patrick McDermott/Getty Images
The NFL is finally back. The Arizona Cardinals and New Orleans Saints kicked off the 2012 preseason Sunday night in Canton, Ohio, and all 32 teams will have played its first preseason game by Sunday, August 12.
While the preseason is always a time for overreaction, over-analysis and over-everything, it does give us our first glimpse at a number of players and factors that will impact the upcoming season.
In the following slides, we run down the biggest storylines heading into the first week of the 2012 preseason schedule.
Rookie Quarterbacks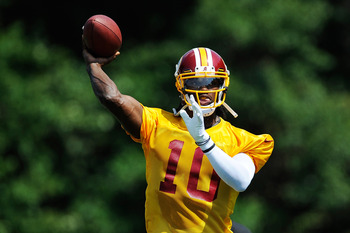 Patrick McDermott/Getty Images
There's risk in overreacting to what happens early in the preseason with rookie quarterbacks—see Cam Newton, 2011 preseason—but Week 1 of the 2012 exhibition schedule does give the first true look at Robert Griffin III, Andrew Luck and Brandon Weeden as NFL quarterbacks.
Griffin III opens his preseason Thursday night in Buffalo, while Weeden is on the road in Detroit Friday and Luck hosts the St. Louis Rams Sunday. The spotlight will be on all three to showcase why each of their respective clubs was comfortable in handing over the keys to the franchise.
But again, keep the performances in perspective. Newton was 8-for-19 and got sacked twice in his preseason opener against the Giants last August. His rookie season ended up just fine. You don't want disaster in your first live NFL action, but struggles are going to happen early.
Officials Lockout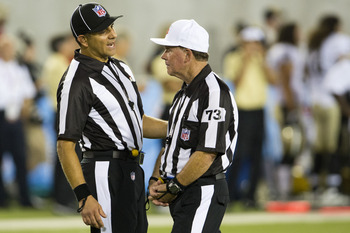 Jason Miller/Getty Images
With the regular NFL referees still locked out, the microscope will be on the replacements during the start of the preseason.
Many have predicted disaster for the replacement group. Others have opined that the NFL is compromising its dedication to safety by locking out its best group of officials and inserting the replacements.
No matter what you think about the replacements, it's clear this is a storyline worth watching. A couple of horrific calls and/or games could speed up the return of the regular set of officials.
Terrell Owens and Randy Moss in the NFC West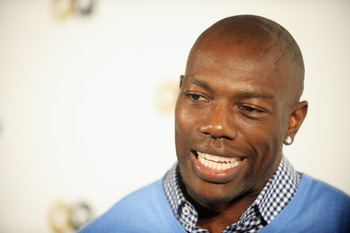 Gustavo Caballero/Getty Images
At the conclusion of the 2011 season, you probably would have sounded crazy to guess that both Randy Moss and Terrell Owens would be on an NFL roster to start the 2012 preseason. Now, the two receivers are currently in the same division.
The Seattle Seahawks rolled the dice on Owens Monday, signing the 38-year-old receiver to a one-year deal. Jay Glazer of FOX Sports first reported the signing.
Months earlier, the San Francisco 49ers were comfortable enough with a Moss workout that he was also signed to a one-year deal.
The first week of preseason may not tell us a whole lot about either guy—we should see Moss, but probably not Owens—but this is certainly something to watch as the preseason unfolds.
Both are future Hall of Famers, but there's risk in each: Owens is 38, hasn't caught an NFL pass since December of 2010 and has a well-documented history of blowing up locker rooms with his cancerous personality. Moss, meanwhile, is 35 and took a year off from football after a disastrous 2010 season that saw him bounce around three different franchises.
Is either worth the risk? Do they even have anything left in the tank? We'll begin to get our answers during the preseason.
Quarterback Battles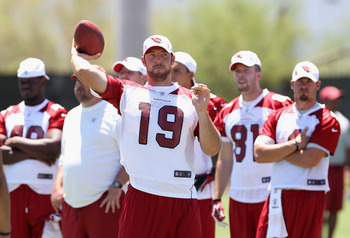 Christian Petersen/Getty Images
Quarterback competitions usually drive the news feed during NFL training camps, and 2012 is no different. At least four teams currently have a battle at the position: Arizona, Seattle, Tennessee and Miami.
The Cardinals already had an early glimpse at their competition Sunday in the preseason opener. Kevin Kolb struggled (interception, injured ribs) but did start the game. John Skelton might get his starting shot in Arizona's second preseason contest.
Seattle continues to have a three-way race to decide its starting quarterback. Between Matt Flynn, Russell Wilson and Tarvaris Jackson, head coach Pete Carroll has a difficult decision on his hands. Flynn, who signed for $10 million guaranteed, is the front-runner.
David Garrard has been pegged as the Dolphins' starter early on, and that may spell trouble for Matt Moore. Could he be on the way out of Miami? First-rounder Ryan Tannehill looks like the team's backup for 2012.
And finally there's Tennessee, where Jake Locker is trying to knock veteran Matt Hasselbeck off the starting throne. Locker has a big arm and rare athleticism at the position, but Hasselbeck is one the game's craftiest signal-callers.
Week 1 of the preseason is another step in deciding opening day starters. Let's see who performs well under the stressful circumstances.
Quick-Hit Storylines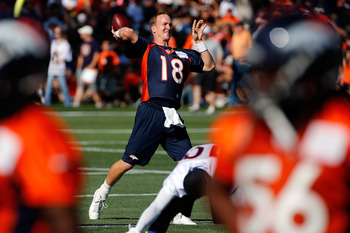 Doug Pensinger/Getty Images
1. Peyton Manning will be suiting up in a different uniform for the first time in his NFL career. And after coming off a number of neck surgeries over the last 12 months, the start of the preseason should give us a gauge for where he's at.
2. A number of running backs will be making their returns after suffering season-ending injuries last season. Topping that list are Adrian Peterson and Jamaal Charles, who both tore up their knees during 2011. Darren McFadden, Mark Ingram, Matt Forte and Tim Hightower are also included on that list.
3. The Browns are handing the quarterback job to Brandon Weeden, which may mean Colt McCoy is on the trading block. If there's an injury to any of the backups around the league, McCoy might get shipped out of Cleveland in a hurry.
4. The Dallas Cowboys added two new cornerbacks—Brandon Carr and Morris Claiborne—to a secondary that folded under pressure last season. If these two are as good as advertised, Dallas has a postseason-caliber roster.
5. What about those Buffalo Bills? Few teams got better defensively this offseason, but the parts still need time to gel. If Mario Williams, Stephon Gilmore and Mark Anderson can get the Bills playing better defense, this team can make noise in the AFC.
Keep Reading