5 Reasons to Draft Nate Washington in Your Fantasy Football League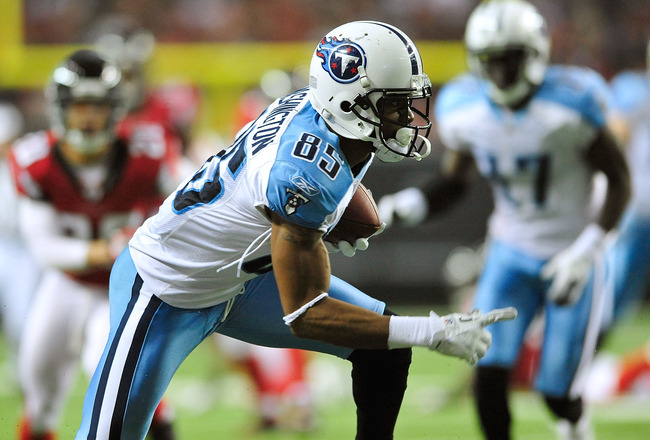 Grant Halverson/Getty Images
Prior to the 2011 season, Tennessee Titans receiver Nate Washington had never cracked yearly totals of 50 catches over 700 yards.
That all changed last season.
Washington put together the finest totals of his six-year NFL career, eclipsing personal bests in catches, yards and touchdowns.
Leading into 2012, however, Washington still has some fantasy question marks. Will he be overdrafted because of one good season? Can he replicate his 2011 season? Will you draft him at all?
In the following five slides, we run down the reasons why you should strongly consider taking Washington.
Produced in 2011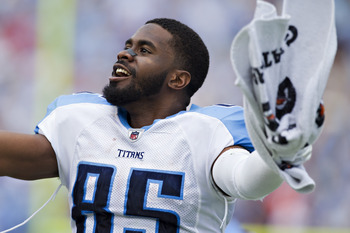 Wesley Hitt/Getty Images
Sometimes all a player like Washington needs is the opportunity. In 2011, the Titans receiver got it.
Kenny Britt played in just three games before suffering a season-ending injury, which meant the title of the Titans most targeted pass-catcher became Washington. He thrived in the role.
Washington caught 74 passes for 1,023 yards and seven touchdowns, all new career-highs. Previously, Washington's career bests were just 47 catches (2009), 687 yards (2010) and six touchdowns ('10).
When He's Good, He's Really Good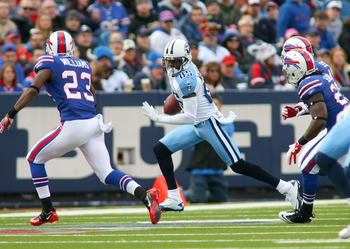 Rick Stewart/Getty Images
You certainly want consistency in a fantasy receiver, but a season full of six- or seven-point outputs (regular scoring) isn't exactly what you want in a starting fantasy guy.
Washington wasn't consistent in 2011. In fact, eight weeks he had six or fewer fantasy points.
But when he was on last season, Washington put up big fantasy numbers. Six different times Washington put up double-digit fantasy points, including a 23-point effort against Atlanta (115 yards, two touchdowns) and a 19-point performance vs. New Orleans (130 yards, touchdown).
Those kind of random, but well-placed fantasy scoring outputs can win you weeks. With the right matchups, Washington can be a real asset.
Unreliable Kenny Britt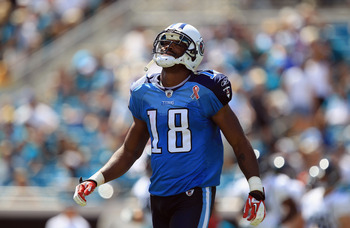 Streeter Lecka/Getty Images
Washington is going to have fantasy value for the simple fact that no one can count on Britt, whether it's injury-wise or staying out of trouble.
Britt tore up his knee (ACL, MCL) early last season, and there's been at least three surgeries over the last 12 months to clean up the area. He also missed time in 2010 (four games).
While injuries are somewhat uncontrollable, staying out of trouble is not. Since coming into the NFL, Britt has had seven different run-ins with the law, including a recent DUI arrest. That isn't just random happenings—it's a legitimate problem. Britt is almost certain to face a suspension to start the 2012 season.
What does that mean for Washington? More chances to be the No. 1 guy. In fact, it probably guarantees him to be the Titans' most-targeted receiver early in 2012.
Kendall Wright Pushes Down His Draft Stock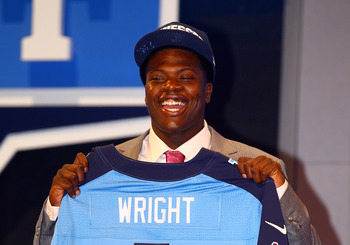 Al Bello/Getty Images
The Titans taking Baylor receiver Kendall Wright in the first round can be taken one of two ways.
You can either see it as a big detriment on Washington's fantasy season (probably not a huge effect), or you can be glad Wright's presence will likely push down Washington's stock in most drafts.
While the first can be debated—especially with Britt likely out—the second can't. Washington's average draft position is just 130.7 (44th ranked receiver overall), according to ESPN. That's fairly low for a player coming off a 1,000-yard season, and a lot has to do with the Titans taking Wright.
Titans Should Have Quarterback Stability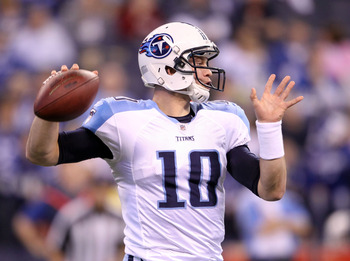 Andy Lyons/Getty Images
Washington thrived with both Matt Hasselbeck and Jake Locker taking snaps for the Titans last season, but there's little doubt that having quarterback stability is a good thing for receivers. Constantly dealing with a change in the huddle hurts continuity.
In 2012, that shouldn't be a huge worry—barring injury. The Titans have two solid options in the veteran Hasselbeck and big-armed Locker. One or the other is going to win the job outright in camp, and will then be expected to hold it all season.
Locker appears to be an early favorite in camp, and he probably represents the most fantasy value for the Titans' receivers.
Keep Reading