Ranking the 10 Most Overrated Early-Round Picks in Fantasy Football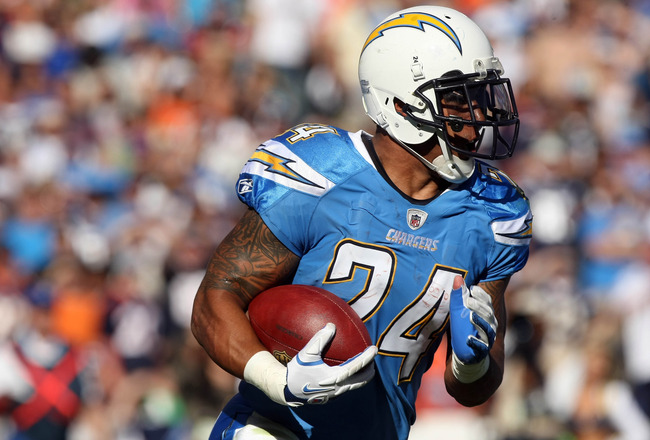 Donald Miralle/Getty Images
Darren McFadden plays a full season and Maurice Jones-Drew has a career year after his long contract holdout.
These are two things that will not happen in the 2012 NFL season.
Whether you have the first pick or last pick of your fantasy football draft, you have to draft a player with great value in every single round. You do not want to use an early pick on a guy who is either injury-prone, unproven or dealing with off-field issues.
Here are the 10 most overrated early-round players you should be drafting later in your fantasy drafts.
10. Larry Fitzgerald, Arizona Cardinals, WR
Christian Petersen/Getty Images
I know that Larry Fitzgerald had a great last year and is one of the top wide receivers in the league. There is no denying that.
The guy put up over 1,400 receiving yards with quarterbacks like Kevin Kolb and John Skelton throwing to him. However, are you going to trust that Fitzgerald is going to be able to put up those huge numbers again with a horrible quarterback throwing to him?
If you are taking Fitzgerald with an early second-round draft pick, I would be worried because, chances are, Fitzgerald will not be able to match his 2011 statistics with Kolb throwing the ball to him.
I would rather have a receiver like Andre Johnson or Wes Welker because both of these receivers have legit quarterbacks throwing to them.
9. Chris Johnson, Tennessee Titans, RB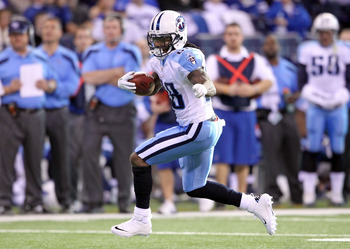 Andy Lyons/Getty Images
Last season, Chris Johnson was one of the biggest busts in all of fantasy football. Johnson was going in the first round, and no one took into account that he missed most of training camp.
Despite the horrible season, Johnson is still going in the first round in most fantasy football leagues in 2012.
How does a running back who only ran for 1,047 yards and four touchdowns still considered a first-round draft pick?
Do not look to take Johnson until the second round at the earliest, after you have already taken another stud running back. I would not feel comfortable with Johnson as my No. 1 running back after his 2011 season.
8. Ahmad Bradshaw, New York Giants, RB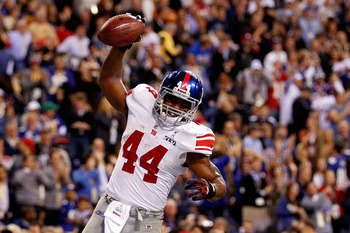 Rob Carr/Getty Images
With no more Brandon Jacobs, you would think that Ahmad Bradshaw is poised to have a breakout season in 2012, right?
Wrong, actually.
With Jacobs gone, the New York Giants found a new running back to split carries with Bradshaw, using their first-round draft pick on running back David Wilson.
Also, did you know that Bradshaw has only run for over 1,000 yards once in his NFL career?
With an average track record and playing in an offense that has an elite passing game, why would you want to use one of your first three draft picks on Bradshaw?
If Bradshaw is your No. 2 fantasy back, chances are your fantasy team is going to be hurting at the running back position.
7. Hakeem Nicks, New York Giants, WR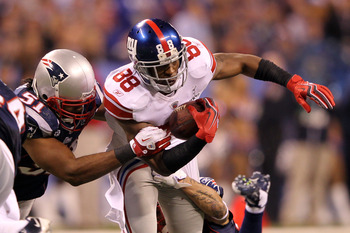 Jamie Squire/Getty Images
Entering only his fourth season, Hakeem Nicks is on his way to becoming an elite receiver in the NFL.
However, in 2012, I would be worried if you end with Nicks as your No. 1 wide receiver.
Not only is he going to miss most of training camp due to his foot injury, it appears that Eli Manning has a new favorite weapon in Victor Cruz.
Nicks only had 1,192 receiving yards and seven touchdowns in 2011. What makes you think that he is going to put up better numbers when he is playing opposite of a receiver like Cruz?
Look to make Nicks your No. 2 fantasy receiver in the fourth round, where he has tremendous value.
6. DeMarco Murray, Dallas Cowboys, RB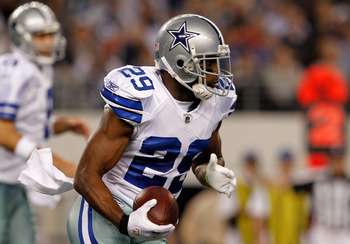 Tom Pennington/Getty Images
When DeMarco Murray burst onto the scene last season with his 253-rushing-yard performance against the St. Louis Rams, every fantasy owner thought this guy was going to be the next big thing in fantasy football.
Let me remind you that the 253-rushing-yard performance came against the Rams—253 rushing yards is very impressive, but doing it against the Rams is not saying a whole lot.
His other 100-rushing-yard performances in 2011 came against the Seattle Seahawks and Buffalo Bills. Two more teams that finished with losing records.
If I am looking to draft a running back in the second round, I am not using one of my top draft picks on a running back who has only started a handful of games in the NFL. Murray should have a solid season, but he has much better value if he is drafted in the third or fourth round.
5. Darren Sproles, New Orleans Saints, RB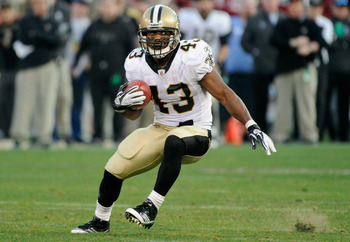 Thearon W. Henderson/Getty Images
Last season, Darren Sproles was one of the biggest surprises in all of fantasy football.
After always being a backup running back and returner in San Diego, the New Orleans Saints made Sproles a huge part of their offense. He ended up finishing with 10 total touchdowns and over 1,300 yards combined receiving and rushing.
Those stats right there are going to be the best stats that a player like Sproles is going to ever have in his career.
Sproles still has value in PPR leagues because of the amount of times the Saints throw the ball, but to expect him to have over 1,300 yards and 10 touchdowns again would be ridiculous.
In a PPR league, I am waiting until the middle rounds to make Sproles my No. 3 running back.
4. Darren McFadden, Oakland Raiders, RB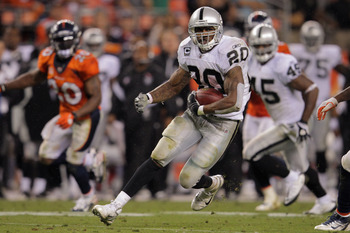 Doug Pensinger/Getty Images
If Darren McFadden could stay healthy, then he would be a top-five draft pick in every fantasy football draft.
He is one of the best athletes in all of football with his ability to run and catch the ball out of the backfield.
That's the thing, though. McFadden can never stay healthy.
McFadden has never played an entire season in his NFL career. Why would you want to take a running back in the first round who is only going to play 10 games at the most?
I would take McFadden as my No. 2 running back in the second round. If you decide to take him as your No. 1, then you are going to have a serious hole to fill in your roster midway through the season.
3. Trent Richardson, Cleveland Browns, RB
Al Bello/Getty Images
Heading into his rookie season, Trent Richardson is expected to be the Cleveland Browns' entire offense.
He has all the tools to make a great fantasy player with his ability to run and catch the ball. However, fantasy owners need to remember that Richardson has never played a down of NFL football.
Using a draft pick on a rookie in the first three rounds is a huge risk to take, and the odds are not in your favor.
Richardson will show flashes of dominance in 2012, but considering he has to play the Baltimore Ravens, Cincinnati Bengals and Pittsburgh Steelers twice, expect him to have plenty of games where he struggles to get fantasy points.
2. Maurice Jones-Drew, Jacksonville Jaguars, RB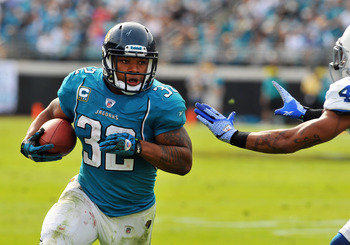 Al Messerschmidt/Getty Images
Heading into 2011, Chris Johnson was in the same position as Maurice Jones-Drew is currently in. Once Johnson got his big contract and missed most of training camp, he was considered one of the biggest busts in fantasy football.
Jones-Drew is currently holding out for a big contract, and even when he does return, he is going to be rusty. Do not forget that he has to learn a new offense now that the Jacksonville Jaguars have a new head coach in Mike Mularkey.
Had Jones-Drew reported to training camp on time, he would be considered a top-five draft pick. However, if this holdout goes on any longer, I am not touching Jones-Drew until the second round.
When a running back has this long of a holdout and misses training camp, it never turns out well for them or your fantasy team.
1. Ryan Mathews, San Diego Chargers, RB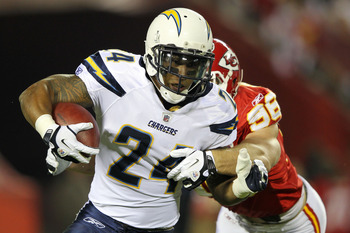 Jamie Squire/Getty Images
Career high for rushing yards in a season: 1,091 rushing yards.
Career high for touchdowns in a season: seven touchdowns.
Never played an entire season in the NFL.
When you hear these statistics, you would think that this player is getting drafted as a No. 3 fantasy running back at best.
However, these are the stats of Ryan Mathews, who is going in the first round in most 2012 fantasy football drafts.
There is no way I would ever consider taking Ryan Mathews in the first or second round. With your first couple of fantasy draft picks, you want players who are proven and know they are going to put up big numbers.
Mathews is neither of those. He is injury-prone, unproven and plays in an offense that loves to throw the ball.
Do not believe the hype of Mathews. He has let every fantasy owner down in his first two seasons, and he will again in 2012.
Keep Reading