Ranking the Top Positional Units in the NFL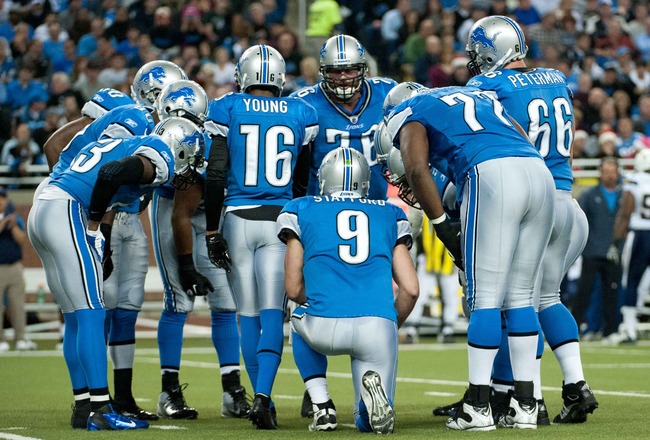 The Lions have plenty of offensive firepower, but they don't have a certain unit that tops the positional list.
Tim Fuller-US PRESSWIRE
The NFL is full of individual players who accomplish great feats every year, but what about the positional units which work together as teams?
Football is the ultimate team sport, and units need to work as cohesive wholes to achieve the ultimate goal.
As we head into training camp, let's take a look at who the best units are based on position.
There can only be one team's unit at each position. Did your team make the cut, or do they need to add more pieces to complete the positional puzzle?
Seattle Seahawks: Secondary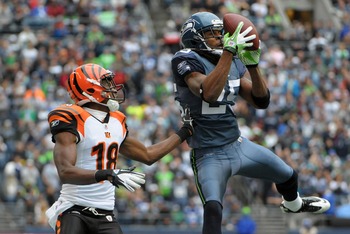 Kirby Lee-US PRESSWIRE
Going into 2011 many saw Seattle's secondary as its biggest weakness. By the end of 2010 the secondary was at the bottom of the league in almost all pass-coverage statistics. Each player in the secondary received a negative coverage grade from Pro Football Focus, except for Roy Lewis.
As injuries started to pile up in 2011, it was hard not to feel bad for Seattle.
But it ended being a blessing in disguise after Marcus Trufant and Walter Thurmond went down with season ending injuries.
You never want to see anyone get hurt, but it's the nature of the beast, and the true talent rose up when called upon.
Richard Sherman came on in a big big way after Thurmond went down with a broken fibula. Sherman was a fifth-round selection out of Stanford. He took over as the full-time starter in Week 8 and never looked back.
Throughout the season, he was thrown at 84 times while allowing completions on only 39 passes. To go along with that ratio, opposing quarterback's had a rating of 57.3 when throwing in his direction.
All of the spectacular play landed him the starting left cornerback position for 2012.
Earl Thomas and Kam Chancellor were called the best young safety tandem in the NFL by Sports Illustrated's Peter King. Quite the compliment, coming from a man who has covered the NFL professionally for 32 years. Both players are top-10 safeties who can play the run as well play the pass.
The last piece to this puzzle is Brandon Browner.
Browner is an interesting player who spent most of his early days as a CFL standout, waiting for another shot in the NFL. He got that opportunity this year and seized the moment by starting all 16 games and setting the record for the longest interception return in Seahawks history.
He needs to adjust to the pro game by cutting back on penalties and being more consistent.
San Francisco 49ers: Linebackers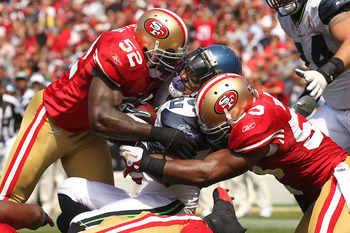 Cary Edmondson-US PRESSWIRE
Is there any trio of linebackers better than Patrick Willis, NaVarro Bowman and Aldon Smith?
All three players make the game look so easy.
Willis and Bowman play the run and pass equally as well, while Smith takes pride in harassing the quarterback anyway he can.
Being selected in the first round of the draft comes with plenty of lofty expectations, the most pressing being immediate on-field production and the ability to pick up the playbook just as fast as your veteran counterparts.
There is no way to tell where Smith is at in the 49ers playbook, but one thing that can't be argued with was his sensational production in 2011.
He played only about half of the 49ers defensive snaps and didn't usually see the field until third down, but none of that proved to matter, as he tied for fifth with for most sacks in the league.
The rookie record for most sacks in a season is 14.5, which was set by Jevon Kearse in 1999. Smith finished only half a sack short of that record in 2011.
It will be interesting to see if more snaps are allocated his way in the future or if he will remain a pass-rush specialist. While 126 snaps isn't a very high sample size, on those snaps Aldon held his own in the run game.
The inside duo of Willis and Bowman recorded over 200 solo tackles and 126 defensive stops. According to Pro Football Focus, stops are the number of solo defensive tackles that result in offensive failures.
One of the most impressive stats in regard to "stops" was Bowman's stop percentage. He was on the field for 315 run snaps, and out of those snaps, he was responsible for offensive failures 14.3 percent of the time, tops in the NFL.
Then there is the ever-so-reliable Patrick Willis, who seems always to be on top of his game, striving to get better every week.
Numbers-wise, many would say Willis had a down year in 2011.
In reality Willis may have had his best year yet.
His tackling efficiency numbers were off the charts, as he missed only two tackles in 736 snaps. Not to mention that he was arguably the best coverage linebacker in the game.
Ahmad Brooks and Parys Haralson are also nice options as outside rushers in the 49ers 3-4 defense, but Bowman, Willis and Smith are the ones who make their linebacking corp the best in the NFL.
New York Giants: Defensive Line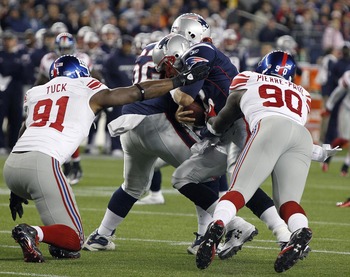 The Star-Ledger-US PRESSWIRE
On February 3, 2008, and then again on February 5, 2012, the New York Giants pass rush saved the day.
In Super Bowl XLII, the Giants harassed Tom Brady all game long, to the tune of five sacks and countless other quarterback hits and hurries. Super Bowl XLVI proved to be a little bit different, as the pressure didn't consistently affect Brady until late in the game when he was trying to mount a comeback.
Justin Tuck made sure the comeback attempt never got started.
If you include the playoffs, the Giants had three players who recorded double-digit sacks for the season: Justin Tuck, Jason Pierre-Paul and Osi Umenyiora.
It seems as if Tuck and Umenyiora have been getting after quarterbacks for years. Between the two of them, they have 114.5 sacks. If you were to add in Pierre-Paul's numbers you would get 21 more.
Going by the numbers, you're guaranteed at least a half a sack when these three men take the field. That calculation doesn't include the playoffs.
Not only does the Giants defensive line rush the passer, but it can play the run, as well.
The best run defender on the team is JPP; he accounted for 58 tackles that resulted in offensive failures. That was tops for 4-3 defensive ends. Another stout lineman against the run was Chris Canty. Canty wasn't quite as effective as Pierre-Paul but overall received positive marks.
The only two defensive lineman who didn't receive positive marks were Dave Tollefson and Umenyiora. Both are big-time liabilities in the run game.
Jerry Reese continuously strikes gold along the defensive line, and as long as he's there, you know that position will be stacked.
Green Bay Packers: Wide Receivers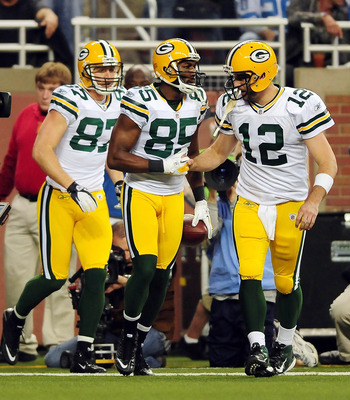 Andrew Weber-US PRESSWIRE
The Packers' cast of talent at wide receiver seems endless at times. Greg Jennings, Jordy Nelson, James Jones, Donald Driver and Randall Cobb all help make up one of the most dangerous receiving corps in the NFL.
Over the past two years, it has been Nelson and Jennings who have separated themselves from the pack.
In limited playing time, Nelson has established himself as a legitimate deep threat who can be talked about as one of the top 10 receivers in the league. The season he had with only 633 snaps is unreal. He led the NFL in deep passing, with 15 receptions over 20 yards plus; scored seven touchdowns on those 15 receptions; and managed to drop only two balls out of 93 targets.
With so many snaps being allocated elsewhere, Jennings also saw a down tic in playing time. In 2010 he logged over 1,000 snaps, but the emergence of Randall Cobb and evolution of Jordy Nelson saw Jennings snaps fall into the low 700s.
While this past year might not have been the best overall statistical output we've seen from him, it might have been the best per-snap performance of his career. For every route ran, he picked up a little over two yards.
That puts him in the company of guys like Julio Jones, Hakeem Nicks and A.J. Green.
It would be safe to assume that Cobb and Nelson will become even more involved this year, so playing-time numbers should change a little bit before the start of the season.
I'm sure more teams would like to have the same problem the Packers have: too many weapons at one position and not enough balls to go around.
New England Patriots: Tight Ends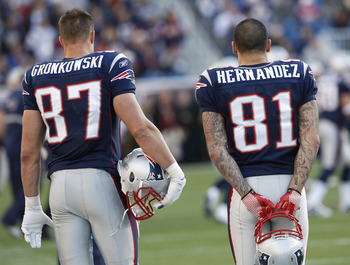 David Butler II-US PRESSWIRE
Rob Gronkowski and Aaron Hernandez are arguably two of the best tight ends in the league, and they are the same team. Both players are very skilled as tight ends, but each player has an entirely different skill that allows him to succeed.
Gronkowski is more of an all-around player—more polished, some would say. He's a fantastic route-runner who uses his size to get open.
He doesn't quite have the elusive nature of Aaron Hernandez, but he still does of a good job making defenders miss. Thirteen missed tackles forced is an impressive number considering his 6'6", 265-pound frame.
To put that in perspective, Ray Rice had only 17.
Hernandez is the "joker" of the two. He is a specialist that will be called on to do almost anything in the offense, even if he is the tight end.
Over the course of the season, Hernandez was split out wide left or wide right 300 times, played halfback 58 times, and saw time in the slot on 373 plays. His quickness and lateral movements cause matchup problems for opposing defenders.
This chart below was taken from Erik Frenz's article on Gronkowski and Hernandez. It's in response to their ranking in the B/R 1,000: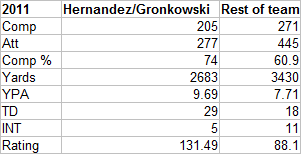 As you can see, Brady found great comfort in the two of them; New England enjoys using the tight end more than any other team.
Currently, they have Rob Gronkowski, Aaron Hernandez, Daniel Fells, Jake Ballard and Visanthe Shiancoe as part of their 90-man training-camp squad.
New Orleans Saints: Offensive Line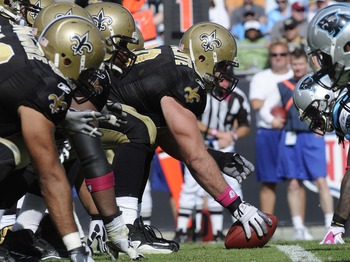 Sam Sharpe-US PRESSWIRE
Many will say, "How can you have the Saints offensive line as one of the top units in the NFL after Carl Nicks' departure?"
Easy: They replaced Nicks with a quality player who has put together some fine performances over the last few years. When he wants to be, Ben Grubbs has the ability to be a top-10 offensive guard in the league. He is just two years removed from his best season as a pro and will be playing alongside Brian De La Puente and Jermon Bushrod.
The Saints have three offensive lineman who are coming off career years: Zach Strief, De La Puente and Bushrod.
Bushrod really had a bounce-back year in 2011 after having an atrocious season in 2010, when he gave up 48 quarterback hurries and nine quarterback hits.
Even though Charles Brown is younger and maybe has more upside, it would be wise to start Strief at right tackle. Outside of Nicks he was the best offensive lineman they had last year.
Thanks to Ryan Riddle's article on the top-performing offensive line units, we can take a look at just how impressive the Saints offensive line was in 2011:
Sacks: 2nd
QB Hits Allowed: 1st
Rush Yards: 6th
Rush Average: 4th
Big Play vs. Negative Play Ratio: 6th
Total Power Percentage: 13th
Individual Production: 3rd
Houston Texans: Running Backs
James Lang-US PRESSWIRE
The Houston Texans were one of only three teams to run the ball more than they passed it last season.
Even though they have the two-headed rushing attack of Arian Foster and Ben Tate, I'm not sure such an overly heavy attack was what they had in mind for 2011. Midseason injuries to Matt Schaub and Andre Johnson derailed their air attack, but that wouldn't stop Houston from making its first postseason appearance in franchise history.
Foster and Tate combined for 2,166 yards and 14 touchdowns. Both players felt most comfortable rushing off the back end of center Chris Meyers. When running behind Meyers, they amassed 765 yards on 187 carries, an average of about four yards per carry.
The Texans' utilization of the backs in the passing game is just as important as their use in the run game. Out of the backfield Foster and Tate caught 66 balls for 715 yards and three touchdowns. Their total output for the season was 2,881 total yards.
Those two players alone accounted for 48 percent of Houston's yards on offense.
With Derrick Ward retiring, it was a smart move to add former Seahawk Justin Forsett. Forsett probably won't see a whole lot of playing time, but he would be a good option if either Foster or Tate go down with injury.
Also, he's shown that he can pass block, and it never hurts to have a decent running back on the roster who can pick up a blitz from time to time.
Philadelphia Eagles: Quarterback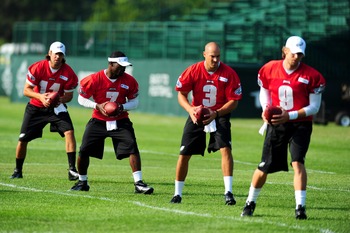 Evan Habeeb-US PRESSWIRE
There's no position Andy Reid loves more than quarterback. And it seems like no matter how solid the starter is, he always has room for one more above-average backup who is waiting in the wings.
Remember a few years ago when Donavan McNabb was the starter? They had Kevin Kolb as the No. 2 and Michael Vick as the No. 3. Kolb was drafted in the second round as the heir apparent to McNabb, but things changed awfully quick when Michael Vick was released from prison.
When Reid took a chance on him as the third-string quarterback, he really had nothing to lose, because if any of the flashes of the old Mike Vick came back, it would be worth it.
2010 proved to be the season that he saw that old Vick, so he unloaded Kolb before the beginning of the 2011 campaign. Arizona paid a king's ransom for a player who has proved almost nothing up to this point in his career.
Now that Vick is entrenched as the full-time starter, Reid is back up to his old tricks.
Mike Kafka was selected in the fourth round of the 2010 draft and saw time early in the season when Vick exited a couple games early due to injury.
Kafka is seen as a potential starter by many scouts around the league, and he could be the next quarterback in line to be used as trade bait.
Behind Kafka is Nick Foles, who was drafted in the third round of the 2011 draft.
Two quarterbacks drafted two years in a row.
Foles put up some big numbers in his final season at Arizona, and he finished the season as the Pac-12's leader in total yards per game. Many believe he is the quarterback of the future for the Eagles.
Up-and-Coming Unit: Buffalo Bills Defensive Line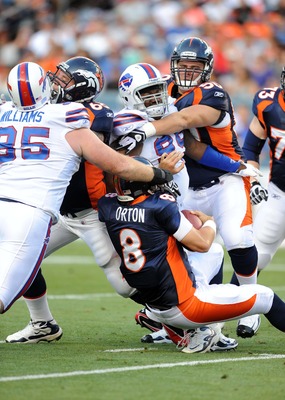 Ron Chenoy-US PRESSWIRE
2011 proved to be a disappointment for the Buffalo Bills in more ways than one. But the defensive line's pass-rushing productivity had to be one of the most concerning areas.
Especially, since it faired so well in 2010.
In 2010, the defensive line registered 17 sacks, 22 quarterback hits and 104 quarterback hurries, while the production in 2011 saw just 14 sacks, 20 hits and 82 hurries.
To improve that pass rush, they first set their eyes on the biggest fish on the free agent market, Mario Williams. Williams is a well-known commodity around the NFL and brings experience in both the 4-3 and 3-4. Even though his time in the 3-4 was brief, he proved he could excel, registering five sacks in the first five games.
The second piece of the pass-rush upgrade was seven-year veteran Mark Anderson. Anderson is coming off of a career year in New England in he registered double-digit sacks and was ranked among the top 15 4-3 defensive ends by Pro Football Focus.
It will be interesting to see if the Bills defensive line can gel and come together under new defensive coordinator Dave Wannstedt.
If Wannstedt can get everyone on the same page schematically, the D-line—with Mario Williams, Kyle Williams, Marcell Dareus and Mark Anderson—will have no problems enforcing its will on opposing offensive lines.
Keep Reading