15 Players with the Most to Prove in NFL Training Camp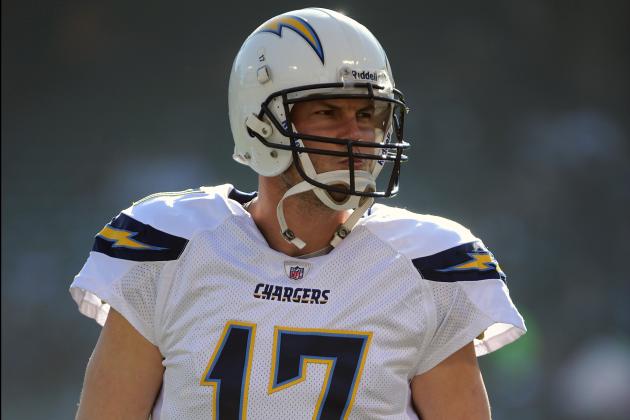 Thearon W. Henderson/Getty Images

Training camp isn't where a player builds a legacy, but it is where he can set the tone for his season.
The media and fans aren't going to get off a player's back because he performs well in practice. That's not the point.
Camp provides an opportunity to lock into the zone. Practice well and you'll play well.
The following 15 fellows could use a good NFL training camp in the coming weeks to quiet the murmurs.
Begin Slideshow

»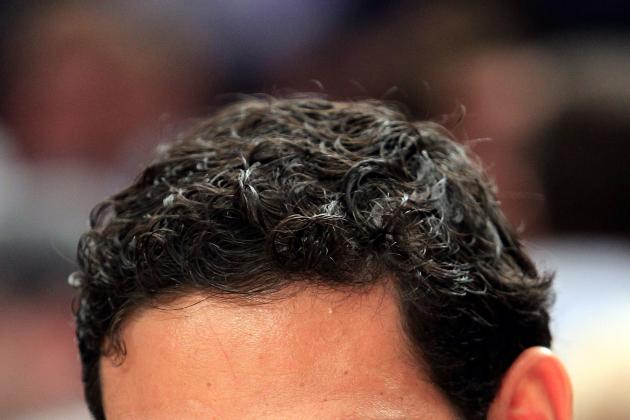 Chris Trotman/Getty Images

Few players have had to deal with the media that Mark Sanchez has.
Then Tim Tebow came to town.
Circus isn't the correct word. The attention is more like an avalanche.
Speculation abounds that Tebow would be the better option at quarterback for the New York Jets. Now is the time for Sanchez to truly stake his claim as the captain of the ship.
Joel Auerbach/Getty Images

Andrew Luck and Robert Griffin III were no-brainers for the top 10.
Ryan Tannehill may have benefited because he was the next best quarterback.
He comes into camp with the advantage of knowing the offense since his old college coach is now his offensive coordinator. However, that doesn't change the fact that he's a rookie.
Such a lofty draft position comes with expectations. Can Tannehill start out on the right foot?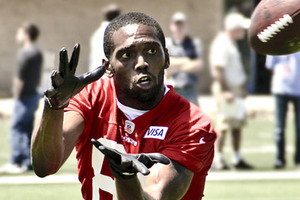 Photo via www.nflsoup.com
Reports indicate the Randy Moss is tearing it up for the San Francisco 49ers.
That's great, but nothing counts until the pads are put on. It's one thing to run great routes when you're unencumbered by the realities of football.
Can he do it when it actually counts?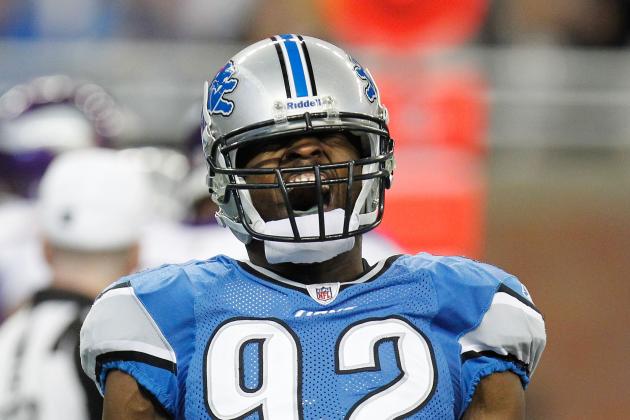 Gregory Shamus/Getty Images

So you want that big-money contract? Better show up and get gangster.
Cliff Avril would have preferred that the Detroit Lions locked him down long term. It didn't happen.
So now, Avril needs to come into camp and prove that he's worth more than a single-season franchise tag.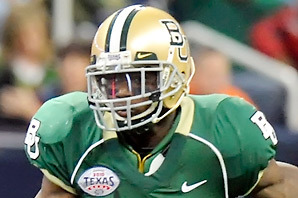 Photo via www.waitingfornextyear.com
Rarely do players come out of the supplemental draft and contribute. Heck, rarely are they counted on.
Josh Gordon doesn't have that convenience. The Cleveland Browns went out on a limb and snatched him up with a second-round pick.
That means they no longer have the corresponding pick in the 2013 draft, and the team signed Gordon to a four-year $5.3 million ($3.8 million guaranteed) deal despite missing the entire college football season due to disciplinary reasons.
No pressure.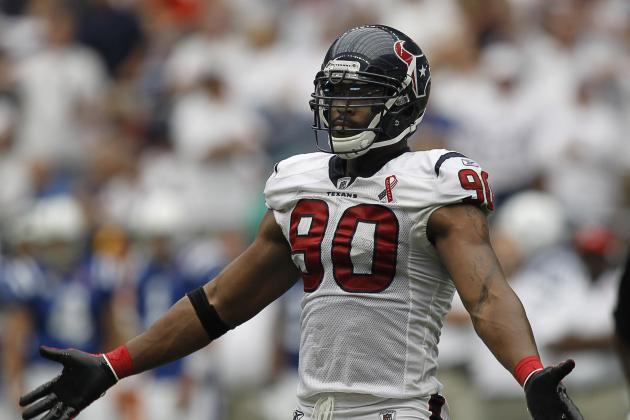 Bob Levey/Getty Images

Nobody doubts Mario Williams' talent. Since the semi-controversial top pick was selected in the '06 draft, he has clearly demonstrated his worth compared to Reggie Bush and Vince Young.
Now the challenge is different, with possible doubt creeping in. Williams began 2011 on a tear, recording five sacks in five games. And then things took an unfortunate turn.
A torn pectoral shelved former sack king Elvis Dumervil, and he returned with a decent season. But he still put up seven-and-a-half fewer sacks.
WIlliams just inked a $100 million deal, which brings the expectation that he will be 100 percent. That question can be answered in the first week of camp. If not, the anxiety will start to rise within the Buffalo Bills faithful.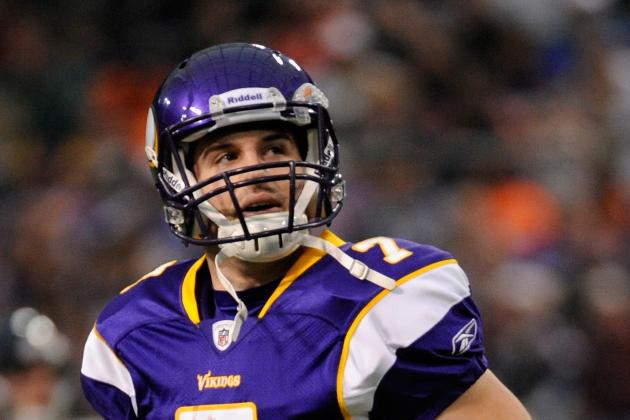 Hannah Foslien/Getty Images

The Minnesota Vikings offense is in a difficult spot.
All-world running back Adrian Peterson might not be ready for Week 1, which would put everything on second-year signal-caller Christian Ponder.
That sound you just heard was an entire fanbase gulping.
Ponder went through the typical rookie QB struggles, throwing as many touchdowns as interceptions (13). Now he needs to show that he is learning the offense and can be the franchise leader.
At least that's what is expected of first-round quarterbacks.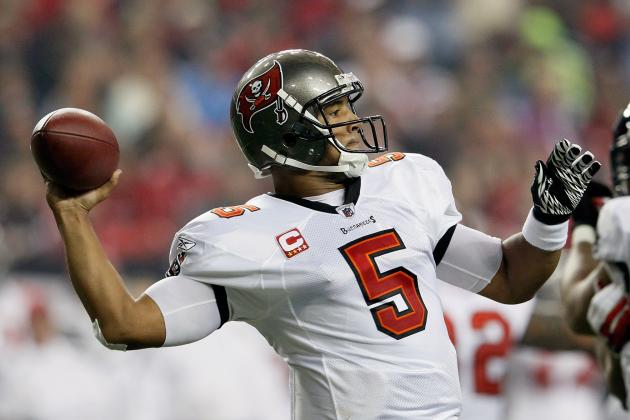 Kevin C. Cox/Getty Images

The Tampa Bay Buccaneers have a legitimate chance to return to the playoffs. But they're going to need the 2010 version of Josh Freeman to reappear.
After putting up 19 more touchdowns than interceptions a couple seasons ago, Freeman inverted that ratio to throw six more picks than scores last year.
People rightfully question which season properly represents Freeman. Was his one good year an aberration?
Freeman needs a good start to the Greg Schiano era. If not for the fans, then certainly for himself.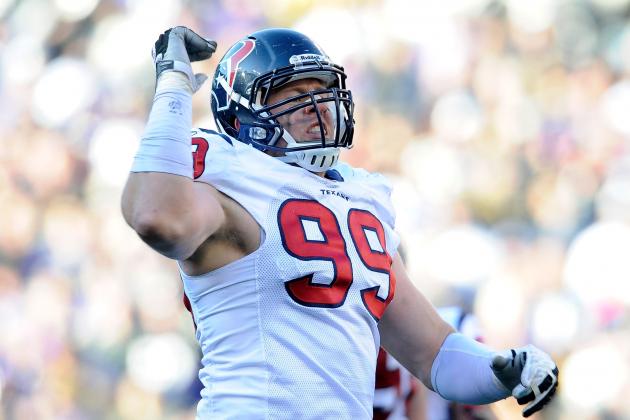 Patrick McDermott/Getty Images

This slide isn't an indictment of the Houston Texans defense—they appear primed for a great year.
Yet there are still some concerns regarding leadership and the secondary, as Mario Williams and DeMeco Ryans are no longer around.
Houston has talented players, but these players aren't nearly as proven. Plus, when things get crazy, who is going to be the player to lead and be the one to rally around?
The Texans are on the cusp of an elite defense. Can they take that next step?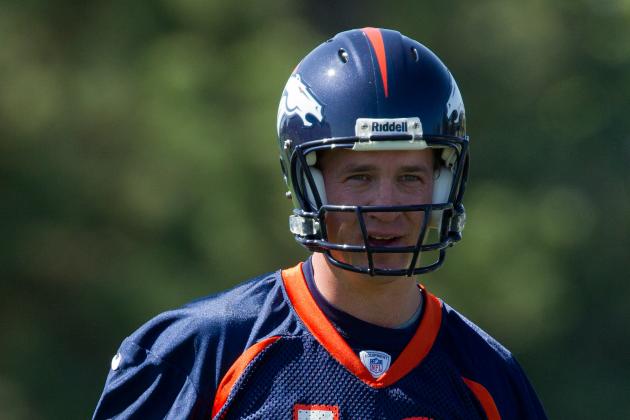 Justin Edmonds/Getty Images

The Denver Broncos will have an unprecedented number of media types present at training camp this year, and it all has to do with their new quarterback.
Peyton Manning's neck injury and resulting surgeries caused him to miss all of last season. That didn't stop the Broncos from giving him $96 million over five years (although they can cut him this year with no penalty).
The blogosphere buzzed with reports that Manning looked great in minicamp. We'll see where he really is once the hits start coming.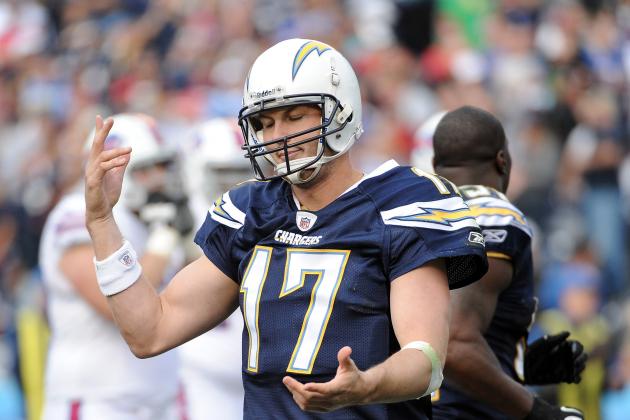 Harry How/Getty Images

Last year was a difficult one for Philip Rivers. The normally elite quarterback plummeted to mediocrity by tossing 20 interceptions, which set a personal record.
Things seemed so bleak that there was speculation that having his six child with his wife was affecting his play. Not a completely invalid argument, but certainly not one that's been put forth before.
Rivers needs to come out focused and firing, or the media will jump all over him. Once the pack of hyenas smell blood, they're insatiable.
The San Diego Chargers do not need that distraction.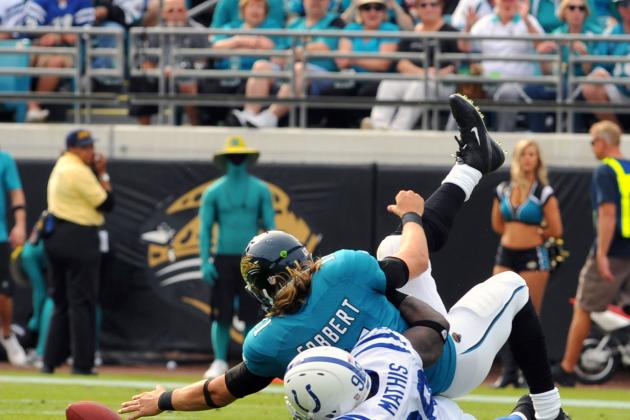 Al Messerschmidt/Getty Images

Blaine Gabbert is in a similar position as Christian Ponder. They're both former first-round picks who need to show improvement to pacify the fans.
The only difference is Gabbert has been building a buzz this offseason. Reports from minicamp indicate that the Mizzouri product looked comfortable running the offense as compared to his semi-disastrous rookie year.
The Jacksonville Jaguars added wide receivers Laurent Robinson and rookie Justin Blackmon, so the excuses are starting to dwindle.
Gabbert needs to continue his ascension if he doesn't want the Jags to bring in competition behind center.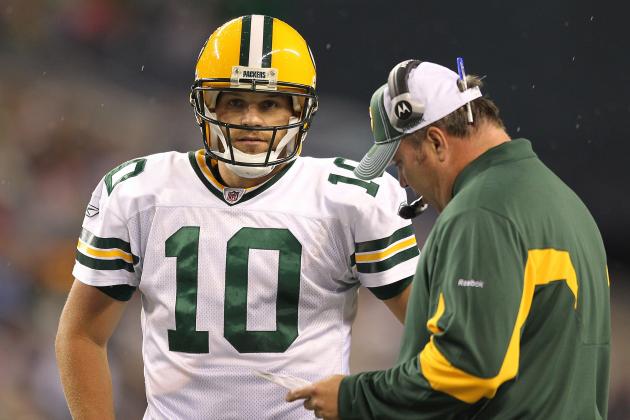 Otto Greule Jr/Getty Images

Matt Flynn rounds out the run on quarterbacks and is the player in most need of a great start. Unlike the majority of this list, he might still start if he doesn't perform well.
Head coach Pete Carroll has been insistent the starting job is an "open competition" despite signing Flynn to a three-year, $26 million contract. As if to drive the point home, Carroll grabbed Wisconsin quarterback Russell Wilson in the third round a month later.
The odds of anyone other than Flynn starting are remote, but not impossible. He needs to master the playbook and build chemistry with his receivers quickly.
Otherwise, the only difference between his new gig and old one will be the color of his uniform.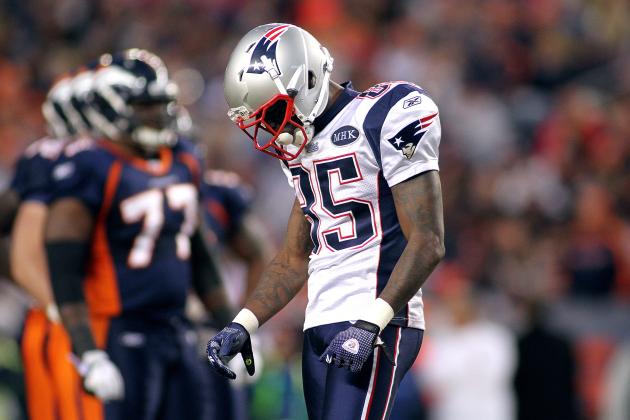 Marc Piscotty/Getty Images

Chad Ochocinco doesn't need a solid training camp performance to start for the Miami Dolphins—he needs it to keep his job.
His stint with the New England Patriots didn't go as planned. After catching only one touchdown pass, Ocho was released as the Pats moved on to better options.
Ochocinco surely won't shy away from the media attention and may help Ryan Tannehill by keeping the pressure squarely on his shoulders.
Ronald Martinez/Getty Images

The calender says it's July. Therefore, NFL players are getting arrested. Every summer brings arrests. With such a large number of men who are in their early-to-mid 20s, it's somewhat inevitable.
Regardless, Dez Bryant has had a number of interactions with the police. His latest allegedly involves an assault on his mother.
Bryant, Dallas' first-round pick a couple years ago, needs to keep his focus on football, because the Cowboys have plenty of potential and he can't change the situation now. Besides, he seems to find himself in precarious positions when he turns his attention to other matters.