Predicting Every Major NFL Award for the 2012 Season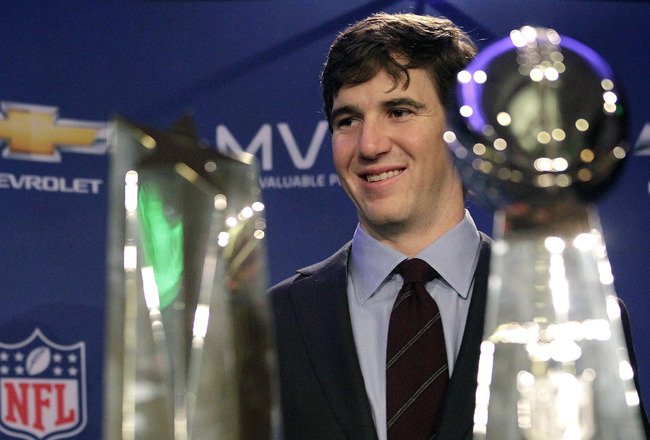 Handout/Getty Images
It's time to predict the winners of the NFL's major 2012 end-of-season awards by breaking out some chicken entrails and seeing which way the wind is blowing.
These awards are becoming increasingly difficult to predict, with multiple guys enjoying seasons well worthy of MVP discussion in 2011, even if the final voting did not necessarily reflect that.
You shouldn't bother waiting for the season to actually play itself out, for I have read it in the cards, and I'm here to tell you who will wind up with the awards a full five months before anybody else will have a good handle on it.
Lottery numbers to follow in the next slideshow!
Coach of the Year: Gary Kubiak, Houston Texans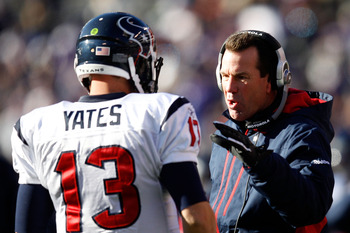 Rob Carr/Getty Images
Last season, the Houston Texans may have been the best team in football.
They were looking like the team to beat in a muddled AFC before injuries struck two of their most important players. They rode out the storm with T.J. Yates, their third-string quarterback, all the way down the stretch and into the playoffs.
Yates actually performed reasonably well—better than anyone could've expected—but he couldn't get it done when it mattered in the playoffs. Alas, the Texans had to be satisfied with having removed that playoff monkey from their backs.
This season, they get Matt Schaub and Andre Johnson back, and they have continued to tinker with the talent elsewhere.
They have gambled a little in saying goodbye to two-fifths of the best offensive line in football, but the zone blocking scheme is predicated on the ability to plug in new players and not skip a beat.
If that holds true for the Texans, that risk should be negated, allowing them to continue to have success running the ball and in the play-action that that leads to.
Last season, the New England Patriots made the Super Bowl with a defense that was leaking all over the field.
Houston doesn't have any such glaring problems on either side of the ball. If they can keep their quarterback upright for the full season, they could run through the AFC, with the franchise's patience in Gary Kubiak being rewarded, and then some.
Other Candidates: Mike McCarthy, Green Bay Packers; Andy Reid, Philadelphia Eagles; Ron Rivera, Carolina Panthers
Offensive Rookie of the Year: Robert Griffin III, Washington Redskins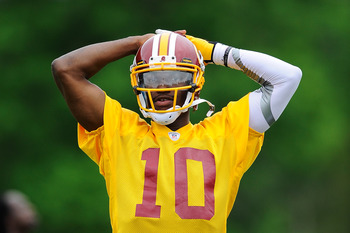 Patrick McDermott/Getty Images
When there are viable quarterback rookies, this award will always come down to a battle between them. In this case, I suspect that will be a straight fight between Andrew Luck and Robert Griffin (I doubt Brandon Weeden and the Browns will win enough games or give their rookie the help to succeed).
The reason Griffin gets the nod is because he has a little more reliable help in Washington, especially in terms of the run game. He will also break out a few huge highlight plays that will stick in people's minds when it comes time to vote.
Griffin has the ability to be something special in a Mike Shanahan offense, which is at its best with a mobile quarterback at the helm.
RGIII has the skills to devastate both with his arm and with his legs in a moving pocket, and he may well rack up touchdowns on the ground with bootlegs and designed roll-out plays.
I'm also a little more confident in the protection Griffin will get from his offensive line in Washington than I am with Luck's in Indy. Anthony Castonzo has yet to really prove he can be counted on at this level.
Other Candidates: Andrew Luck, Indianapolis Colts; Trent Richardson, Cleveland Browns
Defensive Rookie of the Year: Morris Claiborne, Dallas Cowboys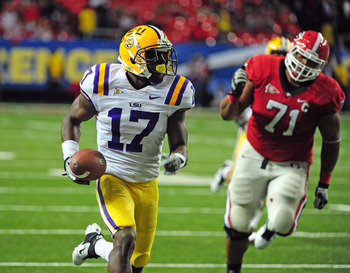 Scott Cunningham/Getty Images
Defensive Rookie of the Year is all about numbers, and if any of the crop of first-year players can put up some eye-watering numbers, they're going to be tough to beat.
That leads me on a quest to find players that will have a legitimate shot at double-digit sacks or a high-ranking interception total by the time the season is done.
There are a few players that will have a shot to rack up sacks—Bruce Irvin springs to mind, as he has the potential to have an Aldon Smith-like rookie year—but I love the position Morris Claiborne is going to be put in for the Dallas Cowboys.
Rob Ryan runs one of the most aggressive defenses in the NFL, sending pressure and numbers at all times. He expects his defensive backs to hold up on the back end even if the pressure doesn't get there.
Claiborne excels in man coverage and has an incredible ability to become the receiver when the ball is in the air.
The Dallas front is going to cause a lot of speculative passes, and Claiborne has the ability to turn those passes into interceptions.
I'm looking for him to have a huge rookie year statistically. Expect it to be enough to earn him the award.
Other Candidates: Bruce Irvin, Seattle Seahawks; Luke Kuechly, Carolina Panthers; Chandler Jones, New England Patriots
Comeback Player of the Year: Peyton Manning, Denver Broncos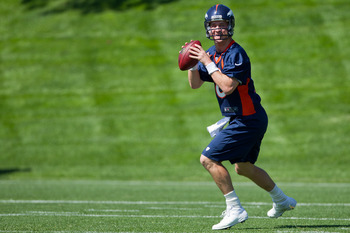 Justin Edmonds/Getty Images
Is there an award that is more of a slam dunk than this one? If Peyton Manning makes it through the 2012 season, he'll be given this award almost regardless of the year he's had.
Manning was on his way to becoming the new iron man of the quarterback world with Brett Favre finally breaking down after almost two decades of being made of granite. He was the only player anywhere near Favre's start streak; the next-closest was his younger brother Eli, who was drafted some six years later.
Manning then went down with the neck injury that became far more of an issue than anybody anticipated, and he sat out the entire 2011 season.
The Colts collapsed in his absence to such a degree that they had an unimpeded path to Andrew Luck, who many called the best prospect since Manning himself.
Now Manning is in Denver, with some tools to work with and a left tackle that is a pretty good pass protector, or at least equal to any Peyton Manning ever had in Indianapolis.
If Manning is even half the player he was as a Colt, he will be well worth the Comeback Player of the Year award after the season is over. If he is anything like his best, he will be threatening for other honors as well.
Other Candidates: Adrian Peterson, Minnesota Vikings; Randy Moss, San Francisco 49ers; Eric Berry, Kansas City Chiefs
Walter Payton Man of the Year: LeSean McCoy, Philadelphia Eagles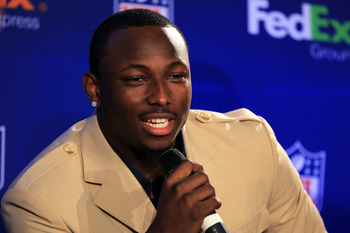 Scott Halleran/Getty Images
The Walter Payton Man of the Year award relies on the performance of a player off the field, rather than focusing on his on-field accolades. It is given annually to honor a player's volunteer and charity work as well as his excellence on the field. Each season, a winner is selected from the pool of 32 nominees from 32 teams in the league.
Last season, Baltimore's Matt Birk was the winner after his years of work both on and off the field.
In reality, there are hundreds of NFL players that give back to the community and do no end of charitable work, and this award could easily go to any of them in a given season.
Each of the 31 other nominees gets a $1,000 charitable donation in their name, while the winner of the award gets a $25,000 donation in their name to go along with the honor.
LeSean McCoy isn't just an excellent running back, but he has been raising his profile in the community for some time now.
He has a foundation in his name that helps raise money for ALS, an illness that claimed his grandmother's life. For such a young player to be so active in charity work is exactly the kind of thing for which this award is designed.
Other Candidates: Too many to list.
Offensive Player of the Year: Drew Brees, New Orleans Saints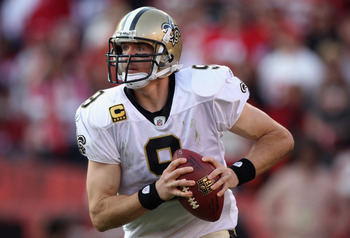 Jed Jacobsohn/Getty Images
There was a thought last season that voters might ticket split: giving Aaron Rodgers the MVP and Drew Brees the Offensive Player of the Year award in an attempt to recognize both players as having fantastic seasons in the same year.
That is exactly what happened, as Rodgers came away with the MVP and Drew Brees was named Offensive Player of the Year for shattering Dan Marino's single-season passing record.
As incredible as Aaron Rodgers was in 2011, it's tough seeing him repeating that level of efficiency in 2012. Meanwhile, Drew Brees, embroiled in messy contract dispute as he may be, has consistently put up ridiculous passing numbers year after year in New Orleans.
Even with the turmoil surrounding Bountygate and the suspensions that have arisen as a result, I wouldn't expect Brees to skip a beat. I firmly expect him to start the season for the Saints and to pick up where he left off, dropping 300-yard passing games like it's nothing.
By the time the season is over, I'd expect another season threatening 5,000 yards and another trophy to put in the cabinet.
Other Candidates: Tom Brady, New England Patriots; Aaron Rodgers, Green Bay Packers; Ben Roethlisberger, Pittsburgh Steelers
Defensive Player of the Year: Justin Smith, San Francisco 49ers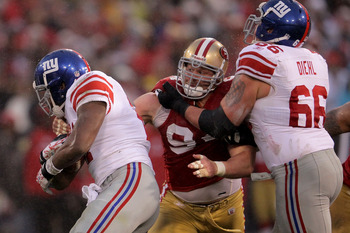 Doug Pensinger/Getty Images
This award was once just about numbers. A player with a ton of sacks or interceptions would walk away with the award.
Recently, however, it has become about more than that. Players are starting to be recognized for the impact they have on their defense and the opposition.
No player is a bigger human-wrecking-ball of havoc and destruction than Justin Smith.
Smith is beginning to be recognized for the unstoppable force that he is. Despite playing the ultimate anonymous position of 3-4 defensive end, he is seen as a game-changer in that San Francisco defense.
The 49ers are going to be in the spotlight this season with the run they had in 2011. Though Patrick Willis gets the headlines ordinarily, the buzz is finally starting to catch up to Smith's level of play.
If he has another season as destructive as his last, then people are going to talk about it, and he may well be able to overcome players that will inevitably rack up more sacks from the edge or get a hat full of interceptions.
Justin Smith may well be the best defensive player in football. He is long overdue for this award.
Other Candidates: Jared Allen, Minnesota Vikings; Jason Pierre-Paul, New York Giants; Darrelle Revis, New York Jets
NFL MVP: Aaron Rodgers, Green Bay Packers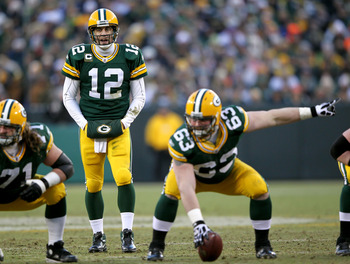 Jamie Squire/Getty Images
Only four players have won the NFL MVP trophy in consecutive seasons, and three of them are quarterbacks.
The Associated Press began using the term "MVP" in 1957, according to Pro-Football-Reference. Jim Brown won the award in its first two seasons. Since then, only Joe Montana, Brett Favre (who won a third year in a row as co-MVP) and Peyton Manning (twice) have won it on consecutive seasons.
In truth, the MVP award has become something that relies as much on hype and momentum within the media as it does play on the field, and it has become almost exclusively given to quarterbacks. In the past 13 seasons, it has been given to passers 10 times, and the other three times to running backs.
In a league that is becoming ever more pass-oriented and steering away from workhorse runners, we can essentially limit our search to signal-callers for 2012.
Aaron Rodgers has elevated his play into that realm of the coolly spectacular. He makes plays with an effortless efficiency, looking permanently in control of what is happening on the field. He gives off the body language of Joe Montana, who rarely, if ever, looked flustered and just made plays when needed.
Last season, Rodgers was so efficient with the ball that he blew Drew Brees out of the water for the MVP award. That's impressive when you look at the list of records that Brees set last season, and Rodgers was comfortably seen by the voters as more valuable.
That sets him up to be the man to beat in 2012. This award is Rodgers' to take home unless somebody can make the case that he shouldn't get it. If he can have another excellent season and the Packers contend for the postseason (both of which should happen), he'll become the fifth player to take home consecutive MVP awards.
Other Candidates: Drew Brees, New Orleans Saints; Tom Brady, New England Patriots; Eli Manning, New York Giants
Keep Reading