NFL Training Camp 2012: 6 Coaches with Most to Gain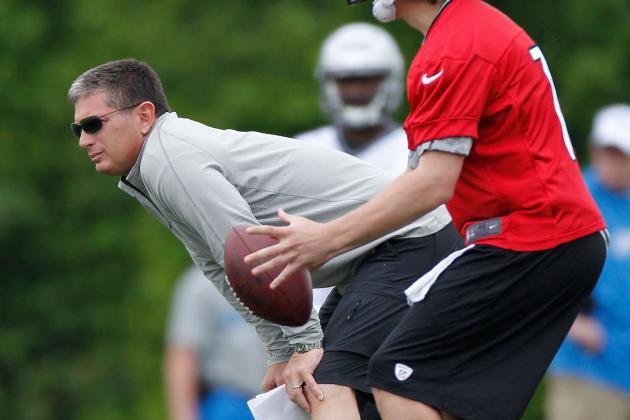 Gregory Shamus/Getty Images

Depending on how it is conducted, training camp has the potential to make or break a season. Either a team will come together from the seclusion of camp, or issues such as a quarterback competition or power struggles will split a team in half.
In the end, it is the head coach's job to get his team moving in the right direction by creating the right camp atmosphere and setting the tone for the rest of the season.
Here are coaches that have the most to gain from a good training camp.
Begin Slideshow

»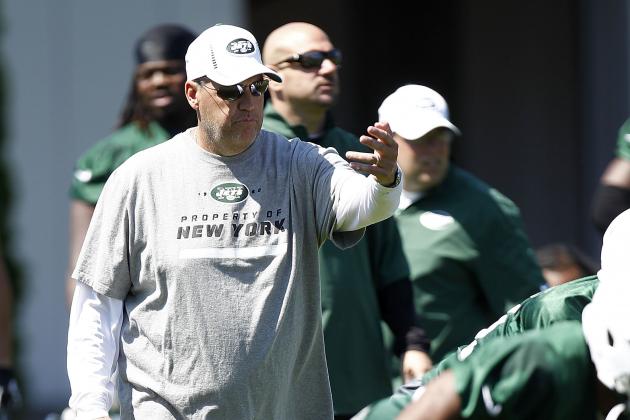 Jeff Zelevansky/Getty Images

Rex Ryan will be walking a tightrope in terms of finding a role for Tebow that will be effective without cutting into Mark Sanchez's role as the starting quarterback.
The "Tebow" package will obviously be installed in training camp and will probably get some air-time in preseason games. If these packages are successful and prove to be a useful complement to the Jets' base offense, it will go a long way in terms of getting the Jets off to a fast start.
At the same time, the Jets will return to Cortland for training camp. Last year, because of the lockout, the Jets stayed in Florham Park for camp. As a result, the Jets locker room was in "disarray" toward the end of the season, as the Jets were not able to build the same kind of camaraderie that they rode to two straight AFC Championship appearances.
If handled correctly, Rex Ryan has a chance to knock out his team's two biggest question marks before the season even begins.
Thearon W. Henderson/Getty Images

While the death of Al Davis was certainly a tragedy, it does give the Raiders a chance to re-create their image with a brand new philosophy of how to build a football team.
Dennis Allen is about to be the first coach in Raiders history not to work under Al Davis. As a result, he will have more power over how he coaches his team than any other coach in Raiders history (excluding the period in which Hue Jackson had total control over the roster after Davis' passing last year).
As a result, Allen has a terrific opportunity to establish a new identity for the Raiders this August, which is something they have desperately needed over the past decade.
Allen must focus on making his team more fundamentally sound and disciplined and not allow his team to rank dead last in penalties once again. This kind of mentality will not happen overnight, but with so many new coaches and decision-makers in place, philosophical change is inevitable in Oakland.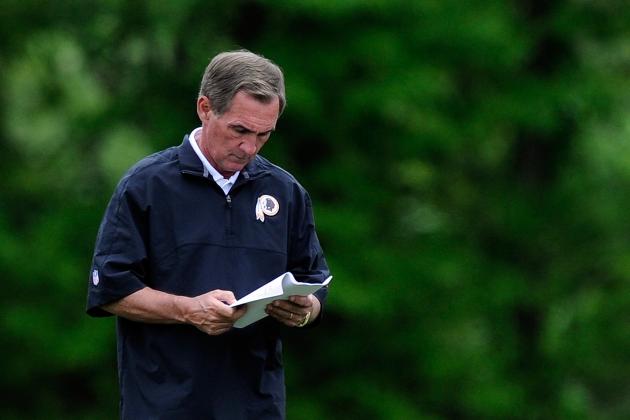 Patrick McDermott/Getty Images

Mike Shanahan has a lot riding on this season. After failing to win many games in his first two years as head coach, he finally has a quarterback prospect in Robert Griffin III that can put the Redskins back into contention.
With a quarterback that oozes potential in RGIII, Shanahan has a chance to create a superstar with a productive training camp.
In turn, if RGIII starts to produce like a top-level quarterback right off the bat, it will get the rest of the team to start believing in him. By developing one player properly, Shanahan could in turn make every player on his team a bit better.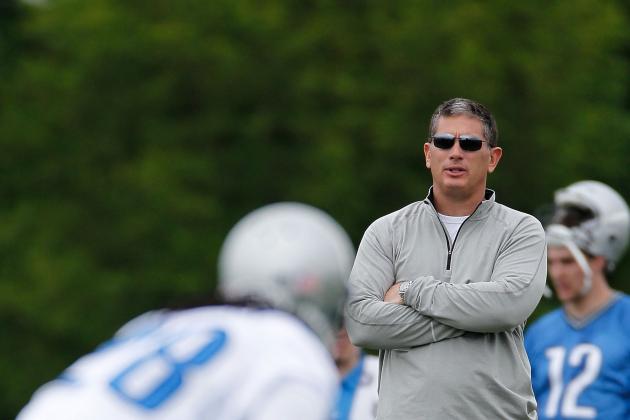 Gregory Shamus/Getty Images

After an astounding six arrests in this offseason alone, Jim Schwartz has a lot of work to do in terms of getting his team in order.
This August, Schwartz has an opportunity to address an issue head-on. However, changing the mindset of young superstar athletes is no easy task. Schwartz is going to have to make maturing and responsibility a huge part of the Lions' goals this year.
If Schwartz lets these issues linger, the Lions will never be able to get over the hump into being perennial Super Bowl contenders. However, if he can send a firm message and change the Lions' culture in training camp, it will impact the team for more than one season. He can help create a new identity for the franchise to build upon.
Dilip Vishwanat/Getty Images

This upcoming season is a huge one for the Rams. They need to get their franchise quarterback back on track after taking a step back in his sophomore season, or they could be picking from the top three picks yet again.
The Rams need to create a winning atmosphere, which is exactly why the brought in Jeff Fisher. So far, Fisher is already changing the culture in St. Louis, based on what star runner Steven Jackson told FoxSportsMidwest.com:
It's very refreshing to have a coach that has that kind of résumé and brings that kind of credibility. You can just feel it. It's quite a difference. I haven't felt this way since the 2004, 2005 years, where now it's more so 'when' is it going to turn around, not 'if' it's going to turn around.
Given the amount of coaching turnover Jackson has seen in his long career with the Rams, that is quite a profound statement.
If this new-found sense of credibility carries over into training camp, it could propel the Rams into having a rebound season in 2012.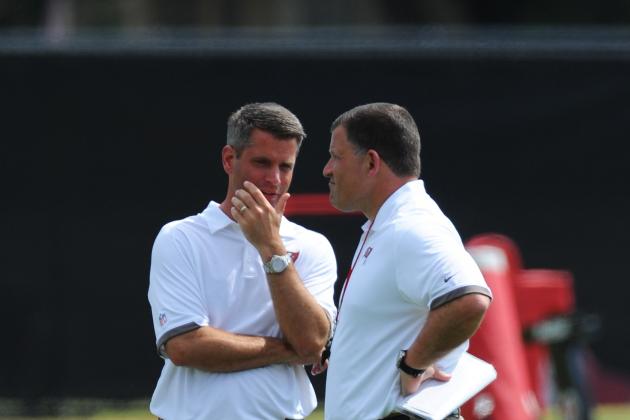 Al Messerschmidt/Getty Images

By replacing the young Raheem Morris with more of an old-school coach in Greg Schiano, there is no question that the Bucs are focused on changing the culture of their franchise.
With training camp opening up in less than a month, there is no time like the present to get started on such a project.
In fact, it appears as if they have already gotten started on repairing their image as a young, immature team by replacing Kellen Winslow in favor of Dallas Clark. Winslow was reportedly working out on his own, as opposed to working out with the rest of the team, which was a deal-breaker for Schiano.
I would not be surprised to see a few more "surprise" releases as training camp wears on and Schiano weeds out the players he does not want to be a part of his program.
The Bucs are more talented than their record would indicate, and a much-needed attitude adjustment could be exactly what they need to get back on track.