Fantasy Football Sleepers 2012: Jay Cutler and 10 Players to Target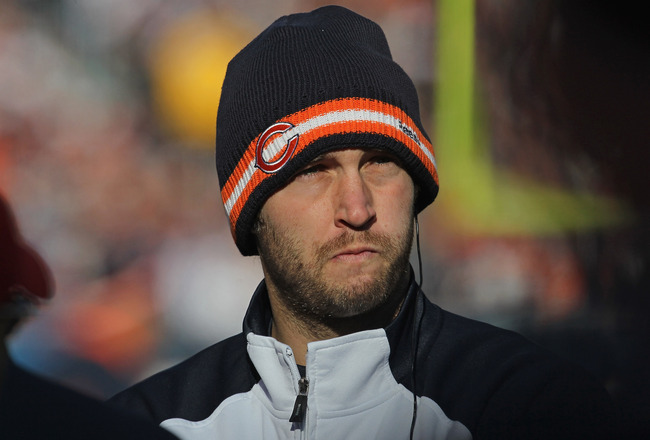 Jonathan Daniel/Getty Images
Predicting sleepers is a frustrating practice, as anyone who has spent any time preparing for a fantasy football draft can tell you.
Pick the wrong sleepers and you find yourself with dead weight up and down your lineup halfway through the season. Play it too safe and you'll end up with a low-risk, low-reward team that wins every other week but isn't a championship contender.
So to help you out, I've identified 10 sleepers I think will help your squad this season. Some will be passed over in drafts because they had poor seasons last year or went down with injuries. Others are due for a breakout season.
Whatever the case may be, these 10 players will represent great value at your draft and could help you win your league.
Pass them up at your own peril.
10. Coby Fleener, Indianapolis Colts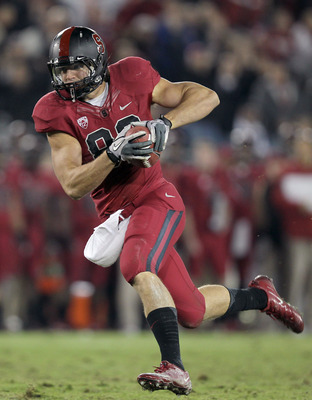 Ezra Shaw/Getty Images
If you miss out on the top tier of tight ends (Rob Gronkowski and Jimmy Graham) or the second tier (Antonio Gates, Vernon Davis, Jason Witten, Jermichael Finley, Aaron Hernandez) you're going to need to be prepared to play matchups and platoon two tight ends.
That's where Fleener comes in.
Drafting him to be your primary tight end is risky, but if you snag him to pair with a player like Brandon Pettigrew and play your cards right each week, you could get big value from Fleener next season.
His familiarity with Andrew Luck and the fact that tight ends are generally a rookie quarterback's best friend help his cause. He has the upside to finish in the second tier of tight ends, and he's worth the risk given he'll be available in the late middle rounds.
9. Mike Williams, Tampa Bay Buccaneers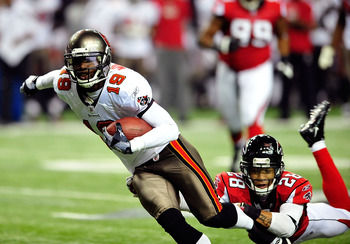 Grant Halverson/Getty Images
Which Mike Williams do you think we'll get in 2012?
If you believe we'll see a repeat of his 2010 rookie season when he caught 65 passes for 964 yards and 11 touchdowns, you'll take your chances with Williams in the middle rounds and could see huge dividends from him this year.
If you believe we'll get the Williams that showed up overweight and out of shape before the 2011 season and only managed 65 receptions for 771 yards and three touchdowns, you won't waste a late-round pick on him.
I believe we'll see the former.
And while Vincent Jackson will be the top threat in the passing game, Williams could benefit from a lot of single coverage this season and rekindle the chemistry he had with Josh Freeman.
His upside is as a No. 2 wide receiver, but he could do so for you this year at a bargain price.
8. Josh Freeman, Tampa Bay Buccaneers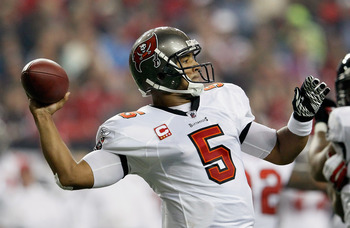 Kevin C. Cox/Getty Images
One of my old draft strategies was waiting in the draft to select a quarterback, and then nabbing two guys in succession that I could platoon and play matchups with week to week.
One year, Donovan McNabb and Matt Schaub held down the fort. Another year, Jay Cutler and Tony Romo did the trick.
While that strategy is harder to pull off given the huge numbers players like Aaron Rodgers, Drew Brees and Tom Brady put up each year, it is still feasible if you land the right players. Last year, you could have snagged Eli Manning, Andy Dalton and Cam Newton in the bargain bin and rode them to a title.
This year, add Josh Freeman to that category.
Yes, he was pretty terrible last year. So were the rest of the Bucs.
But with a new coach in town and a legitimate No. 1 receiver in Vincent Jackson, Freeman is poised for a breakout year. He may not be as efficient as the 25 touchdowns and six interceptions he threw in 2010, but he should give you close to 4000 yards, 25 touchdowns and 12-15 picks.
If you miss out on the top tier of options, don't be afraid to look at Freeman later in the draft to pair with a second-tier quarterback. He'll surprise you.
7. Kenny Britt, Tennessee Titans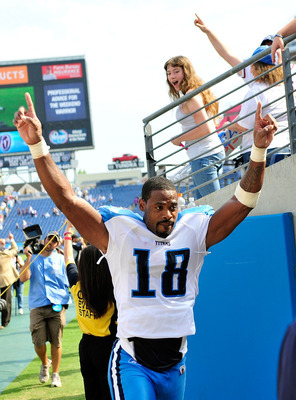 Grant Halverson/Getty Images
Three things will drop Britt down boards this year: Last year's torn ACL, his past character issues and the fact that either Matt Hasselbeck or Jake Locker will be throwing him passes.
All points are fair.
Here's my counter-argument: Britt is an elite talent who is the Titans unquestioned No. 1 wideout. He's put up excellent numbers with mediocre quarterback play in the past. He's a big risk, I concede that, but if he can stay healthy you're looking at a top-15 receiver who you can steal later in drafts.
In the 15 games that Britt has played over the past two seasons, he's caught 59 passes for 1064 yards and 12 touchdowns. When he plays, he's a threat.
If you like living on the edge, Britt could make your gamble very worthwhile.
6. Peyton Hillis, Kansas City Chiefs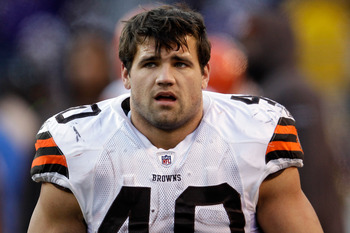 Rob Carr/Getty Images
In 2010, Thomas Jones rushed for 896 yards and six touchdowns at the ripe old age of 32. That same year, a completely healthy Jamaal Charles rushed for 1467 yards and eight total touchdowns.
The moral of the story?
Peyton Hillis is younger than Jones was in 2010, has far more to prove and will earn a huge chunk of the carries given the fact that Charles is coming off an ACL tear last season.
While I wouldn't expect Hillis to rush for 1177 yards and score 13 total touchdowns like he did in 2010, he's perfectly capable of bruising his way to 900 yards and 10 touchdowns this year.
He has goal line vulture written all over him, and a timeshare between he and Charles should make both viable fantasy candidates.
5. Isaac Redman, Pittsburgh Steelers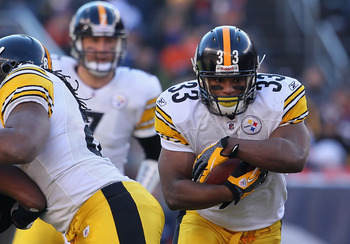 Jeff Gross/Getty Images
What we don't know is when Rashard Mendenhall will be healthy or how effective he'll be if he finally returns to the Steelers in 2012.
What we do know is that Redman will be the man while Mendenhall is out of commission. And we also know that in the two games Redman was the primary guy for the Steelers last season, he rushed for 213 yards and a touchdown.
He's got game.
Yes, he's had some fumbling issues in the past and has never been a team's primary back over the course of a season. But he's also a clear-cut starter at a position rife with platoons, and on a Steelers' offense that will run the ball effectively.
In other words, Redman is a guy that could start for you each week that will still be around in the middle rounds. He's worth a look.
4. Robert Meachem, San Diego Chargers
Adam Bettcher/Getty Images
Philip Rivers will make one of the Chargers a top-15 wide receiver next season. I'm banking on Meachem being that guy.
Malcolm Floyd will have some huge weeks but he won't consistently produce. Vincent Brown showed promise but he's at best this team's third option. And somebody needs to catch all of those passes that once went to Vincent Jackson.
Look for Meachem, who should be hungry to prove he's a top option after years of being stuck behind the incredible receiving depth in New Orleans.
Meachem has the size, speed, quarterback and role to put up excellent numbers this year—in the middle rounds, you can't afford to let him slip by you.
3. Titus Young, Detroit Lions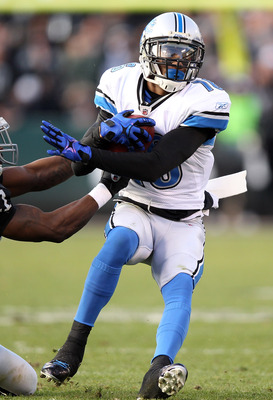 Ezra Shaw/Getty Images
In 2011, five sets of teammates finished as top-25 receivers—Greg Jennings and Jordy Nelson, Mike Wallace and Antonio Brown, Dez Bryant and Laurent Robinson, Roddy White and Julio Jones and Victor Cruz and Hakeem Nicks.
This year, expect to add Calvin Johnson and Titus Young to that list.
Sure, Johnson will reign in the majority of looks. But with Matthew Stafford and the explosive Lions' passing attack, there will be plenty of looks to go around and the second-year man from Boise State will be the man to benefit.
Don't be shocked if Young finishes in the 1000 yards and eight touchdown range. He looks poised to have a breakthrough 2012 season and steal a lot of receptions from Nate Burleson.
2. Jay Cutler, Chicago Bears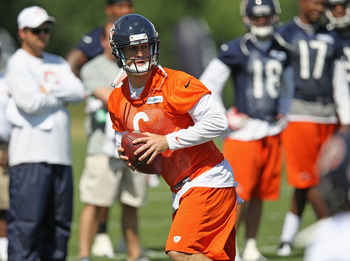 Jonathan Daniel/Getty Images
I know it's popular to bash on Jay Cutler, to harp on his inconsistency or point out his dour persona.
But when Cutler is healthy and has legitimate receiving threats around him, he has top-five potential as a quarterback, and he'll come as a major bargain at this year's draft.
The last time Cutler and Brandon Marshall were paired together, Cutler threw for 4526 yards and 25 touchdowns, Marshall caught 104 passes for 1265 yards and six touchdowns and each were elite fantasy options.
Plus, this offense is sans Mike Martz and his quarterback-killing ways, Jeremy Bates—Cutler's quarterback coach in Denver—will be reprising that role in Denver and the team has a nice assortment of offensive weapons.
Hedge your bets with a safer option earlier in the draft. But if Cutler is sitting on the board in the middle of the draft and you need another quarterback, don't hesitate to snag him. He's going to put up big numbers next year.
1. Javhvid Best, Detroit Lions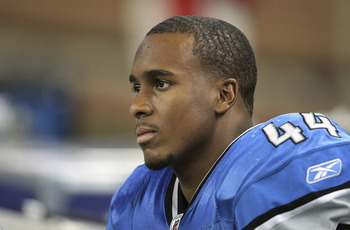 Leon Halip/Getty Images
Jahvid Best is the definition of the ultimate boom-or-bust sleeper prospect. He is incredibly explosive, is the perfect fit in the Lions' spread offense and has already proven to be a valuable commodity, with 1037 total yards and six touchdowns in his 2010 rookie season.
But he's also been injury prone in both college and now in the pros, playing in just six games last season. Of course, in those six games he was good for 677 yards and three touchdowns.
If he's on the field, he's dangerous.
He's a dual-threat, Darren Sproles type back that is capable of winning you weeks with huge games. He's always a threat to scoot 70 yards for a touchdown run, and he's on an offense you know will eat up yards and score points.
But will he stay healthy? That's the question you'll be asking yourself as you ponder selecting him. Take a chance on him—nobody ever won a fantasy title without taking a few well-researched risks.
Hit me up on Twitter—my tweets want Dwight Howard to just get traded already, too.

Keep Reading