Fantasy Football 2012: Sleepers Who Will Break Out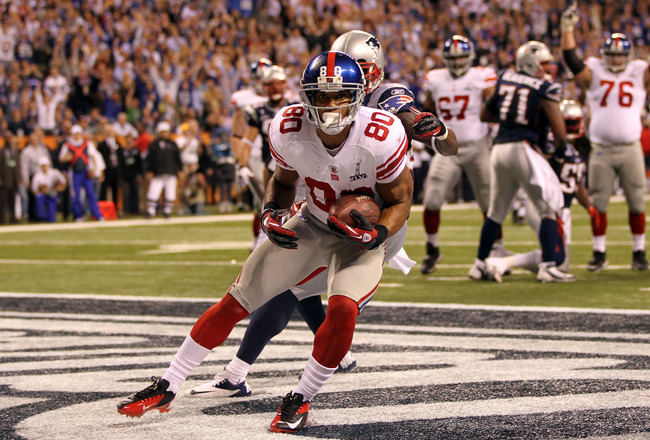 Last season's sleeper pick Victor Cruz
Jamie Squire/Getty Images
Every year, fantasy football has completely overlooked players step up and play outstandingly. These sleepers are usually what makes the champion's team click. While the first-round pick tends to be the focus, it's actually the sleepers who can make or break a year.
What players like Victor Cruz, Michael Bush and DeMarco Murray bring to the table is hard to find. Even the best analysts struggle to pick out who will break out every year, but that doesn't stop people from trying.
With that said, here are 10 players who should drop to the later rounds, or even go undrafted, and can change the dynamic of your team.
WR Brian Quick

Highlights of Rookie Wide Receiver Brian Quick

Quick is a top-tier physical talent and should immediately add a legitimate receiving threat for Rams quarterback Sam Bradford. He fills the team's biggest offensive need. The team already has a great running game, which will open the field for a playmaker like Quick.
Having Danny Amendola back from the injury that cost him almost all of last season will help Bradford find success early, which is what Quick needs while he learns the offense.
His size is what Bradford will love the most, with him standing at 6'4'' and weighing 220 pounds. He has a shot to be the next elite receiver in the NFL. I think he will have the best numbers of any rookie wide receiver.
WR Vincent Brown

Brown's Highlights from San Diego State

The departure of Vincent Jackson opens the door for another Vincent. The Chargers' third-round pick last season turned out to be a welcome surprise after he got a chance. And since everyone knows Philip Rivers isn't going to stop throwing the ball, Brown could easily fill in as his new primary receiver.
Robert Meachem and Malcom Floyd will continue to underperform, but Brown showed in limited time last season that he can hang in the NFL. He had 14 of his 19 receptions during a five-game stretch once he broke into the starting lineup. He scored both of his touchdowns and had 256 of his 329 yards during those games. It might take a few weeks for Brown to crack into the lineup, but once he does he could be a great steal.
He showed in college that he has play-making ability and is an excellent route runner. In his limited time last season he showed he could do that at the next level.
WR Mohamed Sanu

College Highlights of Mohamed Sanu

Sanu has a great opportunity in Cincinnati. He will be given the chance to start opposite A.J. Green, who will surely draw double teams after his performance last year. The entire Bengals offense is in for a great year, and Sanu should be a big benefactor of that.
Having Andy Dalton throw the football to him will certainly help, and with new running back BenJarvus Green-Ellis there to help create a better running game, this team looks like it can improve upon its surprising performance from a year ago.
Sanu has impressed the team already with his performance during OTAs and mandatory minicamp, and being the big possession receiver he is will help him win the spot that opened up when Jerome Simpson left for Minnesota.
At 6'2'' and weighing 211 lbs, he has the size to dominate the smaller corners who will more than likely be covering him. While he lacks game-changing speed, he could become a great goal-line threat with his reliable hands.
TE Jared Cook

Cook's NFL Network Story

Cook was on many people's radar last season, and to his credit he had a decent season (49 catches, 759 yards, three touchdowns), However, his lack of touchdowns was concerning, and he didn't fully break out as expected. Look for him to do so this season.
The return of Kenny Britt, addition of rookie Kendall Wright and Chris Johnson's contract not being an issue should help make that offense better. Cook could easily reap the benefits of that improvement and become the goal-line threat for the Titans.
Cook has rare speed for a player of his size, which he can use to create separation. If Matt Hasselbeck is the starter at quarterback, another offseason should increase their chemistry. If Jake Locker becomes the starter, Cook has the benefit of knowing that young quarterbacks tend to dump passes off to the tight end. Either way, Cook seems poised to improve upon his numbers from a year ago.
TE Kyle Rudolph

Rudolph's Great Catch

The departure of Visanthe Shiancoe should mean a drastic increase in playing time for Rudolph, even with the addition of John Carlson. Rudolph showed his ability in limited playing time last season, gathering 26 catches for 249 yards and three touchdowns. In an increased role, you could just expand those numbers, and he would be a great late pickup.
Now add in the development of Christian Ponder and everything the team has done for him. The team brought in more receivers, a better line to protect him and a second tight end. Ponder has the tools around him and has had a full offseason to improve. During their tenure there, Ponder and Rudolph have become quick friends, and that chemistry should translate to the field.
Rudolph should see the field plenty, and the offense looks to be much improved. Don't be surprised if he puts up dynamic numbers next season, and be the one smiling smugly because you made the decision to draft him.
RB Mikel Leshoure

Mikel Leshoure College Highlights

Leshoure made many people's list as a sleeper last season before getting hurt, so I sort of feel like I'm cheating here, but his potential is just too good to pass up. A strong runner who should be given the goal-line opportunities, he will join a potent offense from 2011. All the team lacked last season was a running game, and with him and running mate Jahvid Best back there, the team looks set.
The fact that the passing game was so powerful last season will make the road easier for Leshoure, and with the addition of Ryan Broyles to the receiving threat and Riley Reiff to block for them, it would be surprising if the running game didn't have success.
Now I'm not saying he will be a top back; I'm saying he will be a solid No. 3 back or a flex option if available. He will be suspended for the first two games of the season, which should make him available even post draft.
RB Shane Vareen

Shane Vareen College Highlights

BenJarvus Green-Ellis, also known by his far more awesome nickname the Law Firm, left New England for (A.J.) Greener pastures. That opens the door for a new running back to take his place. Shane Vareen is my early favorite to win that spot, and he will have arguably the best passing offense to help him lighten the load.
Vareen is a talented back, and although he is smaller, he is very strong and agile. He showed he was a smart runner in college and has the most upside of any back in New England. He can be effective in the pass game as well, giving him even more potential production.
I wouldn't risk even a middle round pick on him, though, as he isn't even guaranteed to be the starter, and Bill Belichick has a history of platooning that role. However, as a very late-round pick or possibly an undrafted pickup, he has plenty of upside.
QB Sam Bradford

Bradford's Highlights 2010

Bradford's sophomore season was ruined by injuries and a lack of talent around him. Both of these issues should be fixed this season.
Bradford is in great health as he heads towards training camp and should bounce back huge after his debacle last season. As mentioned earlier, the Rams added a big receiver to help Bradford out in Brian Quick. In addition, the team signed former Giant and Eagle Steve Smith, who hopes to return to his 2009 form. Danny Amendola also returns to the lineup to help him out. The running game should still be there, so passing lanes will be open.
Bradford will most likely be overlooked after only tossing six touchdowns a year ago, and he has the potential around him to become a spot starter for most fantasy teams. If he is still available in the later rounds, be smart and grab him.
QB Christian Ponder

Ponder's Highlights 2011

Ponder looks to improve upon his rookie numbers, which were average at best. With so many additions to the offense during the offseason, he would be hard-pressed not to do better. A second big tight end in John Carlson should benefit him greatly, as well the team's three new receivers. Rookies Jarius Wright and Greg Childs, along with former Bengal Jerome Simpson, could reignite this passing game.
A full offseason should help him cut down on turnovers, and starting all season will allow his numbers to grow. Ponder showed he can gain some yards on the ground as well, proving to be an effective scrambler. Those numbers could be big difference makers in your fantasy season.
His relationship with current tight end Kyle Rudolph is great, and he has the dynamic Percy Harvin to throw to along with a much improved offensive line. Everything looks like he could perform this season. Add in the great running game (with or without Peterson, this team can get it done), and it is a perfect recipe for potentially the best steal of the fantasy season.
St. Louis Rams Def/ST

New Ram Cortland Finnegan Highlights

The Rams defense is drastically improved from a season ago. Jeff Fisher alone should improve the team a lot, but that's not all the team brought in. Former Titan Cortland Finnegan followed his old head coach to St. Louis. Talented rookies Janoris Jenkins and Trumaine Johnson round out the new secondary.
The defensive line was decent a year ago, and the addition of first-round pick Michael Brockers should make it even better. Chris Long showed last year that he was a talent, and he should provide the same impact this season.
This defense will quietly generate turnovers and should statistically be near the top of the league. If you miss out on one of the top defenses this season, try to snag the Rams in the later rounds.
Keep Reading