Sports Lists
Chad Ochocinco Steps Up for Grieving Widow with Wedding Invite
Elsa/Getty Images
July 3, 2012
Oh, Chad Ochocinco. You make it so unbelievably hard to loathe you sometimes. 
The latest scuttlebutt surrounding the future Mr. Evelyn Lozada is an offer to console a newly widowed woman by inviting her to his wedding. 
Who are you, Chad Ochocinco?
You wear gold teeth and dance in the end zone, and we think we have you pegged. You get engaged to your fiancee in the saddest way possible, and we think we have an understanding of your personality. 
Then you go and pull a stunt like this and give me a bloody nose from the loss of balance. 
Rant Sports spotted a few gems lying around Ochocinco's Twitter feed recently, and we are glad they did. It goes a long way to remind us of how kind a superstar athlete can be.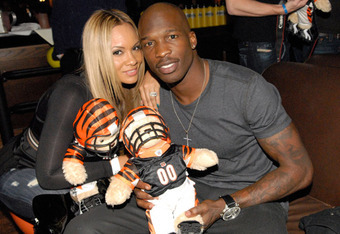 Photo Credit: SoccerBuzz.Net
It starts with this reply to Cheryl Minton, a Twitter follower who lost her husband of 30 years.
You have a passport? RT @cheryl2958: I'm feeling pretty low today. Lost my hubby 2 weeks ago. Together 30 years. Very hard.

— Chad Johnson (@ochocinco) July 3, 2012
Ochocinco continues the discussion.
Then this lovely reply.
Check ya DM... Just start packing... Evelyn will make arrangements... see you tonight/early a.m. RT @cheryl2958:Yes.where is it?

— Chad Johnson (@ochocinco) July 3, 2012
More awesome.
@cheryl2958 Turn Up Ms. Cheryl, bring ya smile, dancing shoes and appetite... let me know when you receive confirmation... Turn up...

— Chad Johnson (@ochocinco) July 3, 2012
Spirits brightened, via Cheryl Minton's Twitter feed.
I am done trying to analyze this man who makes headlines for the best and worst of things. Recently, we gave him a hard time for how he proposed to his future wife, reality star Evelyn Lozada. 
You are officially forgiven by now doing something so simple, yet so remarkable. 
This woman is having a tough time with the loss of her best friend and will now get a brief respite from the grief. 
I hope the wedding is as I imagine it to be, a ridiculous ceremony only Ochocinco could imagine. Because it would be the perfect time for Cheryl Minton. 
Follow me on Twitter for updated awesome. 
Like the new article format? Send us feedback!