Chad Ochocinco Proposes to Evelyn Lozada in Most Awful Way Imaginable
June 27, 2012

Gentleman: never—and I mean ever—propose to your girlfriend like famed NFL receiver Chad Ochocinco did recently. 
USA Today reports on the worst marriage proposal in the history of such things. It seems Basketball Wives star Evelyn Lozada was on V-103 radio recently and delivered some startling news. 
Egypt Said So has the transcription of the saddest damn thing I have heard all day. 
I wish I had a really romantic story to tell you, but it's not so romantic. A jeweler came to the house, had a few rings, he had my ring in a separate box. I of course chose that one. He had a headset on and he was like, 'you like it?' and I was like yep and I put it on and he goes okay cool, and he started playing Call of Duty.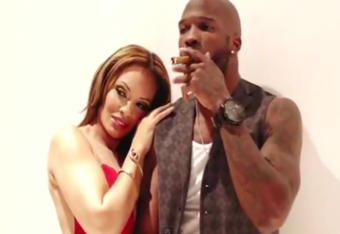 Oh, dear. 
You know, Lozada, that awful proposal was grounds for an answer of no. In fact, you could have answered by laughing as you shut off the Call of Duty session and walked out. 
I know proposals can range from hackneyed to world-class romantic. Really, any woman will forgive even the most contrived offer as long as your heart is in it and you give a valiant effort. 
Except for proposals at sporting events.
Those are super lame, and no woman really enjoys being asked the one question she has waited her whole life to hear as some fat guy in the next aisle polishes off a beer and a dog. 
Keep it classy, guys. 
This, however, takes the cake of shame. 
Show a little damn effort. If you can run a route with some passion, you can maybe take your partner for life out for a dinner. 
Damn, take her to a frigging movie for all I care—just do more than pause your video game for a second. 
I just have no words for the sorriest excuse for a romantic gesture in the history of engagements. There really needs to be an award for this hilariously depressing scene. 
Follow me on Twitter for a quick pick-me-up.