20 NFL Players Least Likely to Show Up on an Arrest Report This Season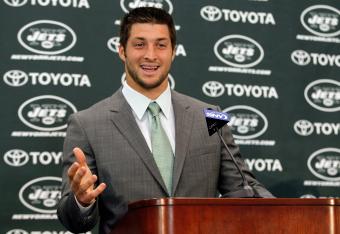 Mike Stobe/Getty Images
Another NFL offseason has come and gone, but that does not mean players have learned their lesson with regards to the law. Detroit Lions defensive lineman Nick Fairley highlights the list of players who had trouble with the law during the downtime of the league calendar.
However, there are plenty of model citizens of the NFL who have always brought respect to the game both on and off the field. Although there are plenty of players deserving of this honor, here are the 20 NFL players least likely to have trouble with the law this upcoming season.
20. Ray Lewis
Before the jokes begin being made about Lewis, people need to consider the fact that Lewis has not been involved with any controversy regarding law enforcement in recent memory. While he made a critical mistake in his early days with the Baltimore Ravens, he has become a leader within the Baltimore community, helping keep children and adults occupied and away from the crime that exists in that city.
19. Calvin Johnson
For a guy that has received a lot of accolades for his performance on the field, Johnson has been a good leader for the Detroit Lions. On the field, he lets his talent speak for itself. In the locker room, he has proven to be a team player and has made responsible decisions during his time in the league. The Lions have dealt with multiple off-the-field issues, but Johnson won't be a concern for them anytime soon.
18. Greg Olsen
The current tight end for the Carolina Panthers has earned respect from his teammates due to his quiet, yet confident attitude during his career in the NFL. He has taken responsibility of surrounding himself with the right people, which has led to no off-the-field issues the last five seasons.
17. Nnamdi Asomugha
Asomugha has always handled himself with class and respect for every player in the NFL. He was a quiet leader that spoke volumes while he was with the Oakland Raiders organization. When he came to Philadelphia, Asomugha also continued his service to the local communities. He is an ambassador of the United Way program and has always enjoyed being a role model to kids.
16. Joe Flacco
Flacco has brought more stability to one of the NFL's better franchises when being drafted by the Ravens in 2008. Though his play has warranted respect from his veteran teammates, he has found a way to utilize his quiet personality within the city of Baltimore. He shows great admiration towards his fans and takes advantage of the opportunity to engage with them during the offseason. He recently has become a father and continues to make responsible decisions while being surrounded by his family.
15 and 14. Tom Brady and Wes Welker
The New England Patriots have proven to have a well-respected image due in part to the quality of human beings that exist on the roster. Two of those players are Brady and Welker, who have brought great leadership to a veteran locker room in New England. Brady has been given his fair share of stardom as a professional football player, but that has not stopped him from making smart decisions as a person.
Welker has been gracious for the opportunity to emerge as an elite receiver and has always handled himself well on and off the field. Welker is the founder of the Wes Welker Foundation, which has helped kids be influenced by true role models and to reach their potential through athletics.
13 and 12. Anquan Boldin and Larry Fitzgerald
Once teammates in Arizona, Boldin and Fitzgerald are among the many well-respected football players in the African-American community. Boldin and Fitzgerald have been very generous to the people of Africa and have made it a yearly tradition to communicate with the people on that continent.
11. Troy Polamalu
Polamalu's aggressive football style does not translate to a violent lifestyle off the field. His calm, soft-spoken personality has impressed his close Pittsburgh Steelers teammates since being drafted by the Steelers. He has been a driving force with helping the community of Pittsburgh and has shown generosity towards many homeless people in the area.
10. Patrick Willis
He has become the best linebacker in football early on in his career with the San Francisco 49ers. He has also made very smart decisions by avoiding the party scene in the Golden State area and instead has put his time towards working with his team and community.
While proving that he is the best running back in football, Peterson is taking his work ethic to a whole new level. He has been consistently training in order to return to the field as quickly as possible after his ACL injury. He has not gotten caught up with the fame and party life in Minnesota, but rather he has shown commitment to his team and the community.
8. Brian Waters
A former winner of the Walter Payton Man of the Year Award, Waters has shown great commitment to his community while also playing at an All-Pro level the majority of his career. After years with the Kansas City Chiefs, Waters couldn't have found a better situation to end his career with than the New England Patriots.
7. London Fletcher
Fletcher is one of the more adored players in the NFL due to the attention he gives to his fans and his community while with the Washington Redskins. On the field, he has been a vocal leader who has defended the organization despite the difficult stretches the last few years. He will not upset the organization by surrounding himself with the wrong group of people.
6. Eli Manning
Manning was fortunate to be raised in a family that has consisted of classy individuals who respect the game of football along with the members of their respective organizations. A two-time champion, Manning has not shown an interest in the night life of New York City and is content with spending his time in the offseason with his family. Manning will be nowhere near an arrest report during his career.
5. Drew Brees
Brees has been a transforming figure in the city of New Orleans, helping the city move on from Hurricane Katrina and bringing a championship home to this franchise. Brees continues to support the community efforts that are still put into effect to help Katrina victims. He is a responsible individual who values his family and is smart enough not to put his loved ones into danger.
4. Matt Birk
Birk is respected by all of his peers for the time and effort he gives to mentoring the younger players while also preparing for each game every week. A winner of the 2011 Walter Payton Man of the Year Award, Birk has always took pride in being a leader for kids across the United States by using his talents to benefit others.
Just like his brother, Eli, Peyton has been a fantastic representation of the NFL off the field. From his marketable personality, to his effort given to children of all ages, Manning has a good set of priorities he abides by as a person.
2. Aaron Curry
Curry, the former first-round pick of the Seattle Seahawks, is a man attached to his faith and enjoys giving his time to children at no cost. Curry orchestrates his own football camp where he helps student-athletes improve their skills as they pursue a dream at the next level. He is committed to surrounding himself with people who share the same kind of generosity that Curry gives to kids across the nation.
1. Tim Tebow
No one will ever need to worry about the whereabouts of Tebow. He has always handled himself with class and gives his full attention to both his time as a football player along with his team as a generous man. He has traveled all across America and around the world to donate his time to the less fortunate. He is a leading example of how an NFL player should act.
Matt Miselis is an NFL featured columnist for BleacherReport.com. Follow him on Twitter.
This article is
What is the duplicate article?
Why is this article offensive?
Where is this article plagiarized from?
Why is this article poorly edited?