Who Is the NFL's Most Mechanically-Flawed Star?
June 28, 2012

Jeff Gross/Getty Images
This would be one of the easiest articles to write if Tim Tebow was actually a star. Tebow is a star at garnering attention and creating hype, but I'm talking about a football star.
I know it's not his fault that some national media outlets never stop talking about him even though he's only better than a handful of quarterbacks in the league. I can appreciate his unconventional approach to the quarterback position, but I'm with Elway on this one: I don't want him as my starter. The mechanically-flawed quarterback I want is Philip Rivers.
Just like Tebow, Rivers' mechanics were put under the microscope by NFL general managers. It might not have been to the same magnitude as Tebow, but there were plenty of concerns from high-ranking officials.
While at North Carolina State, he started an NCAA-record 51 straight games. During those 51 starts he compiled 13,484 yards, 95 touchdown passes and a completion percentage of over 63 percent. Despite his big numbers and proven ability, questions still arose regarding arm strength and his unorthodox side-armed throwing motion.
However, it doesn't seem like arm strength questions are still in play. We know people will always talk about the unorthodox side-arm delivery, but because of his success, we don't take the time to pick apart his mechanics.
I don't care how much press, hype or credit he gets, his mechanics leave plenty to be desired.
Footwork
After going back and watching a few of Rivers' games from 2011, I started to pick up on the things that caused him to struggle. The first thing that jumped out was his poor footwork—more specifically, the bad habit of throwing off his back foot. 
This clip is from Week 7 last season, when the Chargers took on the Jets.
The first thing I noticed when I watched this play was the fact that it was an overthrow. It looks pretty routine, but by slowing things down, it's easy to see why the throw sailed on him.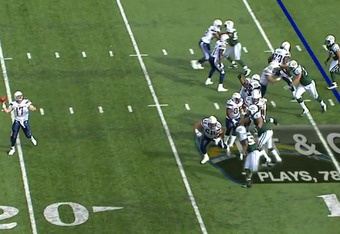 As Rivers begins to throw, all of his weight shifts to his back foot. It was unnecessary for him to have to make a throw off of his back foot on this play. There is no pressure from the defense, as the Chargers offensive line has the play well blocked. By throwing off of his back foot, accuracy goes down along with the ability to drive the ball.
If he would have stopped, reset his feet and stepped into the throw, he might have been able to put the ball into a window which would have allowed Jacob Hester to make a play on the ball. 
I've seen Rivers step into plenty of throws with the defense breathing down his neck, but this play was a prime example of poor footwork and weight transfer.  
Here is a play from Week 10 against the Raiders.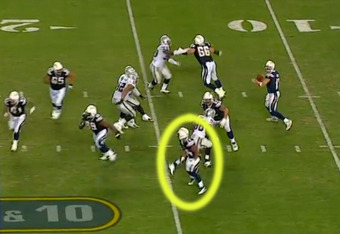 On this play, Rivers is looking for running back Ryan Mathews on a screen. In theory, this should be an easy throw, but as you can see, his shoulders are about halfway squared up with all of the weight and torque being applied to his back foot again.
Momentum carried him backward, as the throw was in front of Mathews. The pass would have been right on the money if Rivers would have stepped into it with his left foot.
Now for a clip from the Chargers' Week 11 game against the Bears. 
Another play where it seems as if Rivers is trying to throw the ball away or just throw it in the dirt, but he ends up getting picked off because he didn't put anything on the ball.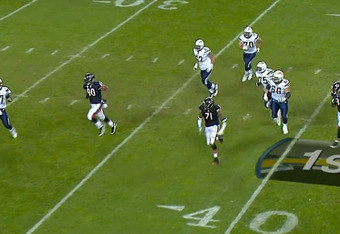 Rivers' momentum is taking him downhill as he's trying to avoid the rush. Vincent Brown was his intended receiver on the play, and he can hardly be seen as the pass is underthrown by a good five yards. On all three plays showcased, Rivers' left leg is hanging in the air like a dead limb.
By no means am I saying that his footwork is this poor at all times, but when errant throws and turnovers occur, it is the main culprit. It's not possible to perfectly set the feet on every play due to the rush and movement in the pocket, but practicing good habits would help cut down on some of his inconsistent throws.
Throwing Motion
Having sound mechanics makes a smart quarterback that much better, but relying on mechanics alone isn't wise, as the mental aspects go hand in hand with the physical aspect. 
Rivers has always been criticized about his throwing motion. This image below is from the Chargers' Week 3 contest against the Chiefs.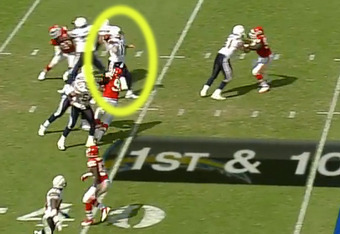 On this particular play, Malcom Floyd is in the short part of the field being covered by Derrick Johnson. Rivers does a good job at setting his feet on this play: He stepped into his throw and delivered a pass that had plenty of zip on it. That's the good part of the breakdown.
I stopped the film right before the ball came out of his hand. By doing so, I caught the way he releases the ball. He actually has a very good release at times—as you can see, it is just below or even with his ear hole, which is ideal. The thing that isn't ideal is the fact that his release point isn't always over his shoulder, it's off to the side. 
Because of this release, the trajectory of the ball isn't always as good as it should be, which results in underthrows. On this particular play, Rivers had a wide-open receiver that had beaten the cornerback, but he was unable to throw the ball over Johnson's head.
Here, I look at a play from Week 1.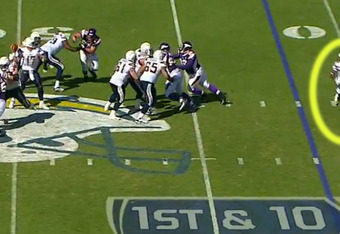 This play is a perfect example of a bad release point. His release point here is too far out in front of his body, and it's easy to tell the ball is headed straight for the dirt.
Rivers was looking to find Malcom Floyd on a short crosser. There wasn't anyone even near Floyd at the time, and Rivers simply threw it behind him on an errant throw. 
The pass needs to come out more where it did previously: by the ear hole. The release points affect accuracy—plain and simple. From the games I watched, it didn't seem as if this combination of bad release point and bad delivery came up a whole bunch, but when it did, the throw was either overthrown or underthrown by a good margin.
Philip Rivers is a phenomenal talent at the quarterback position and has proven an elite level of play during his first eight seasons. In my book he's a top-five QB, but he still leaves plenty to be desired.