Tim Tebow: Gator Zone Report on Brady Quinn and Notre Dame Vanishes
June 26, 2012

Mike Stobe/Getty Images
Here's a mystery for all you cyber sleuths out there. It seems a Gator Zone story has been pulled, calling for a number of sites to revisit a lighthearted story. 
Let's begin with the initial story which we, like many sports sites, reported on recently. 
Here is a link to our report on Tim Tebow dissing Brady Quinn and Notre Dame football. When you read the quote, you will see it's all fluff and not much bite. 
It's really a light jab at a fellow teammate, something that did more to make Tim Tebow seem human that it did to inflame the nation because of what he stated. 
We need to link to the story because the initial report on Gator Zone has been taken down. I know, a whole lot of nothing isn't really news worthy. 
This, however, is different. 
Michael David Smith of NBC Sports reports the story had vanished and actually tried to get in touch with the site to find the reason. 
So far, no word. 
Jason McIntyre of The Big Lead saw the same and tried to contact Gator Zone on his own, but was hit with the same results. 
No dice.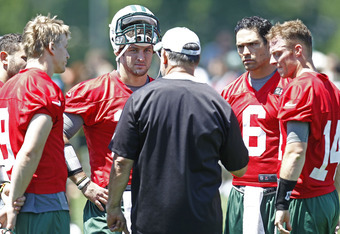 Jeff Zelevansky/Getty Images
Even Larry Brown Sports chimed in with thoughts on the missing story that featured a harmless quote. 
LBS finds it could be one of two things. Either the interview was supposed to be a media-free zone, or Tebow's handlers are very strict on what gets out. 
Whatever the reason, the outcome is clear. The story lives to see yet another day of coverage on multiple sites. 
I could be wrong, but the initial quote actually made Tebow much more likable as a competitor showing loyalty to his Florida Gators as he derides Notre Dame. 
Would we expect different from any other athlete?
Tebow's people should stem away from forming perfection, because fans don't want perfect. We want perfectly human. 
Follow me on Twitter because you know you want it.