NY Jets' Tim Tebow Clowns Brady Quinn and Fighting Irish of Notre Dame
June 25, 2012

Jeff Zelevansky/Getty Images
Tim Tebow added to his growing list of accolades, which already included having a sparkling smile and, generally, just winning at the game of life. 
The latest is the comedian posed as a quarterback going off on Brady Quinn, a below-average QB posing as a backup quarterback. 
I will lay off Quinn for just a second, because it seems Tebow knows how to serve up a dish called the grilled former-Notre Dame quarterback. 
SportsGrid directs our attention to a question and answer made public by Gator Zone. It seems Tebow has been made a member of the Gators Boosters board for the University of Florida, and he sounded off on a number of topics. 
The most interesting turn is when he made reference to a fellow teammate who played for Notre Dame once upon a time. 
Mike Stobe/Getty Images
SportsGrid, myself and fans of things that are obvious make the Quinn connection. 
So many guys come up to me and say, 'What's it like to be at the University of Florida? What's it like to be a Gator?' The first thing I think of is, 'Wouldn't you like to know.' ... I had a teammate at Denver who played the same position as me and he went to the University of Notre Dame. He would brag about his university, how great it was. Most of us in the locker room were like, 'C'mon, we all had opportunities. We chose not to go there.' ... But he talked so much about his university that it became easy. I'd say, 'Your whole team had one guy who ran under a 5.0 40 [yard dash]. Our kicker ran under 5.0.' 
Tebow carries a double-barreled shotgun and just unloaded on Quinn and his proud Notre Dame football squad. 
He even managed to get a squib kick of a blast on kickers in general...stupid kickers.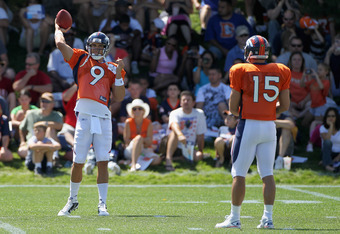 Doug Pensinger/Getty Images
Now I am sure there will be a ton of Notre Dame faithful who will take this quote way too seriously, but you have to take this with a grain of Tebow kindness. 
The man is just so damn nice that it's hilarious to see him make a halfway attempt at a jab. I was beginning to think he wanted to go around hugging everyone until the world farted rainbows and unicorns. 
It pains me to say this, but Tebow is much more likable now than he was before. I am guessing that sentiment stops just short of Notre Dame alums and students. 
Follow me on Twitter for a hootenanny of fun.