Tennessee Titans: What to Expect out of the 2012 Rookies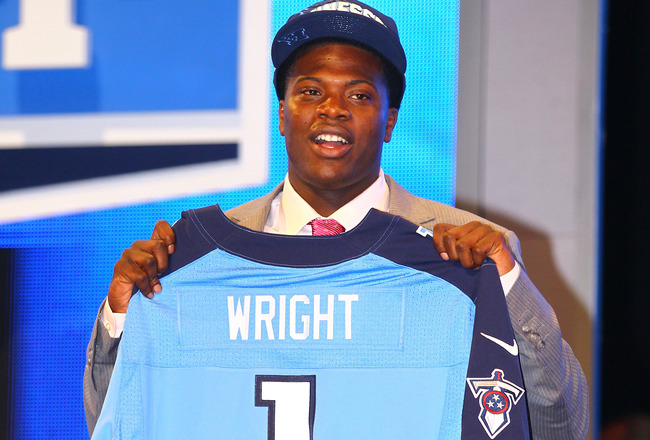 Al Bello/Getty Images
It's difficult to predict how players will turn out in their rookie season. Even the most fervent believers in Cam Newton wouldn't have predicted that he would break both Peyton Manning's rookie passing record and the all time rushing touchdown record.
On the other hand, no one thought Aaron Curry would bust. In fact, he was considered to be one of the safest picks in the draft back in 2009.
Rookies surprise you sometimes, but if you know the player, the situation they're in and the team they're on, you can have a pretty good idea of what they're going to do in their rookie season.
So what can the Titans expect from this year's class of newcomers? Here are my predictions.
Scott Solomon, DE: A Force on Special Teams
The Titans picked Tommie Campbell in the seventh round in 2011 because they thought he would be an elite special teams player that could develop into something more.
That's probably what they think of Scott Solomon. When he was drafted, Scott Solomon ranked sixth in the NCAA for tackles for loss and fourth in career sacks. He was also tied for first all-time at Rice in career sacks and second for career tackles for loss.
These are impressive numbers, but you have to remember that Rice doesn't face the toughest opponents.
Given those numbers, I think that the Titans will use him immediately on special teams. However, I don't think his chances of developing into a rotational defensive end are that good. He'll be a special teamer, and that's probably it.
Markelle Martin, S: A Very Good Backup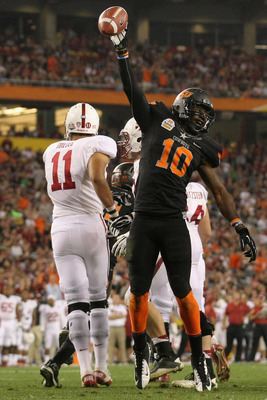 Donald Miralle/Getty Images
Markelle Martin was a huge steal. Had he not been injured most of the offseason, he could have been a third rounder, but with a torn meniscus, he fell to the Titans in the sixth round.
He's also one of those guys that can play either safety position, so he can serve as a backup to either Michael Griffin or Jordan Babineaux.
Before the Titans reached a long term deal with Michael Griffin, I assumed Martin was his heir apparent. Now, that's obviously not the case.
He may develop into a starting strong safety, but for now, I expect him to be the No. 2 option at both safety positions until the team sorts out where he really belongs. For this season, he'll only see the field when Griffin and Babineaux can't, but he'll be solid when he does.
Taylor Thompson, TE: Flashes, but Little Time on the Field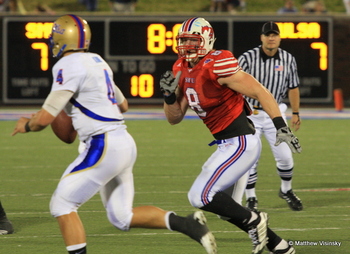 I liked the Taylor Thompson pick once I read up on him. Now, I've even heard people compare him to Rob Gronkowski. That's probably a little premature, but he does ooze upside.
Thompson was impressive at his Pro Day: he ran a 4.55 second 40 yard dash, racked up 22 reps on the bench, had a 37" vertical jump and a 10'6" broad jump. That athleticism is what made him an interesting pro prospect.
However, since he is probably going to take a while to get used to playing tight end again, that upside won't translate this season, at least not much.
I do expect Thompson to be on the field every now and then through the season. With his size and athleticism, it's almost a sure thing that he will have a few big plays that go his way.
Coty Sensabaugh, CB: Kick Returns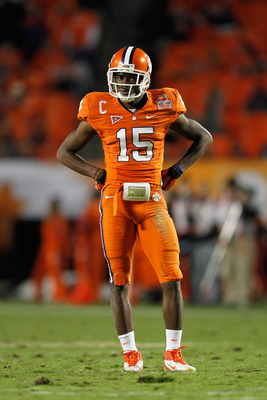 Streeter Lecka/Getty Images
Coty Sensabaugh was picked for his speed and athleticism, but mostly his speed. Sensabaugh was the fourth fastest defensive back at the Combine, clocking a 40 yard dash time of 4.42 seconds (his unofficial time was 4.37 seconds).
That, and his impressive performance at the Senior Bowl, caught some people's attention. However, he is still pretty raw as a technician, and with Jason McCourty, Alterraun Verner, and Tommie Campbell all in front of him, he won't play much.
However, one place he probably will see playing time is on special teams as a kick returner.
With Tommie Campbell moving up in the cornerback rotation and Marc Mariani making a push to get snaps with the offense, the Titans are going to need additional kick returners. With Sensabaugh's speed, he can be that guy.
Mike Martin: A Poor Man's Jurrell Casey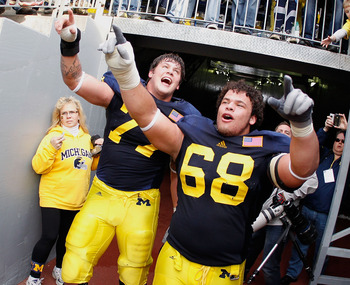 Gregory Shamus/Getty Images
The more I look into Mike Martin, the more he looks like the Jurrell Casey pick of last year. Both were somewhat under the radar players from powerhouse football programs, both showed great strength, both were picked in the third round, and both had a reputation as hard working leaders in the locker room.
I know that all players are unique and comparing one player to another is usually not the best way to evaluate, but I kind of expect Martin to have a similar season to Casey's last year.
He'll do an outstanding job stuffing runs, sack the quarterback once or twice, and have a pretty high tackle total. He didn't get into the backfield an awful lot at Michigan, and I don't expect him to do that with the Titans either; that's Karl Klug's job.
I expect Martin to quietly have a good season. Between him, Casey, and Colin McCarthy, I think the Titans will have a very good run defense in 2012.
Zach Brown: A Solid Starter
Joe Robbins/Getty Images
I was very high on Zach Brown early on in the draft process. For several weeks, he was considered a mid-to-late first rounder, but the Titans snagged him in the mid-to-late second round—a pretty good deal.
I was less happy when picking him meant passing on this year's top-rated center, Peter Konz, especially since center might be the Titans' biggest need.
Still, to me, Zach Brown looks like a solid starter. If nothing else, he's a speed freak; at the Combine, Brown ran a 4.5 second 40 yard dash, the fastest time for any linebacker. He's also a great defender against the pass, pulling in three interceptions and defending four more passes.
Finally, despite the flack as he was given for avoiding contact by Mike Mayock, Brown did have 13.5 tackles for loss, 5.5 sacks, six quarterback hurries, and had 105 total tackles.
For as well as he defends the pass, and for as much time as he spent in opponent's backfields in college, I can't help but think that he'll be a solid starter right out of the gate.
Kendall Wright: Yards, Yards, Yards, but Few Touchdowns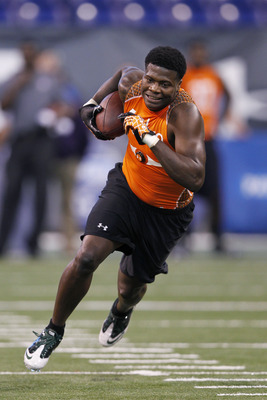 Joe Robbins/Getty Images
Kendall Wright did the Titans a favor by running a slow 40 time at the Combine. Before that, the speedy receiver was the top receiver on some teams' big boards.
This helped the Titans, since they obviously wanted Wright pretty badly (they passed on David DeCastro and Whitney Mercilus to take him).
Wright looks like a slot receiver to me. That doesn't mean he can't be great; Wes Welker is a glorified slot receiver, and he's fantastic. It just means that he's maybe being a bit too hyped up right now.
It also means he's going to catch a lot of big passes for big gains. However, he is still only 5'10" tall, which means that he's a tough target in the red zone, especially when you have taller targets in Jared Cook, Kenny Britt, and Nate Washington.
Wright will be pretty productive as a receiving option, and he'll get a lot of yards, but he won't see the red zone often.
Keep Reading

Tennessee Titans: Like this team?