Fantasy Football: 5 Training Camp Battles Every Owner Should Keep an Eye on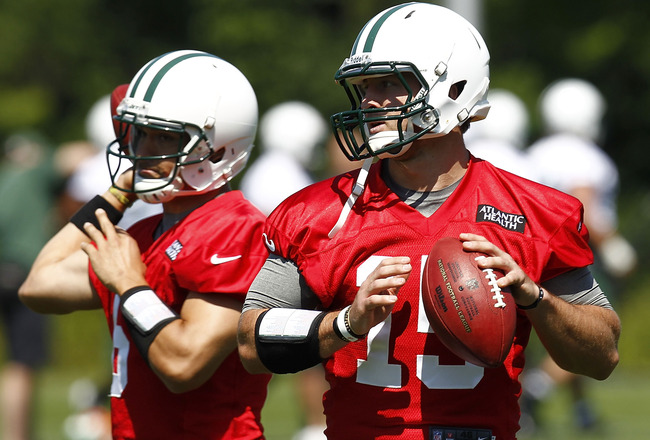 Jeff Zelevansky/Getty Images
Training camp.
Some NFL fans may not pay much attention to it and may just want the regular to get started.
However, for fantasy football owners, this is one of the most important times of the year. Training camp is when the fantasy owners can scout who is going to be that next breakout fantasy stud or dud.
Here are five training camp battles that every fantasy football owner should keep an eye on.
New England Patriots: Starting Running Back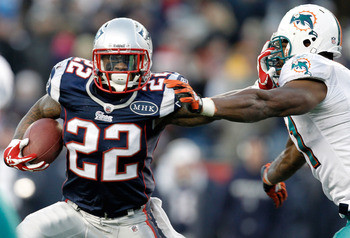 Winslow Townson/Getty Images
The New England Patriots offense has always been known as a high powered throwing offense.
They have arguably the best quarterback in the league in Tom Brady, throwing to great targets including Wes Welker, Rob Gronkowski, Aaron Hernandez and Brandon Lloyd.
Fantasy owners seem to often forget about the Patriots' backfield. Though they may not get all the media attention like Brady and Gronkowski do, the Patriots running backs always have solid seasons.
Over the past two seasons, BenJarvus Green-Ellis was one of the better fantasy running backs, scoring 24 touchdowns.
Heading into 2012, the Patriots have a ton of running backs competing for the starting spot in Stevan Ridley, Danny Woodhead, Joseph Addai and Shane Vereen.
Ridley supposedly has the best shot of being the starter, so if he gets the job, he is definitely worth drafting as a No. 3 running back.
Kansas City Chiefs: Starting Running Back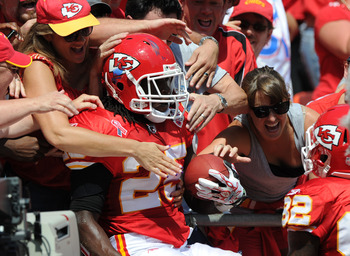 Peter Aiken/Getty Images
In the past seasons under ex-head coach, Todd Haley, the Kansas City Chiefs used two running backs.
Even though Jamaal Charles was one of the top running backs in 2010, his partner in the backfield, Thomas Jones, got the majority of the carries.
The Chiefs are now under head coach Romeo Crennel and have brought in former fantasy stud running back Peyton Hillis.
Make sure to keep an eye on how the Chiefs split the two backs' carries. If the Chiefs use Hillis how Jones was used a couple seasons ago, then Hillis is destined to have a bounce-back season and surprise many fantasy owners.
Washington Redskins: Starting Running Back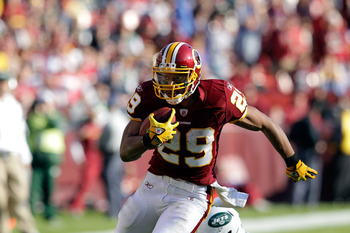 Rob Carr/Getty Images
With Mike Shanahan as the head coach, you never know who is going to be getting the carries for the Washington Redskins.
Last season, it was either Tim Hightower, Ryan Torain, Roy Helu or Evan Royster lining up in the backfield.
However, toward the end of the season, it looked like Helu had ran away with the starting job, running for at least 100 yards in three straight games.
Whoever Shanahan decides to name the starter is definitely worth drafting as your No. 2 fantasy back because running backs tend to put up big numbers in his offense.
However, make sure the Redskins' starting running back is the clear starter and not splitting carries among two other running backs.
Denver Broncos: No. 3 Wide Receiver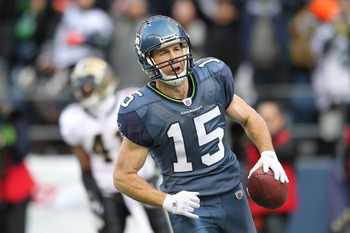 Otto Greule Jr/Getty Images
With the addition of Peyton Manning, the Denver Broncos wide receivers are now hot commodities.
Everyone knows that Demaryius Thomas and Eric Decker are going to put up solid numbers with Manning throwing the ball.
The real training camp battle that fantasy football owners need to watch with the Broncos is for the No. 3 wide-receiver spot.
For years, Manning has made his No. 3 receiver a legit fantasy receiver. Whether it was Brandon Stokley, Austin Collie or Pierre Garcon, all of these receivers put up stats as if they were starters.
In Denver, the battle for the No. 3 receiver job will come down to Manning's former target, Stokley and Andre Caldwell.
Whoever wins this battle is a must-have on your fantasy team. Look for them to put up solid fantasy numbers.
New York Jets: Starting Quarterback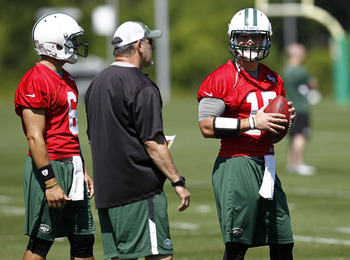 Jeff Zelevansky/Getty Images
The media has been hyping up this battle ever since Tim Tebow landed in New York.
There is no way Tebow is going to be the backup to Mark Sanchez all season.
The New York Jets and their fans have Sanchez on a short leash. One critical mistake or a bad start to the season and Tebow will have the starting job immediately.
Sanchez is not worth having on your fantasy roster. However, when Tebow becomes the starting quarterback, he has great fantasy value.
Tebow may not have the prettiest mechanics, but when it comes to fantasy, he can rack up plenty of points as a dual-threat quarterback.
Keep Reading