Fantasy Football 2012: Under-the-Radar Players at Every Position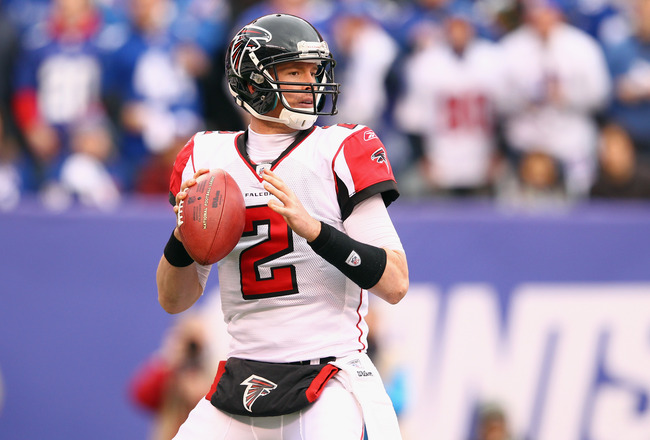 Al Bello/Getty Images
The people looking at fantasy football articles this early know who the true studs are, but there are some promising players at each position who aren't getting much attention in fantasy circles.
A championship-caliber fantasy roster is not made in the first few rounds but rather in the middle and late rounds. That is where the owners who follow all of the news year-round can grab those players who have the potential to outplay their draft-pick value.
In order to make the research easier for all of you fantasy enthusiasts, I've compiled a list of under-the-radar players at each key position who can make solid contributions for any fantasy team.
Quarterbacks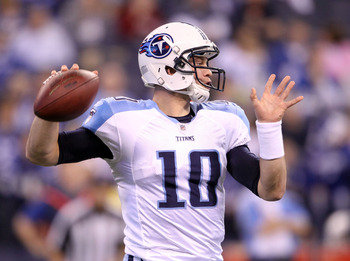 Andy Lyons/Getty Images
Matt Ryan, Atlanta Falcons
While Matt Ryan has flirted with starter potential throughout his young career, he has yet to break through into QB1 territory.
That could change this year.
It has become evident this offseason that the Falcons plan on transforming their offense into a more pass-oriented attack. Running back Michael Turner is wearing down and can no longer be trusted to carry the team.
Instead, the team has installed the players to become a lethal passing team. With Julio Jones, Roddy White and Tony Gonzalez at his disposal, Ryan should have a career year and post big numbers.
Robert Griffin III, Washington Redskins
If Cam Newton proved anything last year, it is that rookie quarterbacks can still be viable fantasy options. If Cam could put up the numbers he did, there is no reason why Robert Griffin III can't be equally successful.
While Newton may have better running ability, Griffin is a much more polished passer. He has the weapons in place to put up solid passing numbers, and he is a good bet to notch a few more fantasy points every week with his legs.
Josh Freeman, Tampa Bay Buccaneers
Freeman was pegged as a sleeper last season, but he failed to live up to the hype and finished, at best, as a second-tier QB. This season, however, things should be a little different.
One of the biggest reasons for Freeman's disappointing season was the lack of a playmaker at the wide receiver position. Second-year players Mike Williams and Arrelious Benn did not make the progress that most expected and often left Freeman hanging out to dry.
Now, Freeman has Vincent Jackson to throw to. As a big-bodied receiver with big-play ability, Jackson should help Freeman increase his stat totals.
Jake Locker, Tennessee Titans
Perhaps the deepest sleeper of the quarterback group, Locker may not even start the season as his team's starting quarterback. However, while Matt Hasselbeck may have an early edge to start the season, don't be surprised if Locker takes over after a few weeks.
If that does happen, then Locker should be owned in all leagues.
In his few starts last season, Locker put up quality numbers. Not only does he have a strong group of receivers to throw to, but he also can make plays with his legs.
Running Backs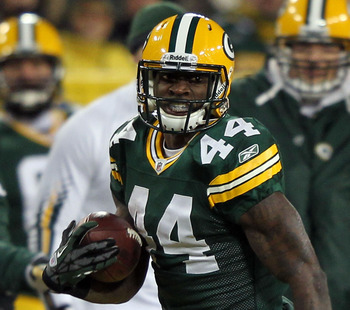 Jamie Squire/Getty Images
Isaac Redman, Pittsburgh Steelers
Redman has been a popular sleeper pick, and it is easy to see why. With Rashard Mendenhall sidelined due to injury, Redman is being projected as the lead dog in Pittsburgh's backfield.
What makes him interesting, however, is that he will likely be a three-down back. With no real competition behind him, Redman should be the workhorse back until Mendenhall returns, and even then he will likely see his fair share of snaps.
Grab him in the later rounds of your draft and start him with confidence for the first couple of games.
James Starks, Green Bay Packers
Amidst all of the running back injuries and news, Starks seems to have gotten lost in the shuffle, which should work to the advantage of any owner who is smart enough to spend a mid-round pick on him.
With Ryan Grant gone, Starks is the clear-cut starter. Best of all, he has no one behind him with enough talent to take significant snaps away.
That means that Starks enters the season as a featured back who gets the bulk of his team's carries. Grant proved that role can be productive, so draft Stark with confidence.
Stevan Ridley, New England Patriots
With BenJarvus Green-Ellis now a Cincinnati Bengal, the door is wide open for another New England Patriots running back to receive the bulk of the team's carries this season.
Early signs indicate that player will be Stevan Ridley, who flashed potential as a rookie last season.
While he does have to work on keeping the ball secure, Ridley showed big-play ability and enough power to run inside. He currently seems to be ahead of fellow second-year teammate Shane Vereen, although both have received first-string snaps during workouts this offseason.
Look for a committee attack but for Ridley to lead the backfield in touches and fantasy points.
Ryan Williams, Arizona Cardinals
Williams had his rookie season derailed by injury, but the second-year running back should get another chance to shine this season. Beanie Wells was relatively productive as the main running back last season, but Williams offers more potential and explosion.
The two will likely spend much of the season in a committee approach, but Williams should make some big plays and net a decent amount of touchdowns. He is worth a late-round selection as an RB4 with upside.
Wide Receivers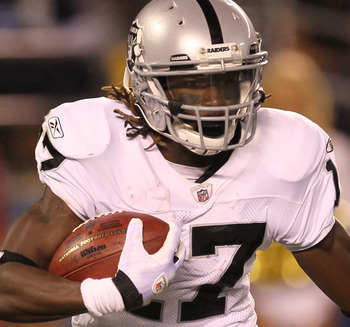 Stephen Dunn/Getty Images
Leonard Hankerson, Washington Redskins
The Redskins tried to bring in as many average wide receivers as possible this offseason. Pierre Garcon and Josh Morgan may have netted the big bucks, but Leonard Hankerson has a chance to be the most productive Redskins receiver this season.
Hankerson got off to a slow start as a rookie last year and didn't see significant playing time until the middle of the season. But in his brief time on the field, he showed he can be a go-to receiver.
Unfortunately, a hip injury sidelined him for the remainder of the season. Still, Hankerson proved that he has enough talent to be RG3's primary option in the passing game, which could result in a solid stat line.
Denarius Moore, Oakland Raiders
While he wasn't as consistent as many owners would have liked, Denarius Moore showed off his big-play ability on multiple occasions last season.
Now, he seems to have the trust of quarterback Carson Palmer, which means he should see plenty of targets down the field.
Moore has the talent and opportunity to eventually turn into a consistent starter for most fantasy teams. You can get him with a mid-to-late-round pick, and he is poised to far outplay his average draft position.
Titus Young, Detroit Lions
Young needs to get his head on straight after being suspended from practice for fighting teammate Louis Delmas, but reports out of OTAs have been nothing but positive so far in regards to his play on the field.
He is expected to beat out Nate Burleson for the No. 2 spot on the receiver depth chart.
The Lions proved—under quarterback Matthew Stafford—they are a team that will rely heavily on the passing game, which bodes well for Young's chances of seeing significant targets this season.
Calvin Johnson may be the lead dog, but Young should net his fair share of yards and touchdowns.
Robert Meachem, San Diego Chargers
For a player who has suddenly become his team's No. 1 receiver, Meachem has drawn surprisingly little interest among fantasy circles.
That should change.
While in New Orleans, Meachem was often limited to a mere deep threat. Now a San Diego Charger, he has been showing at practice just how versatile he can be. He has lined up all over the field, and it can be expected that quarterback Philip Rivers will throw his way a good number of times per game.
Draft him in the middle rounds and use him as a WR2 with upside.
Tight Ends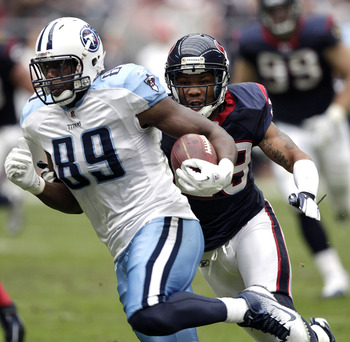 Bob Levey/Getty Images
Jared Cook, Tennessee Titans
Many pegged Cook as a sleeper last year, and for the majority of the season he failed to live up to his offseason hype. Over the course of the last few games, however, he strung together a series of performances worthy of TE1 status.
Now that he has gained the trust of the quarterbacks and coaching staff, expect Cook to put up bigger numbers this season. He is well worth a mid-to-late-round pick and has the potential to be a top-10 tight end.
Jacob Tamme, Denver Broncos
Tamme showed off his skills back in 2010 on the Indianapolis Colts, when he had to step into the starting lineup in place of an injured Dallas Clark.
During that time, he and quarterback Peyton Manning showed good chemistry. Now that both are reunited in Denver, expect Manning to look Tamme's way often.
Learning a new offense, Manning will likely seek help from a familiar face, which should result in big numbers for Tamme. Like Cook, he has TE1 upside.
Coby Fleener, Indianapolis Colts
Fleener and quarterback Andrew Luck formed a prolific duo while at Stanford. Now that they are on the same NFL team, that chemistry should only continue to grow.
Even though he is one of the best quarterback prospects in recent history, Luck will still face a learning curve and will have to adjust to playing at the professional level.
Luck will likely throw to a receiver with whom he is comfortable, which makes Fleener an intriguing option in deeper leagues as a TE2 with borderline TE1 upside.
Rob Housler, Arizona Cardinals
The deepest sleeper of the tight ends, Housler hasn't been talked about much. He will have to battle incumbent starter Todd Heap for snaps, but Housler has a fresher set of legs and good pass-catching skills.
He may not be worth drafting until the very late rounds of the draft, but he could eventually turn into a quality TE2 option.
Keep Reading