San Francisco Giants: Is Brandon Belt Finally Ready to Be the Man at First Base?
June 20, 2012

Christian Petersen/Getty Images
Eight days ago Brandon Belt was hitting .224, shaking his head after most at-bats and working tirelessly before batting practice to try to level out his swing.

How quickly things can turn.

In the eight games the Giants have played since, Belt has hit .423 (11-for-26), with three home runs and 7 RBI.  In a very short time, he has upped his average to a respectable .261, and it continues to climb.
Even more impressive is Belt's on-base percentage, which has jumped to .376, second-highest on the team behind the hit machine, Melky Cabrera. 
Prior to Belt's offense explosion, critics were debating whether Belt needed more time in the minors to figure things out, or if he just wasn't the major-league hitter the Giants had projected.
Suddenly Belt is one of the hottest hitters on the Giants—apparently too hot for a day off, as Bruce Bochy has used him in ten straight games.
He's also the hottest number seven hitter in the big leagues, leaving some to question why Bochy has left him so far down in the lineup.
Will the Real Brandon Belt Please Stand Up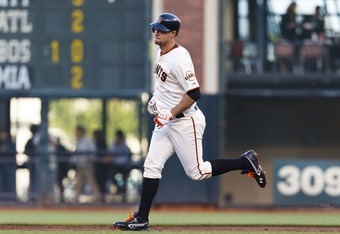 Jason O. Watson/Getty Images
The real question is, can Belt keep this up and handle the role as the Giants' starting first baseman.
Belt is by far the Giants' best fielder at first base, and his propensity to take a base on balls has always kept his on-base percentage respectable—including when his average was toiling in the low-.200 range. 
Even if Belt's average stays in the .250-.260 range, the Giants will keep him as their starting first baseman as long as he continues to drive the ball for extra-base hits, and slams the occasional home run.
Prior to the Giants' series with the Houston Astros last week, Belt hadn't hit a home run all year.  Homering in all three games against the Astros, Belt has also added two doubles to his stellar week, providing the pop the Giants have desperately missed from their first basemen this year.
Confidence Is Key
Belt's hot streak has helped his stats. But more importantly, it has infused confidence into a young player who was clearly struggling mentally at the plate, and probably questioning whether he could hit at this level.
Receiving extended playing time from Bochy, coupled with the success he has been experiencing at the plate, Belt's confidence has grown on a daily basis.
For a lot of Belt's tenure in the big leagues, Bochy mixed and matched his at-bats, usually starting him against right-handed pitchers due to the notion Belt struggled against left-handed pitching. 
This year Belt has hit .286 (10-for-35) against lefties, versus .252 (27-for-107) against right-handed pitching, compared with last year when Belt hit .348 (16-for-46) against lefties and .184 (26-for-141) against righties. 
While both of the samplings against lefties are much smaller, they are enough to show Belt can handle both types of pitcher, and he continues to prove as much. 
Power Over Average
Belt will not continue hitting at the torrid pace of his last eight games.
But can he settle in and become a consistent slugging first baseman for the Giants, one who can hit .260 and provide them with 15 to 20 home runs, and 25 to 30 doubles? 
That is the minimum the organization is looking to get out of Belt right now, and it would be good enough to keep his starting job this year. 
It's still a far cry from the .300 average, 20 to 25 home runs, and 80 to 100 RBI guy the Giants were projecting Belt to be, but he is continuing to develop. 
If the extended playing time continues to build his confidence and consistency in his swing, his average could continue to climb and stay in the .280-.300 range—but the Giants would prefer the power.
They have repeatedly told Belt he needs to be more aggressive at the plate, and not take so many close pitches with two strikes. 
Getting His Shot
One of the biggest keys for Belt and the Giants is they don't have a better option. The Giants don't have a hot-hitting first baseman in their farm system ready to come up, and they aren't likely to go out and trade young talent for a Carlos Lee or Kevin Youkilis. 
Belt has the spot; it's his to lose.  If he continues to hit at or close to where he is now, the Giants will leave him there all year.  This is Belt's year to develop and prove he is not just the Giants' man at first base now, but moving forward as well.