Fantasy Football 2012: 5 Things We Learned in the Offseason
June 19, 2012

Thearon W. Henderson/Getty Images
The train is coming, can you hear it? That's right the NFL train is starting to pick up steam and chug down the tracks headed straight for the September 5th battle between the New York Giants and the Dallas Cowboys.
Of course there is still training camp and preseason games in between and many new story lines will become front page news before that game, but, ultimately, that first game is where we are all headed. Everything we do as fantasy owners between now and then is only to accomplish one thing: a Championship.
Most fantasy owners are only now beginning to come out of their hibernation to start slowly digesting what is going on in the world of the NFL, but how many things have they missed if they haven't been paying attention before now? Plenty.
The following are five story lines that we learned during the offseason that will help to catch those owners up and hopefully open their eyes before the train runs them over.
1.  Bountygate repercussions will bite the New Orleans Saints all year
In case you truly were sleeping, Bountygate is all about the New Orleans Saints defense and how they put actual monetary bounties on hitting or hurting opposing team's star players. The ringleader here, ex-defensive coordinator Gregg Williams, has been banned from the NFL indefinitely and will most likely never coach in the league again. Williams was also said to have used a bounty system in Buffalo and Washington when he coached there.
In addition to Williams, the league suspended head coach Sean Payton for one year, general manager Mickey Loomis for 8 games and assistant head coach Joe Vitt for six. Then, as if that were not enough, four players also got suspended.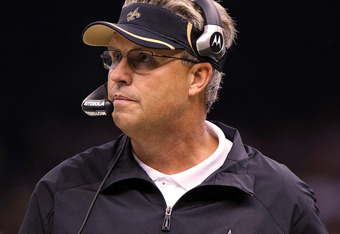 Matthew Sharpe/Getty Images
Linebacker Jonathan Vilma, who was said to put cash into the bounty, was suspended for the entire 2012 season. Fellow linebacker Scott Fujita was suspended for three games and defensive linemen Anthony Hargrove and Will Smith were suspended for eight and four games respectively.
For fantasy purposes, just remember that there are a lot of new names on defense in New Orleans to know if you play in IDP leagues and the loss of the very-creative Sean Payton may affect the offense.
2. Holdouts are still a major headache for fantasy owners
Not only does New Orleans have to do deal with Bountygate, they also are very close to having their star quarterback hold out as the two sides just can't seem to come to an agreement on a new contract. The team placed the franchise tag on Drew Brees, but Brees has refused to sign the tender and it has created a lot of tension.
So far, Brees has not attended any offseason workouts. The two sides have until July 16th to work out a new long-term deal or Brees will have to sign his tender or opt to not play this season. Most don't feel that Brees will sit out the whole season, but if he does, Mike Florio thinks things could get interesting in 2012.
None of this is new to Brees as he went through this during his last season with the Chargers. In the last game of that season, Brees took a brutal hit to the shoulder and tore his labrum. There was talk at the time that he may never play again.
Brees is not the only holdout fantasy owners should be concerned with.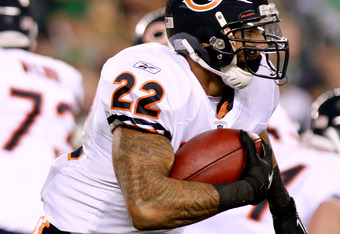 Nick Laham/Getty Images
Matt Forte is in a battle to get a long term contract from the Bears. The Bears placed the franchise tag on him which will pay $7.7 million in 2012, but he knows at age 26 that this will probably be his last big contract and he wants to get the most out of it.
To place a couple extra logs on the fire, the team signed Michael Bush and have wasted no time in letting it be known how much they love him. As that article speculates, this is just a ploy to apply pressure to Forte to get him to sign a contract he may not be totally happy with, but so far it doesn't appear to be working.
After the Bush signing, Forte tweeted the following: There's only so many times a man that has done everything he's been asked to do can be disrespected! Guess the GOOD GUYS do finish last....
The team has also said they are concerned with Forte's knees but Forte responded with a video showing him running uphill with a 100-lb sled. "100Lbs sled up hill i think my knee will be ok," he wrote.
Another contract battle that seems to be getting to an ugly stage is Maurice Jones-Drew.
Unlike the first two, Jones-Drew is already under contract. He signed a five-year $31 million contract in 2009. Gregg Rosenthal of NFL.com thinks this holdout could last into the season. He has already missed all offseason workouts including the mandatory three-day minicamp, which the team could fine him $60,000.
Currently MJD is scheduled to make $4.45 million this year and $4.95 million in 2013, but that puts him behind running backs Chris Johnson ($13.5 million), Arian Foster ($8.7 million), Adrian Peterson ($8 million), Marshawn Lynch ($7.75 million), Steven Jackson ($7 million), and DeAngelo Williams ($5.25 million).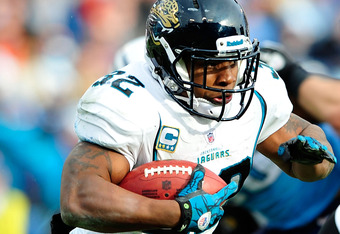 Grant Halverson/Getty Images
Surely the leading rusher from 2011 should be paid as well as if not better than most listed above, at least that's the way MJD sees it.
Other holdouts that could get to a crisis level for fantasy owners are RB Ray Rice in Baltimore, although most expect a deal to get done for the 25-year old back who has never missed a game in the NFL, WR Mike Wallace in Pittsburgh and WR Dwayne Bowe in Kansas City.
As always, fantasy owners need to keep abreast of these contract negotiations because one thing we do know from experience is that players who holdout until very close to the season or into it will see a decrease in production for that year. It has happened too often to discount it.
3. Every rookie is great during OTAs
No matter who you speak to, every rookie looks great in camp while in t-shirt and shorts. Even some undrafted rookies like Josh Cooper in Cleveland, Chris Givens in New Orleans, Brandon Collins of the Giants and Rod Streater in Oakland have been gushed about in May and June.
Even with all that praise most of these players will have very limited playing time in 2012 and fantasy owners that buy into the hype will be left scouring the waiver wire to replace these wonderful sleepers. Its okay to test one of these players very late in the draft to take a shot, but don't invest a lot of roster spots on hyped players, it never ends well.
Especially if you're the one rookie that isn't being gushed about. A.J. Jenkins may be that rookie this year. Jenkins was a first-round draft pick and everyone expects a lot from him, but according to local beat writer Grant Cohn of PressDemocrat.com, Jenkins has been the biggest letdown in offseason work for the 49ers.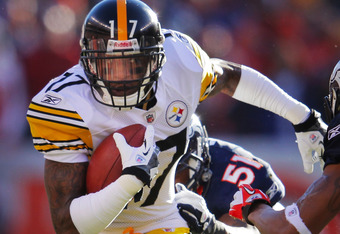 Doug Pensinger/Getty Images
4. NFL players continue to be idiots
Okay, not all of them, but there are definitely enough of them to be a concern for the league.
Since January 1st, eight players have been arrested for DUIs (driving under the influence) including most recently the World Champion New York Giants starting offensive lineman David Diehl and Jaguars' much-heralded rookie wide receiver Justin Blackmon.
Nick Fairley did it so well he was arrested for DUI AND eluding police less than two months after getting arrested for marijuana possession. His teammate Mikel Leshoure was just suspended two games for getting arrested twice in the offseason for possession.
Four other players were arrested for possession while another four were arrested for some form of assault.
The league and union have tried to help the players with a no-questions-asked ride system, but for multiple reasons the players are just not using them. Some are concerned that the teams will know how many times they've used the service and use that against them in contract negations, while others are just worried that everything gets back to the team and coaches. Either way, it is not working, and the league needs to think of something new to address this problem.
Arrests are not the only way to show your lack of understanding, just ask D.J. Williams. Williams tweeted a picture of his digital playbook for all his fans, the actual playbook that the team will use this season. DOH!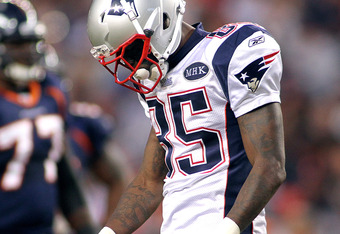 Marc Piscotty/Getty Images
5. Chad Ochocinco is NOT smarter than a fifth-grader
Okay well that might be a bit rough, but Ochocinco has not been getting the best news in the smarts department of late.
Rich Gannon has this to say about Ochocinco: "You would think a veteran guy could learn a game plan," said Gannon. "(The Patriots) kept him around in the offseason program this year and he was still struggling."
According to Shalise Manza Young, a beat writer that covers the Patriots and is considered highly reliable, during the first practice session seen by reporters this offseason Ochocinco was offsides and then had to be told where to line up by Deion Branch.
This should be no surprise since former Bengal wide receiver TJ Housmandzadeh claimed to have to tell Ocho where to line up all the time in Cincinnati. After Chad was released by the Patriots TJ had this to say: "If I went with Tom Brady and didn't produce, I'd hang it up. Are you kidding me? Tom Brady? If you go with a Peyton Manning or a Drew Brees, or an Eli Manning, or Aaron Rodgers, and you don't produce?"
Fortunately for Ochocinco, the Dolphins still feel as if he can do something for them after signing him to a one-year deal , but his detractors are convinced this signing had more to do with what Chad can do for them on Hard Knocks then what he can do for them on the field. Don't draft Chad Ochocinco.
These are just some of the stories from this offseason and just another reason why serious fantasy football owners pay attention to the news all year round. But knowing what to believe and what not to believe may be the biggest strengths of a good fantasy owner.
Make sure to check back often and if you want to read more of my articles, please check out my site www.FantasyTaz.com or follow me on Twitter @Fantasytaz.