Predicting the Top Storyline for Every NFL Training Camp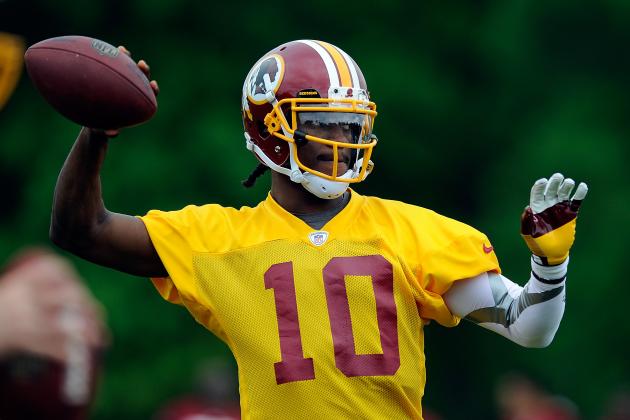 Patrick McDermott/Getty Images

When every NFL team meets up again, it will be for the start of training camps around the league. What will be the main headline for every NFL team's camp?
In some cases, it will be interesting to see how the franchise-tagged players are making out on their negotiations in either signing the tender or making progress on a new long-term deal. In other cases, it will be to find out how soon the starting quarterback will be named. We have rookies challenging veterans for a starting job and a wide number of key players trying to battle back from injuries suffered in 2011.
We will attempt to predict what the top storyline will be for every NFL training camp. If you have another idea, feel free to leave it in the comments section.
Begin Slideshow

»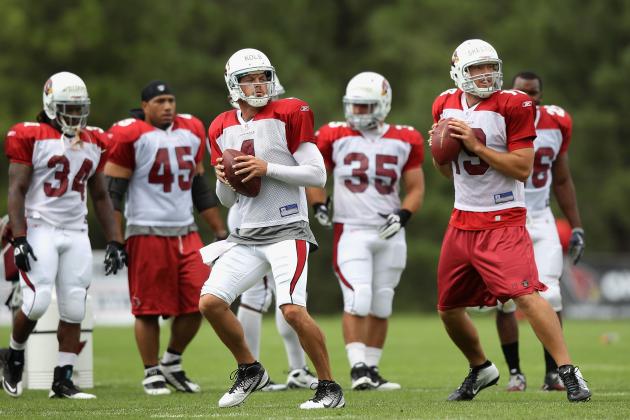 Christian Petersen/Getty Images

Top training camp storyline prediction for Arizona Cardinals: "After Hard-Fought Battle, Cardinals Name Kevin Kolb as Week 1 Starting Quarterback"
The top storyline for the Arizona Cardinals has to be who will wind up victorious in the battle for the starting quarterback job. The success of the Cardinals in 2012 will be impacted by this decision.
While John Skelton clearly had the better results in the 2011 season over Kevin Kolb, he then earned the right to be considered for the starting job in 2012. Although some might believe that Skelton is the better choice, he will be available to step in and play if anything happens to Kolb.
Once Arizona determined that it was going to pay Kolb the big roster bonus check of $7 million, it became clear that the team didn't invest that much money in him just to sit on the bench. With a full set of OTAs, minicamp and now a full training camp, the coaching and extra reps that Kolb needs to run the offense will be afforded to him. He should have a much better season in 2012.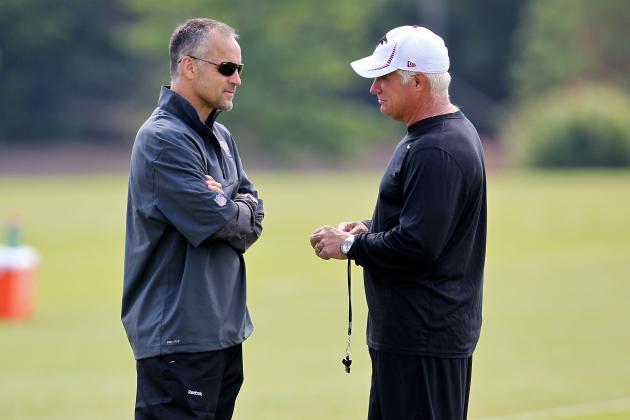 Daniel Shirey/Getty Images

Top training camp storyline prediction for Atlanta Falcons: "Saints Distractions Should Allow Falcons to Have Upper Hand in NFC South"
The NFC South has been dominated recently by the New Orleans Saints and the Atlanta Falcons. But clearly, 2012 doesn't look to be a great year for the Saints due to the bounty suspensions of coaches and players and the Drew Brees holdout.
The Atlanta Falcons want to take advantage of any apparent weaknesses with New Orleans so that they can claim another NFC South title. It won't be easy, as both Tampa Bay and Carolina appear to have improved themselves from the 2011 season. The Falcons are still smarting from their early playoff exit at the hands of the New York Giants and have something to prove to their fans and to themselves.
If the Falcons are able to capture the NFC South division but lose their first playoff game, that would be a strong indication that this team has plateaued and maybe some changes need to occur. There are some really good teams that excel in the regular season but have trouble doing much of anything in the playoffs. The Falcons are hoping that isn't what becomes of their team again this year.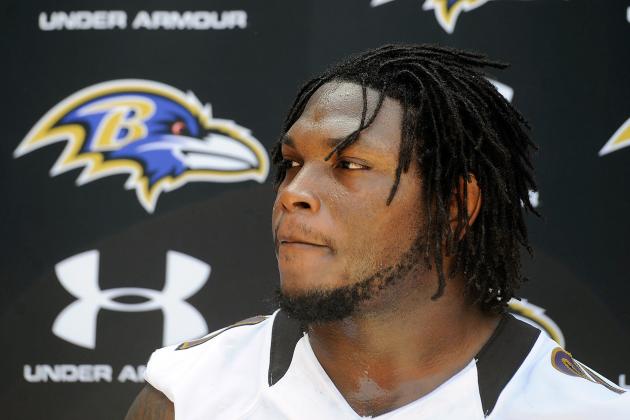 Patrick McDermott/Getty Images

Top training camp storyline prediction for Baltimore Ravens: "Can Baltimore Ravens Defense Remain in Top Five in 2012?"
We have been accustomed to seeing the Ravens defense finish in the top-five rankings in the NFL, but that ranking might face a very stern test in 2012.
For starters, the Ravens have to replace the injured Terrell Suggs, who was the reigning NFL Defensive Player of the Year. In addition, the team has lost Jarret Johnson, Tom Zbikowski and Cory Redding in free agency. Another loss was seeing defensive coordinator Chuck Pagano leave to become the head coach of the Indianapolis Colts.
Ray Lewis and Ed Reed aren't getting any younger, so the remaining Ravens will need to collectively step up their game if the Ravens defense is going to carry the team again in 2012. The Ravens will need rookie Courtney Upshaw to come on strong at training camp, as they hope he can fill one of their holes.
As for the offense, little progress has been made on long-term contract talks with Joe Flacco, and Ray Rice faces a decision of whether to sign his franchise player tender offer or to holdout in hopes of a long-term deal.
The 2012 season could be a rocky one for the Ravens, but we should have a better idea of what is happening when training camp finally begins.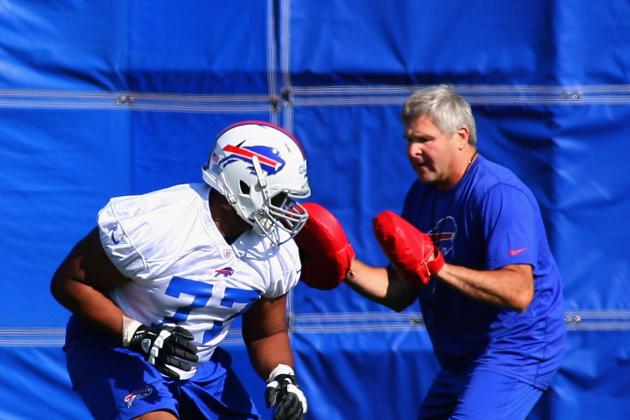 Rick Stewart/Getty Images

Top training camp storyline prediction for Buffalo Bills: "Buffalo Bills Look to Become NFL's Surprise Team in 2012"
The Buffalo Bills' strong 5-2 start from the 2011 was quickly erased when they went 1-8 over their final nine games. The Bills believe that they have improved on both sides of the ball, so they have the necessary pieces in place to be a contender in 2012. If they make the jump to reach the playoffs like other surprising teams did in 2011 (Cincinnati Bengals and Detroit Lions as an example), then they will have surprised a number of people around the league.
The Bills hired quarterback coach David Lee to work with quarterback Ryan Fitzpatrick and focus on his fundamentals. Fitzpatrick has typically been just winging it during his NFL career, so the personalized focus on his footwork and other fundamental techniques is something that Fitzpatrick is welcoming with open arms. He is looking to rebound after leading the NFL in interceptions in 2011.
The defense is already much improved on paper; now they just have to prove it on Sundays. For starters, the Bills are getting two All-Pro defenders to return to health in 2012 in Kyle Williams and Shawne Merriman. Add in veteran defensive end free agents in Mario Williams and Mark Anderson, and the Bills could have one of the best pass-rushes in the AFC.
Buffalo's schedule is that of a last-place team, so the ingredients are in place for the team to take a step up in 2012. If they have a hot start coming out of the gate, they have the depth this year to sustain it, so becoming a surprise team in 2012 could very well happen.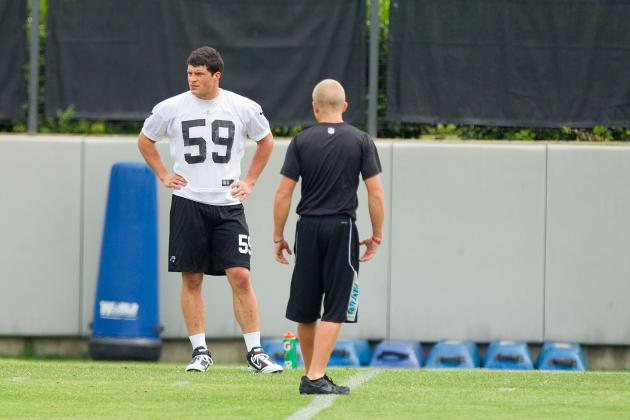 Brian A. Westerholt/Getty Images

Top training camp storyline prediction for Carolina Panthers: "Can Panthers Defense in 2012 Equal the Panthers Offense of 2011?"
It would be extremely difficult for Panthers first-round draft pick linebacker Luke Kuechly to have as much impact on Carolina's defense as Cam Newton had last year on the Panthers offense. It's not that Kuechly can't become an impact player, because he can be. It is just that Newton went so far above and beyond what anybody imagined the rookie quarterback was ready to produce last year that the bar has now been set at an unprecedented level.
The Panthers linebackers might very well hold the key to the success of the team in 2012. They have two veterans coming back from serious injuries in Jon Beason and Thomas Davis, so if they can come back anywhere close to 100 percent, combined with the athleticism of Kuechly, the Panthers defense will be much better in 2012.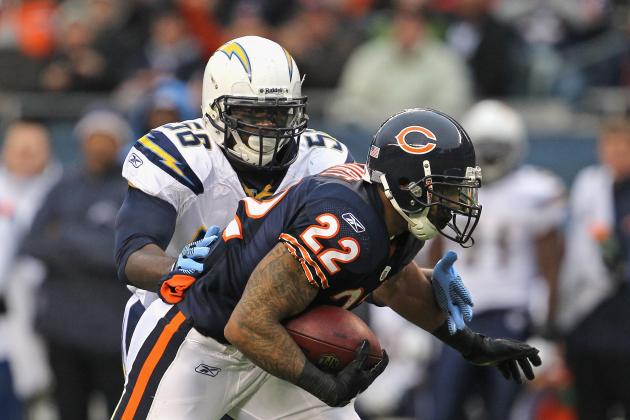 Jonathan Daniel/Getty Images

Top training camp storyline prediction for Chicago Bears: "Matt Forte Signs Franchise Tag Offer Sheet; Still Seeks Long-Term Deal"
The predicted storyline out of training camp is that running back Matt Forte will sign his franchise tender offer, but that the two sides will not be able to come to terms on a long-term offer prior to the July 16th deadline.
That means that this might be the last year that the Bears have Forte or the last year that they can really afford to keep him. That will then create a sense of urgency around the team that they have to win right now in 2012. Can they? That is another story for another day.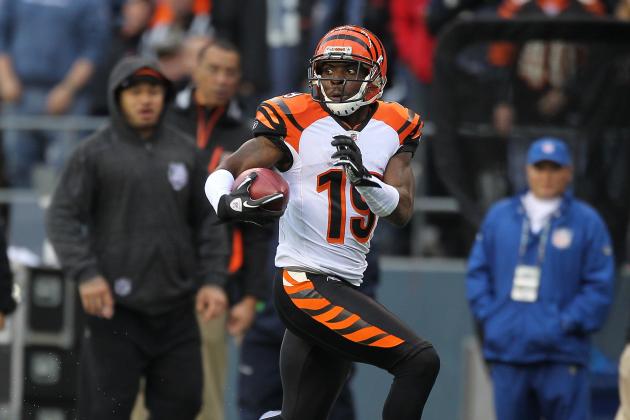 Otto Greule Jr/Getty Images

Top training camp storyline prediction for Cincinnati Bengals: "Bengals Think Brandon Tate is Emerging as No. 2 Wide Receiver"
A.J. Green easily demonstrated in his rookie season that he was the Cincinnati Bengals' No. 1 wide receiver, as he gained over 1,000 yards in 2011. Bengals fans are wondering though, who the No. 2 receiver is on this team.
Coming into the start of training camp, there appears to be four contenders for the job: Brandon Tate, Armon Binns, Ryan Whalen and rookie Mohamed Sanu.
The Bengals have the rest of training camp to sort out this group and find the most reliable option. Jay Morrison of the Dayton Daily News thinks that the answer is Brandon Tate, as per this article.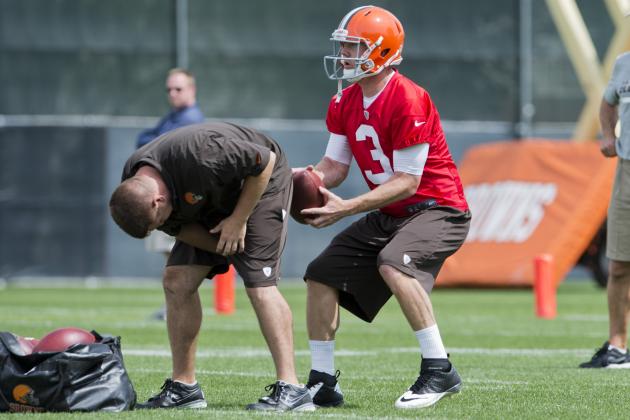 Jason Miller/Getty Images

Top training camp storyline prediction for Cleveland Browns: "Browns name Brandon Weeden as Starting Quarterback"
No real major surprises here. It was more or less a given that when the Browns decided to draft Brandon Weeden in the first round, it was because they were going insert him as their starting quarterback.
Further evidence of this sentiment is that Colt McCoy may not be long for the Browns roster, as the Browns are basically trying to get whatever they can for him. Classic example of trading away a player when he is at his all-time low in terms of return value.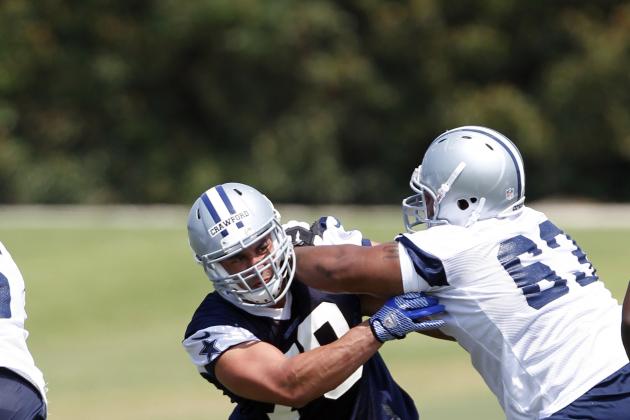 Layne Murdoch/Getty Images

Top training camp storyline prediction for Dallas Cowboys: "Owner Jerry Jones Convinces Cowboys Time to Win is Right Now"
With Cowboys owner Jerry Jones' statement that the window is closing for some of the veteran Cowboys players to be able to win it all, the team is looking to create a sense of urgency that the veteran nucleus of the team doesn't have many years left to produce. Not that much further down the road, some key veterans will be shown the door, as was the case for some of them in the 2012 offseason.
Football fans around the NFL will treat this headline as Jerry Jones just making some more noise. But for the Cowboys players who interact often with Jones, they know that his patience is starting to run out and that he wants to turn up the pressure a notch or two this year on his team to produce.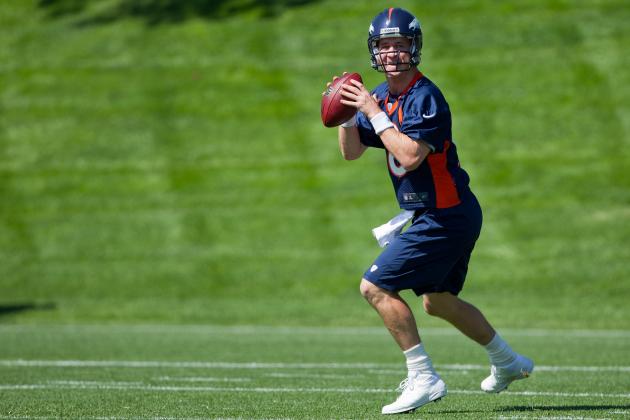 Justin Edmonds/Getty Images

Top training camp storyline prediction for Denver Broncos: "Peyton Manning Proclaims That He is Now Ready for 2012 Season"
After working out around the clock during the past months to get ready for the 2012 season—and to prove to his potential NFL suitors that he still could throw the ball—Peyton Manning has been inching his way closer to returning to his old form.
Now that OTAs and the Broncos' minicamp is over, Manning has the chance to rest a little bit and then go right back to working out any remaining kinks. The closer he can become to regaining his old form in Indianapolis, the better the chances are that the Broncos can repeat in the AFC West division race.
One recent observation that might be cause for concern came from Nate Davis of USA Today. Davis wrote that Manning's velocity on his deep passes doesn't appear to the same as it was before. As for the short and intermediate throws, Manning appears okay, but when he has to throw the ball deeper, it is evident that his arm isn't the same.
Does that mean that 2012 NFL defenses will crowd the line of scrimmage as a result?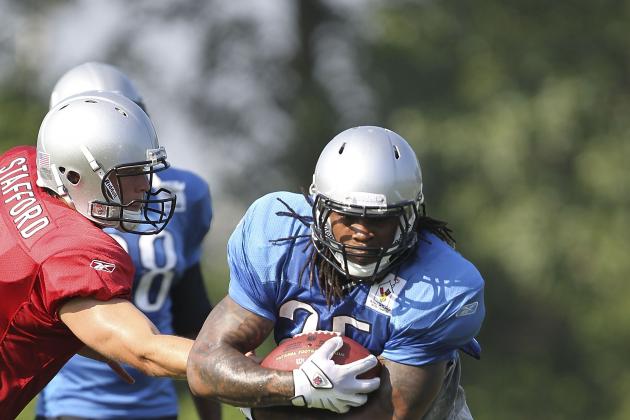 Leon Halip/Getty Images

Top training camp storyline prediction for Detroit Lions: "Lions' Ground Game Looks to Take Step Up in 2012"
With how much NFL teams are relying on the pass, it is fair to wonder just how important a strong ground game is for an NFL team to have success in the playoffs. Of the 12 teams that advanced to the postseason, only six of them had a 1,000-yard plus rusher in 2011.
Of the six playoff teams that didn't have a 1,000-yard plus rusher, the Lions had the lowest total with only 390 rushing yards by their top ball carrier. The other five playoff teams without a 1,000-yard rusher were the New York Giants, Green Bay Packers, New Orleans Saints, New England Patriots and Pittsburgh Steelers.
The Lions are hoping that Mikel Leshoure is going to be the guy who can carry the load in Detroit this year. Leshoure will be suspended for two games, so hopefully Jahvid Best can step up for those two contests.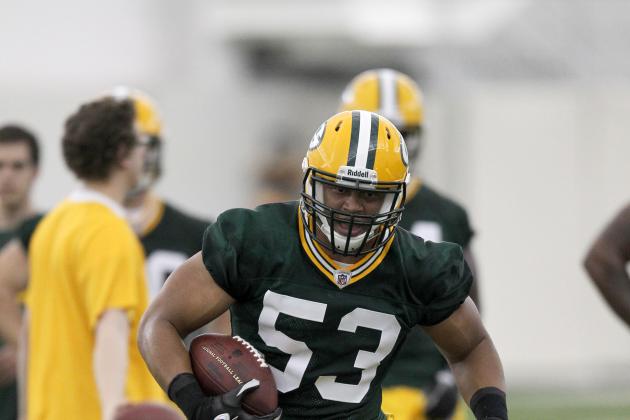 Mike McGinnis/Getty Images
Nick Perry looks to start as a rookie for Green Bay
Top training camp storyline prediction for Green Bay Packers: "Packers Expect Defense to Be Improved in 2012"
With an overall team defense that was ranked dead last in 2011 and a pass defense that was ranked dead last as well, there really isn't any direction the Packers defense can go in 2012 but up. Improving the pass-rush and the linebackers would be two positive developments that would raise the performance of the group.
The Packers seem to be ready to roll with a linebacking unit of Clay Matthews Jr., rookie Nick Perry, A.J. Hawk and Desmond Bishop. This is a group that will be key to the Packers defense playing better in 2012.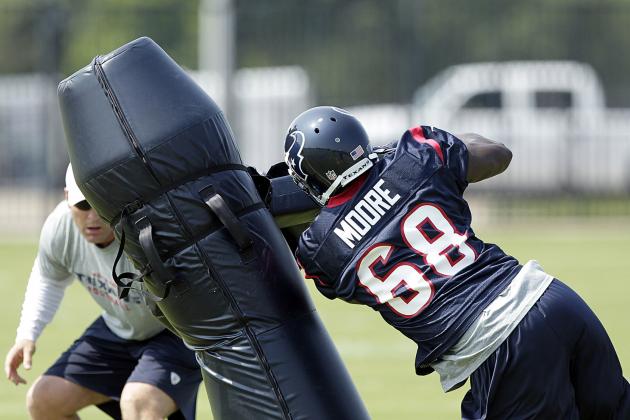 Bob Levey/Getty Images

Top training camp storyline prediction for Houston Texans: "New Offensive Line Starters Hope to Gel over Next Two Months"
When the Texans lost two starters from their offensive line in 2012 free agency, there were concerns that the offense would suffer a decline in production as a result. While that could still occur, the Texans are hoping that the combination of Rashad Butler, Antoine Caldwell and having Brandon Brooks for depth will be sufficient to keep the offense going without missing a beat.
It is obviously too soon to tell how good they are, because everything has been done in shorts so far. Once the pads are on and the linemen start popping each other, then we will know how well things are shaping up or if there is indeed reason to have some greater concerns.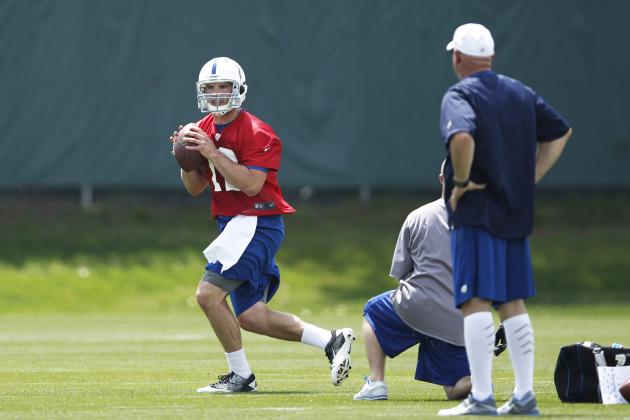 Joe Robbins/Getty Images

Top training camp storyline prediction for Indianapolis Colts: "Colts Veterans Sold on Andrew Luck"
Andrew Luck had to miss out on some OTAs due to his classes still going on at Stanford University. But when training camp rolls around, it won't take long for the Colts' veteran players to recognize how truly talented and special Luck is. They will realize that the team made the proper call in drafting him with the top pick, and they will be in good hands for many years to come.
Sure, there will be some rookie mistakes, but it would be surprising to hear that any Colts veterans are walking away from training camp with serious doubts about what Luck can do with this offense, albeit one that isn't actually overflowing with major weapons.
Luck will be able to demonstrate early and often that he is athletically gifted, intelligent, poised and is very capable of being a leader.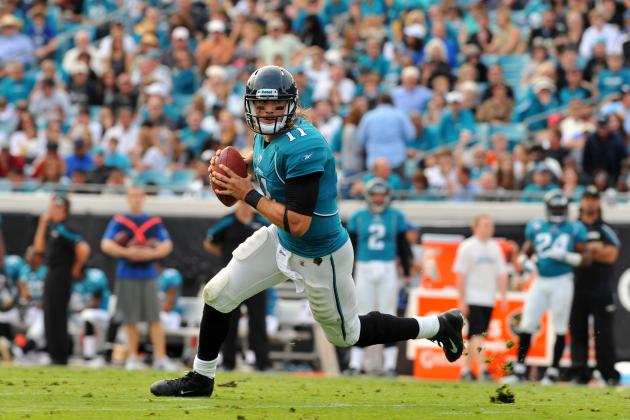 Al Messerschmidt/Getty Images

Top training camp storyline prediction for Jacksonville Jaguars: "Blaine Gabbert and Chad Henne Competition for Starting Quarterback Job is Heating Up"
Now that veteran quarterback Chad Henne has been provided the benefit of OTAs and minicamp to learn the Jaguars offense and the playbook, Henne looks to apply his experience in convincing new head coach Mike Mularkey that he gives the Jaguars the best chance to win right now.
Sophomore Blaine Gabbert understandably struggled in his rookie year but has shown some signs of progress during the 2012 offseason. The Jaguars have taken steps to add more weapons in the passing game by drafting Justin Blackmon and signing veteran free agents Laurent Robinson and Lee Evans.
Whoever emerges as the starting quarterback will have time to develop chemistry with his new receiving corps, but you can also bet that they won't be feeling totally comfortable until Maurice Jones-Drew, the NFL's rushing champion from the 2011 season, has ended his holdout and reported to camp.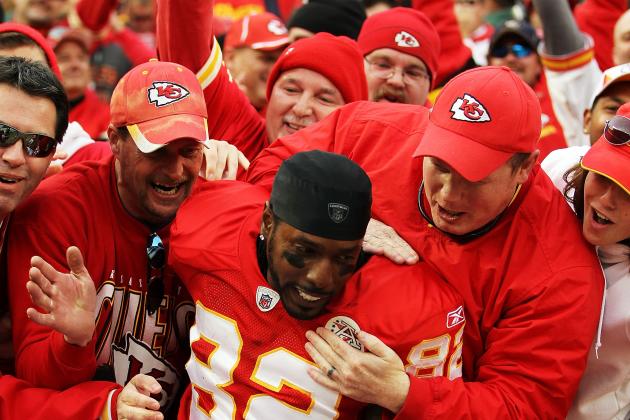 Jamie Squire/Getty Images

Top training camp storyline prediction for Kanasas City Chiefs: "How Long Will Dwayne Bowe Hold Out?"
An expected absence at the Chiefs' minicamp this week is receiver Dwayne Bowe. Still looking for a long-term deal, he has yet to sign the tag. His public utterances about his team's offseason changes have brimmed with more positive feelings than even Stuart Smalley could muster. Most see Bowe as an unlikely candidate for a lengthy holdout.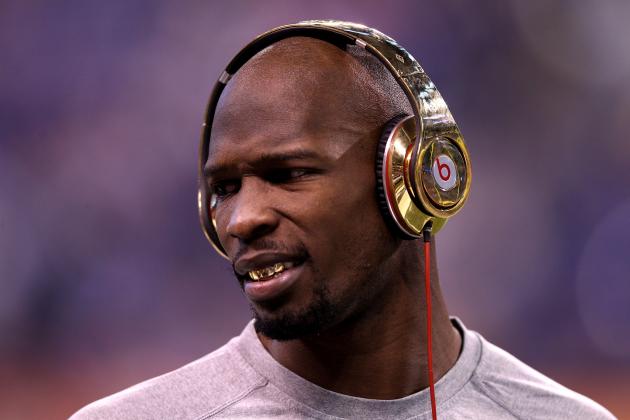 Elsa/Getty Images

Top training camp storyline prediction for Miami Dolphins: "Dolphins Wait for No. 1 Wide Receiver to Emerge"
From the moment Brandon Marshall was traded to the Chicago Bears on March 14, the Dolphins had the free-agency period and the 2012 NFL draft to come up with somebody to replace Marshall as the leading receiver on the team.
The Dolphins really haven't gone out of their way very much to address the position, as I wouldn't call signing Chad Ochocinco, who is arguably on his last legs, as making much of a serious impact. At least the Dolphins didn't leave Ochocinco dangling for long after his workout. That's the last thing we would want, is more "hanging Chad" in Florida.
Not only that, but Miami still has to identify who its starting quarterback will be between David Garrard, Matt Moore and rookie Ryan Tannehill. Well, at least there will be plenty of intrigue and topics to cover for every episode of Hard Knocks.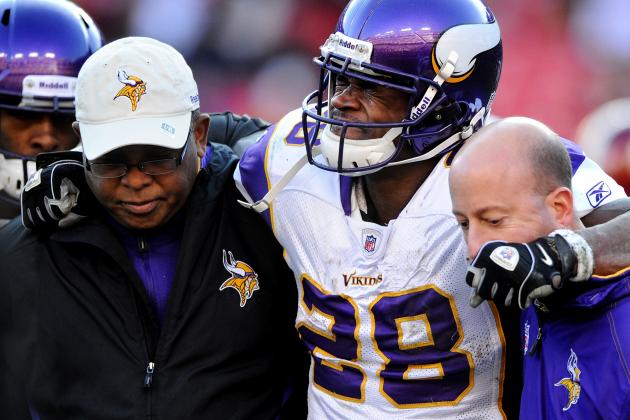 Patrick Smith/Getty Images

Top training camp storyline prediction for Minnesota Vikings: "Adrian Peterson Continues Rehab to be Ready for Week 1"
The comeback effort by running back Adrian Peterson is absolutely amazing. To have suffered the amount of extensive damage that he did to his knee (torn ACL and MCL and meniscus surgery) and come back from all of that in just the offseason to the point that he is running almost to the level he did prior to the injury is unbelievable.
Doctors and trainers refer to Peterson as having a different protoplasm than the rest of the world does.
He has to be an inspiration to the rest of his teammates and gives quarterback Christian Ponder comfort knowing that the running game will be in good hands. Peterson continues to shoot to be ready for the 2012 season opener. I wouldn't bet against him.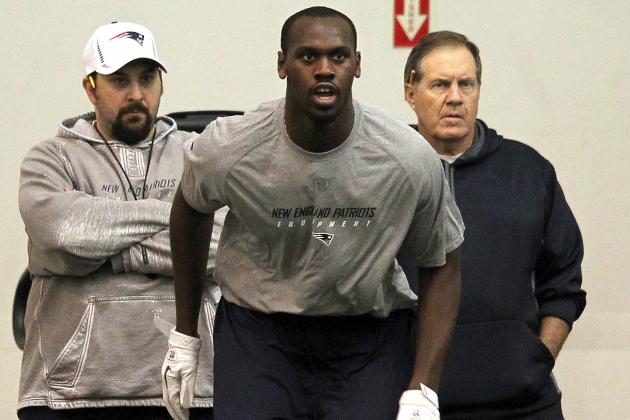 Jim Rogash/Getty Images

Top training camp storyline prediction for New England Patriots: "New England Patriots Hope They Have Done Enough to Shore up Defense for 2012"
The New England Patriots find themselves in the 2012 offseason very much like the Green Bay Packers. Both teams have an outstanding offense, but their defenses wound up finishing in the bottom two of the entire league.
New England had to address the overall defense as well as the pass-rush and the secondary. The pass-rush was addressed with the signing of free agents Jonathan Fanene and Trevor Scott and the drafting of rookie Chandler Jones. The secondary was helped out with the signing of free agents Steve Gregory and Will Allen and the drafting of Tavon Wilson. Other reinforcements who will help are rookies Dont'a Hightower and Jake Bequette.
With all of the new talent, can Belichick spin them all together to be a collective better unit? History is on his side as being able to find a way to make it happen. It might not be by Week 1, 2 or 3, but I suspect you will see a better defensive unit in the second half of 2012.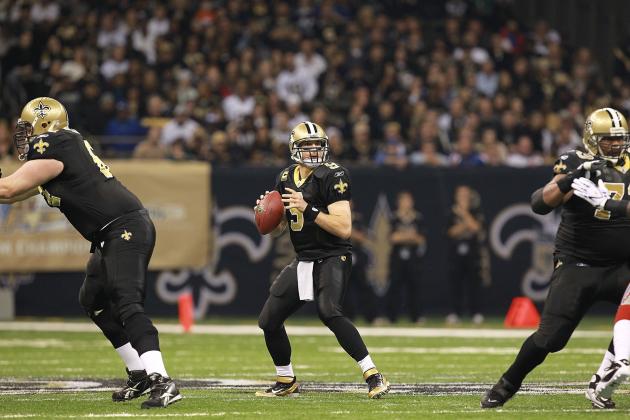 Ronald Martinez/Getty Images

Top training camp storyline prediction for New Orleans Saints: "New Orleans Saints Rally Around Drew Brees; Glad He is Back in Camp"
There is less than one month left for Drew Brees to sign his franchise tag tender offer sheet. The deadline is July 16, and it is too difficult to predict if a long-term deal will be done. Brees will sign the one-year tender to play for 2012, but as far as anything goes beyond that, who knows?
With all of the negativity and depressing headlines that have been dealt to the Saints during the 2012 offseason, Brees coming in to training camp will be a rallying point for the team, as they attempt to pull themselves up to get ready for the 2012 season.
Brees might not be in New Orleans past 2012, which is a possibility we have to allow for, but 2012 sure promises to be a different and interesting year in New Orleans.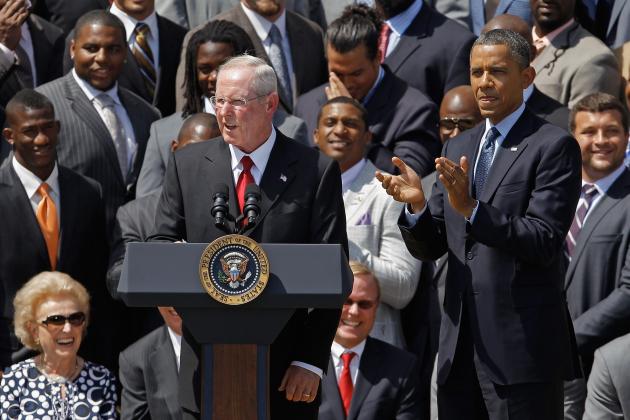 Chip Somodevilla/Getty Images

Top training camp storyline prediction for New York Giants: "Giants Seek to Defend their Super Bowl Championship Better than 2008"
Looking for a way to give his team new motivation and not get complacent, head coach Tom Coughlin will detail for the team how the Giants captured Super Bowl XLII, only to come up short the following year in trying to defend their title.
With those memories still fresh in Coughlin's mind, as well as that of many Giants' players, the pride factor will hopefully kick in and give the Giants a new-found reason to play inspired football in 2012. There is already going to be a big target on their back, as every NFL team is looking to knock off the champs.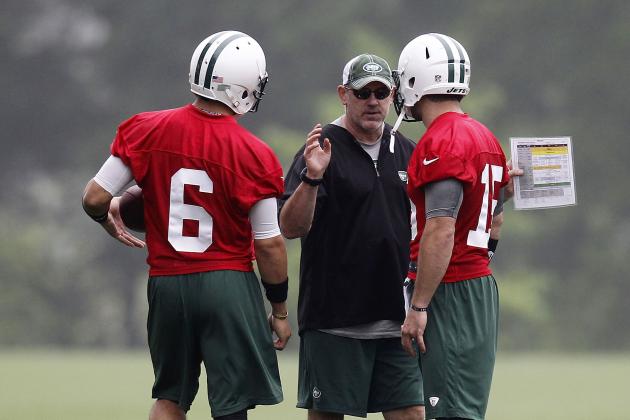 Jeff Zelevansky/Getty Images

Top training camp storyline prediction for New York Jets: "Jets Finalize Package of Plays for Tebow to Run in Offense"
No matter how well or how poorly Mark Sanchez plays in 2012, he will have a very difficult time escaping the media circus that is also known as Tim Tebow. As the Jets work their way through the exhibition games, the spotlight will be very bright on both quarterbacks. Sanchez will be scrutinized to see if he continues to deserve to be the starter, and Tebow will be analyzed to see how well he performs in the Wildcat offense or in any other formation he is asked to contribute.
The better that Tebow does at his select number of plays, the greater the amount of pressure there will be on Sanchez to do the same. It is possible that the pressure could force both players to raise their game to a higher level, but this also has the ability to backfire and blow up into another public relations mess. Stay tuned.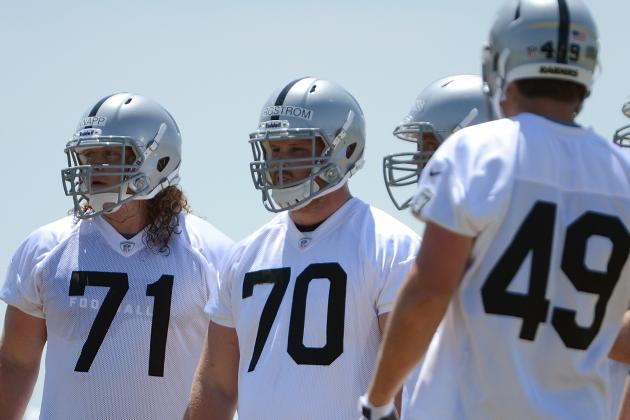 Thearon W. Henderson/Getty Images

Top training camp storyline prediction for Oakland Raiders: "Oakland Raiders Feel Loss of Key Veterans"
The Oakland Raiders had a rough situation to deal with as they came into the 2012 offseason. A poor salary cap scenario, a number of overpriced contracts and the loss of key draft picks through prior trades left the Raiders without very much room to maneuver.
General manager Reggie McKenzie did the best he could with the tools at his disposal, but the general perception is that the Raiders had to let too much good talent go on defense that they couldn't afford to keep due to the salary cap issues.
As a result, losing a player like Kamerion Wimbley is a tough pill to swallow, just like losing Nnamdi Asomugha the year before was. The Raiders will eventually turn this team around, but I wouldn't be surprised to see the defense struggle more this year than it did in 2011.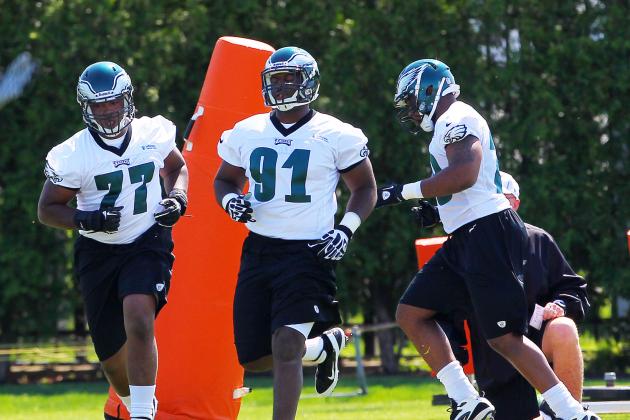 Rich Schultz/Getty Images

Top training camp storyline prediction for Philadelphia Eagles: "Eagles Feel Pressure to Win for Andy Reid this Year"
Similar to the pressure being talked about in San Diego, another team is also feeling the pressure to win now for their head coach. The Eagles have enjoyed a long run by Andy Reid, but there is a perception that he has been allowed enough time to bring home a championship and has failed to land the big prize.
The talent is there and the schemes appear to be in place, so now all that is left is for the coaches and the players to form the right chemistry and execute the game plan on Sundays.
Michael Vick appears to be taking the game as seriously as he ever has in his career. He is focused and is talking a more intelligent game as well. The Eagles have been able to sign their key free agents and don't seem to have any major distractions. This could be the year that the Eagles finally put it all together.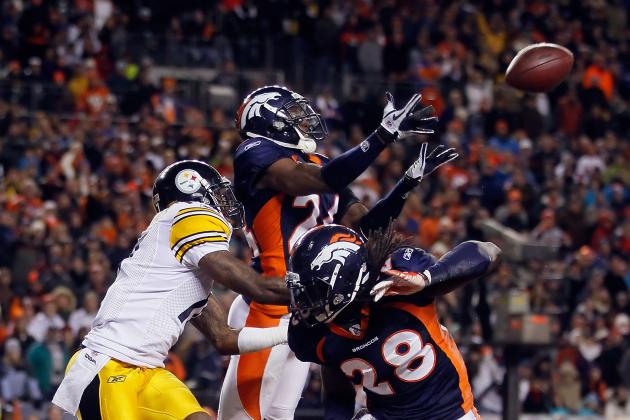 Jeff Gross/Getty Images

Top training camp storyline prediction for Pittsburgh Steelers: "Relationship Between Steelers and Mike Wallace Appears to Be Very Strained"
The contract negotiations between Mike Wallace and the Pittsburgh Steelers aren't making any real progress to speak of. The prediction here is that Wallace will sign the franchise tag contract for 2012, but a long-term agreement between Pittsburgh and their star wide receiver will not be completed prior to the July 16 deadline.
As a result, Wallace will eventually come into camp with an attitude and will be playing with a chip on his shoulder this season. It might actually allow him to have a pretty strong season, but that could also serve as the last year that he winds up playing in Pittsburgh.
Some of these franchise-tag scenarios just end up being a public relations fiasco, and this has all the makings of another relationship turning badly over money.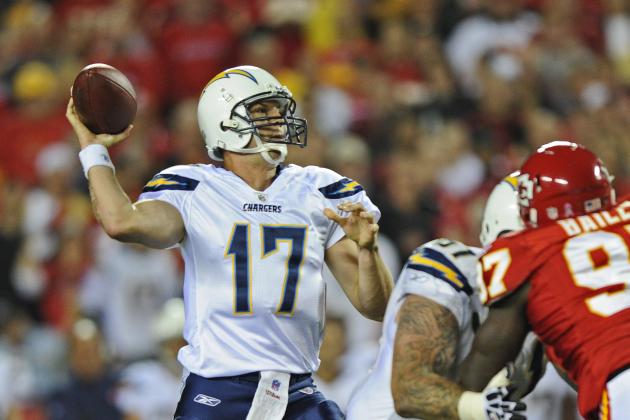 Peter Aiken/Getty Images

Top training camp storyline prediction for San Diego Chargers: "Chargers Are Trying to Win in 2012 to Save Norv Turner's Job"
There is a similar theme going on in both San Diego and Philadelphia this year: a veteran team led by a long-time head coach that the players like playing for. They respect their head coach and realize that unless they are able to go deep in the playoffs this year, their coach is probably gone.
That is the scenario with the Chargers. In an attempt to take advantage of the talents of veterans like Philip Rivers, Antonio Gates, Malcom Floyd, Shaun Phillips and Takeo Spikes, the Chargers stepped up and had a very strong 2012 offseason.
San Diego improved on both sides of the ball with offseason signings that give the team a reasonably strong belief that they can win the AFC West division. The coaching staff still needs to pull this whole thing together, but the talent level looks to be very strong in San Diego this season.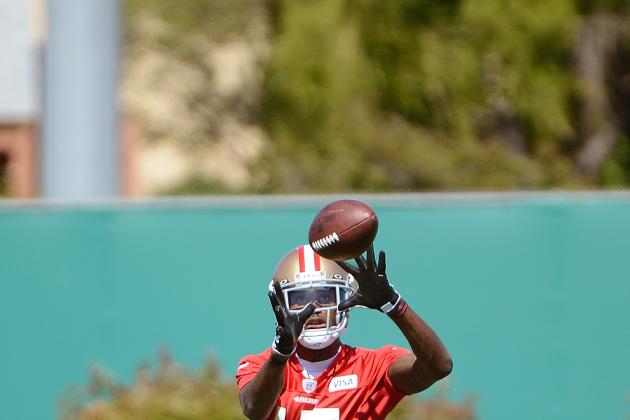 Thearon W. Henderson/Getty Images

Top training camp storyline prediction for San Francisco 49ers: "Will Dashon Goldson Hold Out?"
A team source tells CSN Bay Area the 49ers are "probably" unwilling to give unsigned franchise player FS Dashon Goldson more than $7 million per season.
Goldson is seeking an annual $8 million in any long-term deal. He's currently set to earn $6.2 million under his one-year tender. The deadline to sign franchise players to multi-year pacts is little more than a month away, but it stands to reason the sides should be able to close a fairly minor gap.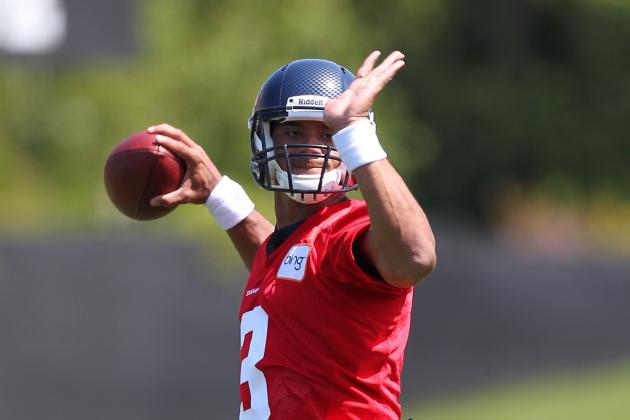 Otto Greule Jr/Getty Images

Top training camp storyline prediction for Seattle Seahawks: "Seahawks Are Still Sorting Through Starting Quarterback Options"
Seattle Seahawks head coach Pete Carroll has remained true to his word and given his three potential quarterbacks an even shot at winning the starting job. But the reality is that the battle has extended into training camp, and the rest of the team would like to know sooner than later who their leader will be.
It makes sense from a chemistry standpoint that the starter can be named as soon as possible after the start of training camp. Maybe Carroll wants to see them perform under exhibition game pressure before naming somebody. While that would clearly raise the level of drama, it would also limit the number of snaps that the winner receives with the No. 1 offensive unit.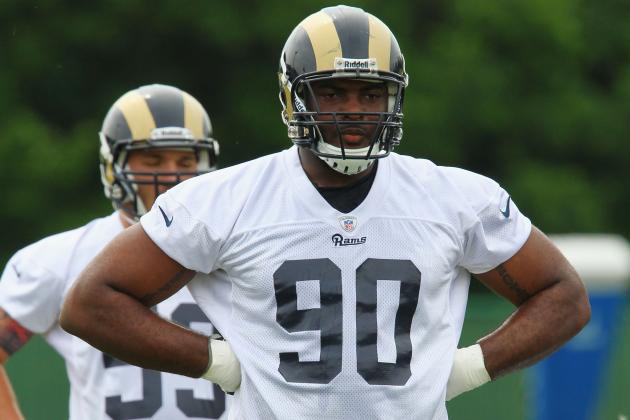 Dilip Vishwanat/Getty Images

Top training camp storyline prediction for St. Louis Rams: "Rams Want Key Draft Picks to Gain Experience in 2012"
While the St. Louis Rams are expected to be more competitive in 2012 under new head coach Jeff Fisher, this is a team that has a long way to go to be a threat to win the NFC West. Instead, the 2012 season appears to be a major building block in the growth of the organization, as Fisher seeks to have a number of his high draft picks get their feet wet in the NFL.
From Michael Brockers to Brian Quick and Janoris Jenkins, the Rams have some players who can be long-term contributors to the growth of the team. Rams fans will have to endure another rough season or two, but things will eventually start to turn around.
With so many young players being asked to take snaps as starters, there will be plenty of mistakes being made. But those are all correctable, right?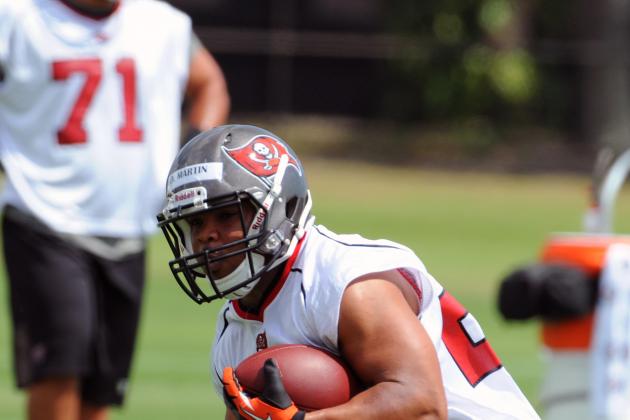 Al Messerschmidt/Getty Images

Top training camp storyline prediction for Tampa Bay Buccaneers: "Bucs Name Doug Martin as Starting Running Back for 2012"
There has been a decent battle going on in the 2012 offseason for the starting running back job with the Tampa Bay Bucs. The prediction here is that head coach Greg Schiano will name rookie Doug Martin to be the lead back, and LeGarrette Blount will serve as the backup to Martin.
The rookies are able to come in under Schiano and learn how the coach wants things done from Day 1. The Bucs veterans will have to show that they are able to conform to Schiano's style and system, because as we saw recently with Kellen Winslow Jr., if you don't, you will be moving on very soon.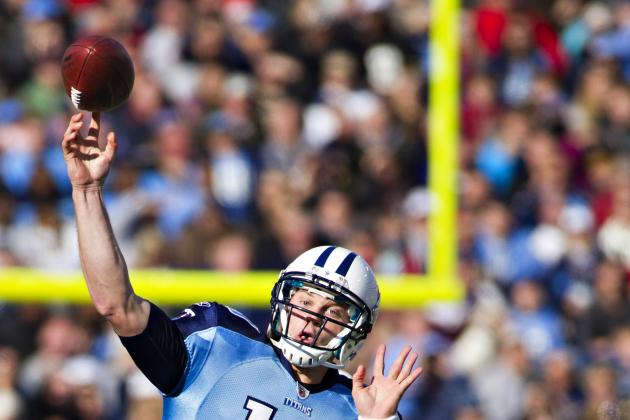 Wesley Hitt/Getty Images

Top training camp storyline prediction for Tennessee Titans: "Jake Locker Emerges as Titans' Starting Quarterback"
In a hard-fought battle through training camp, second-year player Jake Locker winds up being named as the Tennessee Titans' starting quarterback, beating out veteran Matt Hasselbeck for the job.
Hasselbeck will take the decision in stride and be there to work as Locker's mentor. If Locker gets banged up, the Titans would have no problem throwing Hasselbeck into the fire. The Titans drafted Locker in the first round to play him, and his year on the sidelines will serve him well.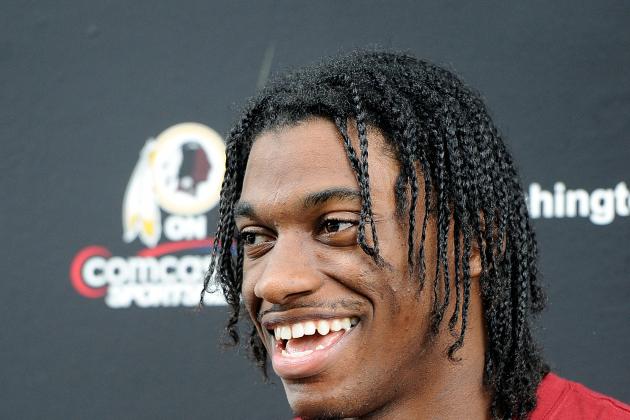 Patrick McDermott/Getty Images

Top training camp storyline prediction for Washington Redskins: "Redskins Feel They Can Challenge in NFC East Behind RG3"
Robert Griffin III has done wonders for the outlook of the 2012 Washington Redskins. The offense looks to be much more dynamic across the board. The offense appears to be able to be a quick-strike offense, or they can become a controlled offense using Griffin's legs if the situation warrants a different kind of attack.
Either way, the Redskins as an organization are getting excited about not just the 2012 season, but the future as well. Griffin has done a very good job of building excitement around the team and keeping a positive attitude. This should be a fun year for Redskins fans, with the promise of more excitement to come.