Are the New England Patriots Ready for Life After Tom Brady?
June 16, 2012

Ezra Shaw/Getty Images
Boston has as many sports legends as any city.  Larry, Teddy Baseball, Russell, and Orr are among the greatest legends in all of sport, not just Boston.
You could argue that Tom Brady is bigger than all of them.
The New England Patriots are what they are today because of two men: Bill Belichick and Tom Brady.  Rarely does a coach go on to become the face of a franchise's history.  As good as Belichick is, when it's all said and done, Tom Brady is the New England Patriots.  No other Boston legend can make that claim about the team they played for.
Given that, reality is creeping up on the Boston sports world. In just a couple of years, Tom Brady's career will be over and one of the greatest eras in sports will come to an end.
That alone begs the question: Are the Patriots ready for that?  I'm gonna take the easy way out and say "I think so."
Belichick's teams have gone back and forth in regard to what side of the team was the strength. Many argue that during the early 2000's, when New England was winning Super Bowls, the defense was carrying the load while Brady got all the glory.
Recently, few would argue that any success New England has had was the result of Brady playing his best football, piloting an offensive juggernaut that had to compensate for the shortcomings of weak defenses.
2012 appears to be the dawn of the new era in New England. For the first time in Belichick's tenure, both the offense and defense are full of young playmakers that should be the core of the team for the next six to eight years.  This kind of balance has to excite the average Pats fan.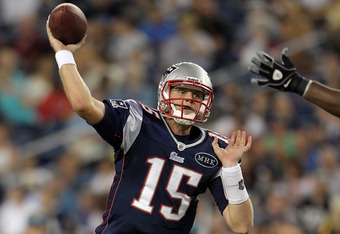 Elsa/Getty Images
What cannot excite them is the thought of moving on without Brady.  It's going to happen.  There's no way around it.
Thankfully, I think Belichick might have drafted Brady's successor in 2011.
Ryan Mallett may have been the quietest case of an elite quarterback being drafted and forgotten about in the history of the NFL draft. 
He sat silently in the background last year, playing practice team quarterback and pretending to be guys like Eli, Big Ben, and Flacco.  He has been soaking up knowledge and experience and watching one of the greatest of all time up close and in person.
Anyone who pays any attention to college football remembers how lethal Mallett was at Arkansas.  Many thought he was the most polished and NFL ready passer in the 2011 draft.  Character issues, as they often do, caused his stock to drop.  And so there was Belichick, waiting to pounce once he fell.  Another steal for the Pats.
As far as character issues, I can't remember even reading Ryan Mallett's name in the past year, outside of the team's media guide.
I believe we'll see more of Mallett this season, as Belichick rests Brady more often and tries to get the young gunslinger some experience. The buzz from OTAs is that he is outperforming Brian Hoyer.   If you are a New England fan, you want this.  You want to know what you have when your legend bids the game farewell.  You'll want to know you are in good hands.
Remember the past, enjoy the present, and be excited for the future.  Thanks to Belichick, I believe the New England Patriots are ready for it. You should be, too.