Which 2011 Injuries Will Most Affect the 2012 Fantasy Football Landscape?
June 15, 2012

Justin Edmonds/Getty Images
I'm usually a fake football player who, since I don't have to actually play real football with these guys, goes for upside. And even if the stakes are high, i.e. winner gets a Gigli VHS tape, I still lean upside over consistent averageness. I'd rather win my league than finish second, so I roll the dice for the most part. Of course, that means I also have a decent chance of finishing dead last.
As my old Grandpappy used to say, "Them's the breaks!"
So far the news of Manning's recovery is trickling in, some good, some bad. USA Today's Nate Davis reports that, "Manning's velocity hasn't quite returned after multiple neck surgeries cost him all of the 2011 season, but he does look sharp and accurate with intermediate throws."
I am not as worried about him regaining his deep-pass velocity as I am him getting hurt again. Manning is a savvy old codger who can get a lot out of an aging body, but I'd hate to put all my eggs into his nerve-damaged basket by picking him as my starting quarterback. I'd rather risk taking his main receivers Demaryius Thomas (brother to Don'tmarryus and Doubting), Eric "Hit The Deck" Decker and Jacob "Don't Call Me" Tamme.
All Day injured his knee late in the season last year, and when I say injured his knee, I mean he destroyed his knee. He tore both his MCL and ACL and probably threw some other acronyms in there for good measure. But low and behold, Purple Jesus laid hands upon himself, and he was cured! Hallelujah!
Well, that's how it seems at least.
He went in front of the media to run around and show off his preternatural healing skills and Percy Harvin said Peterson beat him in a race to the top of a hill. They seem pretty hell bent on letting us know he is on track for a Week 1 return, but we have to remember that his injury was severe, and even though he is a physical specimen, we can't just start drafting him in the first round with confidence.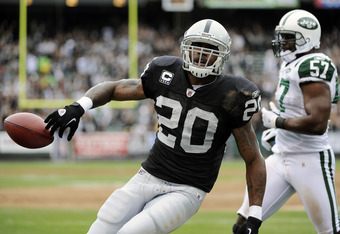 Thearon W. Henderson/Getty Images
If Run DMC wasn't constantly getting hurt, he'd easily be a top three running back in this league. His speed, ball catching skills, open field vision and even power (he's actually one of the most efficient running backs near the goal line) are hard to beat.
But of course, he does get hurt too often. Last season, he had a boo-boo on his footsie and kept his fake-football owners hanging with hopes of a return.
There was no return.
The good news is that McFadden didn't need surgery to heal from his Lisfranc injury, and all accounts show he is back to 100 percent. There's no doubt he is risky, but there was no reason to think Adrian Peterson or the next guy on this list would get injured either. Running backs are a risky bunch, and looking at the type of risk say, between Darren McFadden and Adrian Peterson, you actually have to feel better about McFadden due to the nature of his latest injury.
I am going to lean upside over bluh-side every single time, but I'm also going to be realistic about the injury and when the injury happened.
Jamaal Charles
Oh, J.C. Superstar, how many fake teams did you kill last season? I'm sure there were plenty, but his injury is why you draft loads and loads of running backs. They are the most valuable as far as points versus scarcity, and they are also the most injury prone. Draft them early and late and maybe in between. But, I digress.
We are here to talk about Jamaal "YPC" Charles. The guy is an amazing running back. His numbers truly do speak for themselves. And thankfully, his ACL tear was in the second game of last season.
All signs point to him being fully recovered and him being a full-go for training camp, but of course, we have yet to see that. If he is a full participant from Day 1 of camp, I'm going to feel okay about grabbing him early in drafts. The Chiefs should be a run-heavy team with Peyton Hillis as sometimes lead blocker and sometimes infuriating roadblock to J.C.'s fantasy points, but remember, it only took 230 carries for Charles to accumulate over 1,400 rushing yards in 2010.
He's a special talent and still just 25 years old.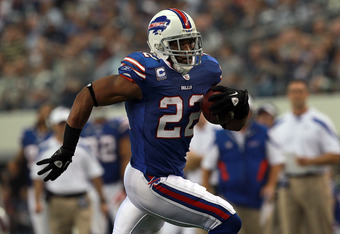 Ronald Martinez/Getty Images
Fred Jackson
Fred Jackson put on an amazing show last season in the first 10 games before snapping his fibula. He has been defying the odds his whole career, and it was sad to see his best season end early and also come at the age of 30.
The good news is the injury wasn't a bad one, and he should be ready to go this season. The bad news is he is getting long in the tooth for an NFL running back at the ripe old age of 31, and his replacement, C.J. Spiller, had a tremendous end to the season after replacing him.
This situation is one of the hardest in all of fantasy football to decipher. As long as Jackson is back to where he was physically, he will be the starter again, but it will be tough to keep Spiller off the field the way they did last season while Jackson was starting.
Spiller only touched the ball 3.4 times a game in the first 10 games. That just won't happen this year.
Rashard Mendenhall
The Pittsburgh Steelers' one-time back of the future never quite broke out. He averaged a paltry 4.1 yards per carry last season before tearing his ACL in the last game. That's really not the best time to get hurt if you are wanting to play 16 games the following season.
So, in steps Ike Redman. I was on board. Redman is not a special talent, but he will be the goal-line back and can catch the ball. I'd take that on a good offensive team. But hold your Ike and Tina Turner jokes, here comes Rashard Mendenhall going all Adrian Peterson on us in his rehab.
The offseason hype hasn't been as loud for Rashard Mendenhall as it has been for Adrian Peterson, but that's because they aren't the same caliber of player. But there is hype. Even coach Mike Tomlin, according to Scott Brown of the Pittsburgh Tribune-Review, says he will play in 2012, when before there were doubts he would even play at all.
I believe Mendenhall will go on the PUP list to start the season, which won't make him eligible to return until Week 7. That will give Redman a chance to prove himself and win the starting position but also give him a chance to prove that he's not cut out for the job.
So I'm staying away from both in fantasy drafts.
Jahvid Best
I wrote about Best as a sleeper pick just a couple days ago.
And no, not sleeper as in he'll be unconscious.
But yes, his concussions are a major concern. He had a severe concussion his senior year of college and two last year that knocked him out for the season. He told Dave Dye of Fox Sports Detroit last year's concussions weren't "even close to the one I had in college. That's why I'm not personally worried about it."
Does that mean we shouldn't be worried about it? Of course not. We should. But his ability and where you can get him in drafts makes him worth the risk.
Ryan Williams
The Cardinal's rookie running back ended his season before it started last year with a patellar tendon injury. The timing of course is good for this season, but the injury itself is a concerning one. Many players have trouble getting their full range of ability, especially speed, back after this injury.
Williams is very young and could easily be the exception, though.
Kent Somers of the The Arizona Republic reports that Williams is participating fully in minicamp which is good news for him to be ready to go for training camp. With this injury there is reason for concern, but with Beanie Well's injury history, there is a fantasy-football opening.
Tim Hightower
After tearing his ACL in Week 7, Tim Hightower watched as Roy Helu had some big games and some not so big games (Thanks, Coach!). And the whole fantasy football world crowned Helu as next year's guy to own.
But of course, Hightower is back and as mediocre as ever! His 3.8 yards per carry last season coupled with a torn ACL should relegate him to out-of-workville, but of course he's the starter instead.
I will still be drafting Roy Helu. He has shown his superior ability, and he'll show it again. Hightower will be used in Mike Shanahan's twisted mind games, but Helu will win out in the end.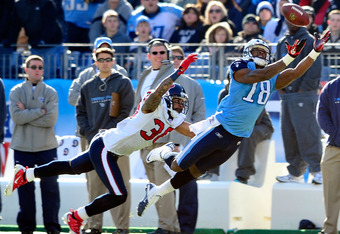 Grant Halverson/Getty Images
Kenny Britt
If you extrapolate Kenny Britt's first two games of last season over 16 games, he would have two-billion yards and 700,000 touchdowns.
Or something in that vicinity.
But we'll never know because he tore his ACL and MCL in the third game of the season. Of course, that is early enough in the season to have him ready to go for training camp, but he then had a little extra clean-up surgery to get us fantasy nerds all worried again.
But according to The Tennessean's Jim Wyatt, Britt was looking good and cutting on the sidelines at minicamp Thursday. I'll take that bit of info and run with it because I don't worry nearly as much about wide receivers as I do running backs when it comes to re-injuring themselves. Maybe I should, but the number of hits each position takes is stark in contrast.
So I'm on the Britt bandwagon. His ability coupled with Jake Locker at some point taking over the reigns is too much upside for my poor little heart to handle.