Fantasy Football's Biggest NFL Sleepers Heading into 2012
June 13, 2012

Scott Boehm/Getty Images
Defining a "sleeper" is precarious business. Many "sleepers" get hyped so much that they may quickly become over-hyped, and their average draft position will drop to non-sleeper status. So always take into account where a player is going and how much you think it's worth to reach for that player.
These players are "sleepers" because they haven't consistently put up stats, or something is legitimately keeping the whole world from wanting to draft them in the first round. So think of these guys as "value plays" until they lose value by being drafted too high.
James Starks
Last season, Starks often looked like the better running back between him and Ryan Grant but was still splitting carries. Before Starks hurt his ankle in Week 12, he was averaging 75 total yards a game and 4.5 yards a carry. That's not too bad with just 14.8 touches a game.
Ryan Grant, on the other hand, had nine touches a game for a paltry 37.3 yards during that same span. Grant is gone, and the only other back on the team with Starks' ability is second-year player Alex Green.
Green has a ton of upside but is coming off of ACL surgery and might not be ready for training camp.
Starks' numbers show that he is capable both as a runner and a receiver. He even graded out as the sixth-best blocker for Pro Football Focus, while Green still has a long way to go.
Will Green be a better player than Starks? Maybe, but the Packers aren't going to throw a green Green into their Green Machine until he is completely ready. With Grant gone, Starks could get 20 touches a game and average 100 offensive yards without much trouble.
Pierre Thomas
Poor Pierre. He has a ton of skill but can never seem to get the opportunity to show it off.
Going into the 2012 season, he once again is getting touch-blocked by Darren Sproles and Mark Ingram. The good news for Thomas is he can do it all. He can run between the tackles and catch a swing pass or two.
In the last three years, Thomas ranks fifth out of all NFL running backs (with 300 carries or more) in yards per carry with 4.8. His main trouble will be Ingram, who had two surgeries this offseason.
As the 53rd running back off the board in the 13th round at Fantasy Football Calculator, his upside is too good to pass up.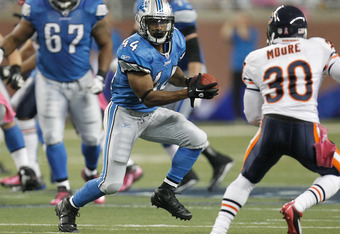 Gregory Shamus/Getty Images
Jahvid Best
We can go around and around arguing about his concussion history. None of us know what will happen. Some players are fine, while others aren't.
Is he a risk? Very much so. Is he worth the risk? Very much so. Best is a top talent in a high-powered offense.
Before his injury, he was averaging 112 yards, 4.5 receptions, .5 TDs and 4.6 yards a carry. Will Mikel Leshoure take away touches? Maybe a few, but think of Darren Sproles in New Orleans.
The Lions and Saints were the only two teams to average 40-plus pass attempts a game. Best is primed for a huge receiving year if he can stay healthy, and you can have him as the 28th running back in your draft. There is value there.
Carson Palmer
Palmer seems like he's 40, but he's still just 32, younger than Drew Brees, Tom Brady and, of course, Old Man Peyton Manning. And he took some much-needed vacation time last season as well.
So, he's not near death. But last season, in his first game back, he sure played like it.
If you strike that monstrosity from the records, Palmer averaged 293 yards per game, fifth in the NFL for those nine games. Of course, yards aren't everything, and he only had 13 touchdowns to 13 interceptions. But even with those pitiful results, he was still the 10th-best fantasy quarterback in the league to finish the season.
Remember, a player doesn't have to win real games to help you win your fake games.
Palmer most likely will need to throw the ball this season, while a defense without much depth gives up points. He'll also get help from some budding stars in Denarius Moore and Jacoby Ford as well as Darrius Heyward-Bey, who really came on last season.
Oh, and don't forget that Darren McFadden feller who can take a swing pass 90 yards in a heartbeat.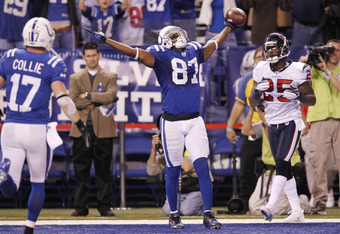 Joe Robbins/Getty Images
Reggie Wayne
Wayne is now getting discounts at the 4 p.m. buffet, but he still has some wily receiving skills to bring to the table. The Colts didn't do much to improve their defense in the offseason, and their defense needed some improving, ranking 25th in total defense.
It looks like they want to get Andrew Luck going and then build their defense up in the next few years, and with no way to stop other teams, Luck is going to need to throw the ball a whole bunch.
In Peyton Manning's rookie season, the Colts gave up the second-most points in the league, and Manning threw more passes than anyone in the league. This should be a carbon copy of Manning's rookie season.
So yes, there will be a lot of interceptions, and Luck won't be the Luck we'll see in five years, but he'll still be a very good quarterback who is throwing the ball a ton.
Wayne has slowed down, but he is the veteran presence on that field. Luck will use him often. And even with the worst quarterbacks in the league, Wayne still managed to catch 75 passes for 960 yards.
Those numbers should easily shoot back up with Luck chucking the ball his way. And his average draft position is in the seventh to eighth round right now. I'd be happy grabbing him earlier to make sure I got him, especially in PPR formats. (Oh, and insert Austin Collie here as well.)
Titus Young
Young, like Best, is young and talented and on a team that throws the ball all over creation. Right now, his major competitor for touches is Nate Burleson. Old Burls is, well, getting old. Young is, well, not.
Matthew Stafford learned toward the end of last season to distribute the ball more evenly, which led to Calvin Johnson's numbers suffering, but the rest of the receivers saw boosts in production.
Young was one of those guys, and with a season under his belt, he should be poised to take more looks away from Burly.
Mike Williams
The whole Tampa Bay offense is poised for a comeback year. Last season, Mike Williams and Kellen Winslow were the only two viable passing options on the team, and Winslow can hardly be considered viable anymore without functioning knees.
So Williams was getting all the coverage, while both he and Josh Freeman took a step back. LeGarrette Blount couldn't be a third-down back, and everyone they tried in that role was poor to worthless.
The offense was stuck.
Bring in Vincent Jackson and Doug Martin to save the day! Well, we aren't looking at the New Orleans Saints offense here, but we are looking at an offense with a lot more options.
The Bucs are going to continue to be a balanced offense, so targets are going to be a commodity, but Vincent Jackson will still be used to stretch the field, while Mike Williams will still be used as a chain mover and red-zone target.
Wide receivers need to either get a ton of work or get a bunch of end-zone targets to be successful fake football players. I believe Williams will see plenty of red-zone work this season, just like last season.
He was eighth of all wide receivers last season with 19 red-zone targets, but this year, I see those targets being more productive.
When you think of talent that's being wasted, you often look toward the Carolina Panthers and Jonathan Stewart, but I also let my eye wander toward Greg Olsen (he's so dreamy!).
After a good rookie season with the Bears, he got all Mike Martzed and was finally shipped off to Carolina. The Panthers were getting a rookie QB who most thought would be more legs than arm, but fortunately for Olsen, he could throw the ball.
But then, unfortunately for Olsen, Jeremy Shockey greased up the ball with his hair and screwed everything up. Finally, Shockey is gone. Newton is in his second season, and Olsen is ready to get the bulk of the tight end targets.
Last season, as I watched the targets come in on the Target Ticker, I often saw Olsen's name come up, only to fall back into obscurity the next week. Olsen finished the season with 89 targets to Shockey's 62.
If you own a fantasy tight end, you want—I mean, you need—him to get more than 100 targets. And 120-plus is needed to be a top guy. If all goes well for Olsen, he could hit that 120 mark this season. 
All stats courtesy of KFFL and ADP courtesy of Fantasy Football Calculator.