Fantasy Baseball 2012: 14 Prime Players to Realistically Trade for Right Now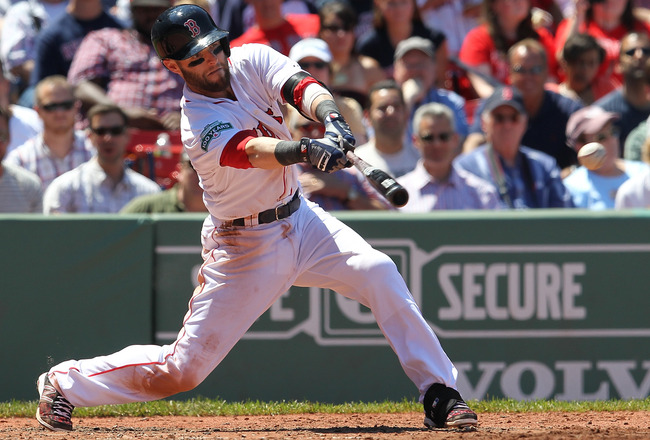 Red Sox second baseman Dustin Pedroia, an annual lock for 20 steals, 100 runs and a .290 batting average, is hitting only .195 (with six RBI) since May 14.
Jim Rogash/Getty Images
The following slideshow details 14 prominent fantasy baseball players who could realistically be acquired in trade talks this week.

Some of the assets have fostered great starts to the season but are fighting reputation-based stigmas of years past.

Some players have shallow track records and could be swapped out for more established veterans.

And some have struggled mightily out of the gate and could be on the move as part of a classic knee-jerk response from their jittery fantasy owners.

Enjoy the show!
Catcher: Matt Wieters, Baltimore Orioles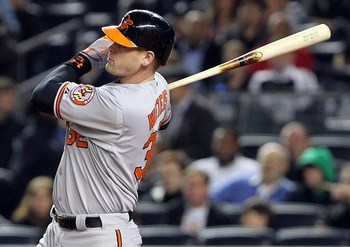 Photo Credit: US PRESSWIRE
2012 Stats: 9 HR, 27 RBI, 27 Runs, .250 BA

Factoring in his middling seasonal and 30-day stats (one homer, .218 batting), along with few owners employing more than one catcher on standard fantasy rosters, it shouldn't require much creativity to swing a Wieters trade in 5x5 leagues.

But therein lies the beauty of the move: Wieters, who has considerably more talent and untapped potential than most MLB catchers, is hitting at a .311 clip since May 29, indicating that a substantial July-to-September revival may be in the cards.

As stated many times in this blog, there's really no need for catchers to be signature assets of a blockbuster trade—other positions take precedent when building a team.

But Wieters (22 homers in 2011) represents the ideal throw-in to a significant swap, knowing that his worst days of this season are likely behind him.
First Base: Michael Young, Texas Rangers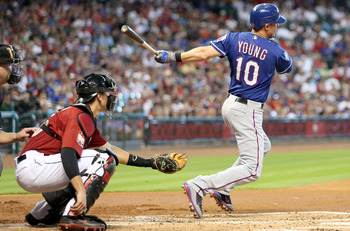 Thomas B. Shea/Getty Images
2012 Stats: 3 HR, 24 RBI, 28 Runs, 2 Steals, .286 BA

If ever there was a time to trade for a dual-position asset (1B/3B) with six 200-hit seasons in the last 10 years...this is it.

At no point in Young's illustrious career has he reached "buy-low" status in the trade marketplace.

When looking at Young's 30-day stats, the zero homers and four RBI immediately jump off the page. It's even more baffling than Young's 14 combined homers in his last 217 games...or his current pace of 62 RBI by season's end.

Thankfully, smart GMs also have Young's .304 batting average since May 29 to consider when evaluating the star's total fantasy worth.
Second Base: Dustin Pedroia, Boston Red Sox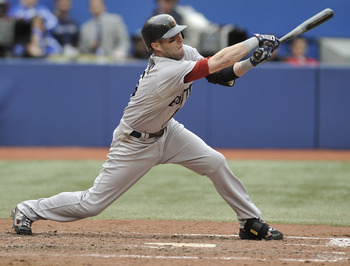 Brad White/Getty Images
2012 Stats: 5 HR, 24 RBI, 31 Runs, 3 Steals, .273 BA

If we had to prioritize the supposed buy-low options of this countdown, Pedroia would rank at the top of the list.

Sure, he has endured previous slumps of 4-for-31 in his stellar career; but when paired with his .195 batting average since May 29, Pedroia owners might soon feel pressure to unload a high-end talent before he finishes with career lows in all five major categories.

Pedroia's seasonal numbers to date may be indefensible compared to other elite hitters. But assuming he'll be in full health from this point, it's impossible to believe he won't be a highly productive asset over the next three months.

As a result, owners in dire need of middle-infield excellence should explore Pedroia trades from every angle.
Third Base: Brett Lawrie, Toronto Blue Jays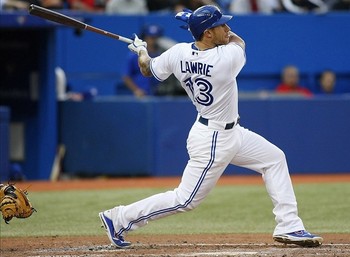 2012 Stats: 5 HR, 24 RBI, 30 Runs, 8 Steals, .279 BA

Lawrie may still be a viable candidate for 14 homers, 74 RBI, 80 runs and 20 steals—but he also needs to pick it up on the power side.

Yes, Lawrie's batting .302 since May 29, a stretch that includes three multiple-hit games. But fantasy owners had greater five-category expectations of the Toronto star back in March, thinking he would replicate last year's pace of nine homers/25 RBI for every 43 games (or something like that).

As a result, this may be the optimum time to capitalize on Lawrie's power drought.

Fantasy owners, take his preseason trade value price (one Tier 2 pitcher, one Tier 2 outfielder) and simply cut it in half.
Shortstop: Starlin Castro, Chicago Cubs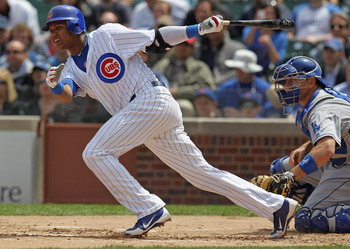 Jonathan Daniel/Getty Images
2012 Stats: 5 HR, 34 RBI, 29 Runs, 16 Steals, .302 BA

Prospective Castro owners, don't be intimidated by his seasonal totals. His numbers have come down since he was batting .365 in late April and initially threatening to break the Cubs' single-season record in steals (Bill Lange's 84 from 1896).

Instead, focus on Castro's 30-day mini-slump (four homers, four steals, .265 batting) and hope that his current fantasy owners are getting restless about the shortstop's pressure-filled role on a light-hitting, last-place club.

Especially if Owner B already has a passable replacement at the 2B/SS slot. That would essentially free them to deal Castro in hopes of fortifying their talent at the crucial outfield, pitching and corner-infield slots.
Utility Spot: Brandon Phillips, Cincinnati Reds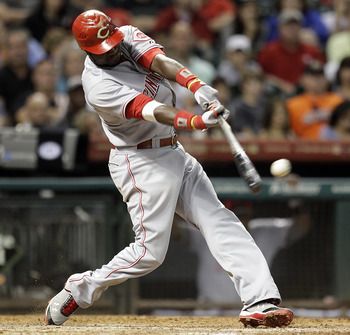 Bob Levey/Getty Images
2012 Stats: 6 HR, 31 RBI, 31 Runs, 2 Steals, .274 BA

Just like the case of Michael Young, fantasy owners must ponder one introspective question before pursuing Brandon Phillips, via trade:

Are Phillips' season-long struggles with steals and batting average the result of a slow start...or the initial stages of a statistical decline that engulfs most middle infielders after they turn 30?

I could be way off here, but Phillips' early-season lethargy reeks more of bad luck than an eventual physical decline (although steals are a legitimate concern).

His 30-day numbers (four homers, 20 RBI, 18 runs, .295 batting) are up and the Reds are progressing well in the National League Central race (first place, as of June 13).

My advice: Take a leap of faith on Phillips' fantasy prowess.
Outfield: B.J. Upton, Tampa Bay Rays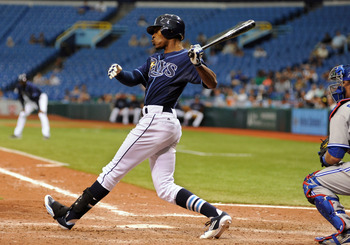 Al Messerschmidt/Getty Images
2012 Stats: 4 HR, 22 RBI, 21 Runs, 11 Steals, .286 BA

While it's true Upton hasn't flirted with a .286 batting average since that magical 2007 campaign (24 HR, 82 RBI, 86 runs, 22 steals, .300 BA), he's still one of the more accessible commodities on the trade market.

Why? Because fantasy owners might have a natural predisposition to trade any Rays hitter whose name doesn't rhyme with "Ongoria" in the final months, attributing the club's real-world success to dynamic starting pitching and sound defense.

Plus, there's the prospect of Upton being way behind last year's pace in runs (82), doubles (27), homers (23), RBI (81) and, perhaps most importantly, steals (36).

Factoring all that in, it's easy to see how Upton's 30-day numbers (two homers, 10 RBI, 14 runs, seven steals, .305 batting) could get lost in the fog of a quirky statistical season.

But it's also enough motivation to pursue him as a July-to-September gem.
Outfield: Alex Rios, Chicago White Sox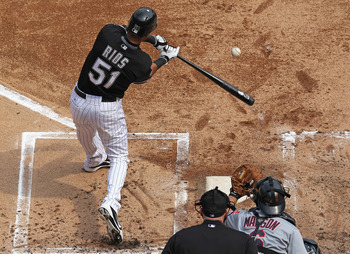 Jonathan Daniel/Getty Images
2012 Stats: 6 HR, 32 RBI, 29 Runs, 7 Steals, .293 BA

Alex Rios could be batting .400 with 20 homers right now and a large faction of fantasy owners would still doubt his capacity to finish strongly.

Those are the negative perks that come with a healthy ballplayer notching only 13 homers, 44 RBI and a .227 batting average in his age-30 season (2011). It's also the hurt feelings that come with GMs (and their long memories) getting burned by Rios's 25-homer, 100-RBI, 30-steal potential from seasons past.

But for those who try to live in the present, there's much to love about Rios' progress in the first three months. His .339 seasonal OBP has actually gone up seven points in the last 30 days, and he's a reasonable bet to post an .800 OPS by year's end.

Bottom line: Prospective Rios owners should take advantage of his shaky track record in recent seasons. Landing Rios on the cheap may be a better strategy than paying through the nose for the next outfielder in our countdown.
Outfield: Bryce Harper, Washington Nationals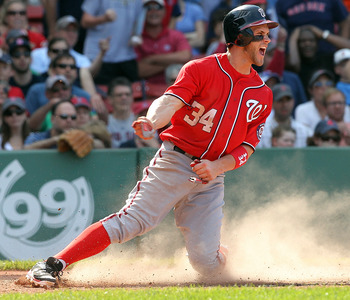 Jim Rogash/Getty Images
2012 Stats: 7 HR, 19 RBI, 30 Runs, 4 Steals, .307 BA

The timing for Harper's countdown inclusion could admittedly be better, given the kid's .356 batting average since May 29 and three three-hit efforts in his last five games.

But outfield-needy owners still have time to pull off a megadeal involving baseball's latest teen sensation, simply because some Harper owners might opt to sell high on an asset who hasn't played more than 109 games in a season.

That isn't to say Harper is destined for a prolonged slump in the coming weeks, nor is it an implication that he's currently playing over his head.

It's just an acknowledgment that not all Harper owners are seeing the long-term viability of a short-term explosion. They may be waiting for the other shoe to drop, in the form of the dreaded "rookie wall."
Outfield: Matt Holliday, St. Louis Cardinals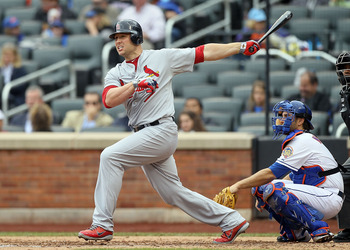 Jim McIsaac/Getty Images
2012 Stats: 10 HR, 35 RBI, 39 Runs, 2 Steals, .279 BA

I love how Matt Holliday (four homers, 18 runs, .315 batting since May 14) has flown under the fantasy radar this season, especially when compared to Cardinals teammate Carlos Beltran (18 HR, 46 RBI, 37 runs, six steals, .289 batting).

Right now, Beltran's getting all the love from fantasy columnists who erroneously doubted him during spring training. He's also garnering the lion's share of media attention in the specter of picking the National League All-Star team.

But at this point, I still like Holliday's chances of trumping Beltran in three of the five major categories by the season's end. I also hold out hope that he'll outlast Beltran in the hotly contested battles with on-base percentage and OPS.

This isn't to say a Beltran slump is on the horizon. It simply means that a sustained run of Holliday magic might occur in the not-too-distant future—but hopefully after I've explored all trade avenues.
Starting Pitcher: Tommy Hanson, Atlanta Braves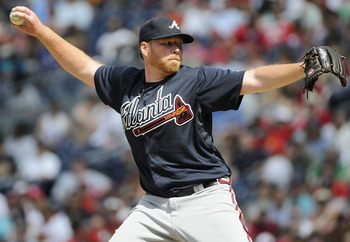 Jonathan Ernst/Getty Images
2012 Stats: 7-4, 3.55 ERA, 1.32 WHIP, 67/27 K-BB

There's something to be said about a solid but unspectacular pitching asset in fantasy circles.

At this point in the season, Hanson (30-day ERA: 3.73) could be included in any deal, big or small, without much deliberation from either trade party. He's the perfect throw-in with blockbuster swaps—and he's an ideal one-for-one pitcher to acquire when parting with a No. 3 or 4 outfielder.

But don't mistake that quiet effectiveness for an inability to make a difference.

With likely matchups against the Orioles, Yankees, Diamondbacks, Cubs and Phillies before the All-Star break, Hanson has an opportunity to post four wins and 42 strikeouts in the five-game stretch.
Starting Pitcher: Madison Bumgarner, San Francisco Giants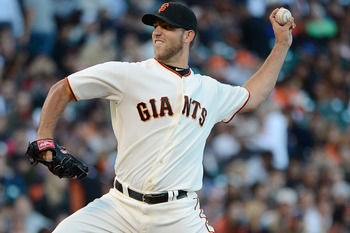 Thearon W. Henderson/Getty Images
2012 Stats: 8-4, 3.08 ERA, 1.12 WHIP, 74/18 K-BB

Bumgarner has been a fascinating all-or-nothing proposition in his last six starts: Three outings of four runs allowed and three games of minuscule runs and double-digit strikeouts.

His latest offering (June 12 vs. Houston) entailed 12 strikeouts, zero walks and one run allowed.

Obviously, it won't be easy to corral Bumgarner—the Giants' No. 2 pitcher (ahead of Tim Lincecum)—in trade talks. But there is a strategy for pulling off the coup:

In leagues where Bumgarner and White Sox southpaw Chris Sale (2.05 ERA, 0.92 WHIP) are on the same team, keep pushing Owner B for blockbuster deals that only involve Sale.

And when you've reached that point where a Sale swap won't happen but the other GM has shown signs of compromise, shift the trade-parameters discussion to Bumgarner.

From this point forward, the differences between Sale and Bumgarner (27 strikeouts since June 1) may be negligible, so why not invest similar resources to a Bumgarner trade through a bait-and-switch tactic?
Starting Pitcher: Matt Moore, Tampa Bay Rays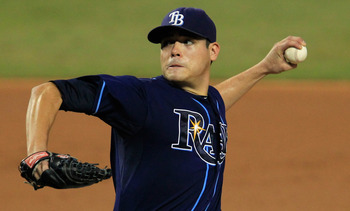 Chris Trotman/Getty Images
2012 Stats: 3-5, 4.59 ERA, 1.46 WHIP, 71/33 K-BB

Was it just three months ago when Moore—thanks to a masterful performance against the Rangers in last year's ALDS—was a top-20 pitching asset?

Was the rookie really ranked ahead of Gio Gonzalez, Jeremy Hellickson, Yu Darvish and Johnny Cueto during spring training?

Well, I'm happy to take the positive from Moore's rough start in his first full season, which included outings of six and eight runs allowed in his first five starts. Since his May 6 meltdown against the A's, Moore has yielded only 13 runs in six appearances.

Bottom line: Smart fantasy GMs should have no problem conceiving a deal for Moore, even with his tangible improvements in the last 30 days—a 2-2 mark, 3.64 ERA, 1.18 WHIP, 37/11 K-BB.

There's a reason why he was the No. 2 prospect before the season (ahead of Bryce Harper and/or Mike Trout in some publications). And there's a reason why his minor league track record (2.64 ERA, 1.11 WHIP, 12.7 K/9 ratio) might be the gold standard when comparing future Rays pitching prospects.
Starting Pitcher: Yu Darvish, Texas Rangers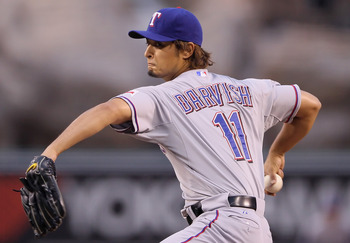 Jeff Gross/Getty Images
2012 Stats: 7-4, 3.72 ERA, 1.51 WHIP, 77/44 K-BB

Pursuing Darvish is a no-brainer move for pitching-needy teams, even ones that are diametrically opposed to adding talent with control problems.

Yes, the Japanese star has walked six batters in two of his last four games; and yes, his strikeout totals have dipped in recent weeks. But let's remember that Darvish (44 strikeouts from April 24-May 16) was the hottest pitcher in the American League just one month ago.

Simply put, Darvish has too much talent, experience and enough mound presence to rebound from this mini-slump.

But strike now...while the iron isn't necessarily hot.
Keep Reading