Fantasy Football 2012: The 20 Best NFL Backup Quarterbacks Right Now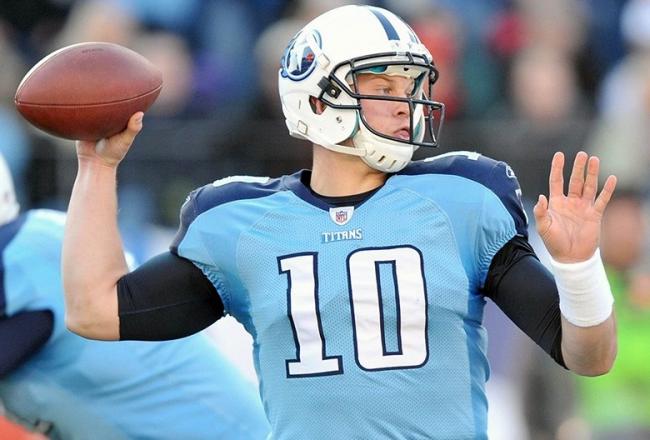 Titans QB Jake Locker, who accounted for 596 total yards, five touchdowns and zero picks last season (spot duty), will likely garner six or seven starts in Year 2 of his development. (Photo Credit: US PRESSWIRE)

Here's a revised listing of fantasy football's 20 best NFL backup quarterbacks right now, regardless of their No. 2 or 3 standing with their current teams.

In the course of compiling these rankings, a few assumptions were proffered:


Matt Hasselbeck opens the season as Tennessee's starting quarterback.
The Browns don't make any trades with their quarterbacks in the next three months.
Matt Moore gets the Week 1 nod as Miami's quarterback, with Ryan Tannehill taking over sometime in late October.
Kevin Kolb trumps all comers for the Arizona starting job, a byproduct of his immense (and largely untapped) upside.
There will be no quarterback controversy in Minnesota. Christian Ponder (not Joe Webb) is the man, through thick and thin.
Robert Griffin III will be the Redskins' opening-day starter...and fellow rookie Kirk Cousins will be third in line.
Top 20 Backup QBs

1. Jake Locker, Titans
It's possible that Locker logs as many as eight starts (and collects 13 TDs) in his second and final season as the Titans' non-savior. In other words, the big breakout comes in 2013.

2. Chad Henne, Jaguars
Henne provides excellent peace of mind for Jacksonville coaches...even though Blaine Gabbert should be given every chance to succeed.

3. Colt McCoy, Browns
I don't understand the rationale in trading McCoy just because Brandon Weeden is likely the new starter. A bird in the hand...

4. Jason Campbell, Bears
Oakland's loss is Chicago's find. The Bears would remain playoff contenders this time around, even if Jay Cutler goes down.

5. Tarvaris Jackson, Seahawks
T-Jax threw the ball 30 or more times in nine Seahawks games last year—an impressive total considering Marshawn Lynch scored at least one touchdown in 11 straight active games (Weeks 4-15).

6. Rex Grossman, Redskins
You could do worse than Grossman as a backup. A lot worse. Grossman's a virtual lock for 245 yards/1.5 TDs per game when given full-time reps.

7. Ryan Mallett, Patriots
Yes, he's New England's third-stringer and destined for another year of clipboards and backwards baseball caps, but Mallett is also this countdown's only QB cinch for 27-touchdown seasons. Someday.

8. Ryan Tannehill, Dolphins
At this point, it's hard to project Tannehill's likely fate as a rookie. Will his first year resemble that of Blaine Gabbert or Christian Ponder (circa 2011)?

9. John Skelton, Cardinals
Skelton was 5-2 as a starter last year and accounted for 290-plus yards in his final four games. Unfortunately, America doesn't really celebrate accomplishments of backup quarterbacks. Unless...

10. Tim Tebow, Jets
With this respectable ranking, you now have certifiable proof that I don't think Tebow is the worst QB in NFL history.

11. Kyle Orton, Cowboys
A reasonable play for 250 yards/two TDs when granted injury-replacement starts for Tony Romo.

12. Brian Hoyer, Patriots
With Mallett already in the Patriots' stable, I'm surprised Hoyer wasn't dangled in offseason trade discussions. His physical skills compare favorably to those of Matt Flynn.

13. Dan Orlovsky, Buccaneers
If Orlovsky (1,079 yards passing, six TDs in his last five starts in 2011) had been named Indy's Week 1 starter last year, the Colts would have won too many games to qualify for the No. 1 or 2 picks in the 2012 NFL draft...meaning Peyton Manning would still be playing in the Hoosier state. Orlovsky is a solid backup for Josh Freeman.

14. T.J. Yates, Texans
Talk about a thankless ranking here. All Yates did was help lead the Texans to a postseason berth and the club's first playoff victory...and all he can muster is 14th? From a fantasy angle, though, Yates struggled in his final five games as Houston's starter (1 TD/5 INTs).

15. Shaun Hill, Lions
I like Hill's capacity for 250 yards and two touchdowns on any given Sunday with Detroit's offense, but I don't care to see him in any non-garbage-time scenario this season.

16. Drew Stanton, Colts
One could make a plausible argument that Stanton would have been a more proficient backup than Tebow with the Jets offense, if New York hadn't traded him to Indy. Stanton is an underrated passer and gifted runner who simply needs more reps to develop his talent.

17. Brady Quinn, Chiefs
Quinn remains a physically gifted athlete with good touch on deep balls; if pressed into duty, he'd find a way to hit Jamaal Charles, Dwayne Bowe, Tony Moeaki, Peyton Hillis, Dexter McCluster and Jonathan Baldwin roughly 57 percent of the time.

18. Joe Webb, Vikings
Think of Webb as the Tebow of the Midwest: He would get his 200 total yards and 1.5 touchdowns through a combination of sterling runs and quirky passes every Sunday.

19. Russell Wilson, Seahawks
I've never been one to dismiss a quarterback on size alone. Joe Theismann and Drew Brees managed to win Super Bowls despite their own pre-draft, uh, shortcomings.

20. Charlie Whitehurst, Chargers
This ranking is more a reflection of Norv Turner's QB-tutorial skills than of anything Whitehurst has accomplished in recent seasons. Still, he'd probably average 230 yards passing in full-time relief.


Jay Clemons can be reached on Twitter, day or night, at @ATL_JayClemons.
This article is
What is the duplicate article?
Why is this article offensive?
Where is this article plagiarized from?
Why is this article poorly edited?